Here is a fact you may not know: there are four cities in Pakistan from which you can catch a regular direct flight to London Heathrow Airport: Karachi, Lahore, Islamabad, and Sialkot. You probably guessed the first three. It is possible you may not have known about the fourth.
Sialkot, in the imagination of the rest of Pakistan, is the enterprising city known as the birthplace of Iqbal, the home of Pakistan's sporting goods manufacturing industry, and the city whose business community – in an extraordinary act of self-reliance – got together and made their own airport, the first and only privately owned airport in the country. What is perhaps less well understood is just how well that airport is doing, and just how much Sialkotis love to travel – or need to travel for work.
The speed and scale of success of aviation in Sialkot is breathtaking. It is – by far – the fastest growing airport in Pakistan, with international air traffic growing at 62.7% per year for the past 11 years, according to data from the Civil Aviation Authority (CAA). But the numbers alone do not illustrate just how fast things have changed in the city.
In 2006, there was no airport in Sialkot at all. If you lived in Sialkot, you had to drive or take the bus to Lahore to then catch a flight to wherever else you were going. Now, in 2020, Sialkot is the fourth most connected airport in the country. Here is a list of global cities that you can catch a direct, non-stop flight to from Sialkot every week: Dubai, Sharjah, Doha, Muscat, Riyadh, Dammam, Manama, Kuwait, London, Milan, and Barcelona. And the flight to Paris has just one stopover, in Barcelona.
Needless to say, given that rapid expansion of air travel from Sialkot, it is not surprising that the entrepreneurs in Sialkot want to stop relying on the state-owned Pakistan International Airlines (PIA) and set up their own airline, called AirSial, which will have its hub at Sialkot Airport.
It is almost as if the members of the Sialkot Chamber of Commerce said: we built our own airport, and we will now build our own airline. But to understand how AirSial is even possible as an idea, it is important to understand how Sialkot Airport was created.
The story of Sialkot Airport
Sialkot is part of Punjab's export triangle, which consists of the industrial cities of Gujrat, Gujranwala, and Sialkot. Unlike the other two cities, however, Sialkot is not on the main Grand Trunk Road that formed the core road transit link between Lahore and Rawalpindi (and is the modern manifestation of the ancient highway that runs from Chittagong to Kabul.) And while Sialkot does have a railway station, it is not on the main railway line that connects Peshawar to Karachi, but rather indirectly connected through a branch line that terminates at Wazirabad.
That lack of connectivity has historically been a cause of much concern to the Sialkot business community, specifically the roughly 400 family-owned businesses that form the core of the Sialkot Chamber of Commerce and Industry (SCCI).
For a long time, the SCCI tried to get its demands to be taken seriously by decision makers in Islamabad, but to no avail. By the later 1990s, the SCCI membership had started coalescing around the idea of: "if the government will not give us our own airport, we will build one for ourselves." And so, in 2001, the SCCI approached the Musharraf Administration for permission to begin building their own airport.
Perhaps it is fitting that it was under a military government that the SCCI was able to secure permissions: the CAA, which governs aviation in Pakistan, is a division of the defence ministry, and Sialkot's location close to the border with Indian Kashmir may have created complications that did not allow the airport to be built for a long time.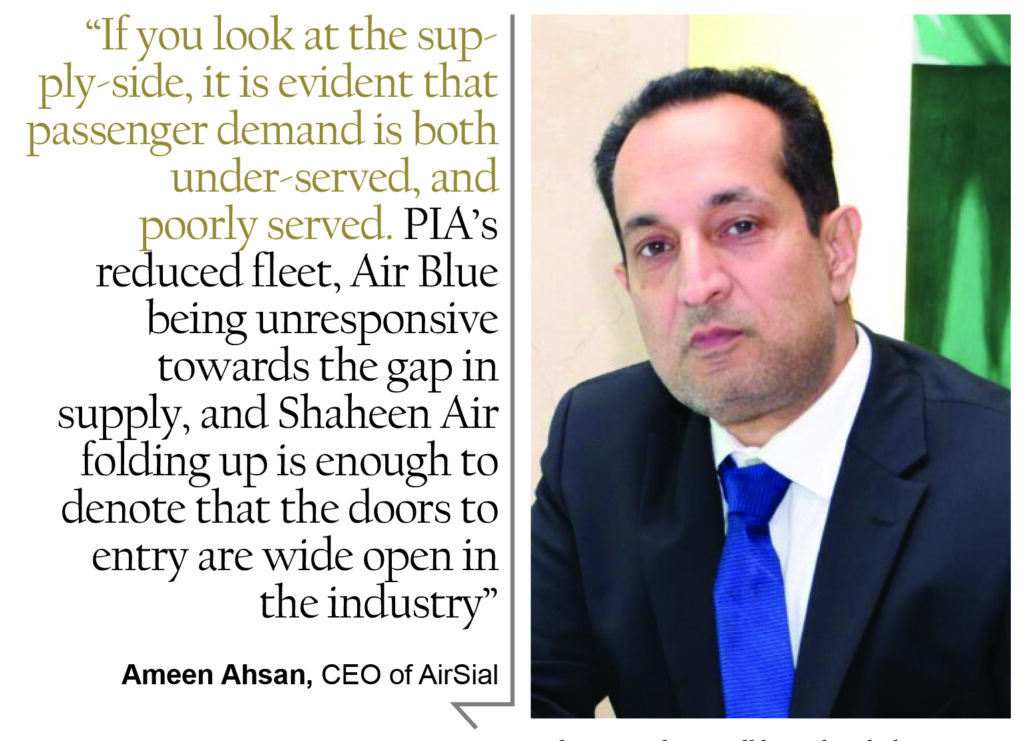 However, once the Musharraf Administration gave the go-ahead, the SCCI began to raise capital relatively quickly. The richest 365 members of the SCCI began contributing the equity capital for the newly created Sialkot International Airport Ltd, the company that would run the airport. The minimum contribution was just over Rs1 million, though the 13 richest families invested well over Rs10 million each. The total amount of money raised was just under Rs2.1 billion.
The airport itself was built on more than 1,000 acres, in a plot of land that was located outside Sialkot, and strategically accessible to both Gujrat and Gujranwala as well so as to serve as large a population as possible. While the government did not help pay for the airport itself, the Punjab government did build a small road that connected the airport to the highway between Sialkot and Wazirabad.
Sialkot Airport is a single terminal, single runway airport, though the runway is the second longest in Pakistan, behind only the new one at Islamabad International Airport. Construction began in January 2003, and the first test flight was conducted in March 2005.
Air Blue was the first airline to start regular flights to Sialkot from Karachi, beginning in late September 2007, with PIA starting less than two weeks later.
It became very clear early on that Sialkot Airport would be much more about connecting the city to the rest of the world than it would be about connecting it to the rest of the country. By the fiscal year ending June 30, 2009 – just its second full year of operations – Sialkot was handling more international passenger traffic than domestic.
In the initial years, international flights were entirely on domestic airlines, primarily Air Blue and PIA, with Shaheen Air starting operations in July 2009. In November 2012, however, the government allowed the airport to begin serving foreign airlines, and the first one to start operations was Air Arabia, which began the direct Sialkot to Sharjah flights in January 2013. FlyDubai started operations just two months later, in March 2013, followed by Emirates in May of that year.
The Emirates flights to Dubai started off as being just four times a week, but by September 2015 – just two years after starting – had become daily flights.
Meanwhile, PIA had been experimenting with adding direct flights to Europe from Sialkot. As early as 2012, it experimented with a direct flight to Barcelona. While the initial experiment then did not entirely succeed, in January 2019, PIA started a flight route that connected Sialkot to Barcelona and Paris, which appears to have become somewhat more financially feasible.

Why Barcelona, you might ask? There is a surprisingly large community of Pakistanis that lives in Barcelona, the vast majority of whom are from the general vicinity of the GT Road area close to Sialkot and Lahore. In addition, Sialkot manufactures fully 40% of the world's footballs. You may have heard of a football club or two based in Barcelona.
Why does Sialkot manufacture footballs? As Joe Pinsker wrote in The Atlantic: "Its origins as a hub of soccer ball-production date back to British colonial times, when Britons eager to play soccer grew impatient waiting for shipments of balls to arrive by sea. In 1889, a British sergeant asked a Sialkoti saddlemaker to repair his punctured soccer ball, and, pleased with the results, put in an order for a batch of balls to be made. Production took off from there: By 1982, Sialkot-produced balls were used in the World Cup."
AirSial
So why start AirSial? Because an international airport cannot expect to continue growing unless it has an airline that creates its hub there. Existing domestic airlines in Pakistan all have their hubs in Karachi, with PIA now beginning to use Islamabad as one of two major hubs. If Sialkot expects to have its international airport and connectivity continue to thrive and grow, it will need to get more air traffic.
"The possibility for this venture to be a success falls from how Sialkot is home to the only privately owned and run airport in not only Pakistan, but the region. We thought it was eminently possible for us to own and run our own commercial airline to save foreign exchange which had been drawn by foreign carriers who had taken advantage of such vast gap between demand and supply in our country," said Ameen Ahsan, CEO of AirSial, in an interview with Profit.
That, of course, begs the question: is there even enough demand to justify an airline? Sialkot Airport has thus far handled a maximum of 817,000 passengers in a single year. Is there really enough to justify more investment? The answer, to AirSial's investors, appears not in the current levels of demand, but in the growth trajectory.
"If you look at the statistics, airline numbers have consistently been on the rise. The IATA [International Air Transport Association] forecasts a strong 184% growth in passenger traffic for Pakistan within the next twenty years," said Ahsan.
And they hypothesize that the current airlines are simply not up for the job. "If you look at the supply-side, it is evident that passenger demand is both under-served, and poorly served. PIA's reduced fleet, Air Blue being unresponsive towards the gap in supply, and Shaheen Air folding up is enough to denote that the doors to entry are wide open in the industry."
So, what exactly is the value proposition of the new airline, aside from serving Sialkot on a dedicated basis?
"AirSial is not like any other private sector entrant within the industry. The corporate ownership of AirSial is unique with more than four hundred shareholders, most of which belong to the Sialkot business community. This gives the company a natural cohesive character. The airline's driving force is not to maximize commercial profits, but more to make it a self-sustaining enterprise that will become a matter of pride for the Sialkot business community," said Ahsan.

But being incubated by the Sialkot business community is about more than just how the company wants to do business. Ahsan believes it can be a key competitive advantage in an industry where exogenous circumstances can result in a sudden shift from profits to losses, and thus weaken many airlines without committed sources of capital. "[Our shareholder structure] also gives AirSial the ability to raise additional capital at short notice," he said.
AirSial plans to start commercial operations on domestic routes by June 2020 and will link its home base of Sialkot to major airports like Karachi and Islamabad through weekly flights. The airline then hopes to expand within the domestic market by flying to Peshawar and Quetta, and by increasing the frequency of flights per week to destinations.
The airline then wants to expand into international airspace by starting flight operations to and from the Middle East, in particular Dubai by next year. There is no word yet on potential operations to Europe.
AirSial's initial operations will rely on three Airbus A320-200s, which the airline has leased from AerCap, the world's largest independent aircraft leasing company, headquartered in Dublin, Ireland.
The A320 is currently the best-selling aircraft in the world, and is a narrow-body plane with a typical capacity of 150 passengers, and a flight range of 6,100 kilometres. That puts London just out of reach, but direct flights from Sialkot to Paris should be possible (if somewhat uncomfortable) on that plane. More likely, the A320 is likely to serve as the core of the airlines fleet on flights to the Middle East, since the plane is designed mainly for short and medium haul flights.
A crowded market
AirSial, however, is not the only airline seeking entry into the Pakistani aviation market. In 2019, the government introduced a new Aviation Policy, designed to encourage new airlines in the country, and several entities have been looking to enter the market. Besides AirSial, there is Afeef Zara Airways, Askari Air, Go Green, Liberty Air. The last of these, Liberty Air, is seen by observers as the most likely to launch commercial operations next.
The AirSial management appear to be well aware that they are stepping into what looks like a crowded market and are preparing themselves to compete.
"There are no shortcuts. Considering how we're operating in the service industry, we understand that only the fittest survive. We aim to incorporate the best business practices not only to survive, but strongly thrive against competition," said Ahsan.

"I would like to mention our Chairman, Mr. Fazal Jelani's vision regarding customer friendly pricing policies that will ensure competitive prices even during high or peak season demand. While I cannot disclose much at this point in time, rest assured that AirSial will be offering more than our counterparts in terms of comfort and convenience for our valued passengers whilst adhering to the highest level of safety standards."
That being said, the incumbents in the current market appear to be doing just fine, if not thriving. Serene Air, for instance, has seen its passenger traffic rise from nothing in 2016 to 1.75 million passengers in 2019. And while growth at Air Blue has slowed down, the airline still flew 1.8 million passengers last year. "Air Blue may not have done exceptionally well but it has not suffered as such," said Ahsan.
The only domestic airline that seems to be doing badly is Shaheen Air, which went from flying 2.8 million passengers in 2018 to almost nothing in 2019 and has now effectively ceased to exist. In Ahsan's view, the issue with the airline cannot be explained by market factors.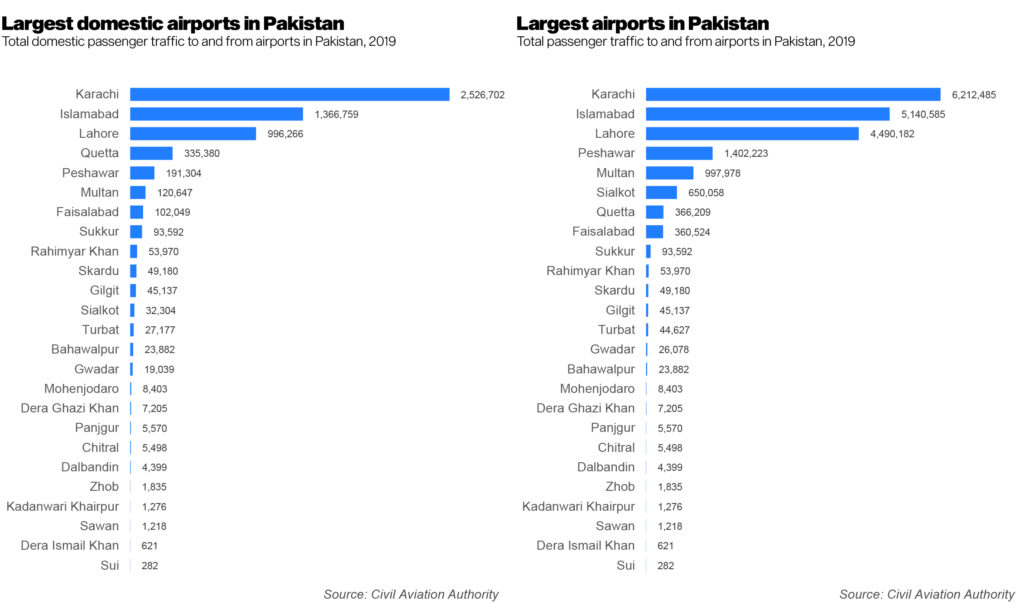 "Shaheen's failure is not explainable in terms of business dynamics as it was performing well on most operational performance metrics, for instance aircraft utilization, regularity, available seat kilometers (ASKs), revenue passenger kilometers (RPKs), seat factors, yields, etc. Apparently, there were other extraneous, unexplained factors that caused its accelerated debacle," he said.
It also helps that the government – particularly the Pakistan Tehrik-e-Insaf (PTI) administration led by Prime Minister Imran Khan – appears to be taking the aviation sector seriously and is trying to craft policies that encourage the sector's growth, part of the administration's policy of trying to make Pakistan an attractive destination for global tourists.
"It is way better now for the aviation industry, as explained while we were talking about government policies for the sector. Here I would like to mention that the Prime Minister himself is very enthusiastic about the aviation sector as he envisions in it a stimulus to create jobs, bolster economic growth, and a strong contribution to net foreign exchange resources," said Ahsan.

Promoting aviation could certainly be a boost to the economy. "I see it become an important multiplier of economic activity in our national economy, creating jobs and adding to the GDP [gross domestic product, or the total size of the economy]. We expect to achieve accelerated numbers in five years than the long term IATA forecast of 786,300 jobs and GDP support of $9.3 billion over twenty years," said Ahsan.
AirSial aims to surpass all private domestic airlines within the next five years, and become second only to PIA in terms of passengers carried. "I see [AirSial] rising to the top and becoming the second largest airline in terms of size. We envision to be amongst the best in terms of service standards by providing our valued customers comfort and conveniences within and outside Pakistan," said Ahsan.
How will that happen? Well, the answer depends in large part on the market AirSial is seeking to serve.
Just how big is AirSial's market?
Sialkot barely has 1 million people, according to data from the 2017 population census, and most of those people do not have high enough disposable incomes to afford air travel. So just how much does the airport have in terms of demand that it can serve?
If one looks at just Sialkot as a population center, then obviously AirSial is likely to have a tough future. However, Pakistani cities are no longer discrete cities surrounded by tens, if not hundreds of miles of countryside before the next small city. Over time, the nation's cities have developed into major metropolitan areas.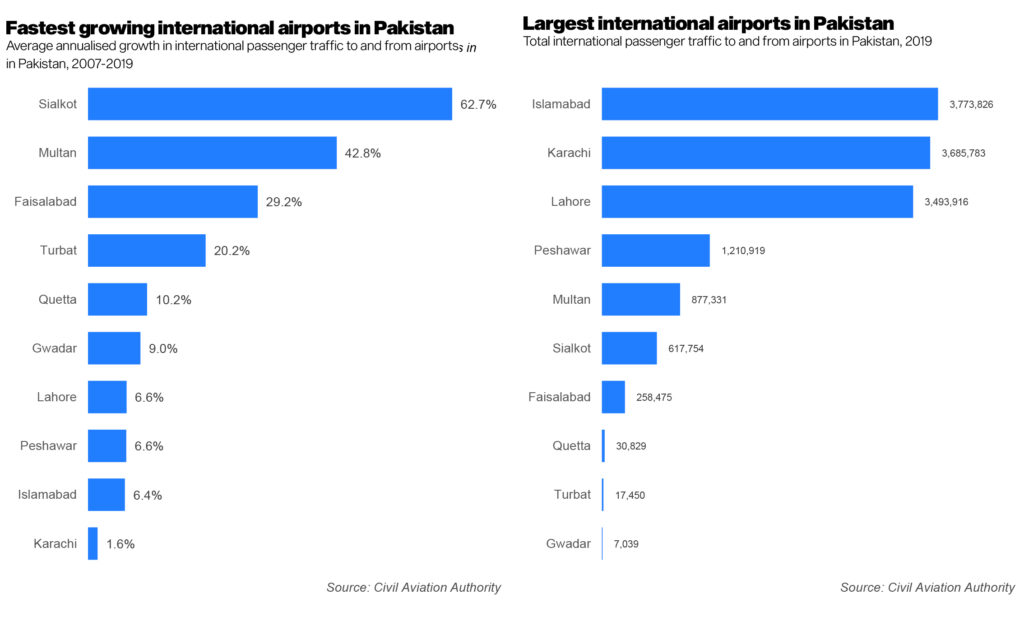 And this is where the most under-reported story of the 2017 census comes in: Sialkot is one of four major cities in the Gujranwala metropolitan area, which is now the third largest metropolitan area in the country, behind only Karachi and Lahore. According to the 2017 census, the Lahore metropolitan area is now the largest, with just under 20 million people, Karachi with 17 million people, and metropolitan Gujranwala – which includes Gujranwala, Gujrat, Sialkot, Narowal, Hafizabad, and Mandi Bahauddin – now has just over 16 million people.
That's right: the metro area served by Sialkot airport – and the future clientele of AirSial – is almost as big as that of Karachi. Yet Jinnah Airport in Karachi served 6.2 million passengers in 2019 and Sialkot Airport served just 0.65 million. No wonder the passenger traffic at Jinnah Airport has grown at just 1.0% per year for the past 12 years, and traffic at Sialkot Airport has grown at 40.7% over the same period.
In other words, Ahsan certainly has a point when he says that existing airlines have not been doing a good job serving one of the largest and fastest growing metropolitan areas in the country, likely a product of the KLI [Karachi, Lahore, Islamabad] bias in economic decision-making in Pakistan.
Of course, Gujranwala's metropolitan area is much more spread out than even Karachi, but nonetheless, the fact remains that for nearly all of it, Sialkot is the closest airport. Some parts of Narowal might be closer to Lahore, but for most people in the region, if Sialkot can be converted into a domestic and international aviation hub, their lives would be greatly improved.
That market is the one that AirSial wishes to serve, and one that no other airline seems to be particularly interested in competing for. If that remains the case, AirSial's projections of future growth are likely to be realised, provided they can execute well on their strategy.