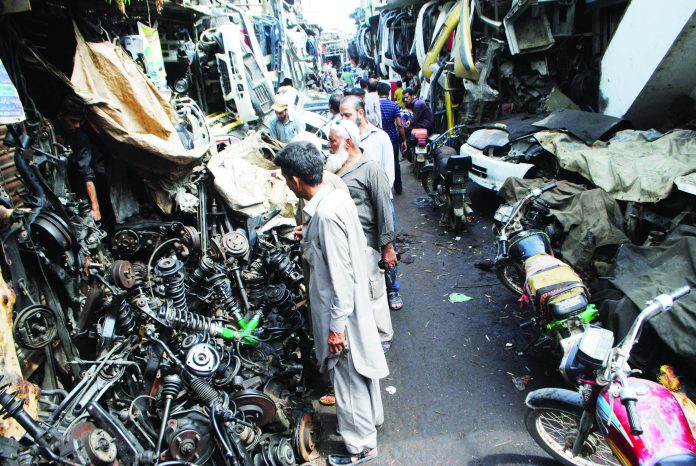 Headlights and bumpers hung from shop fronts, shock absorbers dumped at a place, vehicle engines cluttered the walkway, people crammed shoulder to shoulder – the usual hustle bustle of the market greeted Razi Khan as he entered Shershah upon the advice of his mechanic.Quite intriguingly, Razi Khan's car mechanic claims that a second hand original engine can be bought at half the price of a new local one which is certainly more durable and better performing compared to the local one.
Shershah Kabari Bazaar continues to attract Razi Khan, and many others like him and hence remains Pakistan's biggest spare parts market. Despite its relevance to the local market,  it is losing its customer base and businessmen to other markets fearing the volatile law and order situation.
Shershah junk market is situated adjacent to the  Shershah Bridge at the  junction of Sher Shah Town and Lyari Town. It has been known for easy access to machine spare parts and scrap material for a very long time, but unfortunately the market is now  segregating and dispersing to different areas of Karachi city and Shershah now is a mother market to smaller markets.
Spare parts markets at Shafiq Mor, Sharifabad, Magazine Line behind Tibet Centre Saddar or Mukka Chowk of Azizabad are substantiation that the spare parts market is dividing up within the city.
One reason behind this division is the  growing size and population of Karachi city. However, traders at Shershah market believe that security challenges are the major reason behind the market split-up. Traders at Shershah junk market are moving their businesses by opening small scale shops in the newly burgeoning markets instead of expanding their businesses at the existing location as an attempt to counter apparent dangers of surrounding areas of Shershah market.
Shershah market is surrounded by low-income settlements which are thought to be the  stronghold of Lyari Gangwar criminals.In October 2010, at least 12 men died in an attack allegedly carried out by the neighboring Lyari gang war criminals when the traders refused to pay extortion money.
After the incident, the  police installed  more than 15 check posts, overtime the number has reduced to one with – the  Jahanabad post which already existed before the terror attack.
"Shershah junk market is like a mother of those different markets, customers still have to come here as no market provides the variety of spare parts as this market does," says BhaiJaan an aged trader at the market.
"Everything from needle to ship is found in Shershah junk market" is a frequently used phrase to describe the market and the market appears worthy of the claims that describe it.
Bhai Jan described the Shershah Junk Market as a  small market comprising of a few shops at the  time of inception of Pakistan. Around 1962, in Ayub Khan's era, the junk collectors located in  Rattan Talao, Akber Road, Lea Market and many other  neighboring areas of the city were encouraged to relocate within the budding market.
There is a street full of vehicle engines for almost every model or make. There are also sub markets of auto parts, electronics, plumbing, engineering where one can find imported spare parts of machines which are considered to be performing better than local new ones or parts of machines which have gone out of production.
Overhauled pumping motors and other parts of ships, generator, anchor cable, tarpaulins, iron grills and other copper and steel made things are readily available in the market. The market is renowned for an international customer base  from countries including India, Iran and Afghanistan.
A salesman, Charaghuddin of 'Saeed Punjabi Autoparts' explained that they stock  spare parts of cars manufactured in Japan, Korea, Europe and America or any other country. Moreover, spare parts of vehicles made in 1970s and 80s are also available as are parts of Mercedes, BMW and other popular brands.
Tyres, doors, glasses, dash boards, petrol tanks and other parts of vehicles are easily available in the market so much so that so that  a whole vehicle can be resurrected with scrap picked up from the  market. People visit the market with their mechanics and renew their cars effectively.
Traders at Shershah Junk Market are one of the major buyers of Dubai scrap market. They also import parts in bulk from Singapore at low cost and sell locally earning lucrative profit margins despite the set price offered to subsequent purchasers being low in comparison to the price of local parts. The services are not limited to products on display. If  the item in demand is unavailable in the market, the  trader will get the product delivered from the vendor abroad. This is normally done at a small booking fee and is applicable for luxury car spare parts.
Zishan at Mughal Electric said, "We provide an electricity breaker in Rs. 200 with a  guarantee which will not be available for less than Rs. 800 in the market for new appliances."
According to the General Secretary of Anjuman Welfare Kabarian (Association for Welfare of Junk Dealers), Shershah Muhammad Imran Qureshi, the market contains approximately 4,000 units along with 2,300 stalls. Moreover, warehouses provide storage facilities to traders and there are about 10 large weighing scales. In addition to spare parts, there are plastic and glass warehouses as well.
Though the  new markets across the city have affected the sale of Shershah market to some extent,  businessmen here earn a  decent amount.. The total monetary worth of the market is inestimable as the proceeds usually go undocumented, but  an anonymous  businessman earns Rs 200,000  per month whereas an average trader makes about  Rs50,000 to Rs200,000 on a monthly basis.
Commoners also know the market as "Chor Bazar" (black market) as allegedly stolen vehicles are disassembled and sold here  in the form  of spare parts. Despite the claim, the vendors deny this saying that  they import refurbished parts from Japan, Singapore, Dubai, Malaysia and other countries where people have higher purchasing power therefore discarding  the vehicles after short use.
Chairman Anjuman Welfare Kabarian Shershah Malik Zahid Dehelvi suggests that the government should ban the disassembling of cars in various parts of the city except the  junk market. This will facilitate the government in monitoring and regulating the scrap market.