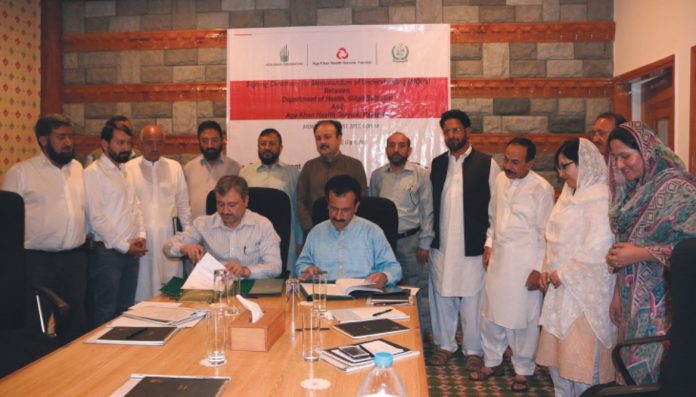 GILGIT-BALTISTAN
Aga Khan Health Service, Pakistan (AKHSP) and the Gilgit-Baltistan Health Department recently signed two MoUs for strengthening health services for over 400,000 people in the Gilgit-Baltistan (GB) region.
The MoUs were signed by Dr Rasheed Ahmad and Dr Muhammad Iqbal, representing GB Health Department, and Dr Sifat Wali, representing AKHSP in the presence of secretary Health, District Health Officers (DHOs) and other key government officials. Both projects aim to strengthen health services in Gilgit-Baltistan with a special focus on maternal and child health.
Under the Access to Quality Care through Extending and Strengthening of Health Systems (AQCESS) programme – funded by the Government of Canada – AKHSP will enhance 31 Basic Health Units, including 20 managed by the government health department, in five districts – Astore, Ghizer, Gilgit, Hunza and Nagar. The project is expected to reach approximately 202,075 women of reproductive age and 128,153 children under the age of five (49.1pc girls).
The aim of the AQCESS project is to make the health centres more accessible and effective caregiving facilities. The project entails training of doctors, nurses, Lady Health Visitors (LHVs), Lady Health Workers (LHWs) and Community Health Workers (CHWs).