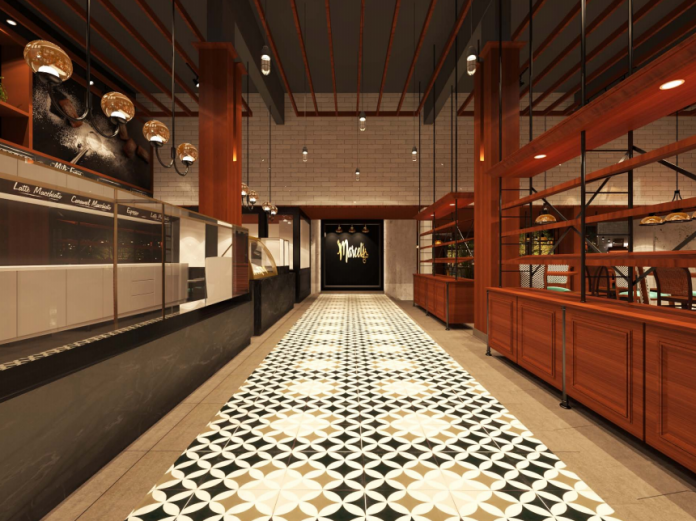 KARACHI: As Marcel's 'A Taste of Two Cities' gears up to bring the best of baking from Paris to Pakistan, we had a chance to catch up with the gentleman behind the business. The bread boutique is the first of it's kind in Pakistan, aiming to cater to audiences of all ages and provide an experience to remember; so said Junaid Aziz, the mind behind the new bread boutique all set to open its flagship store in Karachi.
The bakery's marketing campaign, titled 'A Taste of Two Cities' is centred around bringing together the artistry of Parisian bread baking and the vibrant culture of Pakistan. The risks are high, not because a cafeteria specifically focused on bread is something unheard of in this part of the world, but also because Aziz has an idiosyncratic approach towards launching and maintaining his brand. He wishes to run the bakery as a premium brand simultaneously catering to a wide target audience across multiple social brackets. Junaid insists on preparing each item from scratch, using high-end imported materials to achieve an international standard in taste and quality. With years of experience in the luxury industry around the world, Aziz is set to provide a once in a lifetime experience to customers. He wishes to transport bread lovers to the cobblestone streets of Paris, for a decadent and indulgent meal. In Aziz's words, "Our most valued customers will be those who visit us just once. Those customers will remember it for a long time."
Elaborating further he said, "As an entrepreneur, I want to position my brand as a premium, but not only for the high-end customers. I want my brand to be a source of inspiration for those people who even if only pass by it and just think of coming inside someday. Because when they do decide to come, I want the place to be there, for them, to make memories for rest of their lives."
The CEO, Umair Khalil, a recent London return, has a slightly different approach. To him, Marcels is an affordable, approachable brand with the great mass appeal. Umair states "Those customers who can afford McDonald's or KFC can also afford Marcel's". Umair's vision for Marcels is to create a brand and an atmosphere that will attract customers from all walks of life and build an appreciation and taste for well-made bread and bread products across the country. His ultimate goal is for Marcels to become the go-to spot for the people of Karachi to grab a hot, fresh croissant and cup of coffee on their way to work or to have a place to relax and unwind with friends in the evening.
When probed further about how these two varying approaches will work, Junaid and Umair remained confident that the competitive price point factor would be their main attraction for returning customers. The two partners feel that the Pakistani audience is ready and eager for premium quality products of an international standard. From a pricing perspective, Umair Khalil said that we aim to be much more affordable than Espresso. Junaid Aziz did stress though, that Marcels does not want to be seen as an ordinary café, rather, as a space for true quality bread enthusiasts.
The fact that bread is not considered a product of choice in Pakistan, however, is another matter.
For most Pakistanis, the choice between brown bread and white bread is perplexing enough, with a few concerning themselves with honey oats, oregano or whole wheat. Khalil said, "Marcel's will be offering initially at least twenty types of different bread. The number of different types of bread will be increased to as high as fifty soon after inauguration". The main challenge, the duo feels, is creating a demand and taste amongst the virgin audience for the type of product and experience they wish to promote.
The flagship store, designed by the renowned architect Naheed Mashuqullah, is set to open at boat-basin, before new year's eve 2017. The fact that Café Frontier is situated seven minutes away, Tandoori Hut six minutes away, and Baithak only a minute away, means that it will be a tough task for Marcel's to pull the customers away from their regular spots into a brand new space. On a question how will Marcel's differentiate itself from nearby competing eateries and cafes, Aziz said that the people hired by Marcel's were passionate about culinary arts. "Umair had to do a lot of research to find people who approach degrees in culinary arts," Aziz said. The bakery has had its employees on payroll for about ten months now and they have been encouraged to experiment with new recipes and master the existing ones, Aziz informed.
About recipe protection and innovation, Aziz elaborated, "Pakistani flour is not a suitable ingredient for making croissants. A lot of preparation has gone into launching this brand, and we have been working for months with our workforce, not just from the kitchen but also from management departments to perfect our procedures." They have not yet patented any recipe but to Aziz, that does not matter. "If you have made a strong brand, your people will prefer staying with you instead of leaving to another business or sharing your secrets. Also, we are focusing on providing a complete brand which means that even if our recipes are replicated, it will not harm us."
As it has been said 'early bird catches the worm', Marcel's would probably have an instant advantage over most of its competitors when it comes to breakfast. "We will be open from 7:00 am to 12:00 am. Most of our competitors generally open at around 9:00 am," Khalil said. There is no denying that this is a positive change coming from Marcel's, but it also means that the café's costs of the workforce will increase. Marcel's boasts of employing close to eighty people, initially, a large number for any eatery. Aziz and Khalil do not share the exact amount of the seed money in their startup, but Aziz said that they have put a sizeable amount. "Brands cannot be built on weak foundations," he added. "But I would say the things we have achieved in the amount we spent so far, others would have spent three times to achieve the same goals." The devil lies in details and we have spent a lot of our resources and time working on those details to bring something we hope is amazing", Aziz said.
Aziz added that after the inauguration of Marcel's, they would also start working on small spots at different places of the metropolis where their key products – bread, pastries, cake and coffee would be served. "If a person living in Gulshan-e-Iqbal wants to have a cup of coffee or bread, he would not want to come as far as Boat Basin. For such customers, we have planned to open small franchises all around the city." He added that their experience with their first branch at Boat Basin would influence their future course of action. "We will see if our people adapt to the new taste. However, it is a risky prospect and hopefully we will get a good response," Khalil said.
According to the two, the real aim of Marcels is not to be a run-of-the-mill eatery, they are looking to build a sustainable brand with the potential to grow and rival companies such as Starbucks. Marcels, to them, is more a start-up business than just a bakery.
Aziz and Khalil are not under any delusion about the challenges their brand might have to tackle before becoming a success story. "While Pakistan is hungry for premium products, the market is absolutely not ready for a brand like ours, but that is what entrepreneurship is all about. We will prepare the market for our brand, introduce our product, and if it leads to more people launching similar products, that will be to our benefit as well." He is not worried about the competition rather he is looking forward to it. "The competition will increase but so will consumer awareness, and someday we wish to run our brand as a franchise, so more people in the industry will refine us out, competition will improve us, and preparing the market will also help us grow."
About future plans of Marcel's Aziz had to say, "I strongly believe in constantly updating yourself, studying and learning the market dynamics and adapting along with them. So I do that and our workforce will also continue to do that."
It is a difficult task ahead, for Marcels. It will be interesting to see how a premium-positioning will work with local competitive pricing, how 'bread' as the hero of all dishes will take off and if the company will manage to remain true to their ambitious expansion plans. The two minds behind Marcels promise a great deal, but running a successful brand is a mix of luck, consistency and an exceptional product. Only time will tell if this dream will become a reality and if Marcels will eventually become a household name.