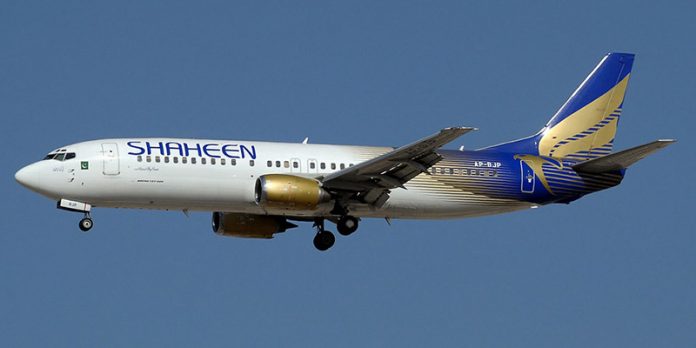 KARACHI: Pakistan's Civil Aviation Authority (CAA) has cancelled the permission for the scheduled international flight NL 221/224 of Shaheen Air International (SAI) of Islamabad-Dubai-Islamabad with effect from July 13.
In a letter served to SAI on Monday, CAA directed the airline to intimate the affected passengers accordingly to avoid any inconvenience. Moreover, the aviation regulatory body has requested Dubai bound passengers in referred flight from July 13 onwards to make alternative arrangements.
According to CAA, SAI is a defaulter of more than Rs1.25 billion of CAA with regard to various charges; however, SAI has alleged that the regulatory body is supporting Emirates Airline instead of local industry in a bid to facilitate Emirates' new A380 service.
Earlier on Sunday Emirates Airlines' double-decker A380 with a 625 passenger capacity landed at the new Islamabad International Airport (IIA) in a special one-off arrangement.
"We are proud to have operated this special A380 flight to Islamabad, the first time ever that our flagship aircraft has landed in Pakistan. The Emirates A380 is fundamental to our overall strategy, and bringing this popular aircraft to Islamabad represents a significant milestone in our operations to Pakistan, a country we flew our first ever flight to in 1985. We are very keen to now launch a scheduled A380 service to Pakistan and will continue to work with authorities to make these plans a reality," said Sheikh Majid Al Mualla.
"Today should be observed as a 'Black Day' for the local aviation industry," SAI Spokesperson Zohaib Hassan told Pakistan Today. The aviation authority has allowed an international airline to operate on the same route, however, has barred local airlines in a bid to facilitate Emirates Airline's A380 scheduled service, he added.
He further said, "Traffic from Islamabad to Dubai is not more than 1000 passenger per day. Out of the 1000 passengers, Emirates A380 will accommodate 620 passengers, while Pakistan International Airlines' (PIA) 777-Boeing service with a capacity of 300 passengers from Islamabad will cater the remaining passenger, leaving none for other local airlines."
"It is a big blow to own aviation industry," Zohaib claimed.
Industry sources said that countries protect their own interest but in Pakistan, CAA is destroying the aviation industry. Emirates wanted to operate the A380 service from Canada but the Canadian government refused despite political pressure so much so that UAE government put restrictions on Canadian passports but the Canadian government stuck to their stance to save their local airlines, sources added.
He further added that India, which is a non-Muslim country, did not allow Emirates to operate the A380 service from Mumbai Airport in order to protect their airlines.
Everywhere routes are given on reciprocal basis but Emirates has been given seven flights from Karachi and they have permission to operate from Lahore, Multan and Peshawar along with Air Arabia, Fly Dubai and Etihad, he said adding, the airline has been given permission to operate from Quetta, Faisalabad and Sialkot as well. As a result, Airblue and Shaheen had to shut down their flights on the same routes because they could not compete with the international airlines.
SAI spokesperson alleged that CAA is not supporting local airlines but has given Emirates permission to operate in Pakistan after taking hefty amounts of dollars.
It is pertinent to mention that SAI is on the verge of collapse and new airlines such as Go Green and Sial are in serious difficulties.
Moreover, SAI has reduced its fleet size by half a dozen aircraft. The industry analysts consider it a setback for the SAI. Post this major operational decision, the SAI is also set to lay off its employees. The decision has come after SAI in recent times having been beset with a spate of regulatory and taxation issues, with the thorny ones involving the airline's head office being sealed on non-payment of tax.
The reduction in fleet size would be followed by curtailing the number of employees as well as routes and destinations the SAI operates on.
It is pertinent to mention that Emirates Airlines has no spokesman in Pakistan, while its PR agency is silent over this issue.