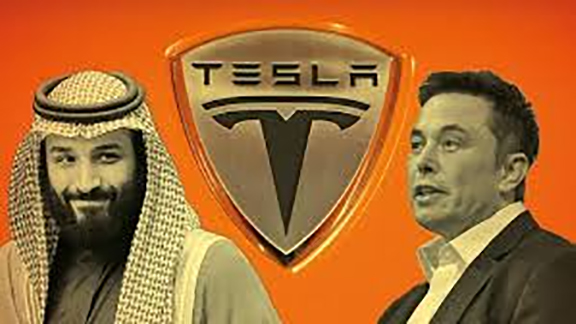 DUBAI: Saudi Arabia's sovereign wealth fund invested over $1 billion Monday in an American electric car manufacturer just weeks after Tesla CEO Elon Musk earlier claimed the kingdom would help his own firm go private.
Tesla stock dropped Monday on reaction to the news, the same day that the Saudi fund announced it had taken its first loan, an $11bn borrowing from global banks as it tries to expand its investments.
The Saudi Public Investment Fund said it would invest the over $1bn in Newark, California-based Lucid Motors.
The investment "will provide the necessary funding to commercially launch Lucid's first electric vehicle, the Lucid Air, in 2020," the sovereign wealth fund said in a statement. "The company plans to use the funding to complete engineering development and testing of the Lucid Air, construct its factory in Arizona, enter production for the Lucid Air to begin the global rollout of the company's retail strategy starting in North America." Lucid issued a statement quoting Peter Rawlinson, its chief technology officer, welcoming the investment.
"At Lucid, we will demonstrate the full potential of the electric-connected vehicle in order to push the industry forward," said Rawlinson, who worked as the lead engineer of the Tesla Model S before joining Lucid.
The all-electric Lucid Air will have a range of over 400 miles (640 kilometers). The company already is taking deposits for the vehicle, which they've priced at $52,500.
Lucid plans to make the Air at a factory it's building in Casa Grande, Arizona. The company wants to make up to 130,000 vehicles per year by 2022.
The Saudi announcement comes after Musk on Aug 7 tweeted that he had "funding secured" to take Tesla private. Investors pushed Tesla's shares up 11 percent in a day, boosting its valuation by $6bn.
There are multiple reports that the US Securities and Exchange Commission is investigating the disclosure, including asking board members what they knew about Musk's plans. Experts say regulators likely are investigating if Musk was truthful in the tweet about having the financing set for the deal.