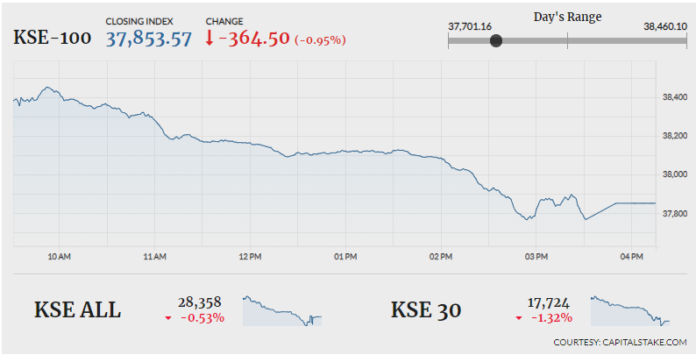 LAHORE: Failing to hold on to early morning gains Pakistan Stock Exchange (PSX) once again ended the session on Thursday in the red. Indices which opened positive took a U-turn by midday and continued shedding gains thereon. On the economic front, Pakistani Rupee appreciated against the US Dollar at Rs 138.69/Rs139.02 in the inter-bank market rate on Wednesday as compared to Monday's close of Rs 138.70/Rs139.04.
Moreover, according to latest auction data released by State Bank of Pakistan (SBP) the government has raised Rs19.668 Billion from the auction of long-term Pakistan Investment Bonds (PIB) held on Wednesday against the Rs50 Billion goal.
Meanwhile, the KSE 100 index touched its intraday high of 38,460.10 a while after the session began. It then changed its path and drove in reverse direction reaching its intraday low of 37,701.16. The index finally settled lower by 364.50 points or 0.95 per cent at 37,853.57. While the KMI 30 index lost 766.61 points (1.20 per cent) closing at 63,139.07 and KSE All Share index fell short by 151.37 points ending at 28,358.42.
Overall trading volumes improved by 17 per cent on day on day (DoD) basis and were recorded at 103.73 million. Bank Alfalah Limited (BAFL -4.34 per cent), The Bank of Punjab (BOP -1.09 per cent) and Aisha Steel Mills Limited (ASL +1.64 per cent) were top traded stocks of the day. The scripts had 7.21 million shares, 5.65 million shares and 5.44 million shares traded respectively.
The oil and gas exploration sector managed to gain 0.17 per cent in its cumulative market capitalisation following news of an increase in global oil prices. Keeping up with overall market trend Mari Petroleum Company Limited (MARI -3.99 per cent), Pak Petroleum Limited (PPL -0.66 per cent) and Pakistan Oilfields Limited (POL -0.04 per cent) closed negative. Oil and Gas Development Company Limited (OGDC +1.14 per cent) on the other hand ended with decent gains.
Khairpur Sugar Mills Limited (+0.00 per cent) declared its financial performance for FY18. The company's sales improved by 44 per cent YoY. Whereas, earnings per share improved from Rs -5.84 in the same period last year (SPLY) to Rs 1.39. Gross profit margins declined from 6.61 per cent in the previous year to 0.99 per cent in the current year.