LAHORE: In a recent message sent out to the employees at Jazz, Jazz CEO Aamir Ibrahim informed the company that Jazz would be going through an overhaul to adjust to the rapidly changing environment.
The company-wide message sent out by Aamir which read, "At Jazz, we have always prided ourselves in delivering high-quality services to our customers in a fast-paced technological era. While we continue to make progress on the business and people fronts, we must also be mindful of the rapidly changing environment in which we operate. To continue to remain an undisputed leader, we must pre-empt the waves of change."
The message further read, "For the past few months, Jazz has been carefully re-evaluating how best to serve our future customers and what the organisation of the future would look like. The deliberations around creating an agile, digital and learning organisation have allowed us to reposition ourselves for the better. Regrettably, it also leads to some difficult people-decisions."
"While such transitions can be painful, my priority has been to make it as smooth and comfortable as possible for those colleagues with whom we are constrained to part ways. Your divisional leaders and head of departments (HODs) will reach out to you with more details in the next 3 days," the message concluded.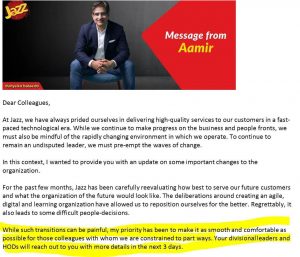 It is pertinent to mention that Jazz formerly known as Mobilink in 2016 acquired Warid, making Jazz an unrivalled telecommunication giant in Pakistan.
Despite repeated attempts, at the time of filing of this story, no official from Jazz could be reached for comment.
This is a developing story.