Fatima Asad Said comes from a family of chartered accountants including her father. Before
completing her MBA, she worked with Citibank and the International Finance Corporation (IFC), and it was almost a given that she would follow in her father's footsteps and continue her career in finance. However, fate had something else planned out. In 1997, while in the last semester of her MBA at the Lahore University of Management Sciences, she found her true calling: human resources (HR).
"During the last semester of my MBA, I realised that no matter what the area was – whether it was marketing, finance, supply chain, or sales – it all came down to the people at the end. And by people I mean the chief executive officer (CEO), the general manager, or even the sales officer. It was the human element that really defined how an organisation did in terms of integrity and in terms of values," she said, in an interview with Profit.
"No matter how world-class your systems, structures, or processes get, if you have the wrong person in the wrong seat, everything collapses. So that got me thinking and got me interested (in HR)."
However, in the late 1990s, HR was still an upcoming profession in Pakistan and most of the companies had their head offices and their HR departments in Karachi. However, given family constraints, Fatima started her career with Coopers & Lybrand, and then PricewaterhouseCoopers based in Lahore. By 2003, PwC Consulting had been bought out by IBM worldwide, and the Pakistan business became AbacusConsulting, a leading consulting and technology firm working in the business transformation industry in Pakistan.
Today after spending almost 22 years as an HR and business leader, she is the Regional Director at Abacus Consulting, and the CEO for AbacusELS, a subsidiary company of Abacus that works as an HR outsourcing entity, providing services to clients like Motorola, Nokia Siemens, and Habib Bank. She also sits on the boards of various different organisations like her alma mater, Lahore University of Management Sciences and Kashf Foundation, a non-profit microfinance organisation.
Fresh out of college
Fatima recalls that her first year at Abacus was a tough one where she and her colleagues practically had to do everything themselves. "I had to do everything. At that time computer networking had just been introduced and we had just one computer which used a dial-up internet connection. The printer used to fail most of the time. We did the printing, we did the photocopying, we worked nights and worked just like we did in universities without having any attitude," she says.
As most HR professionals do, Fatima regularly deals with young college graduates working their very first jobs and believes that there are gaps in the quality of the graduates being churned out by universities and that the linkages between academia and industry could be stronger.
"Lots of times, our team had strong feedback from our bosses in front of clients. However, if you say anything to young graduates now, they just walk out. The attitude has changed," she says.
"Academia needs to understand the demands of the employers and match its supply (of graduates) with it. That is not being worked out fast enough. In this age of technology, where we need a completely different skill set, academic excellence and good education are important, but skills like critical reasoning, problem solving, analytical skills and on the softer side, mindfulness, emotional intelligence and empathy are also important," says Fatima.
"How do you deal with bad bosses? How do you deal with a team member who is just trying to pull you down? These are realities of life. And good universities invest in developing these social skills."
"I have seen careers of class toppers tank, and average students going right to the top of the organisation. Not because they were excellent, but because they knew how to build relationships," she says.
However, contrary to what most people would expect, Fatima believes that among the graduates of top tier universities, there is a certain sense of entitlement.
"I have had great experiences with graduates of universities which are second tier or third tier, not because of the quality of education but because they have the hunger to make it in this world and they are eager to learn. As opposed to graduates from top business schools; over there, there's a certain sense of entitlement. They need to develop the habit of rolling up their sleeves and putting their hands in the dirt," she says.
Creating leaders out of people
Currently, Fatima is leading a partnership between Abacus and the Center for Creative Leadership (CCL), a US-based organisation working on leadership development and executive education. CCL is the only non-academic organisation working in this domain and in 2018, it was ranked number 10 in the Financial Times worldwide survey of executive education. "What CCL does it that it harnesses its experience of the industry. It is more practical rather than being academic and that is why it's models are so successful," says Fatima Asad.
"So what they say is that the leadership journey is not created with a two day workshop in an organisation. It is when you identify someone as an emerging leader and then take certain steps to build their career and potentially take them to the CEO level."
Take, for example, an employee working as an assistant manager with exceptional performance in that position. For most organisation it would be a simple decision to promote that person to the manager level. However, that is where the problem arises. "Promoting a person from an assistant manager to manager position would mean that he would now require a different set of competencies," says Fatima.
"Maybe they are now managing more people or they are managing managers which requires a different skill set. Maybe they are now more into tactical planning but are unaware of the competency behavioural shift required to do well in that position."
"The leadership journey says that every time you get promoted you need to get assessed, and the gaps [in your skill set] identified, and then the training happens on the behavioural side to facilitate the transition into the new position. You constantly learn and that is how you go up the ladder. Imagine if you were to cascade all the way to the CEO level."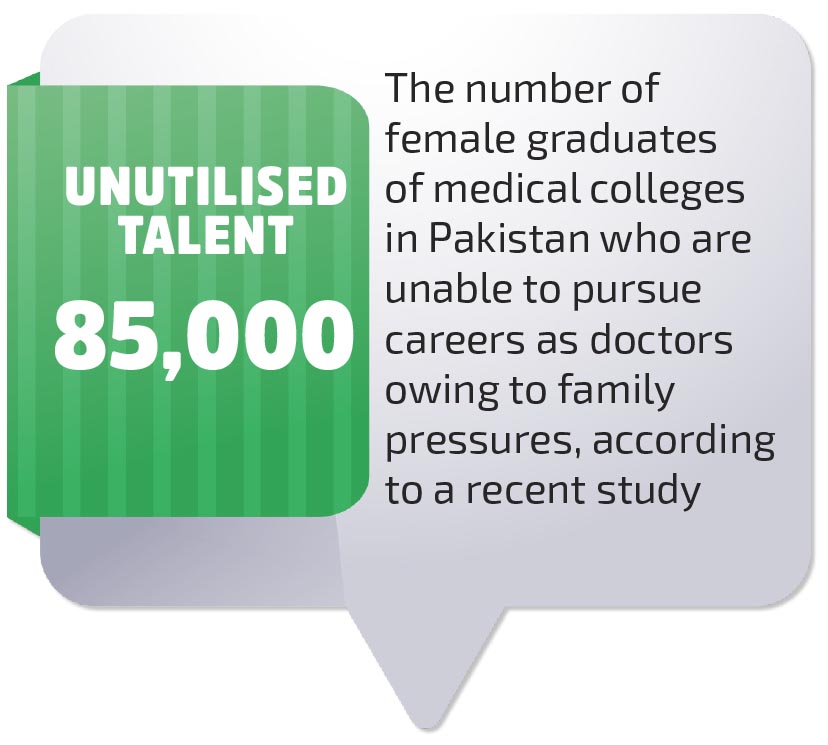 However, not everyone makes it to the CEO or the C-level positions and most organisations have a pyramid structure with the majority of employees somewhere in the middle or lower tiers.
"It's a pyramid structure. How many people are you taking up to C-level and then to CEO level? Not everyone can get there. So, what do you do with this middle management? They either leave or they stay there and become a weight for the organisation and they keep the organisation down," she says.
The tip here – and one of the major frameworks of CCL – is to ensure that this middle level of the organisation is kept productive in a way that it adds value to the organisation. Sounds simple enough? But why then do HR professionals so often fail to effectively deal with such situations? Fatima believes that it might have to do something with a lack of knowledge regarding their own organisation and the people working within them.
"HR is challenging and a lot of the time it gets a bad name because some HR professionals don't understand the business they are in. If you don't understand why certain functions exist in the organisation you cannot be a good HR professional. You cannot be an effective HR practitioner if you don't know what a finance person does, what a marketing person does or what a supply chain professional does. Whatever decisions and initiatives are undertaken at the end of the day the implementation has to involve everyone in the organisation," says Fatima.
Abacus, under Fatima's leadership has recently launched leadership courses and trainings in Pakistan in collaboration with CCL. The company plans to build a market for such courses in Pakistan first and then eventually offer them in other countries as well.
Women in workforce
As a woman working in HR, Fatima Asad has worked extensively on issues pertaining to gender diversity and diversity in general in the organisations.  "Diversity is not just about gender, diversity is culture, demographics, age generations that exist within your organisation. Diversity is also about how you balance out in the age of technology and digitalisation and the advent of robotics and artificial intelligence coming into the organisation.  It all has an impact on how do you manage the diversity conversation," she says.
Over the years she has been one of the most vocal proponents of female education and making workplaces more inclusive for women. " If you have a 40-60 gender split, just having that 40-60 ratio does not cut it. Do you have facilities for working mothers to bring their children into a daycare? Or do they have some flexible time off so that they can navigate between their personal life and their work life. That is what inclusion is," she explains.
However, while organisations have a responsibility to be supportive to women, Fatima Asad believes that support coming from families of working women themselves is of equal importance. "If women are not supported from home then it becomes very challenging for them to continue working or come to work with a certain peace of mind. It is our responsibility to advocate for this," she says.
In Pakistan female literacy stands at just around 48% compared to 70% for males. Moreover, according to numbers published in a recent report, around 85,000 women in Pakistan who completed a medical degree have never worked as a doctor in their lives.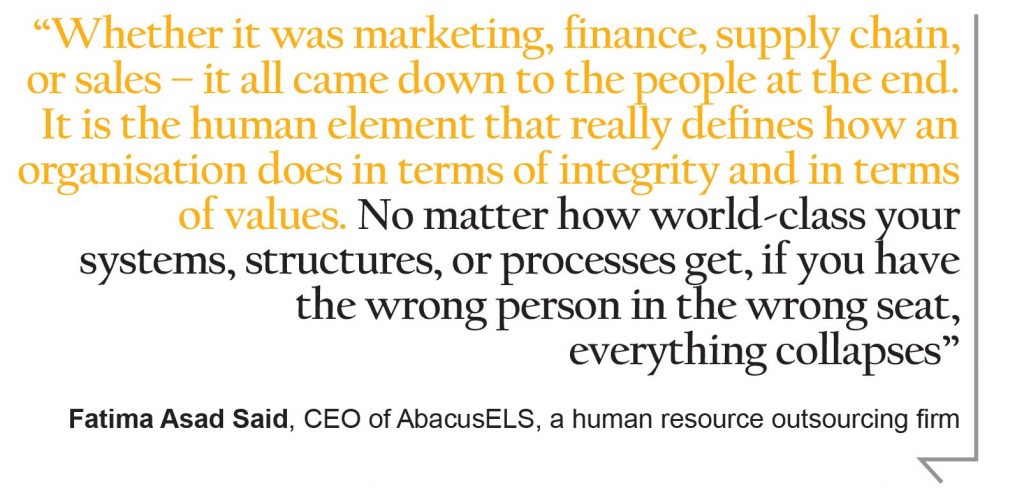 "There are a number of segments in our society where the mindsets are still driven by the fact that if they have a certain amount of money and if a choice arises in choosing between educating a boy or a girl, then they will prefer educating a boy,' says Fatima.
"We need to send out a positive message portraying females as future mothers responsible for raising the next generation. An educated mother does not necessarily have to work. But if you don't have an educated mother than you don't have an educated next generation. It is a vicious cycle that exists."
Fatima narrates an incident that occurred during a seminar she was invited to when a young woman, a recent graduate, told her that she had been recently married and despite her qualification her husband was not in favour of her taking up a job.
"So what does she do? I said, you know what, you have to balance it out. It is about priorities. It is about what you need to invest in. Career is important, but family is much more important than a career. One day, 40 years or 50 years down the road, who do you want by your side and where have you invested in?" she says.
"In the initial years you invest in your family, create a bond and a relationship and afterwards you might be able to have a career as well."
"Another thing which I told her was that her generation is lucky, because they have technology. You can go online, learn, certify yourself, and have multiple jobs. Just focus on what you have achieved till now, and keep on learning. Do some online engagement. Get associated with someone on a part time or contractual basis. You don't have to necessarily have a 9-to-5 job. This is also a message that we need to send out so that our society becomes comfortable with the idea of women going to work," she says.