It is practically an axiom in the world of corporate strategy: if you consolidate several separate businesses under a single holding company, you are in the market to buy something, usually something big.
In Pakistan, given the dearth of formal businesses, the menu of options is slimmer and hence the pace of mergers and acquisitions is slower, but the rule still holds: if you combine a set of assets into a single entity, you are suddenly every investment banker's best friend. They all know you are in the market to either sell something or buy something – often both – and they want to make a fat advisory fee helping you conduct those transactions.
So, in late 2016, when IGI Insurance announced that it would be renaming itself IGI Holdings and consolidating the IGI Group's insurance and financial services companies under a single umbrella, speculation started in the country's minuscule community of investment bankers: what does IGI want to buy? And what would they be willing to sell?
Profit does not have a definitive answer, but through an analysis of the company's financial statements, as well as information we have gleaned from sources familiar with the IGI's deliberations, we have been able to piece together a picture of what was considered, and what could still be on the horizon.
In order to understand what could be possible – and what is advisable – it would be helpful to first explore the nature of the institution, and its history.
 Babar Ali's forgotten child
If you asked Pakistan's economic cognoscenti to name the top corporate titans in the country's history, we suspect Syed Babar Ali would be in nearly every person's top three, and quite possibly the favourite to be number one.
The man has managed to build an industrial and financial conglomerate that tends to be known for all the right things: innovative products and services, engaged employees working under an ownership structure that gave its managers true autonomy, and the uncanny ability to attract some of the biggest and best names in global business to invest in Pakistan, an ability driven by the fact that companies around the world know they can trust him.
"There are two people with whom you can co-invest with complete trust: the Aga Khan, and Syed Babar Ali," said one investor based in New York who wished to remain anonymous.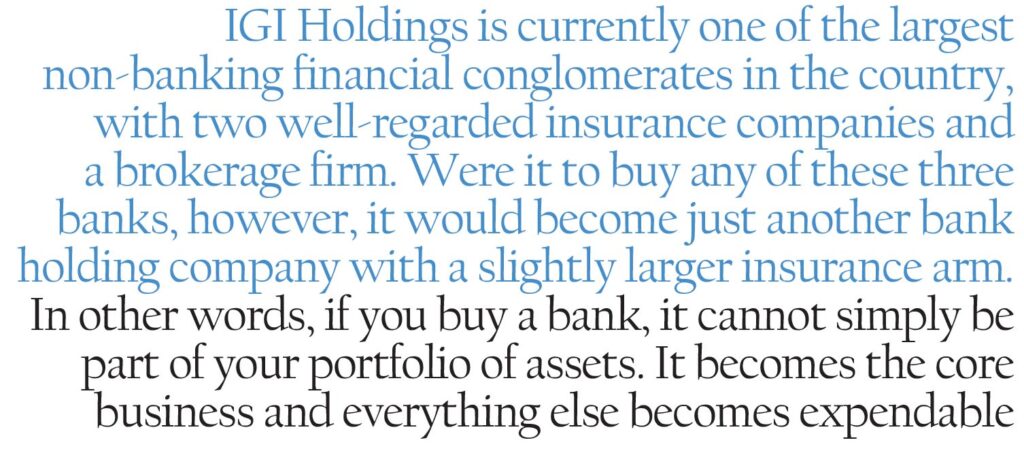 While Profit has previously covered Babar Ali's family background and business success in considerable detail, it is worth recapping what he has been able to build. He created and grew Packages Ltd, Milkpak Ltd, Tri-pack Films, and the IGI Group. He brought several foreign companies to Pakistan, including Nestle (Switzerland), Tetrapak (Sweden) and serves on the board of Coca Cola Pakistan, Siemens Pakistan, and Sanofi-Aventis. Oh, and did we mention he is the founder of the Lahore University of Management Sciences (LUMS), Pakistan's finest institution of higher learning?
Buried among his bigger and better known achievements involving Packages, Nestle, and LUMS, the IGI Group is a relatively lesser known venture by Syed Babar Ali. It is also the business venture where he faced major setbacks, including being forced by the Securities and Exchanges Commission of Pakistan (SECP) to wind down the operations of IGI Investment Bank and merge its remaining assets into IGI Insurance in late 2016.
Less well-known than some of the other names in capital markets (think JS, AKD, KASB, et al) and the smallest among the major insurance groups, IGI is easy to forget. But given the consolidation of its assets – and the rumours that the company explored the option of buying a bank – perhaps the country's economy would do well to pay attention.
 Tracing the story of IGI
The story of IGI starts very early on in the history of Syed Babar Ali and his family's business ventures. In fact, it predates Packages Ltd by three years.
The first company in the IGI Group was IGI Insurance, the property and casualty insurance company, which was founded in 1953 and is currently the fourth-largest property and casualty insurance company in the country. And for decades, it remained the only company in the financial services sector owned by Babar Ali and his family.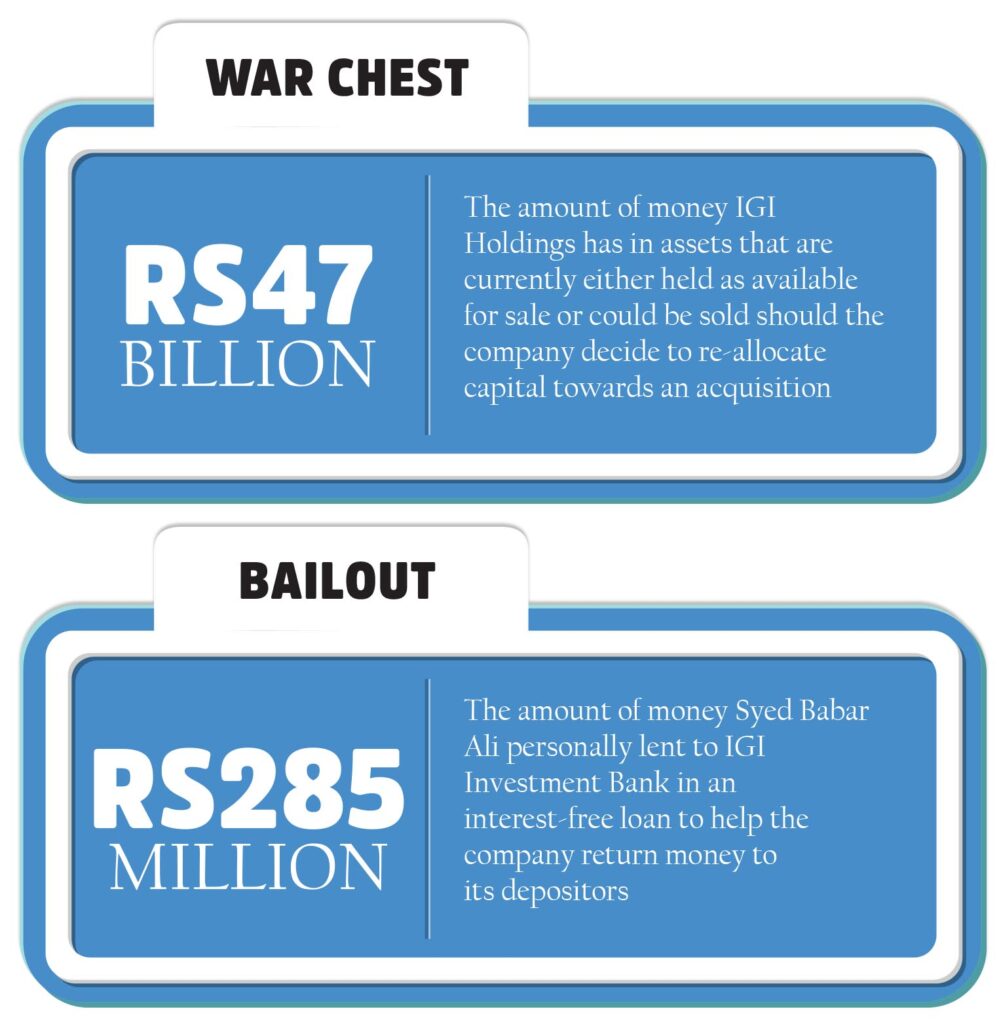 IGI Investment Bank was the next entity created by the group, founded in 1990 as the group's first financial services foray outside insurance. Investment banks – at least ones registered as such – are typically licensed to provide underwriting services for both debt and equity securities, though in Pakistan that usually means mostly debt.
Unlike their counterparts in the United States and Britain, however, Pakistan's investment banks are allowed to raise deposits from high net-worth individuals in addition to institutions. (The bulge bracket investment banks in the United States and Europe offer deposit products to their high net-worth individual clients, but they typically do so through a bank subsidiary, not directly.) This is a detail that will become particularly relevant in our more detailed discussion of the investment bank, below.
Shortly after creating the investment bank, IGI bought themselves a seat on the Karachi Stock Exchange and set up IGI Securities (now called IGI Finex Securities) in 1994. IGI Securities is by no means one of the largest brokerage firms in the country, but it does a respectable amount of business in the country's equity markets.
IGI Investment Bank did own a securities brokerage licence as well, but in 2007, IGI Securities became a subsidiary of IGI Investment Bank and the two securities licenses were merged into IGI Securities.
Also in 2007, the group further deepened its foray into the capital markets and created IGI Funds, an investment management company that offered mutual funds to retail and institutional investors. IGI Funds was a subsidiary of IGI Investment Bank.
IGI Funds was a major success for the group: it attracted some of the most talented people in Pakistani capital markets – including star fund manager Maheen Rahman – to work for the company. However, in 2013, IGI agreed to sell its asset management business to Bank Alfalah's subsidiary, Alfalah GHP Investment Management Ltd, for Rs200 million. The reason: a need to raise cash for the struggling parent company, IGI Investment Bank.
In April 2014, IGI closed on the transaction to buy MetLife Alico, the life insurance company owned by New York-based insurance giant MetLife, which itself had acquired Alico through an acquisition of the troubled US-based insurance giant AIG's life insurance business in 2010.
At the time of the transaction, IGI claimed it had re-entered the life insurance business, but did not specify when it had previously owned a life insurance business. All life insurance companies in Pakistan were nationalised in 1972 to and merged to become State Life Insurance Corporation, but it is unclear whether an IGI life insurance subsidiary was among those that was expropriated by the government during its nationalisation drive.
 The consolidation and the rumours
In late 2016, IGI announced that it was renaming IGI Insurance to be called IGI Holdings and converting it into the holding company for all of its financial services companies. And that is when the rumours started, perhaps for good reason.
Here is why: the new entity is a behemoth. At the end of its first full year of operations in 2017, IGI Holdings had a consolidated balance sheet with assets worth Rs103 billion. The book value of the company (assets minus liabilities) was Rs73.5 billion. While that value has since declined to Rs45.6 billion as of June 30, 2019 (more on why later), the fact remains that IGI remains a formidable company with the ability to buy a substantial asset.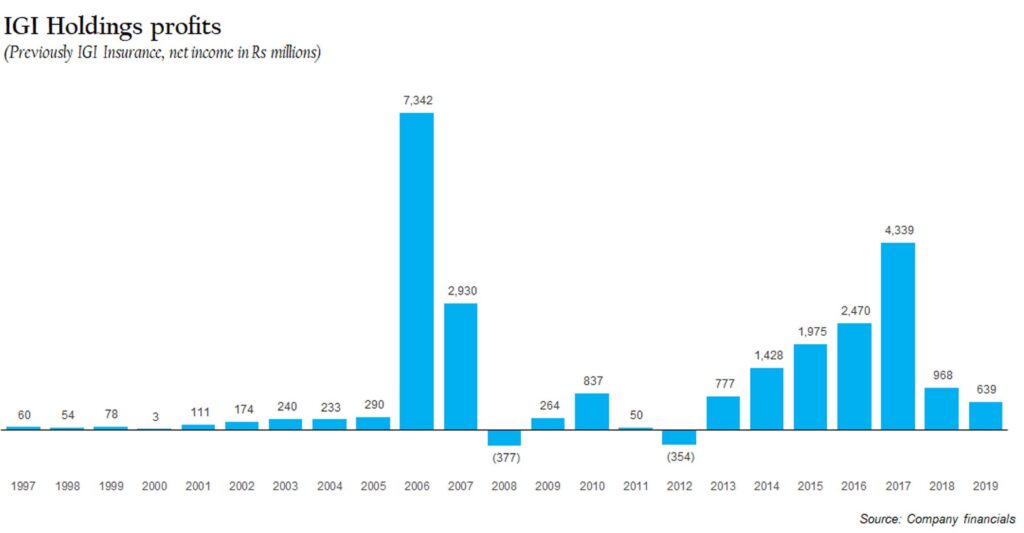 And the rumours that it was on the market were given further life by the reports that the company was working with Atif Bajwa, the former CEO of MCB Bank and Bank Alfalah. Those rumours were lent some credence when Bajwa formally joined the board of directors of Packages Ltd, the flagship company of Syed Babar Ali's business empire.
Sources familiar with the deliberations tell Profit that the group was working with Bajwa to explore the possibility of buying a bank. That collaboration happened even before Bajwa joined the Packages board. As the former CEO of two of the largest banks in the country, the Aitchison and Columbia-educated banker was a natural choice to help spearhead any efforts by IGI to enter the banking space.
IGI Holdings has yet to formally initiate even a tentative purchase process. We know this because the State Bank of Pakistan requires any entity seeking to buy a bank in Pakistan to notify them – a notification that is then made public – of their intention to even begin the due diligence process that serves as a precursor to an acquisition.
But all major banks in Pakistan are publicly listed, so it is possible to do a significant bit of initial analysis and valuation on a bank before even making a formal request for initial due diligence.
However, it is unclear if IGI remains interested in buying a bank. It is more likely that the group's interest is opportunistic, rather than active.
Nonetheless, with that formidable a balance sheet, and a convenient holding structure that lends itself very well to becoming a financial powerhouse in Pakistan, IGI Holdings is all dressed up for an acquisition. The only two questions that remain are the following: how much can it afford to spend on an acquisition, and what could it buy within that budget?
Profit's efforts to secure an interview with the senior leadership of IGI Holdings were unsuccessful, but we have analysed the company's financial statements to paint a picture of what is possible, though we cannot be certain of the company's intentions.
 How big is IGI's budget?
As of the end of the second quarter of 2019, IGI Holdings had a balance sheet of Rs73 billion in assets. How much of that can actually be used for an acquisition?
Let us start with the simpler bits: the company has about Rs1.8 billion in government bonds and mutual funds that are easily disposable within a matter of days if it needs to convert them into cash. The bulk of its assets are a significant investment portfolio of publicly listed equities worth Rs45.5 billion as of June 30, 2019. How much of that could the company actually use to fund an acquisition? The answer to that question is somewhat complicated.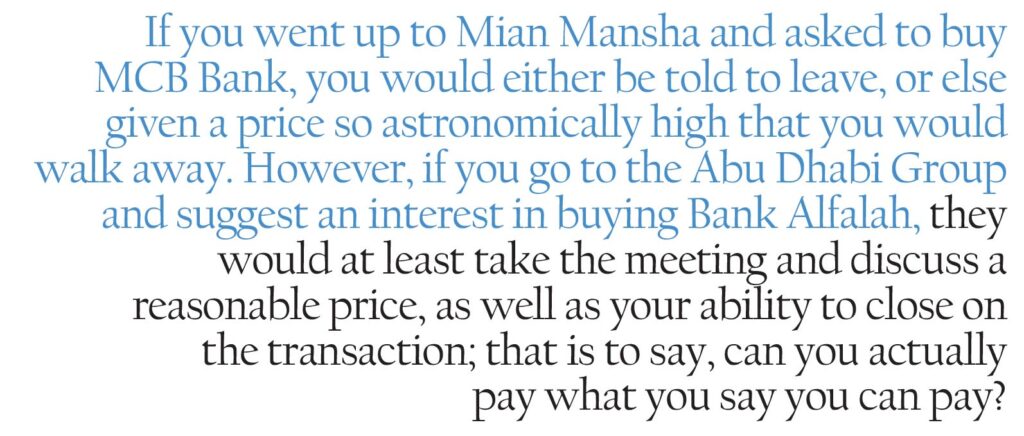 Nearly all of that Rs45 billion is in a portfolio of publicly listed stocks which means that the company should be able to sell them off over the course of a few months to convert that amount of money into cash. In theory, they could all be sold on one trading day, but trading volumes on the Pakistan Stock Exchange are so low that if they – or any investor – do not want to adversely move the market price of the stocks they are selling, they would break up the sale over the course of several weeks, if not months.
Here is where this gets complicated, however: more than 90% of IGI Holdings' investment portfolio is the shares it owns in Nestle Pakistan. IGI Holdings owns just under 10% of Nestle Pakistan, a legacy asset that the broader group has had since Nestle first entered the Pakistani market in 1988. How realistic is it that IGI would sell those shares to buy something?
In the latest annual financial statements, dated December 31, 2018, the company classified its investment in Nestle as "available for sale", which suggests that IGI is at least open to the possibility of selling that stake to fund an acquisition. Indeed, selling off non-core assets is the very point of creating a holding company structure in the first place.
That gets us to a number just north of Rs47 billion that is currently at the disposal of IGI Holdings to make an acquisition. What could they buy for that much? In the world of Pakistani finance, just about everything that is up for sale.
 What IGI can buy
Profit has previously reported that at least three banks in Pakistan are up opportunistically up for sale: Bank Alfalah, Meezan Bank, and Faysal Bank. By opportunistically, we mean that while the current controlling shareholders of these banks are not actively looking for buyers, they would be willing to sell to right buyer at the right price.
So, for instance, if you went up to Mian Mansha and asked to buy MCB Bank, you would either be told to leave, or else given a price so astronomically high that you would walk away. However, if you go to the Abu Dhabi Group and suggest an interest in buying Bank Alfalah, they would at least take the meeting and discuss a reasonable price, as well as your ability to close on the transaction; that is to say, can you actually pay what you say you can pay?
We will not speculate on which bank IGI Holdings might be most interested in. However, it is important to examine just how advisable it is to sell shares in Nestle Pakistan to buy a bank. Because, while it has recently seen a slowdown in revenue growth and seen its share price slump, Nestle Pakistan is one of those rare assets that is both high-prestige and high-growth. It is the kind of thing you proudly pass on to the next generation.
Our course, under certain circumstances, it would make sense to sell off shares in Nestle Pakistan, particularly if the asset one was buying in its place offered better value and faster growth. Those two attributes do not describe the Pakistani banking sector as a whole, though a case could be made for the Islamic banking sector, particularly if the asset in question is Meezan Bank.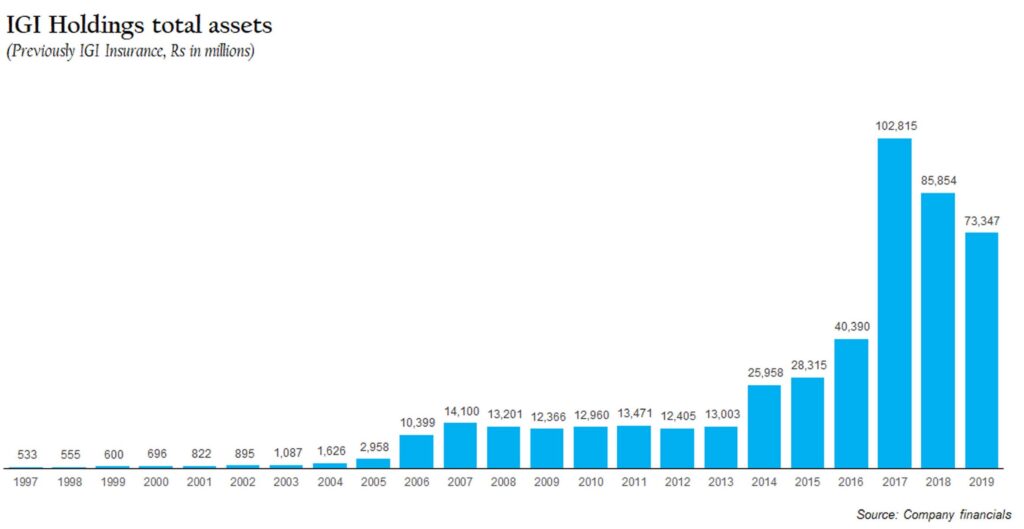 But that brings us to a more fundamental question: should IGI buy a bank? After all, the experience with IGI Investment Bank, the closest thing to a bank the company has ever owned, ended in disaster. Indeed, IGI Investment Bank would have gone bankrupt had Syed Babar Ali not personally stepped in during 2014 with a Rs285 million interest-free loan to help shore up the company's balance sheet.
The management all but admitted that the company was about to go bankrupt. The only reason why we cannot technically say that it actually went bankrupt is because they paid back all of their depositors and creditors and folded the remaining assets of the investment bank into IGI Holdings. Functionally, however, it was the same end. Were it not for Syed Babar Ali's desire to preserve his good name and reputation in the market, people would have lost money on IGI Investment Bank. Instead, the person who lost the most money on IGI Investment Bank was Babar Ali himself.
 The problem with Pakistani banking
Were it any other set of banks up for sale, we would have offered our unsolicited advice to the IGI Holdings board to not buy any of them. But all three are good banks with solid balance sheets and worth considering. The problem is the absolute dominance of the banking sector in Pakistan's financial system.
IGI Holdings is currently one of the largest non-banking financial conglomerates in the country, with two well-regarded insurance companies and a brokerage firm. Were it to buy any of these three banks, however, it would become just another bank holding company with a slightly larger insurance arm. In other words, if you buy a bank, it cannot simply be part of your portfolio of assets. It becomes the core business and everything else becomes expendable.
So the choice facing the 92-year-old Syed Babar Ali is the following. He knows whatever he does next is likely to be one of the last big acts of his life. Does he really want his biggest asset to become a bank that somebody else built, while the insurance companies and other capital markets companies he built from the ground up become non-core appendages to his empire?
In business, decisions are not always based on cold, rational numbers. Human emotion can play a big role. Buying a bank may make all the financial sense in the world. But does it make sense on an emotional level to the buyers who have to decide to deploy their capital to do so? We suspect the answer is no.