The stock market continued its bull run and closed high for the second successive session on Wednesday, reclaiming the 40,000 territory as the bench mark index rose 395.39 points or 1 per cent at the end of the day.
The local bourse increased sharply with investors' interest ranging across the board. The investment spread from index heavyweight stocks to sideboard stocks, which constituted to 300 million or 60 per cent of the day's trade (500 million) – sideboard stocks are companies that usually remain off investors' radar.
The Benchmark KSE 100-Share index, which tracks the performance of 100 companies with highest market capitalization, closed at 40084.87 points on the third day of the week.
Amid high volumes, the index broke past the psychological barriers seen in the last week before losing some of its shine towards the end of the day. However, the rally cannot be attributed to a specific sector as activity ranged bourse-wide.
Article continues after this advertisement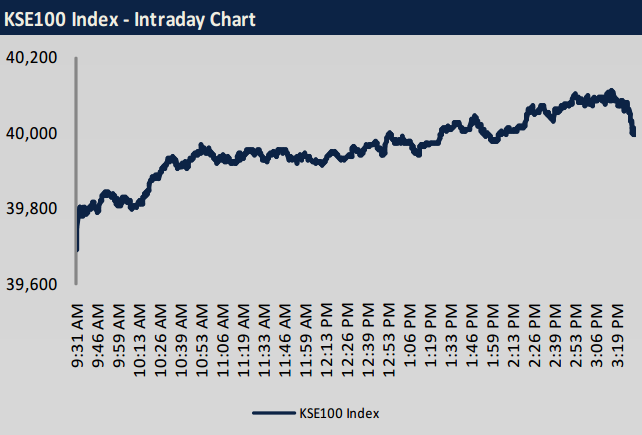 Major contributions to the index came from Muslim Commercial Bank, Hub Power Company Limited and ENGRO Corporation Limited as their share price appreciated by 2.3 per cent, 1.52 per cent and 1.88 per cent respectively.
The three giants cumulatively added 96 points to the KSE 100-share Index.
"Political reasons slowed down the market last week," Zeeshan Afzal at Insight Securities said. " Interests of foreign investors also softened due to the lack of ample triggers."
"However, upbeat activity was seen today mainly because of eventful drive in sideboard shares," he added.
The banking sector remained buoyant amid healthy market participation, according to analysts at Intermarket Securities.
The share price of Muslim Commercial Bank appreciated 2.3 per cent, those of National Bank of Pakistan and Bank Al-Habib Limited increased 0.96 per cent and 1.14 per cent respectively.
Cement Sector surpassed gains of the last two days that came on the back of expansion announced by Maple Leaf Cement and contributed substantially to the gains. D G Khan Cement Company Limited (+0.57 per cent), Lucky Cement Limited (+1.04 per cent), Cherat Cement Limited (+3.99 per cent) and Fauji Cement Company Limited (+0.90 per cent) all traded in green.
Similar sentiment was observed in Fertilizers with Engro Fertilizer Company Limited leading the sector. The share price of Engro increased 1.8 per cent during the day.
Oil & Gas Sector staged a recovery on the back of gains in international crude oil prices. Oil and Gas Company Limited, Pak Oilfields Limited and Mari Petroleum Limited stayed positive with 1.28 per cent, 0.46 per cent, and 1.04 per cent gains, respectively.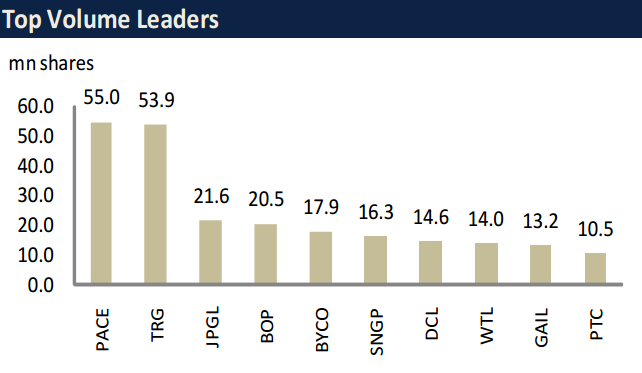 In total 196 million stocks worth $116 million were traded on Wednesday compared to 110 million shares traded the previous day. Pace Pakistan Limited (+13.74 per cent), The Resource Group Limited (+4.98 per cent) and Japan Power Generation Limited (+16.35 per cent) churned a combine turnover of 131 million shares.
The share price of 266 stocks went up, that of 113 depreciated and that of 22 stocks remained unchanged.
The Pakistan Stock Exchange's market capitalization stood at Rs8.03 trillion ($76.7 billion) at the end of the day.