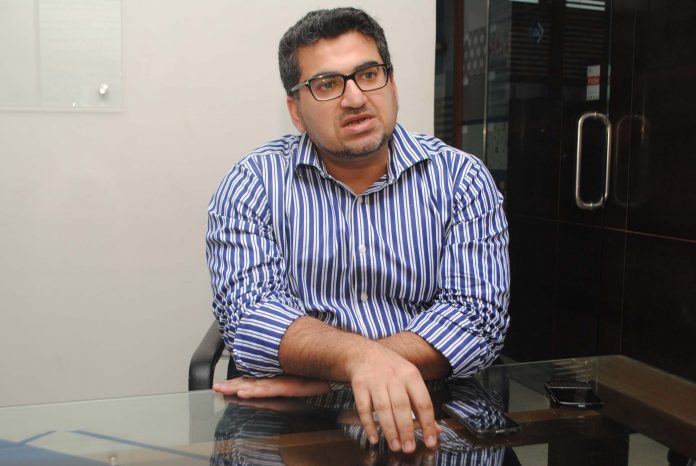 Shabbir Tiles and Ceramics Ltd (STCL/Stile), in the past few weeks has invested over Rs 20 crore in its production plants to bring innovation in the  Pakistani tiles market and it plans to invest Rs 800 million more to compete with the rising competition in the tiles and ceramics industry.
"'Stile', one of the subsidiaries of House of Habib Group of Industries, will invest the amount to modify tile manufacturing equipment, techniques and machinery which can help in reducing its rising energy and production cost," said Murtaza Lalan, Business Unit Head of the company in an exclusive interview with Pakistan Today.
Both of our plants have been converted to European technology as the demand of those tiles is rapidly increasing in the local market, he said. The 'Stile' plants, based in Karachi (Landhi and Port Qasim areas), incorporate the latest European technologies & techniques to manufacture high class products that conform to European standards. The company is manufacturing porcelain and ceramic tiles of international quality in different sizes and colours.
House of Habib, the umbrella company of 'Stile' also own and run successful businesses like Indus Motor Company (assemblers of Toyota cars), METRO Cash & Carry Pakistan, Habib Metropolitan Bank, Agriauto Industries, AuVitronics Ltd, Habib Insurance Company, Makro Habib Pakistan Ltd among others.
'Stile' was founded in 1978 as a result of a strategic and technical collaboration with Agrob Anlagenbau GmbH of West Germany. It was the first private sector enterprise in the ceramics field in Pakistan and following which many other ceramic tile producers came into existence.
"The total demand of ceramic and porcelain tiles in Pakistan is around 70 million square meters annually," Mr Lalan said, "out of which 25-30 percent is produced locally while 70 percent of the  tiles are being imported from other countries."
Around 90 percent of the total import of tiles in Pakistan are from China. Only 10 percent of is coming through Iran, Turkey, Malaysia, UAE and Spain, he explained.
The main reason behind this import is under-invoicing, dumping, and inferior quality products, he said, but the importers are unable to meet the demand of big projects as they import various designs in low quantities. Large scale projects require larger quantities of tiles which is difficult to meet for importers whereas the local manufacturers can meet this demand."Actually, the local dealers import the outdated designs from Iran and China on which the sellers have  already earned profits from their local markets. In other words the companies sell their unsold stock at cheap rates to Pakistani's dealers," he claimed. "These type of different design tiles can only be used on small houses and shops etc," he said.
"The Chinese companies also dump their tiles and ceramics in neighbouring countries which makes Pakistani products less competitive in the international markets," Mr Lalan said.
We have submitted an application before the National Tariff Commission (NTC) to impose anti-dumping duty on Chinese Tile import, but unfortunately the country's NTC is not effective owing to the absence of its head, he explained.
Mr Lalan hopes that their heavy investment in inkjet printers – used to print on ceramic tiles – will not go to waste if the anti-dumping duties are placed on Chinese imports.
According to Murtaza Lalan, more than 1,000 manufacturers in China produce around six billion square meters of tiles and ceramics annually while in Pakistan only six manufacturers are working who produce 30-33 million square meters out of a total demand of 70 million square meters.
Locally manufactured tiles are expensive due to 21 per cent sales tax, high wages of labourers, power and gas prices. We have to run our plants 365 days a year and therefore consistent demand is required from the market to make it cost effective, Mr Lalan explained.
The company has also recently made different agreements with local builders and the Association of Builders and Developers (ABAD) for supplying high quality tiles and ceramics which will definitely give a boost to sales considering over 250 dealers throughout the country who are part of ABAD. Under the agreement with ABAD, Shabbir Tiles will supply their products at discounted rates on priority basis to ABAD members. Around 50% of the members of ABAD are purchasing from 'Stile' directly.
Replying to a question, Mr Lalan said, "importers cannot provide bulk quantity to the builders and developers at a short time so they prefer coming directly to the company instead of going to the dealer."
Share price of 'Stile' is also moving upwards because of the growth in the construction industry witnessed in the last few years. This year we are expecting 8-10% growth which has apparently increased stakeholders interest, said Lalan.
"In last two years, the company declared losses in its financial statements but earlier it was in profits," he claimed. Apart from higher gas prices, production and laborer charges, some material prices have also gone up during the period. We have to import a few materials but while most of our raw materials are locally sourced.
He further added that the company is looking at long term profits as the government will have to impose anti dumping duty on Chinese tiles import or bring the taxes down.
'Stile' had filed a proposal to the federal government, but the National Tariff Commission (NTC) was not active since last two years in Pakistan. On Dec 27th 2016, the Lahore High Court (LHC) vacated a stay order granted to commercial importers against Anti-Dumping Proceedings initiated by NTC on the request of Tiles and paper industries.
Speaking about China Pakistan Economic Corridor (CPEC), he said that the local industries should not be hurt from CPEC and the government should provide a level playing field for both types of producers (local and foreign). If the local industries will not be provided a level playing in terms of taxes and duties, our industry would collapse.
If the government provides extra ordinary incentive to CPEC industries then Pakistani products would become expensive in the local market and non-competitive, he claimed. He said, "so far there is no clarity on CPEC decisions, either they (CPEC) will make and sell to us or they will work with us."
Local industries are one of the government's tools to provide jobs to the local workers and 'Stile' is providing jobs to more than 10,000 employees directly or indirectly working in our industry.
During the last few years, the manufacturing of ceramic and porcelain tiles has been cut down by 30 percent as few plants of other companies have closed down or are operational only for few days or weeks in a month owing to the market being flooded with imported tiles.
To a normal customer and consumer it seems like an economical solution top buy cheap imported tiles but what they are buying is a shiny wrapper, destined for early trash.
The Company is listed at Pakistan Stock Exchange and is also member of Karachi Chamber of Commerce & Industry, Pakistan Ceramics Manufacturers Association, and Landhi Association of Trade & Industry.