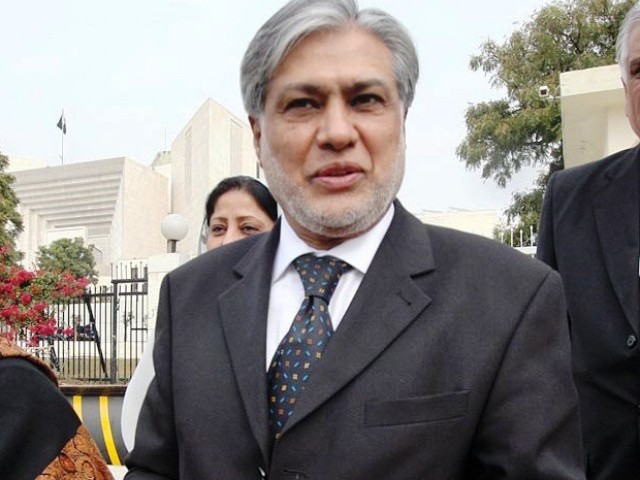 Islamabad: Finance Minister Ishaq Dar on Monday said Pakistan would be part of an elite club of leading world economies G20 by 2030 according to predictions of international financial institutions.
Speaking at a contract signing ceremony of "Broadband for Sustainable Development Projects and National Incubation Centres", he said the distinction of the four year government of PML-N was that it ensured transparency and good governance. He emphasised that political pettiness should be buried and everybody should join hands for taking forward Pakistan's economy.
He said Pakistan signed agreements with Organisation of Economic Cooperation and Development (OECD) in 2016, changed its laws and made its financial systems compatible with global standards to stop tax evasion. He said the current government delivered what it promised and put the country on the path of sustainable prosperity.
In April, he said, he met members of Pakistan-US Business Council in Washington and exchanged views with leading companies. The businessmen of the United States expressed confidence in the policies of PML-N government and appreciated its transparency in grant of projects.
Dar challenged that nobody could prove any financial irregularity of the government in its last four years. He said the government had vigorously implemented its policies and took steps for digital and financial inclusion of Pakistanis especially its youth. The plan was to digitally empower 50 percent of the country's adult population in coming years, the minister added.
He said that, in the new budget, incentives were announced for the expansion of information technology industry. He said the government would stay on and further strengthen the economy of Pakistan despite all the negative talk of certain quarters. He urged the IT sector to work for increasing exports of the country, adding the IT companies would get all out support of the government.
He said four years back, Pakistan was on the verge of economic collapse and faced bankruptcy but since 2013, the country's economic outlook improved and went from negative to stable to positive. The minister said many enemies within and outside the country did not want that Pakistan become sovereign and economically strong.
"We must defeat their designs. We have a clear vision for the country and Prime Minister Nawaz Sharif has given a roadmap of economic growth and development," he added. He stressed that economy must be decoupled from politics. "We should have one charter for economic progress of the country. The government is working on implementing its 2018-2023 medium term economic strategy," he added.
The government had paid the loans taken during the periods of Pervez Musharraf and Pakistan People's Party, he said. He congratulated the IT companies for undertaking numerous projects of information technology in a very short span of time.
IT Minister Anusha Rahman said the government would provide all kinds of support to companies for building the National Incubation Centres. She told that the projects of Universal Service Fund for underserved and un-served areas of Balochistan would benefit population of 0.5 million and they would enjoy the facility of 3G services. In the next stage, broadband services would be provided to Federally Administered Tribal Areas (FATA), she added.
She added that the digital Pakistan plan envisioned by the prime minister will ensure every village of Pakistan would be connected and get mobile phone services. The minister said the incubation centers would be established in Peshawar, Karachi and Lahore and would generate immense business opportunities through joint ventures.