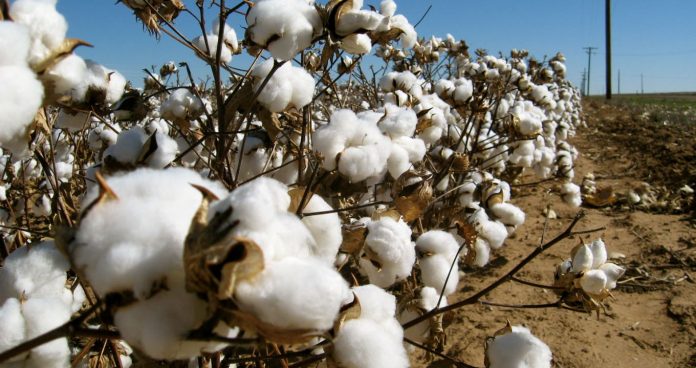 Islamabad: Cotton Crop Assessment Committee (CCAC) has estimated the cotton production at 12.6 million bales during the crop season 2017-18 against the set targets of 14.04 million bales.
The first meeting of CCAC was held here on Friday with Secretary Ministry of Textile Industry Hassan Iqbal in the chair to assess the output of major cash crop of the season in the country.
Addressing the meeting, Secretary Textile Industry said that based on the available information from the field formations of the provinces and better crop outlook, it was expected that production targets of 14.4 million bales would be achieved.
He said that the current estimates of 12.6 million bales of cotton output was expected to further enhance in the next meeting as per acre plant population and per plant balls has witnessed significant increase as compared to the last year.
He said that government would establish textile universities in cotton growing areas and setup ginning units in order to promote the cotton crop cultivation and production in the country.
He directed the relevant authorities to activate the field extension departments of the provinces to address the issues faced by the farmers.
Meanwhile, Cotton Commissioner informed the meeting that cotton crop output was estimated at 12.6 million bales during the current crop sowing season.
He said that in Punjab cotton crop production was estimated at 8.9 million bales, whereas for the Sindh Province it was forecasted at 3.7 million bales.
The cotton production for the Balochistan and Khyber Pakhtunkhwa provinces was estimated at 0.01 million bales respectively, he added.
He said that plant population has witnessed about 5.7 percent increase whereas average balls per plant grew 40 percent, which was a positive sign for the crop.
Besides, he said that fertilizer intake and pesticides spray also increased and no major pest attack was reported from the field units so far, he added.
Dr. Abdullah also apprised the meeting about the different steps being taken by the Ministry to promote the cotton crop in the country.
Addressing the meeting President Pakistan Cotton Ginners Association said that crop outlook was encouraging due to timely sowing of cotton.
He expressed the hope that set targets for the season would be achieved if the other conditions remained same as balls per plant grew significantly.
He said that due to nominal carry forward stocks and depleting cotton reserves of China, India and US prices of the commodity in the local market would remain stable during the season.
Among other the meeting was also attended by the representatives of Textile Industry, provincial governments, Plant Protection Department, Trading Cooperation of Pakistan (TCP) and cotton growers.
All Pakistan Textile Mills Association (APTMA), Pakistan Cotton Ginners Association (PCGA) and Pakistan Central Cotton Committee (PCCC) also attended the meeting.