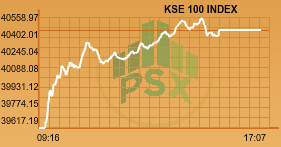 — Market bounced twice from 39,500 points
LAHORE: The Pakistan Stock Exchange (PSX) took a huge turn on Wednesday and recovered the losses of the last trading session. Value hunters saw today as the perfect opportunity to buy as the market had been pulled down to bargain levels, pushing the market to close at 40,453.64 points up by 2.1 per cent.
Overall indices remained positive but volumes failed to impress. Investor sentiment improved with rumours about Punjab Chief Minister Shehbaz Sharif being the next PML-N's PM candidate. Market participants took the announcement of, possible, election date by ECP positively, however, volumes were down 16 per cent and value traded declined 26 per cent.
The benchmark KSE 100 shot up 941.78 points during the day to mark an intraday high of 40,558.97. It landed with a gain of 836.45 points at 40,453.64. The KMI 30 index swelled up 2.73 per cent to 69,184.97 while the KSE All Share Index added 444.27 points. A total of 248 scripts ended green while 101 were red.
The market volumes remained narrow at 116.69 million. Pak Elektron Limited (PAEL -0.66 per cent) led the volume chart with 11.05 million shares exchanged. Dost Steels Limited (DSL +7.68 per cent) followed with a volume of 10.57 million and TRG Pakistan Limited (TRG +2.63 per cent), volume 9.54 million. The commercial bank sector fetched top cumulative volumes with 17.68 million shares traded in the session.
The market bounced twice from 39,500 points with some technical support. Overall there was less foreign selling compared to high foreign selling at month end.
The oil and gas exploration sector was top performer which added 3.79 per cent to its market capitalisation as WTI crude oil prices made an intra-day high of $ 55, after two years. A Reuters investors survey indicated that Saudi Arabia was likely to hike prices for customers in Asia to same levels as 2013 and 2014. Mari Petroleum Company Limited (MARI) was up 4.90 per cent, Pakistan Oilfields Limited (POL) raised by 3.95 per cent, Pak Petroleum Limited (PPL) inched higher by 3.52 per cent and Oil and Gas Development Company Limited (OGDC +3.61 per cent) accumulated 3.61 per cent.
The cement sector topped up its market capitalisation with 2 per cent. Getting up from yesterday's floor price, Lucky Cement Limited (LUCK) appreciated by 3.30 per cent, Attock Cement (Pakistan) Limited (ACPL) by 3.08 per cent and Bestway Cement Limited (BWCL) by 1.86 per cent.
Tri-Star Polyester Limited (TRPOL +5.17 per cent) jumped to its upper circuit breaker price after the declaration of Rs 7.60 million sales in the first quarter of 2018. Earnings per share clocked at Rs 1.01. On contrary, Escorts Investment Bank Limited (ESBL -5.03 per cent) sunk to its lower circuit breaker price as it posted a loss per share of Rs 2.72 in 2017 against Rs 2.25 in 2016.
CPI inflation for October was recorded at 3.8 per cent YoY, whereas circular debt according to a brief by the Public Accounts Committee (PAC) had reached Rs 450 billion. Line losses reached 18 per cent and cost more than Rs 200 billion.
An accountability court has summoned Finance Minister Ishaq Dar's sons today in connection with a corruption reference. And NAB has reopened cases against opposition leaders Chaudhry Shujaat Hussain and Chaudhry Pervaiz Elahi. Moreover, former PM Nawaz Sharif is likely to return to face the challenges set before him. This may affect PSX's performance over the coming days as the political situation unfolds.