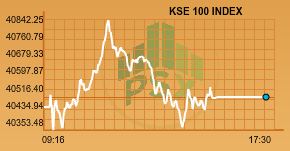 LAHORE: The day did not bring much excitement for the investors of the Pakistan Stock Exchange (PSX) as they looked indecisive as the ousted Prime Minister returned. The former prime minister is expected to appear before the National Accountability Court today. Volumes remained flat indicating low confidence of investors in the market.
A delegation of officials from the exchange and stockbrokers had recommended Prime Minister Abbasi in his visit to Karachi to constitute a fund worth Rs 20 billion to be injected into the market in mid-October along with a reduction in tax rates and more.
The KSE 100 index after a slow start touched its peak of 40,842.25 with a 388.61 points rise by noon. Thereon, it dropped down to intraday low of 100.16 points to 40,353.48. The KMI 30 index swung between a positive 976.43 points and negative 351.77 points. It settled up 404.76 points at 69,589.73. The KSE All Share Index closed with a minor 12.52 points gain at 29,053.39. The advancers to decliners ratio stood at 104 to 229.
The market volumes were low and flat. Total of 116.56 million shares were exchanged during the session. Pak Elektron Limited (PAEL -4.43 per cent) topped the volume ladder with 27.93 shares exchanged as it crumbled to a fresh 52-week low. The script has depreciated 49 per cent in the past 6-months. TRG Pakistan Limited (TRG -4.64 per cent) and Azgard Nine Limited (ANL -6.71 per cent) followed with a volume of 9.42 million and 7.93 million respectively.
The oil and gas exploration sector saw some handsome gainers after international crude oil prices are seen firming up post the dip in last two financial years. Pak Petroleum Limited (PPL) posted a rise of 4.75 per cent and Oil and Gas Development Company Limited (OGDC) inched higher by 4.56 per cent.
Nishat Mills Limited (NML +0.33 per cent) and Nishat Power Limited (NPL 0.00 per cent) notified the exchange that National Electric Power Regulatory Authority (NEPRA) has rejected the application of Nishat Energy Limited to grant them a license for 660 MW imported coal-based generation facility/ thermal power plant in District Rahim Yar Khan.