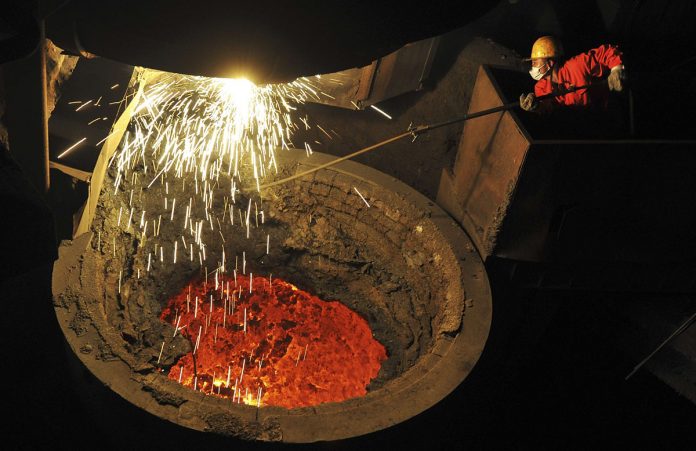 KARACHI: Data released by the Pakistan Bureau of Statistics on Friday revealed a 9.44 percent year-on-year rise during January in large-scale manufacturing sector (LSM).
This growth was registered on back of rise in auto sales, growing steel and cement consumption, reported The News.
The data outed by PBS revealed large-scale industries registered growth of 13.58 percent during January 2018 compared to December 2017. LSM growth during July-January period of FY18 was recorded at 6.33 percent in comparison to 3.45 percent in same period of preceding financial year.
Experts believe taking current uptick into consideration, the annual growth would cross the projected figure of 6.3 percent growth in LSM during FY18.
In the first seven months of FY18, steel and iron production grew 34 percent, automobiles 21.23 percent and non-metallic mineral products witnessed 12 percent rise.
According to the PBS data, cement production surged 23.5 percent on a year-on-year basis in January and 12.3 percent during the first seven months of FY18 as Lucky Cement and Cherat Cement enhanced their production capacities.
Food, beverages, tobacco, coke and petroleum products, pharmaceuticals, non-metallic mineral products, automobiles, iron and steel products, electronics and leather products saw major increase in production in these sectors during July-January 2017-18 said PBS.
The central bank also said the large-scale manufacturing sector had posted 10 percent growth during first quarter of FY18, the largest quarterly growth figure since FY2009.
As per all three data collecting authorities, a rise was posted in production during first seven months of FY18.
Taking production of 65 products into consideration, a growth figure of 4.84 percent was recording during first seven months of FY 2017-18, according to provincial bureau of statistics.
And Oil Companies Advisory Council (OCAC) collecting output data of eleven oil and petroleum products determined a 9.45 percent increase in output.
And taking output trend of 36 items into consideration, the Ministry of Industries determined 6.62 percent growth in production during July-January 2017-18.