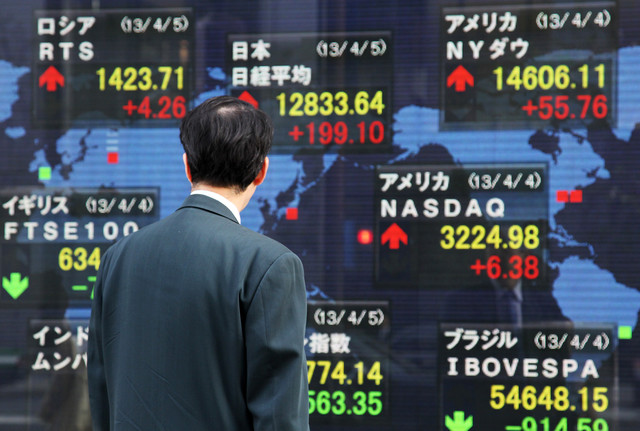 BEIJING: Asian stocks tumbled Tuesday after U.S. President Donald Trump escalated a dispute with Beijing over technology policy by threatening a tariff hike on additional Chinese goods.
KEEPING SCORE: The Shanghai Composite Index fell 2.3 percent to 2,953.54 points and Hong Kong's Hang Seng lost 2 percent to 29,685.28. Tokyo's Nikkei 225 retreated 0.9 percent to 22,482.89 and Seoul's Kospi lost 0.8 percent to 2,356.57. Markets in Taiwan, New Zealand and Southeast Asia also declined. Sydney's S&P-ASX 200 gained 0.3 percent to 6,123.00.
TRADE TENSIONS: Trump directed the U.S. Trade Representative to prepare new tariffs on $200 billion in Chinese imports, stepping up a dispute companies and investors worry could drag down global trade and economic growth. Trump accused Beijing of being unwilling to resolve the dispute over complaints it steals or pressures foreign companies to hand over technology. China's Commerce Ministry criticized the White House action as blackmail and said Beijing was ready to retaliate.
WALL STREET: U.S. stocks finished mixed in trading that ended before Trump issued his latest tariff threat. Household goods companies took some of the worst losses as the Standard & Poor's 500 index fell for the third time in four days. The S&P 500 fell 0.2 percent to 2,773.75. The Dow Jones industrial average dropped 0.4 percent to 24,987.47. The Nasdaq composite edged up 0.65 points to 7,747.03. The Russell 2000 index of small-cap stocks rose 0.5 percent to a record 1,692.46. Many investors feel smaller and more U.S.-focused companies are less vulnerable in the event of a major trade dispute.
ENERGY: Benchmark U.S. crude lost 26 cents to $65.59 per barrel in electronic trading on the New York Mercantile Exchange. The contract rose 79 cents on Monday to $65.85. Brent crude, used to price international oils, fell 41 cents to $74.93 per barrel in London. The contract rose $1.90 the previous session to $75.34.
CURRENCY: The dollar declined to 109.98 yen from Monday's 110.54 yen. The euro edged up to $1.1633 from $1.1623.