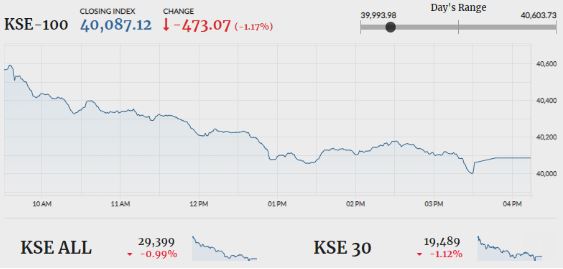 LAHORE: It seems like the bulls of the Pakistan Stock Exchange (PSX) have lost their way as bears dominated the market for one more session. Tough times continue for investors who saw indices crumble again. As per the news, the International Monetary Fund (IMF) has recommended to increase the interest rate and let the rupee weaken by at least 15 per cent in the financial year 2018-19.
The KSE 100 Index chopped off 566.21 points to fall to intraday low of 39,993.98. It settled with a loss of 1.18 per cent or 473.07 points at 40,087.12. The KMI 30 index depreciated by 1.13 per cent during the session before it closed lower by 770.32 points at 68,027.16. The KSE All Share index was down by 1.00 per cent, and after losing 293.33 points the index settled at 29,398.88.
Overall trading volumes inched up from 89.99 million in the previous session to 110.52 million. Fauji Foods Limited (FFL +2.50 per cent) featured in the list of the top traded scripts with 8.44 million shares exchanged. TRG Pakistan Limited (TRG -1.10 per cent) and Unity Foods Limited (UNITY -0.58 per cent) have maintained their positions among the volume leaders once again. The scripts had 8.35 million and 7.60 million shares traded respectively.
The cement sector lost 2.08 per cent from its cumulative market capitalization. D. G. Khan Cement Company Limited (DGKC) declined by 4.05 per cent, while Lucky Cement Limited (LUCK) depreciated by 1.52 per cent. Bestway Cement Limited (BWCL) was down by 1.20 per cent, Maple Leaf Cement Factory Limited (MLCF) by 3.92 per cent and Attock Cement (Pakistan) Limited (ACPL) by 3.65 per cent.
Sardar Chemical Industries Limited (SARC +6.99 per cent) declared its financial results for FY18. The company declared a final cash dividend of Rs 0.75 per share. Sale appreciated by 7 per cent YoY while earning per share improved from Rs 0.66 in the previous year to Rs 1.90 in the current year. Administrative expenses were down by 1.8 per cent YoY, selling and distribution cost by 2 per cent YoY and finance cost by 30 per cent YoY.
Hala Enterprises Limited (HAEL -7.66 per cent) announced its financial performance for FY18. Sales surged up by 36 per cent YoY. The company's earning per share appreciated by 58 per cent YoY from Rs 0.31 in the preceding year to Rs 0.80 in the current year.