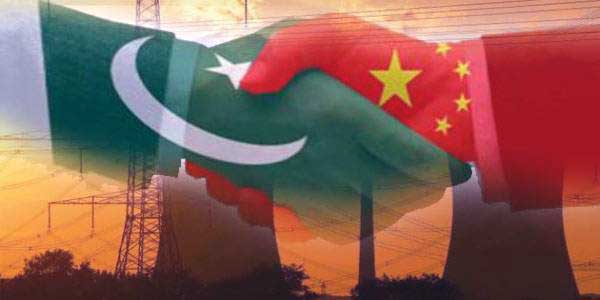 BEIJING: The new growth points created by the China-Pakistan Economic Corridor (CPEC) will further boost economic ties between the two countries in the long run as more resources are deployed for technological collaboration, infrastructure development and people-to-people exchanges.
This was stated by China Centre for International Economic Exchanges Vice Chairman Wei Jianguo on Monday. "CPEC is not targeted at any third party and is aimed at benefiting the entire region and has become an important driving force for regional integration," he told China Daily.
CPEC has progressed in four major agreed areas ie ports, transportation infrastructure, energy and industrial cooperation.
To date, nine projects have been completed and 13 are under construction, and it has so far created 70,000 direct jobs for the local people, showed data of the National Development and Reform Commission.
Currently, 15 energy projects in Pakistan with the total capacity of 11,110 megawatts are planned as a priority, of which 11 are under construction or in operation with a cumulative capacity of 6,910MW.
Wei stressed that CPEC was development-oriented, had adopted advanced technologies and followed strict environmental protection standards.
According to Chinese Academy of International Trade and Economic Cooperation Beijing Vice President Li Gang, any CPEC project, whether at the planning or construction stage, is equally negotiated, fully discussed and jointly implemented by the two countries. These projects strictly follow the principle of market orientation and the international business model said Li.
As a next step, he added, China would explore more pragmatic cooperation with Pakistan in the areas of poverty alleviation and healthcare via CPEC development.
Chinese Academy of Social Sciences' Institute of World Economics and Politics Deputy Director Li Xiangyang said Pakistan had a special status on the Belt and Road Initiative concerning its position as China's neighbour and its importance in South Asia.
"Friendly and good relations and cooperation with Pakistan can serve as a model for China in its cooperation with other countries in the future," he said.
However, he disagreed with the accusation that CPEC was behind the economic challenges being faced by Pakistan.
"International borrowing is normally risky and should not be taken as an excuse to criticize the Belt and Road Initiative," he stressed while pointing out that such criticism indicated a misunderstanding of the initiative.
"The first stage of CPEC focused on infrastructure construction, which is costly and takes time to realise progress."