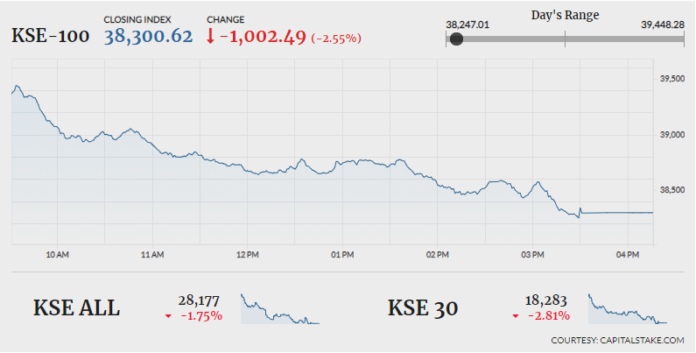 KARACHI: The misery for investors at the Pakistan Stock Exchange (PSX) seems to be getting worse with each passing day. Indices on Wednesday saw a continuous decline amid media reports suggesting friction among the government ranks.
Much to everyone's surprise, foreign investors ended as net buyers in the previous session with a net inflow of $1.69 million.
The KSE 100 index slumped by 1,050 points to reach an intraday low of 38,247.01. Failing to stand its ground, the benchmark index crumbled lower by 1,002.49 points or 2.55pc at 38,300.62. The KMI 30 index declined by 1,879.84 points or 2.84pc to end at 64,423.47, while the KSE All Share Index fell short by 501.84 points to close at 28,176.99 points. Out of the total traded scripts, only 79 advanced while 237 declined.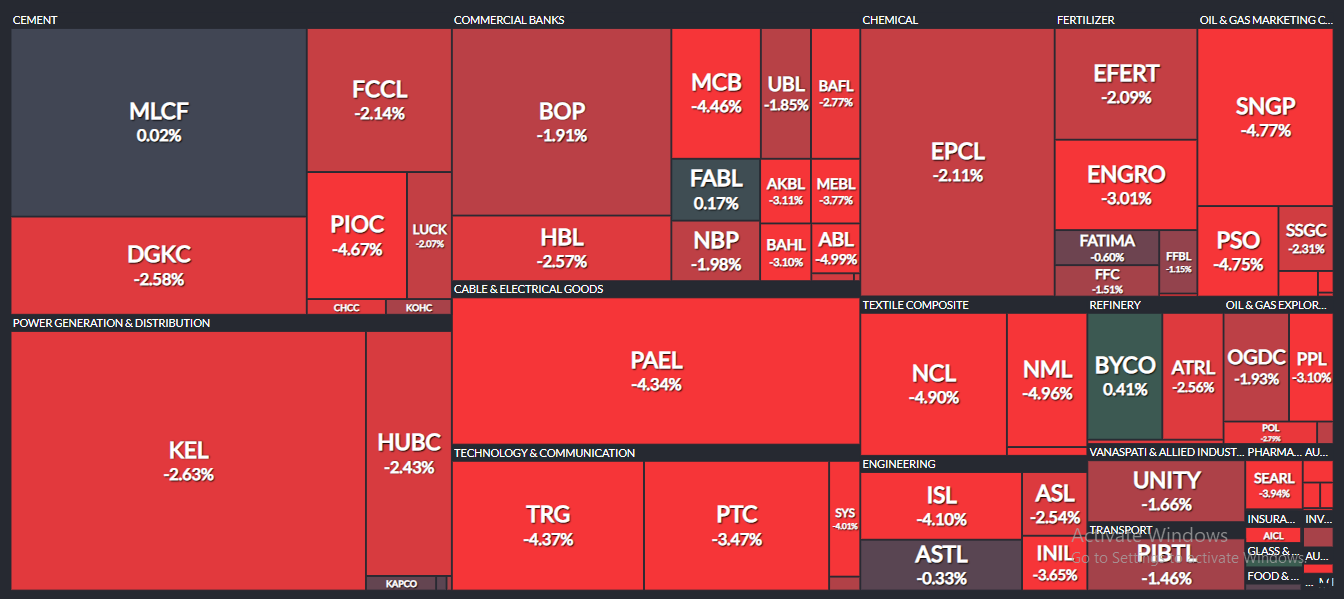 Market volumes improved from 138.10 million in the preceding session to 189.73 million. Worldcall Telecom (WTL -4.82pc), K-Electric Limited (KEL -2.63pc) and Pak Elektron Limited (PAEL -4.99pc) were the volume leaders of the day. The scripts had traded 20.67 million, 15.54 million and 10.59 million shares respectively.
The oil and gas marketing sector (-4.14pc), automobile parts and accessories sector (-3.58pc), technology and communication sector (-3.56pc), automobile assembler sector (3.13pc) and engineering sector (-3.04pc) were all among the major loser of the day, while miscellaneous sector (+2.45pc), tobacco sector (+1.01pc) and food and personal care products sector (+0.51pc) ended as top gainers.
The banking sector, largest by market capitalization, lost 2.92pc from its cumulative market capitalization. Top players MCB Bank Limited (MCB) and Habib Bank Limited (HBL) declined by 4.46pc and 2.57pc respectively, whereas United Bank Limited (-1.85pc), Meezan Bank Limited (MEBL -3.77pc) and Bank AL Habib Limited (BAHL -3.10pc) also closed in the red.
The tobacco sector managed to add 1.01pc to its total market capitalization. Pakistan Tobacco Company Limited (PAKT) was down by 0.21pc, while Philip Morris Pakistan Limited (PMPK) was up by 4.71pc.