In April last year, Raheel had already traveled to more countries than anyone else from his neighbourhood in Multan at just the age of 24. A college student with a knack for online marketing, he had amassed thousands of air miles and had more money in his bank account than his father. How did he do it? By selling hoodies and T-shirts on Amazon.
If you Google 'How to become a seller on Amazon', you will immediately be presented with a list of steps:  Start an Amazon Account; Choose Your Fulfillment Method; Find A Product; Order and Ship Your Product; Create Your Amazon Listing; Get Paid.
Anyone wondering whether Amazon operates in Pakistan (and does not know of any person doing so), would naturally Google if it really does. The all-knowing search engine, shows Daraz.pk as the very first option on the first page, listing an 'Amazon Gift Card' being sold online.
Introducing Amazon
According to the list on its website, Amazon allows residents from a total of 103 countries to be able to register on Amazon as sellers. Residents from those 103 countries having a valid phone number and an 'internationally chargeable credit card' can register on Amazon as sellers and start selling their products to customers in different continents. People from countries such as Senegal, Bangladesh, Slovakia, Uganda. Mozambique and India are eligible to become sellers on Amazon.
Pakistan is not on that list.
Why? And how are people from Pakistan selling on Amazon when the company clearly does not list Pakistan as an eligible country?
Profit got in touch with people who were selling products on Amazon from Pakistan, and asked them how they were able to do so, and what made them want to become Amazon sellers in the first place. That is how we met Saqib Azhar, CEO of Enablers, a company that he says was started to help out fellow Pakistanis and 'enable' and unleash the country's economic potential.
Saqib has spent half of his life in the United Kingdom where he completed his education, worked in different companies and built several businesses, after which he decided to move back to his homeland. "I decided to help our people by conducting trainings, seminars, and workshops throughout Pakistan to create awareness in most of the major cities, and then to help people showcase their products and sell them on international platforms such as Amazon – which is our strength", says Saqib.
"We're not just trainers, we are also successful Amazon sellers as well. We've been selling on Amazon for the last several years basically. We tell people to make their own businesses as well, and don't just focus on 9 to 5 and run the rat race," says Saqib.
Enablers provides trainings and consultation to people in Pakistan and helps them develop their own business on Amazon. It also helps other businesses get the most out of other ecommerce platforms. "Amazon is such a big business that it actually makes 3 sales per second, and makes $3.5 billion per day worth of sales, so there is such a big potential out there for Pakistan, and we felt that the people here do not have much guidance and know-how on how to build business from Pakistan," explains Saqib.
In the interview, Profit kept trying to steer the conversation towards the legalities, and how Pakistanis could 'legally' be selling products on Amazon but was always provided with vague responses related to the massive amounts of money one could earn through Amazon – and to the company's seminars where they told people 'everything' regarding setting up their business.
"Everyone has to face legal barriers one way or another. In our seminars, we guide people on how they can legally set up their business in Pakistan and abroad (while living in Pakistan). We refer our customers to our approved list of partners who we have been doing business with, and have personally met, to help provide facilities to register companies abroad in the UK or US," says Azhar, trying to explain how Pakistanis can legally sell products on Amazon.
How big is Amazon?
Amazon is by all measures a modern-day e-commerce and logistics giant. By the end of 2018, Amazon's delivery infrastructure included more than 180 warehouses, 28 sorting centers, 59 local package delivery stations, and 65 hubs for its two-hour Prime Now (express) deliveries.
Founded by Jeff Bezos in 1994, what initially started out as an online bookstore is at present the most valuable public company in the world ahead of Apple and Alphabet (the parent company of Google). From an online bookstore that diversified to selling audio/video downloads, software, video games, electronics, apparel, furniture, food, toys, and jewelry, Amazon is now the largest e-commerce marketplace and cloud computing platform in the world based on revenue and market capitalization.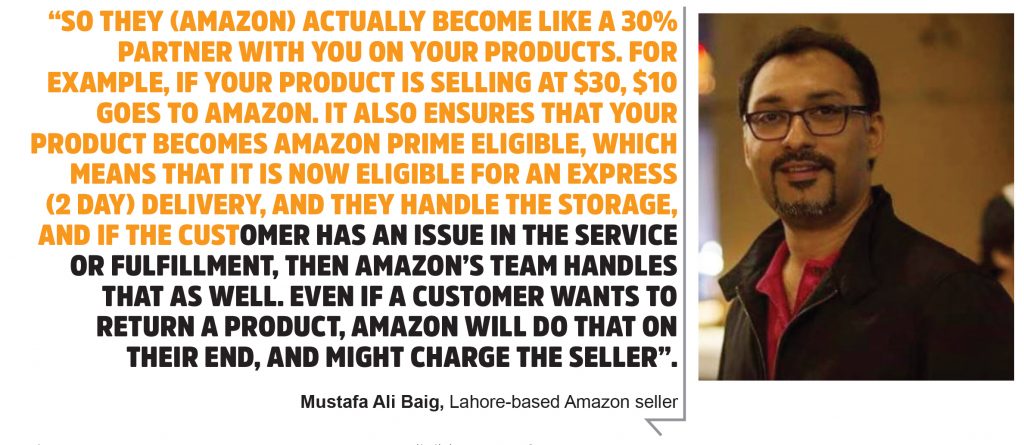 Amazon is considered to be one of the 'Big Four' of technology along with Google, Apple, and Facebook due to its market capitalization which crossed the trillion mark in September 2018, and also because of its disruptive innovation and hyper-competitive application process. The company also owns a publishing arm, a film and Television studio, produces consumer electronics such as Kindle e-readers, and tablets, and is the world's largest provider of cloud infrastructure services. It has separate retail websites for some countries and also offers international shipping of some of its products to some countries.
If that doesn't make one wonder at the size and scale of the company, maybe this will: Amazon is also the largest internet company in the world by revenue, and the second largest employer in the United States.
Amazon ignores Pakistan, but Pakistanis do not ignore Amazon
Amazon has separate websites for the main countries it operates in including the United States, the United Kingdom and Ireland, France, Canada, Germany, Italy, Spain, Netherlands, Australia, Brazil, Japan, China, India, Mexico, Singapore, and Turkey.
Pakistan does not make that list.
Why wouldn't the e-commerce behemoth allow Pakistan to sell on its platform? While Pakistan is not a small country in terms of population, we punch well below our weight when it comes to the size of our economy and the kind of opportunities we have historically allowed foreign investors. Add to that a set of restrictive regulations on banking channels, particularly with respect to moving money in and out of the country, and one can easily see why Amazon may not be quite so tempted to come to Pakistan.
Nonetheless, for those Pakistanis who are willing and able to overcome the initial hurdles of setting up an Amazon story, the rewards can be quite appealing.
Take Mustafa and Maryam Ali Baig, a husband-and-wife duo based in Lahore who run their own company that also sells on Amazon.
Maryam has a familiar story. A good career in brand management spanning 14 years in companies such as Tetra Pak, Packages and Mayfair Sweets working 9-to-5 which only led her to believe she was wasting time, and did not achieve the work and life balance she always yearned for. "I was actually looking for a solution where I could have the flexibility of time, which I did not get working 9-to-5. Marketing and product development have always excited me, and I have worked in this field for quite some time. This led me to finding a solution where I could get flexibility not found in the corporate world, and also have substantial financial returns along with work-life balance."
The longing to work on her own business and attain some balance in life led Maryam to start looking at businesses, when she eventually found Amazon.
Setting up shop on Amazon
Maryam describes one of the programmes she is currently enrolled in (also recommended by Enablers). "Amazon has a program called the FBA (Fulfillment by Amazon) in which you actually send your product to Amazon's warehouses where they then take care of the packaging, storing, and logistics, and charge you a certain amount for it."
The Fulfillment by Amazon (FBA) programme allows sellers to use the company's warehouses, and avail facilities such as storage, packaging, labeling, and shipping. After a seller has sent the products to Amazon, the company takes care of the product, delivers it to customers who order the product, and even provides customer service facilities.
Sellers who are registered on the FBA programme can send products directly to Amazon's warehouses, or have distributors send them directly. "If you want to send a product to Amazon from Pakistan or from let's say China, then the initial cost of packaging and shipping the product is on you, including customs clearances etc. When your products reach Amazon's warehouses, then it becomes their responsibility to handle, label, store, and deliver those products because that is a service for which you are paying them," explains Maryam.
"It makes sense because if you don't have a big team. It is then easier to not worry about the packaging and the delivery process," says Maryam's husband Mustafa, who then further explains how the partnership with Amazon works.
"So they (Amazon) actually become like a 30% partner with you on your products. For example, if your product is selling at $30, $10 goes to Amazon. It also ensures that your product becomes Amazon Prime eligible, which means that it is now eligible for an express (2 day) delivery, and they handle the storage, and if the customer has an issue in the service or fulfillment, then Amazon's team handles that as well. Even if a customer wants to return a product, Amazon will do that on their end, and might charge the seller".
Choosing the right product
After speaking to more than a few Amazon sellers, Profit found that choosing the type of product to be sold on Amazon is perhaps the biggest and the most important decision sellers can make.
One seller, Kaneel Bhatti, explained that he had been selling 'pet accessories' such as dog towels for the last couple of years, and had received a much better response than when he sold printed T-shirts. Amir Shah, another seller explained his reason for selling kevlar jackets and said, "It's important to sell something that cannot be bought from many other sellers, because the higher the number of sellers for a particular product, the lesser the probability of you receiving an order."

Recounting people he had seen selling products on Amazon, Saqib Azhar said, "There is someone who is selling socks for diabetic patients. And these socks actually have a huge demand on Amazon right now. We recommend products which can last a long time such as kitchen utensils, office stationery, dusting clothes, 3D pens, toys, etc. In Pakistan we have all the products. People just don't know the process of selling them."
How much to invest?
A frequent question which everyone who is thinking about investing in Amazon will face is the amount of initial capital required to successfully be able to enter this ecommerce market and achieve profits in a reasonable amount of time.
"We basically recommend in our trainings that slow and steady wins the race, said Saqib Azhar, recommending the required initial investment, and continued, "We recommend having at least $3,500 to $5,000 as a minimum investment. Obviously if you have more capital, then you can do this more swiftly, and earn faster. But we recommend as your first product to start slow and steady and make you way up from there."
Maryam had a different opinion and suggested that it mattered more on the product itself than on the investment. "It all depends on the product you are selling, because you can sell $5 products or $5,000 products," she said.
It is essential to have a plan if one is seeking to invest in an e-commerce business. The initial capital should be enough to cover the costs of registration, regulatory costs such as licenses and agreements, and the first shipment of products sent to Amazon (including costs related to shipment, customs duties etc). It should also cover the first two to three online marketing campaigns.
The marketing mix
For any individual or group selling goods online, marketing is the what makes potential customers click on your ads, your website, your social media pages, and fill out forms on your landing pages. Through marketing, one can gauge the level of interest a potential customer has in your products and services. It also enables you to see how effective your current marketing campaigns have been, and how much you need to invest to attract more customers to your products.
"To be able to sell well on Amazon, you need to know the basics of search engine optimisation (SEO) so that you use the right keywords to attract the audience to your page. Your product's page optimisation is extremely important," says Maryam as she explains how she used marketing tactics to generate customers.
Unlike Google Analytics, Amazon does not sell its data. So nobody knows the level and numbers behind the traffic, or the keywords you have used. There are multiple companies who are using their own crawling software and algorithms to figure this out, but they are just making guesses at most.
Ask any person who has had experience in digital marketing, and you will immediately be told the basics of inbound marketing. Through inbound marketing, an organisation can create enough data, generate enough awareness in the online space, and target the potential customer to land on the organisation's pages, where they can eventually end up making transactions.
Instagram is heavily used to direct external traffic to your page. Products are listed on the social media platform, from where they are taken to a landing page, and then to your product.
"It is also important to make sure that the people you do attract, end up buying your product. For example, it is better that 10 customers came to your page and 7 bought your product, compared to 50 potential customers who came to your page, and 10 made purchases," adds Maryam.
The legal question
However, that still leaves the question: how do you get around the legal hurdles of selling on Amazon. If you have a Pakistani bank account, a Pakistani address, and a Pakistani phone number, you cannot register your business on Amazon. So how do you get around that problem?
"We have a legal US bank account and address, which is why we have been able to do so (register with Amazon as sellers), and hence, we can sell our products in the US, Canada, and Mexico because of this program," explains Mustafa.
For those who do not have US bank accounts and addresses at their disposal, however, they need not lose hope. Kaneel Bhatti, who has been selling on Amazon for a few years, says that there are still perfectly legal ways to go about doing business with Amazon from Pakistan. "This includes creating companies registered outside Pakistan, and online bank accounts which are perfectly legal for anyone to conduct business with anyone," said Bhatti.
So how much can you make?
As Saqib said, there is no limit to earning through Amazon. "The top seller for baby products is making $80,000 a month. The top seller selling thermometers makes $70,000. I would like to name Sialkot which has a big potential in sports. One person who is selling sports equipment on Amazon is making $1.1 million per month."