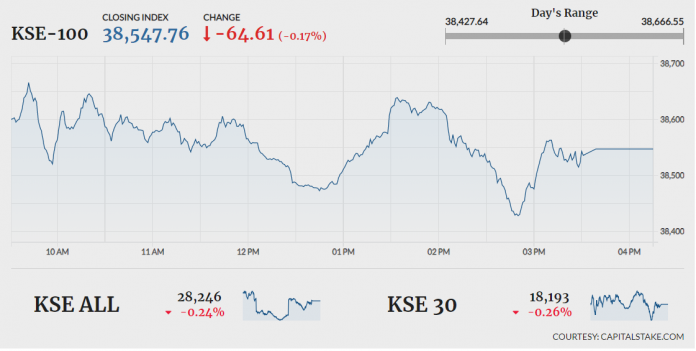 KARACHI: Investors of the Pakistan Stock Exchange (PSX) witnessed a volatile session on Wednesday, as the indices swung in both directions amid low volumes. Foreign investors offloaded shares worth $0.156 million on Tuesday.
The KSE 100 index touched an intraday high of 38,666.55 after gathering 54.18 points in the morning session. After swinging in both zones, the index touched its intraday low of 38,427.64 (down by 184.73 points). It finally closed lower by 64.61 points at 38,547.76. The KMI 30 index declined by 172.58 points to end at 62,938.78, whereas the KSE All Share index fell short by 67.98 points, settling at 28,246.34. Out of the total traded scripts, 111 advanced, 186 declined while the value of 23 remained unchanged.
Trading volumes improved from 70.81 million in the preceding session to 83.08 million. Pakistan Telecommunication Company Limited (PTC -3.01pc) led the volume chart with a volume of 11.18 million shares, followed by The Bank of Punjab (BOP -0.15pc) and Worldcall Telecom (WTL -6.25pc), with 7.37 million and 6.46 million shares respectively.
As per news reports, Pakistan has started generating power from Thar coal. The said project is expected to cut oil imports by up to $1.6 billion per annum.
The power generation and distribution sector lost 0.87pc from its cumulative market capitalization. Hub Power Company Limited (HUBC) was down by 2.88pc, Saif Power Limited (SPWL) by -1.92pc and Engro Powergen Qadirpur Limited (EPQL) by -1.00pc. Altern Energy Limited (ALTN +1.08pc), on the other hand, closed with minor gains.
The fertilizer sector managed to gather 0.90pc in its total market capitalization. Engro Corporation Limited (ENGRO +1.87pc), Fatima Fertilizer Company Limited (FATIMA +2.15pc), Dawood Hercules Corporation Limited (DAWH +0.80pc) and Arif Habib Corporation Limited (AHCL +4.14pc) all ended positive.
Fauji Fertilizer Company Limited (FFC +0.27pc) also closed with slight gains. As per news reports, the company has increased urea prices by Rs80 per bag. The hike in price was due to a decrease in the inventory levels and an increase in demand ahead of the Kharif sowing season.