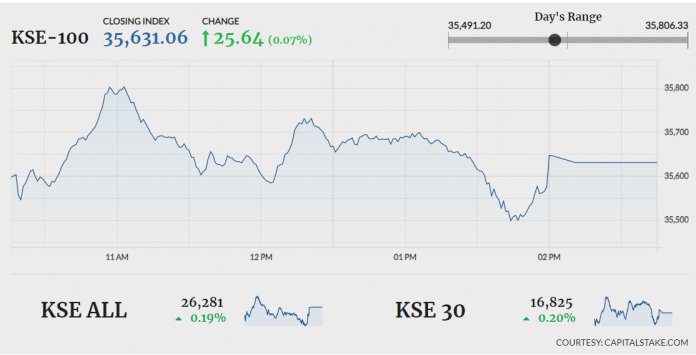 KARACHI: After oscillating in both directions, the Pakistan Stock Exchange (PSX) managed to close a volatile session in green. Foreign investors closed the previous session as net buyers with a net inflow of $4.47 million.
Gathering 200.91 points, the KSE 100 index benchmark reached its intraday high of 35,806.33. It then drove in the reverse direction to reach an intraday low of 35,491.20, down by 114.22 points. It managed to close higher by 25.64 points at 35,631.06. The KMI 30 index lost 629.89 points to close the day at 56,029.57, while the KSE All Share index accumulated 48.85 points, ending at 26,281.17.
The market volumes declined from 71.42 million in the preceding session to 65.36 million. K-Electric Limited (KEL -3.26pc), The Bank of Punjab (BOP +0.42pc) and Sui Northern Gas Pipeline Limited (SNGP -2.15pc) were the top traded scripts of the day. The stocks had exchanged 10.19 million shares, 5.33 million shares and 3.0 million shares respectively.
In a meeting held to discuss the developments and reforms in the energy sector, Prime Minister Imran Khan was informed that the circular debt, which had surged by Rs450 billion during 2017-18, would be eliminated by the end of next year.
The PM was further informed that a 25-year plan to cope with the supply and demand for power has been formulated in addition to a fresh policy for power production through alternate energy resources.
The power generation and distribution sector lost 1.69pc from its cumulative market capitalization. K-Electric Limited (KEL -3.26pc), Hub Power Company Limited (HUBC -1.08pc) and Kot Addu Power Company Limited (KAPCO -1.54pc) closed with losses.
On the other hand, Altern Energy Limited (ALTN +4.42pc), Saif Power Limited (SPWL +3.05pc) and Pakgen Power Limited (PKGP +2.77pc) ended positively.
Meanwhile, the banking sector gained 1.48pc in its total market capitalization. Habib Bank Limited (HBL) was up by 4.55pc, United Bank Limited (UBL) by 3.66pc and MCB Bank Limited (MCB) by 1.75pc.