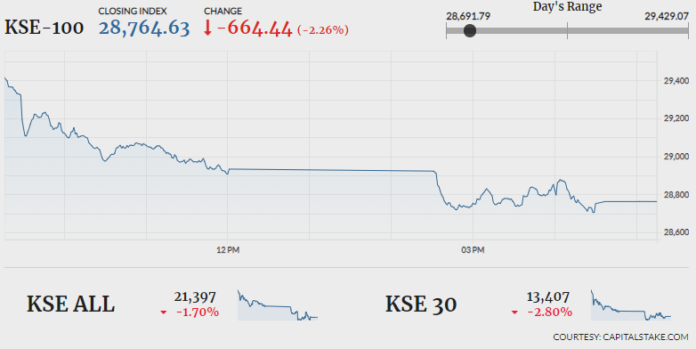 KARACHI: Amid rising border tensions, indices at the Pakistan Stock Exchange (PSX) recorded fresh lows on Friday, with the KSE-100 Index ending the only session of the week in the red. To make matters worse, global markets tumbled in the ongoing week amid fears of a recession.
In line with market expectations, the KSE-100 Index started the trading session negatively, falling below the 29,000 mark (levels last recorded in 2014) after losing 737.28 points. It settled lower by 664.44 points at 28,764.63.
The oil and gas exploration companies (-186.43 points) dented the index the most, as Pakistan Petroleum Limited (PPL -5.00pc) pulled it lower by 68.21 points, Oil & Gas Development Company Limited (OGDC -4.44pc) by 69.57 points and Oilfields Limited (POL -4.37pc) by 44.87 points.
The fertiliser sector took away 163.55 points from the KSE-100 Index with Engro Corporation Limited (ENGRO -4.80pc) stealing 78.04 points and Fauji Fertilizer Company Limited (FFC -4.41pc) chipping away with 62.55 points.
The KSE All Share Index took a plunge of 362.05 points, thanks to the oil and gas exploration companies (-144.52 points) sector which remained the top sector in terms of negative contributions to the index. The Oil & Gas Development Company Limited (OGDC -4.44pc) took away 77.98 points from the index.
The KSE-30 Index ended lower by 3.13pc, while the KMI-30 Index dipped by 2.77pc. Only 83 scripts managed to advance, 190 were down while the value of 286 remained unchanged.
Abbot Laboratories (Pakistan) Limited (ABOT 0.00pc) declared its financials for the quarter ended June 30, 2019. Sales clocked in at Rs63 billion while profit after taxation was recorded at Rs0.18 billion. Earnings per share of Rs1.83 were 71.67pc lower than the same period of last year.