Sheikh Imranul Haque has been in jail for approximately one month and nobody in the government – not even the serious looking men charged with prosecuting him, nor the slightly more ridiculous men charged with selling the case to the public on television – can tell you why.
Oh, sure, they will use sums that sound large (if you do not think about them for too long or do not know the context) and say that he bilked the government out of money. But pay closer attention and you notice something: no actual allegations of wrongdoing. Just insinuations and a nasty tone used to heavily imply that he must have done something wrong, and perhaps the (correct) hope that energy sector contract law is not something most people know anything about.
Here is how we know this: even the references filed against him by the National Accountability Bureau (NAB), a copy of which has been seen by Profit, do not cite any specific laws he violated. There are allegations – with little evidence – that former Prime Minister Shahid Khaqan Abbasi violated specific laws, such as the 2010 Anti-Money Laundering Act and the 2004 Public Procurement Rules. But what law or regulation did Imranul Haque violate? The allegations are completely silent on the matter.
Using a combination of NAB documents and public reporting on the matter, Profit has tried to put a picture together of what exactly happened. What emerges from our analysis of the matter suggests that, while government officials may have made some errors in the processes used to award contracts for the liquefied natural gas (LNG) terminals in 2015, the government has yet to present any evidence of malfeasance or malintent. Indeed, the government is not even alleging that a quid pro quo took place, which is typically the legal standard for corruption and abuse of power cases.
In other words, for the government to prove that Sheikh Imranul Haque did something wrong, it is not enough to say that he got a favourable contract from the government (we discuss below that it was not as favourable as it has been reported). They also have to prove that he gave the government officials who granted him that contract something of value: cash, a gift, or some other thing that can reasonably be construed as a pay-off.
It does not bode well for the government's case that, while they continue to shout from the rooftops that Engro Elengy was granted an overly favourable contract – without providing much evidence to back up that assertion – they do not even allege that the former Prime Minister (who was arrested in connection with this case) received anything in return. They actually make the opposite allegation: that after conferring this big favour on the company Imranul Haque worked for, Abbasi decided to do a more personal favour and appointed Haque to the position of managing director of the government-owned Pakistan State Oil.
So what on earth is happening? Let us start at the beginning.
 The LNG transaction
The story starts with the pursuit of a liquefied natural gas terminal in Pakistan. Let us recap why this terminal was needed in the first place, and why Engro, of all companies chose to pursue this project.
It was 2006 when the government of Pakistan decided that it wanted to incentivize companies to engage in the domestic production of fertilizer. As a sweetener to that fertilizer policy, the government of Pakistan promised to provide 100 million cubic feet per day (mmcfd) of natural gas, the raw material needed to produce urea, the most common fertilizer used in Pakistan.

The bidding process for that permit saw two companies win: Engro, and the Fatima Group which would go on to set up Fatima Fertilizers in Pakistan. Engro, being the highly ambitious company that it is, decided to make their plant the biggest investment in a single project in Pakistan by a private sector company: they invested $1.1 billion in capital to set up the largest single-train urea manufacturing facility in the world.
The plant was ready to begin testing by early 2010. Unfortunately, that was precisely the time when Pakistan began to reach the limits of its production of natural gas, and the country faced something it had never before seen in its history: natural gas load shedding, which hit the northern parts of the country particularly hard since they tend to rely on natural gas to fuel heaters in the winter.
Needless to say, the government of Pakistan reneged on its sovereign guarantee to Engro to provide that 100 mmcfd of natural gas for the fertilizer plant that they had just spent $1.1 billion – most of it borrowed – in building. This caused revenue and profitability at Engro to be hit badly as the company struggled to pay off the debts for a project that was not earning it anywhere close to the kind of profits that were needed to pay down the loans that it had taken on for the project.
It was around that time – 2011 or so – that Engro started contemplating the idea of setting up an LNG import terminal. The logic behind that move was simple: if the government of Pakistan was not going to supply the gas that it had promised, Engro would simply import it. All it needed was permission from the government of Pakistan to do so, and permits from the state-owned natural gas pipeline companies – Sui Southern Gas Company (SSGC), Sui Northern Gas Pipelines (SNGP) and Interstate Gas – to allow Engro to use their pipelines to pump the imported gas from Port Qasim or Karachi Port to the Engro Fertilizer plant in Dharki, Sindh.
Under the Zardari Administration, the company struggled to get the government to even grant it permission to build the plant, let alone actually start construction and use the plant. So when the Nawaz Administration took office in 2013 and signaled that it was willing to help Engro solve the problem created by the government reneging on its own promises, there was some cause for hope.
It helped that the Nawaz Administration appointed Shahid Khaqan Abbasi, himself a University of California Los Angeles-trained electrical engineer, to the position of Minister of Petroleum and Natural Resources. Abbasi was not familiar with the energy or petrochemical business, but as an engineer, he likely understood the challenge facing the industrial and mechanical engineers at Engro who were trying to solve for the problem of having a massive fertilizer plant that needed to import its fuel after the government's promises turned out to be hollow.
After a two-year negotiation process, the government finally initiated the process of opening up bids to allow companies to set up LNG import terminals. Engro was among the very first companies to apply and won the bid. NAB alleges that the process was rigged to ensure that Engro won the bid. However, it does not outline what illicit measures that Engro must allegedly have used to secure the government contract.
 The government's allegations
There are three central allegations that the National Accountability Bureau has made against Engro and Sheikh Imranul Haque personally about the LNG project. The first is the issue of capacity charges and why the government ever agreed to pay those (more below on what are capacity charges and why they make business sense for both the company and for the government.)
The second is the allegation that the awarding of the contract to Engro was the result of favouritism on the part of the government. And the third allegation is that Sheikh Imranul Haque was the recipient of further favouritism when he was asked – and accepted – the position of managing director of Pakistan State Oil.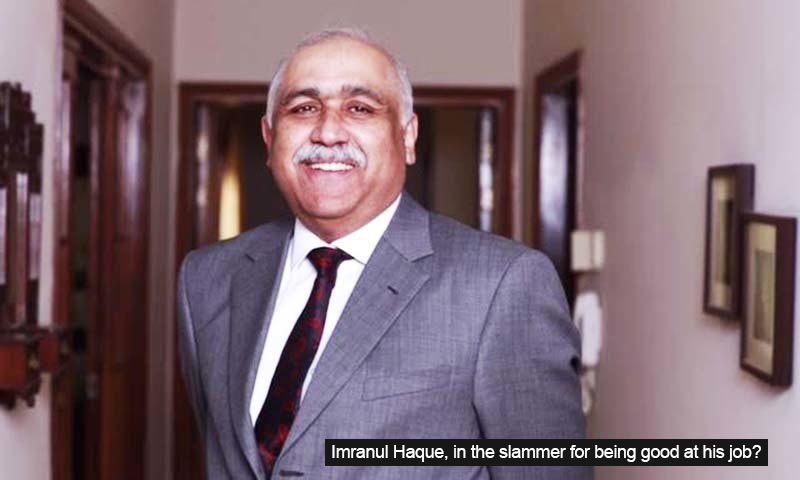 NAB alleges – without specifying how – that Abbasi and other former government officials broke government rules in awarding those contracts. What it does not specify, however, is exactly how Engro Elengy, or Sheikh Imranul Haque personally, violated the law. Did they bribe somebody? Did they threaten somebody? Did they use their influence to improperly influence government procurement processes? At no point does the government specify how Imranul Haque or Engro broke the law.
The problem with capacity charges is particularly egregious. NAB is claiming that the contract is unduly lucrative but provides no benchmark to prove its point that it is an unusually lucrative contract. In particular, NAB officials appear to have a problem with the very idea of capacity charges, which are a commonly used tool by governments and even private businesses to encourage investment in energy infrastructure projects.
In a nutshell, the logic behind capacity charges is this: they generally take place in situations where there is a single monopsony buyer who controls the entirety of the market for your product or service and needs you or another entity to build out essential infrastructure for its business.
Essentially, the only three companies in the country that control the transmission or distribution of natural gas are all majority-owned by the government of Pakistan. So when the government asks companies to set up infrastructure projects – like, say, an LNG import terminal where the company's only possible buyer is the government – it has to give them some assurances that it will continue to buy the product.
Engro's agreement with the government is this: either you buy the gas that we import – which we do based on demand projections we receive from you – or you at least pay us some sort of charge that helps cover the costs of setting up this plant. It is fundamentally similar to the contracts the government signs with electricity generating companies: either the government buys their production or at least pays for the cost of them setting up the infrastructure.
This capacity charge, which ended up being utilized for approximately six weeks at the beginning of the project – and which is recoverable by Engro itself buying the gas it imported using the terminal – is being presented by NAB as a scandal, without any acknowledgement of the fact that this kind of arrangement is relatively standard. Nor is there any specific allegation as to which law or regulation prevents Engro Elengy from entering into such contracts, or what law makes them and their executives criminally liable.
In short, here is what happened: Engro believed the government when it said it would provide them with the amount of gas they would need to justify a massive $1.1 billion investment in urea production. Once it became clear that the government itself was not interested in fulfilling its promises, Engro tried to set up its own infrastructure to import natural gas. For that it needed permissions, which it received after years of waiting for the government.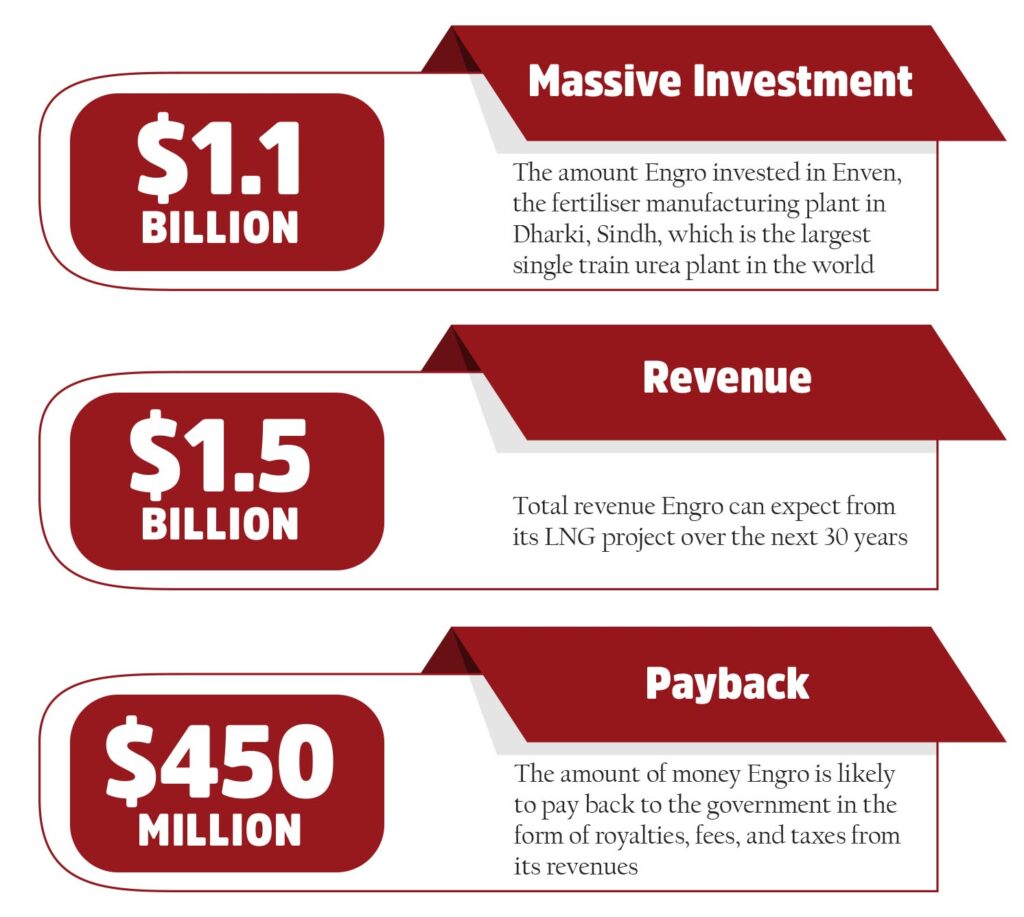 Then, once it had secured those agreements and raised the money to make its infrastructure investment, Engro and its executives were faced with potential criminal charges for having the audacity to have a normal energy sector contract with the government of Pakistan as their counterparty. And, for the first time, a private sector executive was arrested without any allegations of criminal wrongdoing.
Not only did the government renege on its initial promises, but it actually jailed the head of the Engro team  that decided to solve that problem without the government's help.
 The Engro project
The bidding process used to grant Engro Elengy the terminal license was the same process as the one used to grant contracts for Dasu Dam, which is to say that it was a single-stage, two-envelope process. Both Engro and Pakistan Gas Port Ltd (PGPL) submitted final bids. PGPL's bid was declared technically non-compliant by an independent, USAID-appointed consultant (the UK-based firm, QED).
Unsolicited Twitter feedback by PGPL subsequently confirmed that the bidding process was transparent.
The LNG terminal project has returns in line with other contracts the government has entered into and is similar to independent power producer (IPP) projects in Pakistan. The project was price competitive. Engro's terminal tariff is $0.44  per mmbtu, which is comparable to international and regional projects.
The USAID-appointed consultant (UK-based, QED) conducted bottom up costing and determined that a competitive tariff would be between $0.57–$0.78 per million British thermal units (mmbtu). By comparison, the rates in Indonesia are $1.50–2.0 per mmbtu, Japan $0.66 per mmbtu, 4GasAsia $0.84 per mmbtu for retrofit at SSGC LPG, and India at $0.80–1.10 per mmbtu.
And while it is true that capacity payments – which are the norm for such projects – are due to Engro; $272,000 per day in year 1 and $228,000 per day in years 2-15, no capacity payments have been made to Engro whatsoever to date (given the fact that the project is running at over capacity i.e. there is no idle time.
Figures being reported in the media are misquoted as representing profit. Per attached article, overall revenue for Engro from this project has been estimated at $1.5 billion. The company argues it will pay back around one-third ($0.45 billion) of the revenue to the government – state-owned Port Qasim Authority (PQA) and the federal government – in the form of taxes and port and shipping royalties.
The lease of floating storage and re-gasification unit (FSRU) is about $750 million and the shore side facility costs $130 million over the 15-year period. A second terminal has since been awarded to PGPL on the same basis with equivalent payments of $240,000 per day.
The LNG terminal was set up in record time of 330 days, 5 days before deadline. The past five attempts have failed during three governments at implementing LNG projects since 2006. The LNG terminal has thus far saved Pakistan $1.2 billion per year due to reduced import of furnace oil. In addition, there have been savings of $600 million by negotiating the best deal for the country for LNG procurement, according to Bloomberg News. (Source: Bloomberg article).
How the Sheikh is holding up
Let us not forget that in the middle of all of this, Imranul Haque is still in jail. As sources close to him confirmed to Profit, it has been 30 days since his arrest and a reference has yet to be filed against him. NAB's investigative team only visited the Engro elengy port last Monday for the first time, having already arrested Imranul Haque and Shahid Khaqan Abbasi. 
The Investigating Officer (IO) in the case in the last hearing informed the court that he would finish his inquiries in 14 days. The question remains to be asked, what will they manage to do in 14 days that they have not in the past 30? NAB's answer has been that they are going to interview board members in their hunt for irregularities or corruption. Needless to say, the reader should not be surprised if 14 days from now when Imranul Haque applies for bail and asks that his remand be ended, he is given another promise that the IO will have the case wrapped up with a pretty pink bow in another two weeks. 
"NAB has said that they will be done in 14 days, and we hope that this will be it. There is no logical reason for him to be under lock and key" Salmanul Haque tells Profit. He is Imranul Haque's son. 
"They've been very good to my father while he has been in their custody, this much I would like to say. He gets time outside every day and we are allowed to see him a few times a week. He also gets food from home thrice a day. But he is still in a cell, and he has been in there for a month and might be for longer – and that too just for doing his job well." 
He has a point. As previously discussed, the accusations against Imranul Haque have essentially centered around him striking a good deal with the government. And while it is up for debate whether Shahid Khaqan Abbasi or Imranul Haque had the better end of the bargain, he is currently being punished for doing a good job as a CEO. 
And while he may be getting good treatment from NAB, he is still their prisoner. According to sources close to Imranul Haque, he does not get questioned a whole lot for someone under investigation. An interrogator might come in for 20 to 30 minutes every few days and chat with him about this and that. The entire process has an air of stalling about it. 
In this case, one might just have a pinch of sympathy for the interrogators. They have a job to do, which is interrogate. And one would imagine a lot of interrogating – hours on end of it daily – especially if someone has been in custody for a month. 
But the interrogators have little to ask him. His actions as CEO were legal, and again, he has not been charged with anything illegal either, just a lot of conjecture. His appointment as MD of PSO was perfectly legal, and perhaps testament to the job well done that was his deal with the government. 
"NAB has been good to my father yes, but again, they have said they need only 14 more days. When nothing comes up again, as it inevitably will, I hope they will remember their own words and not ask for another extension in remand" Salmanul Haque ended.         
The consequences of the government's decisions
Here is why all of this matters: the government of Pakistan has basically proven itself an untrustworthy counterparty in any negotiations on matters of public-private partnerships. Which company in their right mind would ever want to trust the government when it next calls for investment in a particular sector that the government deems necessary for the country's economic progress? And which CEO will want to engage in those negotiations know what Sheikh Imranul Haque has gone through.
Imranul Haque has the kind of credentials the government would dream of to have as the leaders of state-owned companies. Well-educated, decades of experience working as an engineer and manager at energy and petrochemical companies and willing to work in a state-owned company.
Who does the government think will answer their ads for managers and CEOs of large, troubled state-owned companies knowing the kind of trouble it can bring? Will it be well-credentialed people, or will it be charlatans who know they cannot get a well-paying job in the private sector?
This is fundamentally the government scoring an own goal and limiting its own capacity to implement a reform agenda when it comes to the economy?
 The consequences for professionals
Lastly, it is important to address what the arrest and NAB allegations against Sheikh Imranul Haq mean for professionals in the country who have ever considered working for the government and are anxiously waiting for the government's civil service reforms to open up recruitment for government jobs that can allow them to have an impact on the country's governance.
Does this process give anyone more confidence that the government – in particular the Imran Khan Administration – have the best interests of the country at heart and will not subject them to politically motivated persecution when it suits their convenience?
The answer to those questions are uncomfortable for anyone in the government or private sector to contemplate.
(With additional reporting by Abdullah Niazi)