The 12 months ending June 2019 have wreaked havoc to a company that has been the bright star of the Pakistani energy business as recently as last year. From minnows in the oil sector, Hascol Petroleum had risen above just about every other company in the oil marketing space except the state-owned Pakistan State Oil (PSO) during the last decade. But now, it appears to have suffered a stunning set of reversals and has been hemorrhaging money.
It is a stunning reversal for a company that had become the darling of investors both within Pakistan as well as foreign investors who track Pakistani markets. Between 2010 and 2018, the company saw its revenues climb at an astonishing average of 52.7% per year, rising from Rs7.9 billion to Rs234.4 billion during that period. (Hascol Petroleum's financial year ends December 31 of each year.)
The company publicly listed on the Karachi Stock Exchange (now called the Pakistan Stock Exchange) in May 2014 at a share price that valued the company at Rs5.4 billion and the stock took off since then. It peaked on May 26, 2017, when it closed at Rs236.01 per share (adjusted for splits and stock dividends; the unadjusted price was Rs389.41 per share). Since then, as profits went from a peak of Rs1.3 billion in 2017 to a net loss of Rs12.0 billion in the 12 months ending June 2019,  it has fallen by stunning 89.3% to Rs25.25 as of the close of trade on September 19, 2019.
So what went wrong? A combination of a particularly vulnerable business model and bad government regulations is largely responsible for the bulk of the company's problems.
 Hascol's business model
Hascol rose from being a relatively small player at the start of the decade to becoming one of the largest fuel oil retailers in the country, in addition to selling fuel to industrial and commercial consumers as well. It relies in large part on franchise owners who set up petrol pumps across the country with Hascol's branding and the company in turn becomes their fuel supplier. Hascol also owns several of its own petrol pumps.
Hascol was incorporated as a private limited company in 2001. The company received its oil marketing license from the government in 2005, which allowed it to purchase, store and sell petroleum products like high speed diesel, gasoline, fuel oil and lubricants. In 2007, the company was converted into an unlisted public company. In 2014, it was finally listed on the Karachi Stock Exchange.
Hascol fortunes changed in 2009 when veteran energy executive Saleem Butt took over as the executive director and chief operating officer of the company. Under Butt's leadership, the company was able to expand its access to debt, which had previously been somewhat less forthcoming. The COO established a relationship with Summit Bank, one of the smaller banks in the country, to begin extending the company the credit needed to expand. 
From then onwards, Hascol started to become bigger every year with Saleem Butt at the helm of affairs, first as COO, and then as CEO.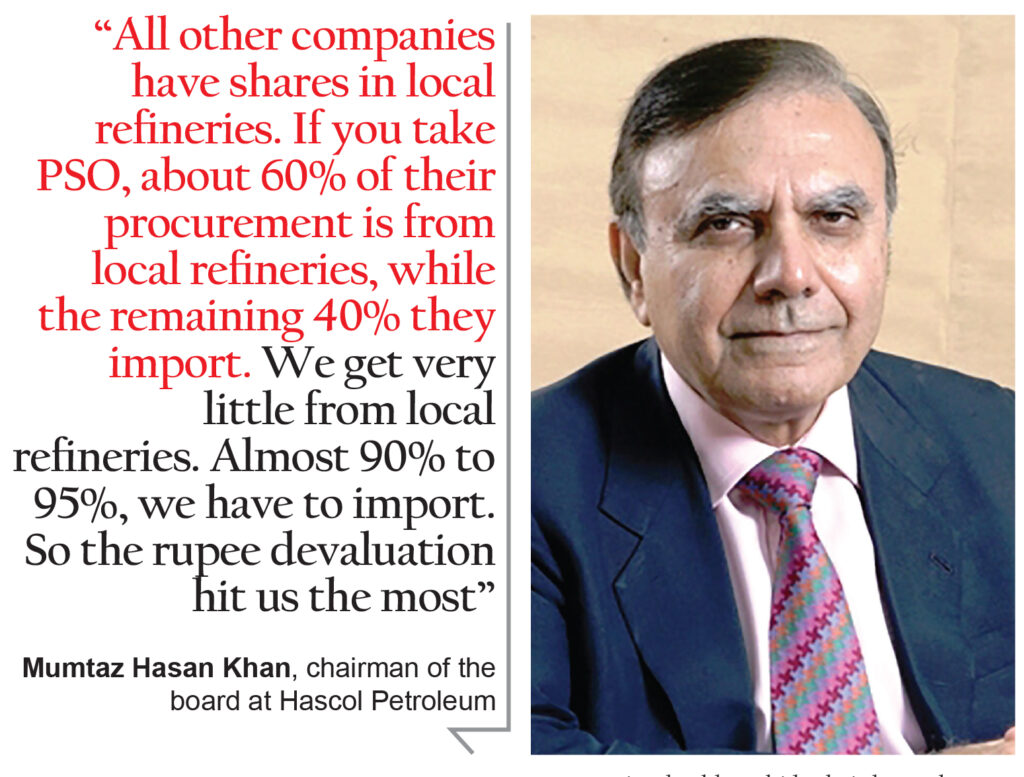 Hascol rose to become the second largest oil marketing company in the country, overtaking Attock Petroleum in 2017, and behind only the government-owned PSO. (The company has since slipped into third place in the 12 months ending June 30, 2019). Its annual revenues increased approximately nine times from Rs25.9 billion in 2012 to Rs233.6 billion in 2018.
Among other things, the company's rise relied on a very aggressive pricing strategy. One source in the industry said that Hascol has enticed commercial customers by offering additional discounts, over and above what is customary in the market. One securities analyst also expressed the opinion that extending unrealistic discounts may have been one of the reasons for company's recent below par performance.  
"As far as I know, we were giving discounts just like others," said Mumtaz Hasan Khan, chairman of the board at Hascol Petroleum. "The market share we captured was because we were developing our retail network. We were developing almost one hundred sites every year. It was increasing our volumes. Then, we increased our storage capacity. Your logistics improves due to your storage capacity. Plus, we increased our oil tank fleets."
The part about increasing its retail footprint. The company aggressively expanded its retail petrol pump network across the country, focusing in particular on the relatively new highway network of the country and the suburbs that the highways lead, a market which is still relatively underserved. Mumtaz says that Hascol has opened almost 500 petrol stations.
"Our country is growing. Cars and motorcycles are increasing every year. Traffic is increasing and so does the movement of goods. As soon as you start new petrol stations, every dealer brings business with them too. Plus, we give better service to customers. So, they give preference to your pump," he said.
"But if you live in Nazimabad or PECHS [middle class neighbourhoods in Karachi], then you won't go to Defense. And now new areas are being developed. In the beginning, we had a problem that in all these existing areas. There was no place for establishing fuel stations except those who have already established stations like Shell and PSO. There were no new commercial places. And if there were any, then people would develop shopping plazas, etc. and would not go for petrol pumps," he added.
And the company also invested heavily in its storage capacity, partnering with Dutch energy giant Vitol in doing so. In collaboration with Vitol, earlier this year, Hascol added 232,000 cubic metres of oil storage capacity at Port Qasim, taking it to a storage capacity worth 26 days of fuel consumption, up from 16 days of storage just this year.
But perhaps the biggest rigidity in the company's business model was the fact that it relies almost entirely on imported fuel and very little on local refineries for the products it sells with up to 95% of the fuel it sells being imported. That vulnerability was hidden while the Nawaz Administration, under Finance Minister Ishaq Dar, artificially kept the rupee stable at approximately Rs100 to the US dollar. But once that peg was removed and the rupee fell close to Rs160 to the dollar, Hascol felt the impact.
 What went wrong with Hascol
"All other companies have shares in local refineries. If you take PSO, about 60% of their procurement is from local refineries, while the remaining 40% they import. We get very little from local refineries. Almost 90% to 95%, we have to import. So the rupee devaluation hit us the most," said Mumtaz, in an interview with Profit.
The core problem for the company, of course, has been the fact that the government regulates prices of oil products sold in the country and does not adjust prices fast enough to keep pace with the extent to which prices change in international markets. As a result, companies are often stuck with inventory that they bought at much higher prices and are forced by the government to sell at much lower prices. This is especially a problem for Hascol, which has bigger inventories than any other oil marketing company.

"At any given time, we have about 20 days of storage. So, when the prices get adjusted and come down because internationally, crude prices come down. As a result of this, the value of our stock came down in dollar terms and all that. That was the reason we have to book big losses," Mumtaz said.
Meanwhile, Hascol CFO Khurram Shahzad explained things in detail. "We purchased when oil was expensive at US$85.80 per barrel. The prices fell within one and a half and two months to US$58 per barrel. The difference of these prices, we have to endure that also as losses," Khurram said.
"All industries are suffering but the oil industry is suffering the most because of regulated prices," said Hascol director Liaquat Ali. "Look at the auto industry. When the dollar appreciates, the next day they increase car prices by Rs25,000 to Rs30,000. We cannot increase prices like that."
"Then we had some cases, which we had lost in London and we are still contesting the amount. But we had made those provisions. Those amounts were in dollars. Meanwhile, the rupee devalued, and we booked that loss also in dollar terms. We had an arbitration case in London, which we have reported at stock exchange," said Mumtaz. The expense of those cases have been recorded as liabilities on the company's balance sheet.
It did not help, of course, that the company did not diversify its procurement of fuel. And it has not yet established a working relationship with the five existing oil refineries in the country, a point Mumtaz concedes, highlighting how his competitors do business.
"Total Parco buys its product from Parco [Pak-Arab Refining Company]. They don't import diesel. They only deal in motor gasoline. Shell also has supply arrangement with PRL [Pakistan Refinery Ltd] and with Parco. They also import very little. PSO also has a shareholding in PRL and Parco and also from Attock. They are a government entity and they receive facilities from the government. As a result of this, the proportion of their imported product, percentage wise, is a lot less than us. Due to this, the devaluation has affected us more compared to other oil companies," said Mumtaz.
But Mumtaz contends that the industry as a whole is suffering, and that his competitors are simply able to hide their losses better, either by transferring those losses to the refineries (in which some of them are shareholders) or through accounting methodologies not available to ordinary companies, in the case of PSO.
"Look at National Refinery's financial report, take Pakistan Refinery's report, Shell's report. Every listed company's report. Attock Refinery's report. It is because the oil we purchase comes in dollars. The product is also purchased in dollars. When we booked purchases, the dollar rate was different. When we go to pay, we normally get 30 days credit. Last year, the rupee was devalued by 40% to 50%. Due to this, the entire oil industry has suffered," said Mumtaz.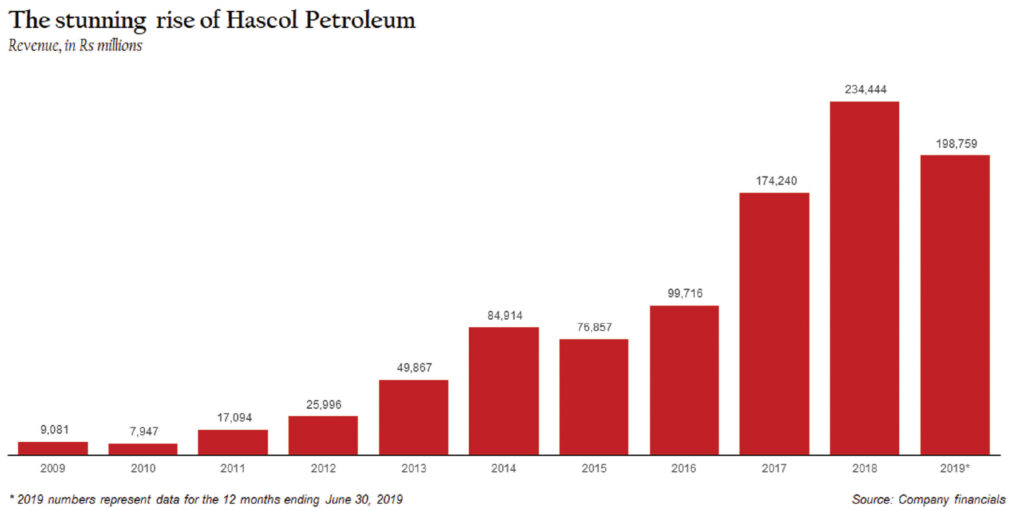 And Khurram further elaborated on why some competitors looked better off than Hascol.
"If you look at PSO's balance sheet, they tell you in 'other receivables' that on the product they imported, they have made losses of Rs24 billion on that account. But they are not charging in it the income statement. They said that since they have imported [that fuel] because of the government of Pakistan – and they give reference to a foreign exchange regulations manual – on the basis of that regulation, whatever loss they would incur, it will be recovered from the government of Pakistan and it is reimbursable," Khurram said.
"They are showing it in the balance sheet. Otherwise, it should come in the profit and loss (P&L) account. Meanwhile, if you do an industry analysis, the Attock Group has Attock Refinery at its back and National Refinery. And if you analyse only Attock Petroleum's books and are not looking at the books of the other two refineries, it will not show you the true picture."
"Attock refinery has had losses of Rs8 billion. National Refineries has recorded losses of Rs12 billion. That accumulates to Rs20 billion. They import crude and after refining it, they are giving it to Attock Petroleum. If Attock was importing the oil it sells, then Attock would also have made losses."
"Shell is out from the commercial supply [business]. They are only working on the retail side. Despite this, their foreign exchange loss is greater than us while their imports are less than us. Shell had Rs5.9 billion in [currency depreciation] losses in December. We had a loss of Rs3.9 billion. Shell doesn't show that on their P&L."
"And if you put the Rs24 billion loss incurred by PSO onto their P&L, then you will see where it goes. They will be in losses too. If you take Attock and add their refineries number, then their profits would also fall," Khurram pointed out.
When asked if Hascol would ever consider setting up a refinery of its own, since so many of its competitors own one, Mumtaz trashed the idea.
"Setting up a refinery is a very big investment. If today you are going to establish a 100,000-barrel refinery then you will have to spend $3 billion and it will take five years to start. You have to raise the financing, etc.," Mumtaz said. "There is a Parco refinery in Karachi. For five years talks have been ongoing to establish the refinery at Khalifa Point. They have yet to achieve financial close. After financial close, it will at least take three years before the refinery comes up."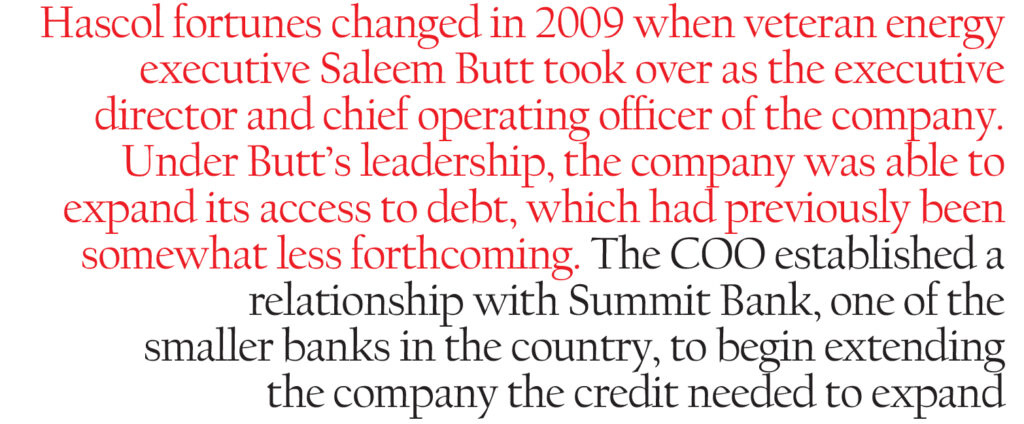 Meanwhile, Liaquat Ali said that the oil industry was one among many that was going through retrenchment owing to the wider economic slowdown. "The economy has slowed down. Car sales have declined 40%. Overall, the economy has slowed and infrastructure projects where diesel was used like [China-Pakistan Economic Corridor] CPEC projects has also slowed down. The government is not spending at the moment."
 Hascol's declining market share
The last year has been particularly rough for Hascol and the company's financial troubles – and relatively brittle business model – are starting to catch up to it. Even as industry-wide revenues have grown, Hascol's revenue declined by 15.2% in the 12 months ending June 30, 2019 compared to the same period last year. According to one analyst's report, Hascol Petroleum's volumes declined by 42% in the second quarter of the calendar year 2019.
The company's management acknowledges the problems and admits that this is part of a deliberate strategy to conserve cash. "We have curtailed some supplies," said Mumtaz. "Our less important dealers, the ones in remote locations, we have restricted supplies until we are done recapitalizing the company."
The cash flow problem, in turn, is caused by the fact that while the company has to pay its import bills within 30 days, its dealers and pumps often have cash conversion cycles longer than that. "After we got hit by severe losses, we decided to stop our commercial sales. We had receivables from many power generation companies, so we stopped giving to them fuel to conserve cash and meet our obligations to the banks."
"There goes a complete cycle. We get a 30-day credit on imports. We sell on cash in our retail business. But the bigger customers like power generation companies, etc., we give credit to them. They didn't receive cash from the government [state-owned power transmission and distribution companies]. We therefore also got stuck in a sort of circular debt. So, we reduced our supplies to them. Now we are only running the retail side," explained Mumtaz.
That policy of moving away from supplying power generation companies is likely to be a smart move in the long run. "The government has changed its policy and stopped [allowing state-owned power generation companies from using] fuel oil [to generate electricity]. And now LNG [liquefied natural gas] has come. Similarly, power houses were run on diesel during winter and that too have converted to LNG. Diesel demand has come down by 25%."
 Access to credit continues
With the heavy losses that the company faced, Hascol became the target of rumours that banks had stopped lending to the company. Mumtaz categorically denied those allegations and stated that the banks continue to lend and support the company.
"The banks are still supporting us. None of them has withdrawn their credit line. Major banks like National Bank, Habib Bank, Bank Alfalah, Faisal Bank, Habib Metro, Bank of Punjab, Askari Bank. All the banks are still here with us. They understand the problem. They know it [losses] didn't happen due to negligence on our part. No fraud has happened in the company that one may think that the losses have happened because of that."
However, Mumtaz did admit that the company has had some solvency issues in terms of repaying its lenders on time and was negotiating extensions. "Negotiations are ongoing with the banks. There are still some overdue payments to the banks. But all companies have taken a hit. We are not the only one."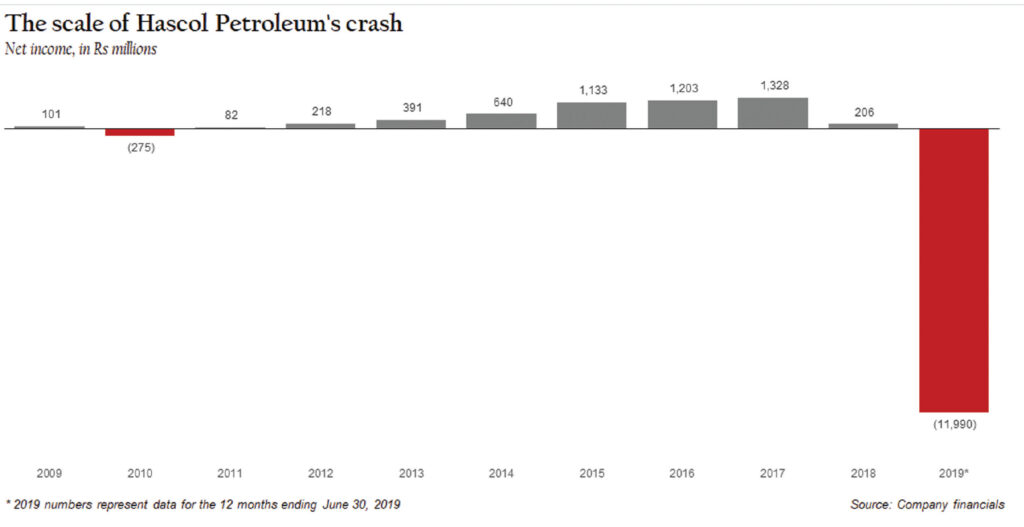 The company is seeking to shore up its balance sheet, however, and is considering raising equity through a follow-on offering on the Pakistan Stock Exchange (PSX). Yet after seeing its share price plummet by nearly 90% over the past two years, the company has an uphill task ahead of it.
Mumtaz, however, said that the company continues to have value. "The company has assets. We have made a lot of storage facilities. If you now build the same assets now, it will cost you above 50% more. The cost of steel has gone up, the cost of cement has gone up, everything has gone up."
Liaquat Ali said that the final decision will be taken in the board meeting on September 23 and the company may seek to raise as much as Rs5 billion to Rs6 billion. "But as I said we cannot be sure today as our board meeting will be held on September 23. It will be decided then," said Liaquat.
Meanwhile, the chairman said that he is a major shareholder and he would invest money and also expressed faith in all other major shareholders to invest in the company.
"If we have made losses and our share price has fallen, then we will have to work on it and undo the losses. I have made the biggest losses. Vitol incurred losses. I have personally made losses to the tune of $60 million," Mumtaz said.
Liaquat said that he believes people will trust Hascol based on the past performance of the company. "A company's share, which had a price of Rs 56, which even went up to Rs380. We became the second largest [oil marketing] company in Pakistan. So, you don't judge a company on only a year's performance," he said.
And the company's board believe that the sellers who drove down the share price were never long term investors in the company's stock anyway. Mumtaz says that it was a bandwagon effect following devaluation of the rupee.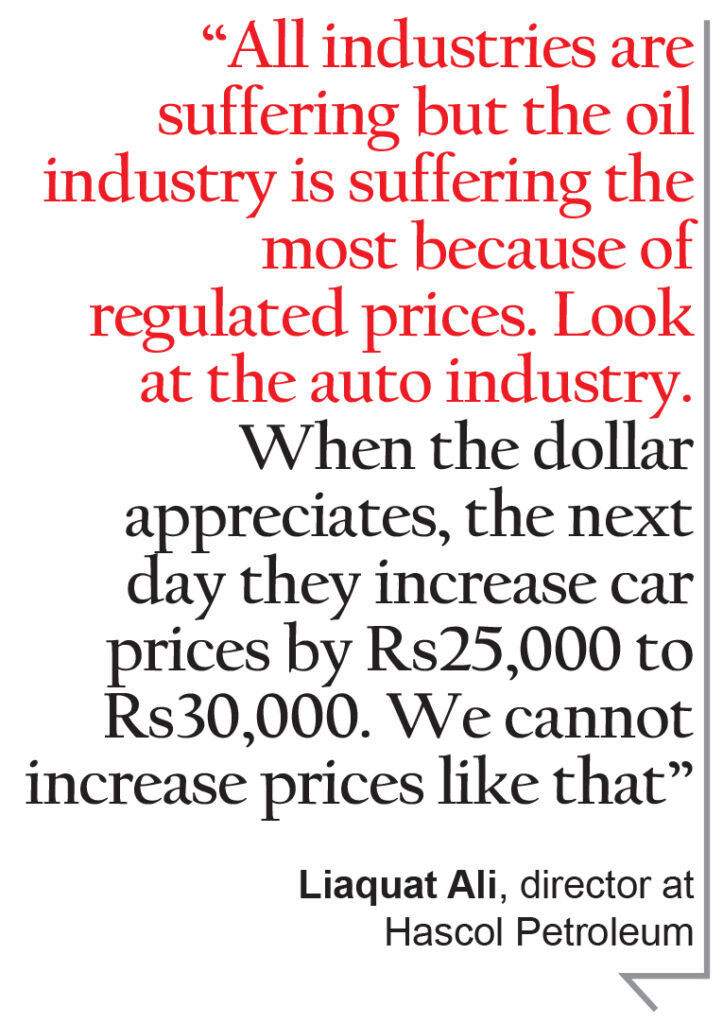 "Nearly 10% of our shares were held by foreigners, by hedge funds in New York and all that. As soon as the devaluation happened in Pakistan, foreigners started to offload Pakistani shares. They started to sell and there were no buyers, so prices started to fall and fall. But I haven't sold any shares, Vitol didn't sell any shares. No major shareholder has sold any shares."
 Is Vitol still backing Hascol?
In 2015, Dutch energy giant Vitol acquired a 15% stake in the company, and bought another 10% in 2016 to become the largest shareholder in the company. Meanwhile, Hascol and Vitol have also entered into a joint venture deal for marketing of LNG with a 30-70 ratio respectively. The two have also signed a technical services agreement to enable Hascol to start fueling aircraft at Karachi, Lahore, and Islamabad airports.
According to Mumtaz, Vitol is going nowhere. In fact, he claims their foreign partner is quite bullish on Pakistan.
"Our foreign partners Vitol is willing to invest more in the company. They are willing to increase their shareholding. We have our annual general meeting on September 23, subject to the board approval. Only then we will know how much Vitol will increase its shareholding. They may go up to 50% or 51%. They are very bullish on Pakistan. Two weeks ago their delegation was here. We met Prime Minister [Imran Khan], Finance Minister [Hafeez Sheikh], the petroleum minister, everybody."
Meanwhile, if Mumtaz is to be believed, the management is also going nowhere despite the current travails of the company. "The same management was delivering excellent results. Between 2011 and 2017, we were growing very rapidly. They are competent people and they are all professional people. There is no one from my family like a nephew or son or something. The company has been run professionally just like Shell or Total," he said.
"It is a professionally run company. That is why Vitol has taken shareholding. The management, they are good people, competent people, honest people. And they have been delivering good results often. Every company faces bad times. You can now see cars are not being sold. Who could blame the car industry? You can't blame the management of the car industry. The industry has seen 40% decline in sales. Similarly cement is not being sold. The whole country is going through this phase."
"We are suffering with the country. We have only suffered more because other companies like Shell are also active in the lubricants, where prices are not regulated. The profit margin in lubricants is somewhere between 25% to 30%. Our lubricant business is not at that level that it could contribute to our bottom-line. But now we have built a new blending plant. We are hoping that in the next two to three years our lubricant volumes become significant and become a big profit center for the company."
"In the beginning we concentrated on our retail network and our storage capacity. Now we are also concentrating on lubricants also. We have also started importing chemicals. We are now trying to diversify into other fields, so we could also have other income streams too. We concentrated on petroleum because we are basically an oil marketing company. Our first focus was building up our brand, retail network, and our storage capacity. First, we make money from there, then we said let us develop our other revenue streams. For instance, lubricants, chemicals, LPG. So, we are going in all these too."
 Was there any wrongdoing in the company?
A person formerly associated with Hascol denied Hascol has ever been involved in any wrongdoings directly, but there had been an internal scam uncovered late last year, which amounted to over Rs500 million.
"Some even put in to Rs780 million and some at Rs680 million. But I can safely say that the company has endured at least Rs500 million [in losses] due to the internal scam," the source said. The source added that the company terminated nearly ten employees from its finance department following an inquiry.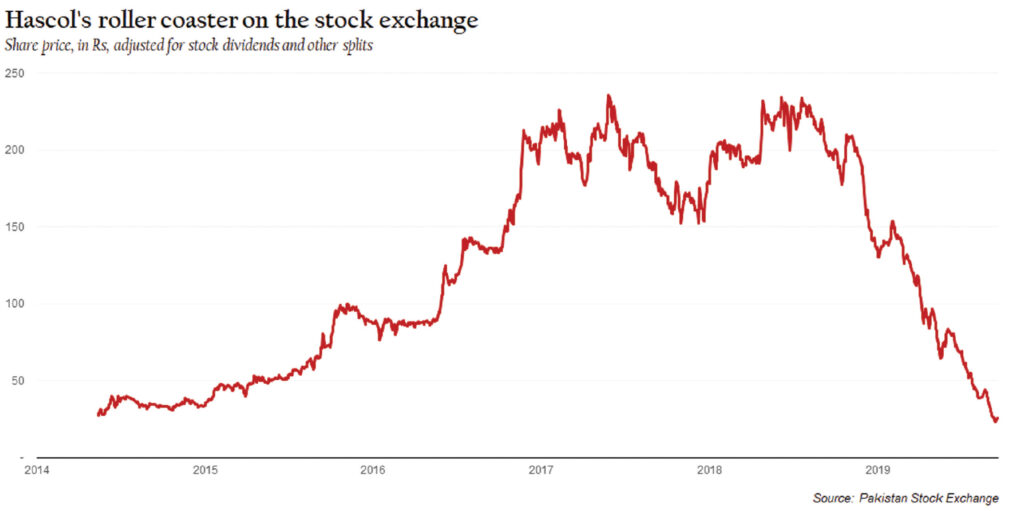 Hascol Chairman Mumtaz Hasan Khan accepted that the scam had happened. However, he contested its rumoured magnitude and said it was much lower than that. "Every company suffers from such small things. Some people do indulge in such things. But we terminated them from their jobs as soon as it came to our notice. We have zero tolerance for this."
"The rumored amount is incorrect. It is nowhere near that. Much of it has been recovered. Some returned in cash, many have given their property documents. We were going to hand them to the police but they apologised and said that they would return everything. That has nothing to do with the financial results. It was only a drop in the ocean. Very minuscule," he said.
 What now?
"Oil (is) suffering because it is a regulated industry. Our market is fixed. We cannot increase our profitability," said Mumtaz. Hascol officials along with the management of other oil marketing companies have been meeting government officials including the prime minister, the finance minister, the petroleum minister, and other senior government officials. As per reports, they want the government to let them increase their margin by Rs 2 per litre.  
"We conveyed our message to them. If the oil industry doesn't make money, then how will investment happen in the country? We got a good feedback from the government. They appreciated our viewpoints and asked what steps should be taken. The petroleum minister and the finance minister listened to us very patiently and promised us that they would do things to make sure that the oil industry would come back."
"They understand everything. They are all educated people. But they also have their constraints. People fear that prices are going up. The government has their constraints. Energy is a critical industry. If you don't get oil for two days, then you know what would happen. Oil is a very essential part of the economy. And if the oil industry doesn't make money then who will invest in the country."          
But Mumtaz believes Hascol will be back on track in the next one year. "There is nothing to worry for the company. There come phases in life of individuals and companies. And with the grace of Almighty, we will overcome the crisis. We have a very good management team."