It isn't easy being funny. For sure, the joke you told yesterday during dinner might have killed, but with enough context and concentration of crowds, anyone can do it. What we are talking about is the art of telling a joke. It takes time, practice, patience and a lot of thought.
Stand-up comics that so seamlessly deliver entire sets that have audiences in stitches take years to perfect their bits – years of jokes falling flat, working and reworking single lines for hours on end, hostile crowds and, worst of all, silence.  
Writing a joke might be even harder. Without the added benefit of changing voices, impressions and tricks of delivery, you're punching solely on the weight of your joke. The Dependent, this magazine's sister publication, might seem like good fun, but all of the silliness and absurdity is carefully thought out and executed at great pains each week. 
Our point is that humour is hard. Think then how hard it would be to produce short television skits that capture the imagination of an entire nation. Bits of humour that reach that all high strata of comedic achievement of becoming 'a thing.' 
Becoming a 'thing' is exactly what the much adored post 2010 advertisements aired by Ufone did. Everyone has their own memories with those ads. Starring Jawad Bashir, Adeel Hashmi, Faisal Qureshi, Mikaal Zulfiqar and a rotating array of leading ladies, Ufone did everything. They put a donkey on a bed frame to highlight miscommunication, jumped from an airplane to accentuate 'saaf awaz', and took jabs at competitors like Telenor with taglines including the likes of "Sachi Yaari Jaib pe Bhaari." 
In the process, Ufone adverts became a cultural reference point, an understood axiom in Pakistani pop-culture. When a new one came out, everyone watched with a little excitement. It was discussed, imitated and went viral every time.  
As we've already gone on at length to explain, humour is hard. It's even harder to make something make money and deliver a commercial message along with it. Ufone managed to do both. But in its very successful efforts to become the only digital comedy troupe in Pakistan, almost AIB-esque now that one thinks about it, did the team behind these ads skimp out on the marketing bit? 
Needless to say, not only were the ads funny, they were also a cultural phenomenon. Even today, in marketing circles and conferences, Ufone's "funny ads" rarely go unmentioned. But how effective were they as marketing strategies, and did they reap the desired returns that executives are looking for? Or did creativity take over the intended message at some point in time? And if they were indeed so good, where in the world did they go? Profit takes a look.
Ufone's marketing, A history
It was in 2010 that Ufone first made the fateful decision to jump in head first with their idea for humorous marketing. Interestingly enough, this wasn't even a desperate move on their part. Ufone's previous, more traditional marketing efforts had been doing quite well. This was simply the kind of bold move that had ticked in everyone's mind, as it would soon enough tick in the minds of the rest of the country. And it was well worth the risk. 
You need to understand that 2010 was an important junction in Pakistan's telecom story. Mobile phones and sims had become common by this point, but the generation that formed the clientele of phones and telecom companies were still the ancient dinosaurs that didn't quite get the magic that their little devices could perform. 
2010 was the time when teenagers that had spent their entire childhood fiddling with their parent's phones were finally about to get their own. And when it came to choosing a network, there was never going to be any choice other than Ufone. Their marketing, no matter everything else, had at the very least worked to make Ufone the 'coolest' of the networks. Jazz was for the grownups to have their boring calls and messages on. Ufone was what connected with this new market.
In the following year, Ufone landed the Pakistan Advertisers Society (PAS) award for its marketing campaigns. By the time the PAS awards of 2015 rolled around, all three nominated choices from the telecommunication industry were from Ufone, chosen out of a total of eighteen entries (5 Mobilink entries, 7 Telenor entries, 1 Zong entry, and 5 Ufone entries). The advertisements continued for a few years afterwards but perhaps by now redundancy had started to creep in.
Any successful marketing campaign has three obvious consequences – the target customers receive the message of the campaign well and clear, they remember it for a long time, and the conveyed message translates into realized sales. 
While Ufone's humorous TV ads garnered spectacular success at making their place in the minds of the viewers, they slowly lost out on their ability to send the intended message, and seriously fell short of generating any actual sales. At least, that is what executives at Ufone were feeling. 
A senior official from Ufone's marketing department told Profit that despite all these ads going viral one after the other, Ufone remained one of the worst performers in generating sales through TVCs. So the company had to shut them down because there is no point in continuing even a viral marketing campaign that is not yielding any results.
In their response to these accusations, the masterminds behind the the Ufone ads were naturally indignant. "Of all the funny things we have done with Ufone ads, this response from their marketing team is the funniest" said Adeel Hashmi. 
Ahsan Rahim, the man behind Tadpole films – the company that made these ads – did not mince words either in his response to Ufone's claim that sales suffered for the sake of creativity. 
"This is one of the worst arguments to make. If you say that the message was lost, tell me how well do you remember the packages and this many minutes in this many rupees by other telcos that did not have this much creativity in their ads" he tells Profit. 
To Ahsan, advertisements are supposed to cement a brand in the minds of the viewers and make them familiar to that brand, and the advertisements by Tadpole films did just that. 
"How do you know about any of the telecom brands? It is through advertisements. People associated the name of Ufone with humor and pleasant memories, where there was nothing vulgar, violent, or indecent and that is what an advertisement is supposed to do." 
"Even today people cannot recall any other telco brand with the same fondness as Ufone. The marketing team of Ufone, perhaps when they don't have any other explanation for their performance, use this argument that the marketing creativity overwhelmed the message" he says. 
Both sides present points to ponder. And both sides are best represented in an advert from back in late 2015. It was perhaps the greatest moment Ufone has had in its storied advertising efforts, and quite uncharacteristically, it came in print rather than in a TVC. 
This was when dedicated newspaper readers woke up to find Faisal Qureshi posing seductively on the front page anchors of all major national newspapers – in a hilarious response to the infamous pose Nargis Fakhri had struck for Mobilink. While a bright light and a hint of a smile will appear on the reader's face remembering this little bit of hilarity, we ask you now, do you remember what Ufone was advertising in that ad? 
For the reader's benefit, it was a cheap smartphone that the company would let you take off their hands for a mere Rs 5,999. The other side, of course, is that while you may not remember the product, you do remember it was a clear win for Ufone – and that the company masterfully took on a topic that had actually been causing more than its fair bit of misogynistic outrage. 
And to echo Ahsan Rahim's talking point, in the long run, does it really matter what became of the phone? What people remember is Ufone as an innovative company with strokes of genius up its sleeve.
Why so serious? 
Consequently, for better or for worse, Ufone started moving towards a more theme oriented approach – and one of the big successes out of this new direction, in terms of financial success, came from their Super Card campaign. 
It is debatable whether the creativity of the previous advertisements overshadowed the products being advertised or is it just the product that was strong enough to gather actual success on the market. However, from the standpoint of someone who is designing a marketing campaign, the new sophisticated and sober approach seems to be more effective than cheeky and entertaining content. 
"Well this product was also brought by the same team that had us engaged to do their marketing" Ahsan explains, accepting the clear win that is the product.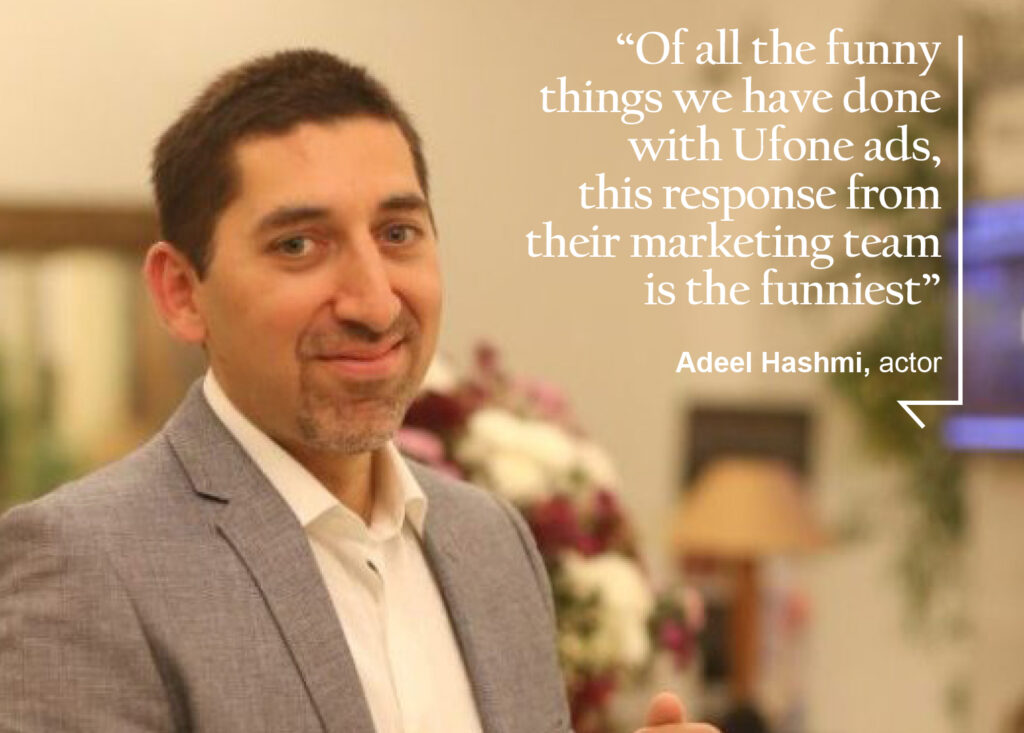 "The current team did not bring this, even though they might not tell you that. The team who put together such a strong product were brave and experimented, not just with a new direction for their advertising but also in terms of the products they offered, and it paid off very well."
Again, one wonders at how smart the Super Card is as an offer. It promises a cheap monthly billing, one that is manageable for both the company and the customer. One is reminded at the same time that when Tadpole was doing for Ufone what it did, perhaps Ufone never had something quite as brilliant as the Super Card. If the Adeel Hashmi-Faisal Qureshi-Mikaal Zulfiqar team had been allowed to have a go at it, the possibilities could have been endless. 
The question again becomes an existential one – what is the goal of advertising? One goal can be solely to improve sales in the short run. The other is to build an identity – brand equity as it is called. 
If the goal is the latter for Ufone, then Tadpole Films did the job and did it well. But if the goal was sales, well, even then it seems that Tadpole was delivering.
While Ahsan and Adeel were obviously going to defend their work, other marketing experts also seem more inclined towards the opinion that the job was done well. Shamail Butt, Junior Associate II at Starcom media agency said "For me at least the recall value of those ads with Adeel Hashmi and Faisal Qureshi has been much more than any other telco. The only exception perhaps that I can recall if I try to think is dancing and singing from Telenor but that too I remember the overall stuff, not the details in Ufone advertisements." 
He said that the message perhaps might have been a little deviated, but that was maybe because people at least watched the entire ad. "Those advertisements were turned into memes.  They became a part of social media conversations and pop culture even though meme culture was not so prevalent back then."
"These days I do remember seeing something about the Super Card going on on TV, but as I said I have not paid attention to the entire ad or the message per se. So I would say humor helped because people saw the entire ad at least."
The human factor
There is another factor to consider in all of this – the role played by human emotions. It is not just Ufone that realized the power of "Befikri purey maheeney ki" [no worries all through the month] would be effective. Many brands have since capitalized on similar themes and emotions. 
Sensodyne toothpaste has taken 'sensitivity' as more than just the medical condition of teeth to sensitivity of relationships. Tapal has made the mother and son connection its base for the advertisement highlighting the strength of tea in strengthening relations. Humor, however, has proven to be trickier to handle, or perhaps 'manipulative' in advertisements. 
We often see advertisements with an undertone of something funny, which more often than not even fails to bring a smile on the viewers' face, unlike Ufone's ads that usually always landed well. 
While we are at the subject of emotions, it might be worthwhile to mention that some of these humorous ads were also thought of as offensive by viewers. This one impression might not be as widespread as the fandom that these TVCs managed to gain, but a scroll through the comments on these ads posted on social media will prove that there is no dearth of people who got offended from the content in these ads too.

Another interesting point to note here might be that while Ufone chose to move on from the marketing company that established their identity to charter more serious avenues, Ahsan Rahim, Adeel Hashmi and Faisal Qureshi – the minds and muscles behind the long and memorable advertisement campaign, are still loyal to Ufone as they have not yet decided to scratch '033' as their mobile phone codes.
Meanwhile, there is no denying the success of the Super Card's success. The product itself also had the strength to bring more customers than perhaps discounts or a promise of clear voice as was promised by the earlier advertisements. Even the harshest of critics of Ufone's services – especially since it became the only cellular service provider to not provide 4G – are convinced of the excellence of a product like Super Card. 
Ufone's marketing official agrees. He said that usually mobile phone ads, even those that describe different packages and the digits to be dialed to get those packages, are very complicated. For a prepaid customer, it is much more convenient to understand '1,200 on-net minutes and 180 off-net minutes for a month', than it is to understand how many free minutes for how many rupees for how many days.
Super Card campaigns have also landed Ufone the Silver Effie Award for "Sustained Success" in 2019. This category awards marketing campaigns that have proven to be successful for three or more years, and Super Card have done that inadvertently. Just as the funny ads gave Ufone a reputation of being humorous, Super Card has slowly transformed that reputation into a product of ease and convenience. The marketing department of Ufone has made sure to express just that through their advertisements as well.

The market success of Super Card can also be witnessed from its replication that is coming from Ufone's competitors. Telenor's 'EasyCard' is no different. It offers a monthly package with set on-net and off-net minutes and messages, and have also closely followed on their marketing tagline as well – "Easy card se easy ho jao" [be at ease with this easy card].
The Super Card is one way of marketing – it is not exactly advertising, but a cleverly packaged offer. It is quite brilliant in a way, and attractive to customers. What tadpole did for Ufone was another kind of marketing. Both have their place in the world, both have their ups and downs. But one can't help but imagine what could have been, if the old Ufone team was allowed to take a crack at making a TVC with a product as strong as the Super Card to play around with.