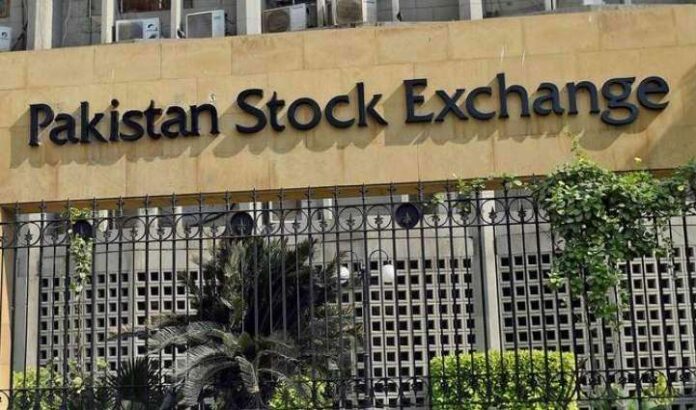 KARACHI: Bulls dominated the Pakistan Stock Exchange (PSX) on Thursday, as the indices drove north for almost the entire session, helping the KSE-100 Index cross the 34,000 mark barrier. Foreign investors were net sellers once again on Wednesday with a net outflow of $2.56 million.
On the economic front, State Bank of Pakistan Governor Reza Baqir, during an interactive session with foreign investors, said that reforms undertaken by the central bank to address the country's macroeconomic challenges were now bearing fruit, as the external sector was gradually becoming visible, current account deficit was declining, exports were improving and non-borrowed foreign exchange reserves were rising.
The KSE-100 Index marked its intraday high of 34,047.11 during the final hours of the trading session. It ended higher by 503.96 points at 34,027.70. The KMI-30 Index appreciated by 985.61 points or 1.84pc to settle at 54,473.58, while the KSE All Share Index gained 1.60pc, ending at 24,574.58. The advancers to decliners ratio stood at 208 to 119.
The overall market volumes surged from 237.68 million in the previous session to 261.56 million. Lotte Chemical Pakistan Limited (LOTCHEM +3.42pc) turned out to be the volume leader, followed by Pakistan International Bulk Terminal Limited (PIBTL +4.16pc) and K-Electric Limited (KEL +3.72pc). The scripts had exchanged 26.80 million shares, 17.27 million shares and 16.51 million shares respectively.
Sectors that drove the benchmark KSE-100 Index toward the north included banking (+115.37 points), oil and gas exploration (+74.18 points), cement (+58.15 points) and power generation and distribution (+39.72 points).
Among the companies, Lucky Cement Limited (LUCK +40.94 points), United Bank Limited (UBL +31.55 points) and Habib Bank Limited (HBL +31.40 points) added maximum points to the index.
The tobacco sector gained 3.71pc in its cumulative market capitalization. Pakistan Tobacco Company Limited (PAKT) was up by 4.90pc, while Khyber Tobacco Company Limited registered a minor gain of 0.86pc.