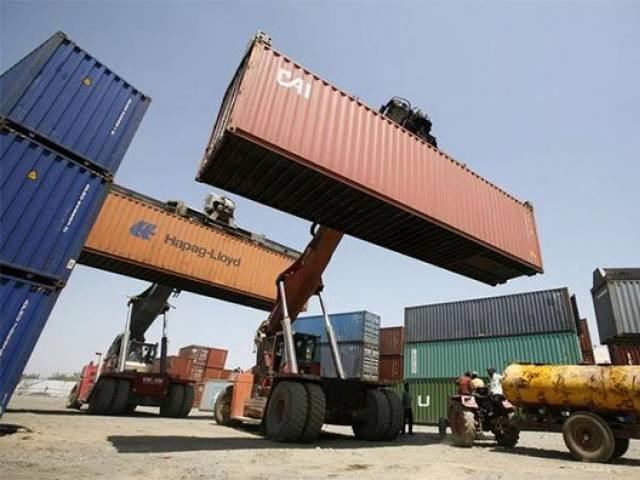 ISLAMABAD: With a slight increase in exports and a significant decrease in imports, the overall trade deficit in the first quarter of the ongoing financial year (FY20) has decreased by 35pc.
According to data released by the Pakistan Bureau of Statistics (PBS), the country's trade deficit stood at $5.727 billion in the quarter ending 30th September 2019, as compared to $8.791 billion in the same period of last fiscal.
The decline was largely driven by a fall in imports, which reduced by 20.59pc during the period under review. Exports increased by a nominal 2.75pc.
According to the PBS data, the volume of exports during the first three months of FY 20 clocked in at $5.522 billion, as compared to $5.374 billion in the corresponding period of the last fiscal.
The imports fell to $11.249 billion in July-September 2019, as against $14.165 billion in the same period last year.
On a month-on-month basis, exports increased by 2.67pc during the month of September 2019, from $1.723 billion in Sept 2018 to $1.769 billion. Similarly, imports dropped by 13.90pc, from $4.396 billion in Sept 2018 to $3.785 billion. The trade deficit thus showed a sharp decline of 24.58pc in the month under review when compared with the same month last year.
According to sources, the Commerce Division had expected double-digit growth in exports during September 2019, provided that "the mystery regarding export figures of $300 million was resolved". PM's Commerce Advisor Abdul Razak Dawood was reportedly shocked to learn that there was a discrepancy of $300 million in the first two months (July-August) of FY20 noted in export figures of the Federal Board of Revenue (FBR), Pakistan Revenue Automation Limited (PRAL) and the State Bank of Pakistan (SBP).
Dawood, who presided over a meeting last week, directed the stakeholders concerned to sort out the said issue at the earliest.
The overall growth in exports during the first quarter of the current fiscal year has been nominal and if the $1 billion worth export quota of China is excluded, the growth would have been negative.