Mian Kashif Ashfaq kicked off the new year side by side with Prime Minister Imran Khan at the launch of the state of the art Allama Iqbal Industrial City. A charismatic young industrialist, Mian Kashif is the Chief Operating Officer (COO) of Chen One, and is currently chairman of the Faisalabad Industrial Estate Development Management Company (FIEDMC).
His claim? That the industrial estate being created by the Punjab government company that he runs will bring almost 1.5 billion US dollars in investments to Pakistan. One wonders just how reliable the claim is, considering the choppy waters Mian Kashif and his Chenab Group has often found itself in, from always falling prey to disastrous situations to being one of the largest defaulters of the major industries in Pakistan. But with the FIEDMC, at least, Mian Kashif seems to be claiming he is doing something different. 
The FIEDMC is a dream project for analysts simply because it has all of the fancy buzzwords that everybody loves. It was established in the spirit of a public-private partnership, its aim is to attract investment, build industry and support exports from Pakistan. Oh, and if all those uplifting terms were not enough, the industrial city mega project of the Special Economic Zone of FIEDMC falls under the umbrella of the China-Pakistan Economic Corridor (CPEC)
The investment that Mian Kashif seemingly claims the FIEDMC will attract covers all the big words as well: textiles, engineering, electrical and electronics, chemical and paints, food processing and pharmaceuticals, automobiles, packaging and building materials. It sounds like a dream city. 
But industrial zones come and go. Companies build them to be big and shiny and fancy but at times they end up being ghost towns, only for industry to flourish a stone's throw away. And if special economic zones set up under CPEC are anything to go by, precedent would say there are chances for this being a ghost town as well. Except, this zone is not in some far flung northern area difficult to get to and separated from civilization. This is in Faisalabad, right in the spirit center of Punjab. 
Despite the tall claims, the FIEDMC does not have the most significant profile in the world, and is on the periphery of the public eye. But with 1.5 billion USD hanging in the balance and significant government and CPEC investment on the other side, Profit sat down with Mian Kashif Ashfaq to find out what he was planning to do with the FIEDMC.
Try out our new feature – Listen to the article:
What is it all about?
When asked a question, Mian Kashif answers in typical bureaucratic fashion. It is unexpected coming from him considering he is neither politician or bureaucrat, but his responses are a hail of statutes and years and ordinances and solid, strong, language that does not really mean anything. 
Once again, we find ourselves at our wits ends over this. Mian Kashif is not the sort of businessman that usually shys away from media attention. In fact, he is quite the believer in the media, regularly sending press releases and making sure to keep the readership of the english and Urdu press abreast with his whereabouts and activities. 
But as he explains, we glean that the FIEDMC was established by the Government of Punjab and formally registered under statute 42 of the company's ordinance 1984, a public private partnership. The FIEDMC thus becomes a government created but privately run company responsible for the development of this area near Faisalabad into a state of the art industrial estate to house foreign and local investors, besides giving impetus to economic activities in the country.

" We are committed to achieve orderly, planned and rapid industrialization through the development of world class industrial estates to satisfy the business needs of our customers," he says. When he is not being interviewed, he is the amicable sort, and was seen laughing and joking with the Prime Minister at the recent inauguration in January. 
But during the interview a switch seems to flip, and he is sober and does not make for particularly good copy. In the middle of his measured responses, a noble quality if boring, we still manage to extract certain bits of important information as to the nature of the project. The infrastructure to prospective entrepreneurs for setting up large scale industrial units, include SME's, warehouses and related commercial concerns. 
There is, of course, talk of poverty alleviation through employment generation, conducive work environment and skill development, to promote exports in all fields of industry, to promote liaison between industry and the government, to have CSR –  but all these claims come with the territory and could be said about any such government project. What is important is that the single true focus is bringing in Foreign Direct Investment to Pakistan. 
The foriegn factor     
As things stand, a total of 1100 acres of land have been sold to different industries bythe FIEDMC. The buyers of this sizable tract of land include 4 Chinese and 12 Pakistani companies, which does not bode well for foreign direct investment. But this is only the beginning according to Mian Kashif, and this is where he seems to get a little excited, losing some of his earlier, straightforward answers. 
"Almost 100 to 125 multi-dimensional companies from China are ready to settle in Faisalabad. Under CPEC Economic Zone, China wanted to relocate its industries here but there was a lack in the provision of international environment which they demanded" he says, and he takes credit for the prospective investments. 
"Now the FIEDMC has provided that international environment for them and most are now coming to Pakistan. A Chinese Company Guangzhou Rongish Trading Company will put up a unit of perfumes and cosmetics in the Allama Iqbal Industrial city and they have already purchased the land for this purpose" he explains. 
Mian Kashif's plans for the FIEDMC is centered around fostering a particular environment that breeds industry. He is putting out all the works, but he also wants to make it impressive so that it fosters a certain trust in this particular project. It may not be the biggest, but he wants the Faisalabad industrial estates project to be the brightest under the CPEC umbrella. As a member of the business community himself, he feels he is in a better position to judge what businesses and investors will expect of such a venture, and it is not just shiny objects. 
"Our philosophy is one of honest, helpful service and unceasing improvement. Because of this, IEDMC is second to none in Pakistan as a catalyst for economic change in the country by setting up mega projects" he says. 
"In order to provide friendly and world class infrastructure to prospective entrepreneurs for setting of large scale industrial units we are planning to launch our commercial areas and space is already available for the warehouses." 
But the shiny things are also important, and to this end the FIEDMC has already gotten approval for an Expo Center with state of the art facilities, and will also construct a technical education university, 10,000 flats for labourers under the Naya Pakistan housing concept. They are also planting 500000 trees under a clean and green campaign and providing employment to 300000 persons. Also we will be launching a shuttle train service for the transportation of labor to urban areas. Development of dry port and airport is also being done by FIEDMC. The aim to which they are doing all this is also clear, so while trees and CSR is all well and good, the goal is clear.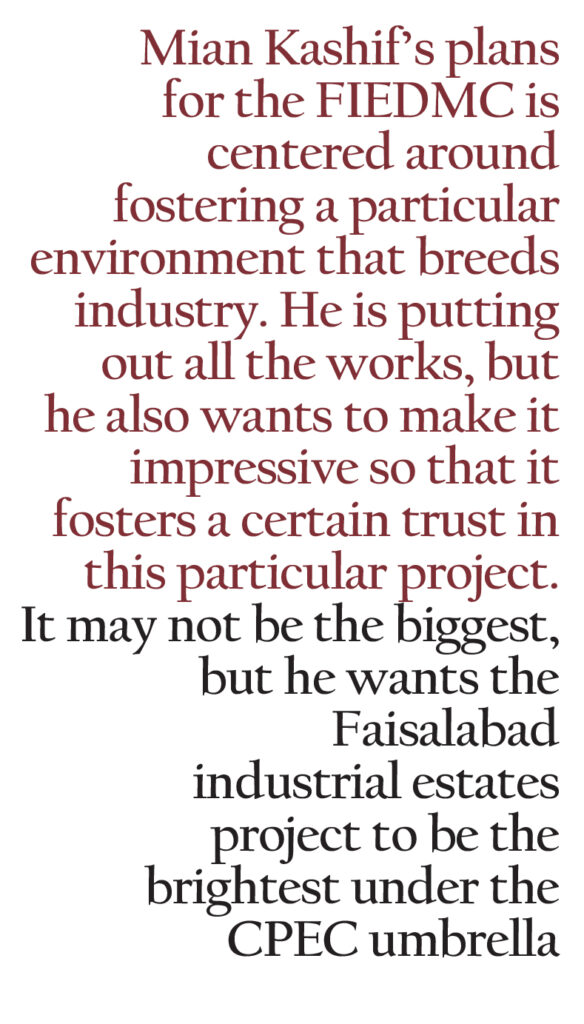 "Our number one priority and objective is to promote exports in all fields of industries and number two is to set up an industry for the substitutes of imports. In all these projects almost 25% of jobs will be for the local area people and we will be setting up hospitals and schools for these people. We have also planned all in the CSR initiatives by FIEDMC" says Mian Kamran. 
The shiny things
Another thing that Mian Kashif gets excited about are the parts of the project that have already been completed, and which he claims are already reaping the rewards.Among these two prized jewels are the Value Addition City, the M3 Industrial City and the earlier mentioned Allama Iqbal Industrial City. 
Value Addition City is the first dedicated and comprehensive industrial destination designed as a custom-built one-stop shop for industries on a work, live and play model. "FIEDMC provides one of the region's finest business environments as it offers world class facilities for industries and related sectors such as logistics, assembly and warehousing, vocational training and labor accommodation" Mian Kashif tells us.  
The M-3 industrial city is the largest industrial estate in Pakistan, and the government clams it has been Strategically located on Motorway M-4 South near Faisalabad, to provide the highest level of international infrastructure, and is slated to attract local and foreign investments that Mian Kashif describes as "massive." The Allama Iqbal Industrial City mentioned in the beginning which Mian Kashif inaugurated next to the Prime Minister has also been created under the auspices of the FIEDMC and is part of this grand plan looking to attract "massive" investments.
"Our first project of Value Addition City has been well acknowledged for its suitable land, affordable cost, state-of-art infrastructure, provision of utilities at the doorstep of each industry and a full set of dedicated business support services" he says. "The success of Value Addition City stimulated the need for our flagship project M-3 Industrial City." 
The M3 Industrial City comprises an impressive 4356 acres of land having the status of SEZ accommodating Textile, Pharmaceuticals, Information Technology, Chemicals Automotive etc will also be equally successful. "In M-3 Industrial City special zones are reserved for the foreign investors with liberal government fiscal incentives and policies."
But it is the Allama Iqbal Industrial City project that is truly the pride and joy of Mian Kashif, and one that followed from the successful launch of the M3 Industrial City. "It is a massive project comprising of more than 3300 acres of land accommodating Textile, Pharmaceuticals, Information Technology, Chemicals Automotive, service complex, etc will also be equally successful. In AIIC special zones are reserved for the foreign investors with liberal government fiscal incentives and policies."
"This land with various plot sizes would accommodate small, medium and large scale industries. 25% of the total project area has been dedicated for green area, services and facilities as per international development standards."
The saleable land in this project is 2300 acres, and of that 1100 has already been sold by the FIEDMC. To ensure that the project's core goal of foreign direct investment and boosting of exports is ensured, the government has set up special zones that are reserved for the foreign investors with liberal government fiscal incentives and policies. In close quarters with the other two projects, it is located just opposite M-3 Industrial City SEZ and interconnected through flyover at Sahianwala Interchange, Motorway M-4, Faisalabad.
"FIEDMC is surely transforming the dreams of our business community into reality. It is a unique and extraordinary endeavor based on the most modern lines of development and is dedicated towards providing excellent industrial estates to its highly valued customers."
The line Mian Kashif feeds us at the end of the interview is, once again, so much posturing. But it is something he seems excited about, and with all the tall claims, what the FIEDMC do with this opportunity is something to at least keep an eye out for.