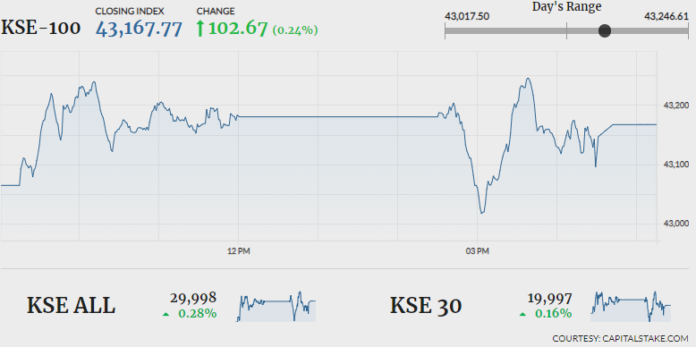 KARACHI: Investors of the Pakistan Stock Exchange (PSX) witnessed another volatile trading session on Friday, as the indices swayed both ways before settling in the green.
The benchmark KSE-100 Index settled the week only 39.28 points (-0.09pc) lower than last Friday.
On the economic front, Pakistan's total liquid foreign exchange reserves appreciated $39 million to $18,124 million (as on January 10, 2020). The reserves stood at $18,085 million a week earlier.
Meanwhile, Foreign Direct Investment (FDI) in the country surged by $287 million to $487 million in December (+53pc YoY). China turned out to be the top investor, followed by Hong Kong, Japan, Malta and Korea (South).
According to official data, the country's power sector received highest investments ($204.55 million), while communications, oil & gas exploration, electrical machinery and transport equipment sectors also attracted decent amounts.
The KSE-100 Index began the session on a negative note, losing 47.60 points to record its intraday low at 43,017.50. However, the index changed its trajectory during the second half, ending higher by 102.68 points at 43,167.77.
Other indices followed a similar pattern, with KSE-30 Index recording its intraday low at 19,928.35 after losing 36.5 points and the KMI-30 Index shedding 240.22 points to register its low at 69,863.67. However, following the prayer break, the KMI-30 Index closed higher by 172.53 points while the KSE-30 Index finished with a minor gain of 31.97 points.
A total of 164 scrips advanced while 139 declined.
The overall market volumes stood at 211.22 million. The Bank of Punjab (BOP -2.19pc) and TRG Pakistan Limited (TRG +1.31pc) remained the top traded scripts of the day, exchanging 27.82 million and 23.95 million shares, respectively.
The commercial bank sector's market capitalization increased by 0.15pc; while that oil & gas exploration appreciated by 0.30pc; whereas textile composite sector saw a 1.75pc drop in its market capitalization.
On the market front, Hinopak Motors Limited (HINO -2.12pc) has announced that its revenue declined by 20pc to Rs3.44 billion in the third quarter of FY20. The company reported a gross loss of Rs-40.61 million, however, a significant reduction in finance cost helped earnings per share improve from Rs-55.44 in the same period last year to Rs-38.71.