At a quaint brunch on MM Alam Road in Lahore, a small cross section of corporate Pakistan is gathered to meet a white man visiting from the United States. On the surface of it, the meet and greet function is a laid back event, the kind of lazy Sunday activity you would expect middle-aged uncles and aunties with money to do for fun.
There is usually a late night deluge in Lahore. A youthful swarm that bounces around big houses in fast cars to get from one flashy party to the other. The night is when the the children of politicians, bureaucrats, doctors, landlords, journalists, and yes, those at the top of the corporate ladder in Pakistan come out to play. 
But the mornings, the mornings are for the oldies. And despite appearances, these brunches are anything but a simple activity of leisure. As cordial as they may be, they are first and foremost networking opportunities. High ranking representatives from the food and beverage industry, such as from Pepsico and Unilever, are joined by people from Lotte Chemical, Packages, and the banking sector. As they move around tables chatting and catching up, they introduce each other and try to establish connections in common.
It is all light hearted, but still strictly business. The best and worst qualities of the corporate world are on display. The excuse for this particular gathering is Steve Fitzgerald, the General Manager International Partners at FranklinCovey, the world's leading organisation in consulting and training that uses human behaviour to change patterns and cultures in companies. 
The message of FranklinCovey is simple enough. Your company has a serious problem? We will teach you how to fix it and simply by working on your human resource. Essentially, FranklinCovey aims to pep talk and micromanage companies into performing better and developing a culture more conducive to productivity. A heavy makeover, Queer Eye style.
FranklinCovey is not new to Pakistan, but this is the first time Fitzgerald is visiting the country. The brunch Profit attended also served as the signing of a memorandum of understanding between FranklinCovey Pakistan and Finca Microfinance bank for a first all-access pass. Surrounded by so many different sections of corporate Pakistan, Steve Fitzgerald will have been on the prowl, trying to impress and woo possible customers into signing up for the FranklinCovey corporate glow up. 
But is it simply quackery, or is there a method to the practice? Profit looks at just what FranklinCovey does, and how badly Pakistan's corporate section needs it, if it all.
The principle 
Steve Fitzgerald laughs a little when we suggest what his company does is corporate level therapy, but he does not disagree. Armed with brochures, plans, charts, techniques and training sessions from issues ranging from a burnt out workforce to a negligent working environment to dealing with issues regarding diversity and relations within the workspace, FranklinCovey will come in and give your organisation the polite tongue lashing it needs to be whipped into shape.

"We believe people are the most important aspect in any organisation. It is the people that make it up, and the people that need to be treated well and invested into again. That is the only way to flourish," he says in an interview with Profit. A homely presence, he is overwhelmingly polite and eager to get to know everyone and have a lay of the land. 
Much of these principles sound like they are coming straight out of a self help book. That is because they are, and they may seem particularly familiar because they come from one very familiar source – a book by the name of '7 Habits of Highly Effective people' by the now deceased Stephen Covey. 
The founder of FranklinCovey, the late author and businessman's work is widely taught and revered in Pakistan, with his son's version of the book geared towards teenagers titled '7 Habits of Highly Effective Teenagers' being mandatory reading for many young kids in schools across the country. 
One wonders at the veracity of these methods. Can you really talk, nag and hype entire payrolls into being more effective? Or is this a homeopathic system, whereby a sort of placebo effect is administered? Fitzgerald, obviously, thinks otherwise.  
"The 7 ways are tried and tested. A huge part of what we do at FranklinCovey is data. We make sure that the techniques we use work and work efficiently," Fitzgerald tells us.
The 7 habits as set out in the book are to 
Be Proactive

Begin with the End in Mind

Put First Things First

Think Win-Win

Seek First to Understand, Then to Be Understood

Synergize

Sharpen the Saw
To critics, this sounds like a vague collection of words and phrases that do not mean much on their own, and that, more importantly, may really be just common sense. But this is also where Fitzgerald seems to hint ever so slightly at what he sees as shortcomings in corporate Pakistan. 
State of the union
"You'd be absolutely right in pointing out that the 7 habits and the principles we live and teach by, which we base our success on, are common sense, but as they say, common sense isn't very common," says Fitzgerald. "Especially here in Pakistan, I have seen so much potential and so many fascinating people here with bright minds that are sharp on the uptake, but there just isn't any implementation."

What he is saying points to a culture of hastiness. At the brunch, the general mood across industries was that the new crop of millennials in the workforce were coming to them talented but not ready to get their head into the game. Hot headed and with their own way of doing things, the overwhelming feeling was that one of the services companies would be interested in from FranklinCovey would be training fresh hires.
"Take the best possible fresh graduate Pakistan has to offer. Engineering degree from NUST or UET and MBA from LUMS or IBA. They'll have the technical know how and the business techniques down, but they will never quite be able to adjust," said one executive from a large engineering firm. 
"I would much rather have a candidate for a job opening that has done their MBA from the US, because they understand what is required in a workforce because of how intense the linkage of the academia and industry is in America," said one high ranking person from Packages.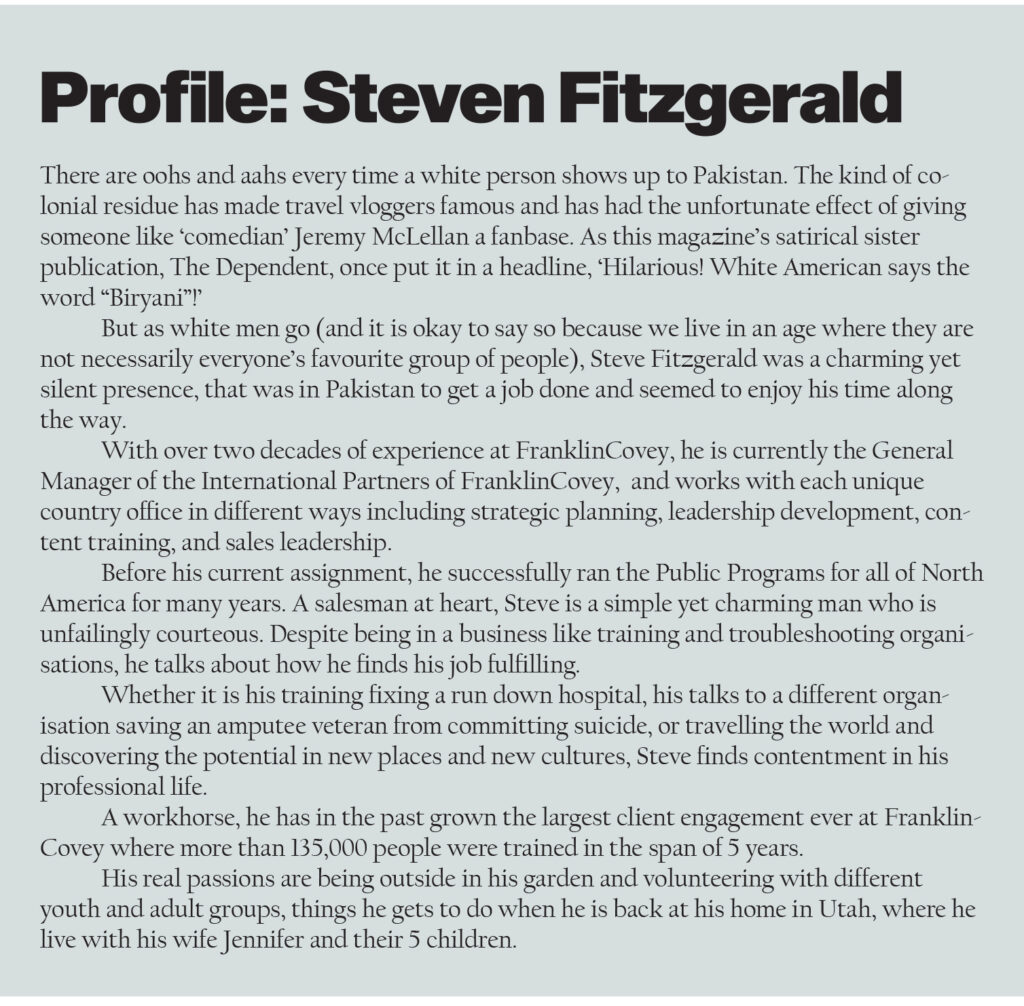 "I really don't think the economy and current conditions are something we cannot get out of. These kinds of things happen and we are still very much posting profit and still have a positive outlook trying to grow," says Momina Tariq, Head of Talent Management at Pepsico. "There is much about the corporate culture that could have changed in Pakistan, but with the new entrants, we may be heading towards a differently dysfunctional system" she says.
"FranklinCovey is obviously not new to Pakistan, but this gentleman has come here for the first time," explains Usman Qayyum, Chief Executive Officer and Managing Director at Rafhan Maize. "We focus too much on growth, and the desire for unchecked expansion. We need to wrangle with our own long standing demons first," he says.
The mood at the event when talking about the current state of business in Pakistan is not somber, in fact, there is very little dismay. In fact, the focus on the attitude of new employees and their impact on corporate culture, rather than the many glaring holes in the corporate fabric (such as professionalism, for example), may even indicate an adjustment problem with senior management as much as an attitude problem in new employees. 
"Again, as common sense as our principles may be, there needs to be an implementation. That is our job, that is the service we provide. We streamline your organization with common sense," Steve continues on to tell us. "Here in Pakistan, a lot of people are familiar with the 7 habits, which make our lives easier, but we need to be that catalyst which helps get you up and push you in the right direction."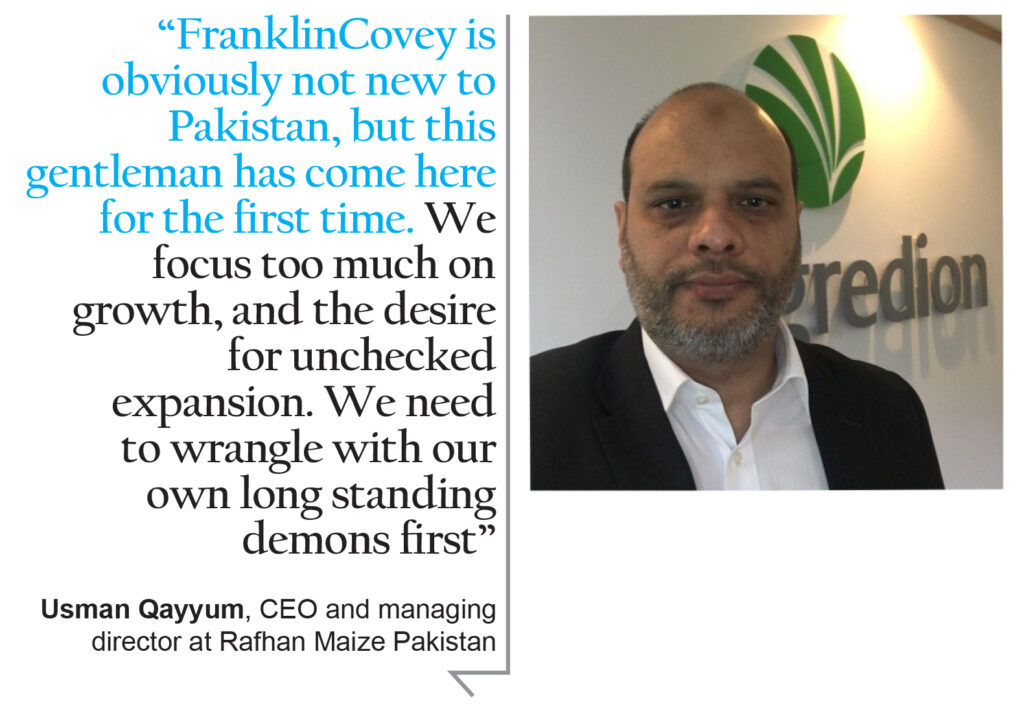 Wanting to give that push is well and good. But he can only attest to the general methods and techniques of FranklinCovey. To traverse Pakistan and its very particular context, the top tier team of FranklinCovey Pakistan is being led by three women, and they think they are offering a service the corporate sector cannot refuse.
FranklinCovey Pakistan
FranklinCovey has a presence in 160 countries around the globe with both direct and partner offices. In Pakistan, the partner office is owned by a politician formerly of the now-ruling party Pakistan Tehrik-e-Insaf (PTI), Andleeb Abbas. But while she was bouncing around the room entertaining her guests, she is a background figure not involved in the day to day of the business. 
On the front are two other women, Maryam Wazirzada and Huma Maqsood, both managing partners at FranklinCovey Pakistan. The project was started by Andleeb Abbas as a sole proprietor nearly 13 years ago, but initially it was sub-licensed under the global company's South Asia office based out of India. Huma and Maryam came on board the project back in 2014, and from then one of their goals was to become licensed in their own right, directly under the US office – something they achieved back in 2018. 

"We are responsible to help build winning cultures, and we believe, based on empirical data, that winning cultures are what make a company strong and successful," says Maryam. "You can copy the technology, the structure or even steal a few people. But you can never copy the culture. It has to be systematically built."
"The mission is to ensure that organisations understand how important it is to invest in human resource. It is humans that build companies, and especially in Pakistan, we need to focus more on the people to create this forward looking vision" she goes on to say. 
It is, unfortunately,  rare enough to see women confidently heading businesses. In the line of business journalism, one rarely gets to interview leading women given their scarcity. Huma and Maryam not only recognize the unique position they have earned over the years, but also realise the other very Pakistani context of how a company like FranklinCovey would operate in Pakistan, and deal with clients and companies embroiled in the culture of the seths. 

"Going into an organization with very little professionalism, it will be a much tougher job fostering personal effectiveness. But if the upper management is fully dedicated, then we will get the job done," says Huma. "It is all about the intention. If Nadeem Abdullah from Sapphire calls us, his own commitment to the project is what we would take into consideration, because remember, we want to succeed at this. For that we need cooperative top management that is in the project with us fully."
The concept, in essence, makes sense. Winning cultures make for winning organisations, but also for happy workplaces. There are many important things that FranklinCovey Pakistan will have to do. But one of the most important things will themselves creating a company culture that others will want to emulate and be impressed by. After all of that, there will be interest in this sort of service. But whether organizations want to change or not, especially corporation, is a question that remains to be answered.