Back in February, Profit had done a feature on the swarms of locusts laying waste to entire yields of crops and threatening Pakistan's food security. The problem had seemed a biblical one, but now seems fitting for the year 2020 as it is shaping up. The focal point of our story back then was Ghulam Abbas Nabi, a small time farmer of Mirwah Thari in Sindh.
The swarms of locusts that had arrived left Nabi with nothing. His voice had cracked with emotion during the interview. Every reporter hopes deep down while covering a horrific event, that they will be able to return to the scene of the tragedy after some time and do a follow-up full of hope and good news of people fighting back against adversity and getting back up on their feet and prospering. 
So when the locusts attacked parts of Sindh, Khyber Pakhtunkhwa, Balochistan and Punjab, it was with apprehension that we reached out to Ghulam Abbas Nabi again, worried over a second wave of devastation hitting him and his livelihood. But instead of Ghulam Abbas, the phone was attended by his daughter, Abeera, who promptly informed us her father had died of a heart attack in March, the stress of his lost crops and inability to provide for his family taking a heavier toll on his weary shoulders than they could carry. 
"The swarm had left a visible toll on our 46-acre farm, and Baba's health deteriorated with it," she says. Through choked tears she tells us that the swarm of locusts had spared a second attack in their area, but this is probably because the disastrous effects of the attack back in February have still not disappeared from Ghulam Abbas' farm. Without Ghulam Abbas to run the farm and the general financial crunch caused by the pandemic, Abeera, says she will not be able to continue her education at the Mehran University after educational institutions are opened once again. 
Abeera, her family, and her dead father are only one such farm that has left entire households uprooted because of these swarms. Wherever the locusts descend, they leave a trail of death, destruction and poverty. And with the locusts on the rise once more, many are expected to suffer, not to mention the threat to food security that they may pose.   
But the locusts attacking is not new news. Pakistan has been under the attack of locusts since June 2019, when the miles long swarms invaded Balochistan from Iran, and after leaving half eaten up tree trucks and barren orchards in district after district, landed in Sindh and did the same before marching onwards to Punjab and Khyber Pakhtunkhwa.
While the provincial governments are banking on their ill-equipped and ill-trained district agriculture departments and farmers to cope with this wave of destruction, there seems to be no discussion at the national level on the locusts attack.
What will be most affected
Up until now, the swarm of locusts that have attacked crops have damaged cotton, wheat, mango and other green crops across the country at a large scale, which is estimated to cause more than Rs800 billion in losses to our agriculture produce. Not only are farmers suffering on a small scale because of the worst such attack in decades, there are also fears of long-term food shortage in the country because of this.
The swarms of locusts have attacked mango and cotton belt areas of Punjab including Multan, Shujaabad, Muzaffargarh, Bahawalnagar, Jhang, Kot Addu, Layyah and Rojhan.and other areas. While it also attacked and damaged cotton, mango and other farms in Balochistan, KP and Sindh.
Abdul Ghaffar Orakzai, who cultivated cotton along with wheat, onion, chilli and tomatoes said that it is not just cotton that the swarms of locusts have eaten and destroyed: they have attacked his other crops too. "I am completely broke now and have no other source of income," says Orakzai. 

A cotton expert said that swarms of locusts attacking the country's cotton crop is a huge blow since Pakistan was already missing its cotton production target by 7 million bales last year. In such a situation, it is a decisive blow to the country's cotton crop which is likely to impact the country's textile and cotton goods exports. 
Agreeing with Orakzai, Shabbir Hussain, a mango fruit farm owner, who is famous for growing mangoes for decades in the Multan region said that this year, all of his mangoes grown on his 100-acre farm are being eaten up and completely destroyed by the swarms of locusts."Of course, it is the helpless farmer, who bears the brunt of the locusts attack directly," says Nasir Almani, a former union council nazim and farmer from Muzaffargarh.
"Indirectly, masses at a large scale also suffer in the shape of food shortage. A locust attack is not a matter of attack on a farm alone, it is an attack on the whole country." He says mainstream politicians and national media do not talk about the locust plague because rural and agricultural issues have never been our priority.
"Look, when dengue breaks out in a city like Lahore, it becomes a national issue, but when farms are inundated in seasonal river flooding no one bats an eye. It is the same attitude now that these locusts are destroying our crops. But mark my words, this will turn into a bigger problem and will have to become a national issue."
Politically, the response has been lukewarm to this looming crisis. One voice was former federal minister Sardar Awais Ahmad Khan Leghari, who took to social media to estimate that the swarms of locusts attack was likely to cause Rs800 billion loss to our agriculture produce this year and this would be due to incometent and lethargic government which has failed to carryout ariel spray effectively. However, even his voice comes more as a concerned farmer, since he is a large landowner, rather than from a purely political point of view. 
Perhaps the only politician in the entire country seeking a national level response to this crisis is Pakistan People's Party (PPP) Chairperson Bilawal Bhutto Zardari. He has pleaded a number of times for the implementation of a National Action Plan for Surveillance and Control of Desert Locust in Pakistan to stem the tide of the drones of locusts before they become an uncontrolled invader. "Any delay in the implementation of NAP decided at a meeting between the Federal and Sindh government would mount great danger to agriculture as well as the economy," said the PPP chairman in a statement.
Citing a United Nations' Food and Agriculture Organization (FAO) report, Thomson Reuter Foundation reported the Pakistan economy may suffer a whopping Rs800 billion loss altogether in summer crops (like cotton, sugarcane and rice besides fruit and vegetables) and winter crops (like wheat and potatoes). The economy already reeling from the coronavirus pandemic related complications may not be able to survive the locusts blow.
"Imagine when the flour price goes up by 100% and sugar 50%, what will be the reaction of the public? Will it take things getting that bad for them to pay any attention to this," says Nasir Almani.
Origins of the swarms 
Dr Muhammad Uzair Mukhtar, who holds a PhD in entomology and molecular biology, says the government did not take the invasion of the pest army seriously, and now farmers may have to live longer with the most dangerous pest. He says when the first swarm entered Pakistan in 2019, it laid eggs all over the place, and now hundreds of billions of hoppers may be ready to fly and soon perch on a green tree or plant to gorge on. Despite how lazy the government has been on this, he says that even now it is not too late to target hatcheries as well as the adult locusts attacking crops. 
"Time is running out, and we have hardly two to three months to complete the task," he says. He cited the example of south Punjab districts Rahim Yar Khan and Rajanpur and central Punjab districts Okara, Sahiwal and Khushab where he himself spotted these hatcheries. In Dipalur tehsil of Okara district, he said, 7,203 acres in riverside along the River Sutlej, locusts eggs were identified and destroyed in March and April. Dr Uzair, who is working with a Chinese university, worked with the Agriculture Department as a volunteer helping the officials to track the hatcheries in Punjab districts.

"I can't say aerial spraying can cull completely the hatching hoppers. Still, some action is better than no action at all. The biggest problem is the rapid growth of nymphs who are ready to fly within three to four weeks from nymph to adult flyer. Our bad luck is that the weather conditions from March to May are perfect for this pest army to grow and feed on our crops," he explains. Iqbal Shahid Qureshi, Okara Agriculture Deputy Director for Plant Protection, sees impending danger to this year's maize, cotton, fodder, rice, vegetables and orchards from locusts this year.
Districts like Rahimyar Khan, Bahawalpur, Bahawalnagar, Muzaffargarh, Lodhran, Layyah, Dera Ghazi Khan, Mianwali and Toba Tek Singh are currently under the locust attack. According to Dr Qureshi, these swarms flew from Indian Rajasthan desert into Pakistan's bordering districts like Bahawalpur, Bahawalnagar and Pakpattan in Punjab for their onward flight to Toba Tek Singh,  Vehari, Khanewal, and other districts.
It means across Pakistan, locusts will spread their eggs one more time. The pest breeds once in spring and once in the monsoon. According to experts, locusts lay eggs on desert-like moisture ground and mud. "The fresh swarm is here on an egg laying tour besides eating up the green plants coming their way," says Dr Uzair.
He says thanks to the negligence of the government, we cannot say for sure that we have any swath of treated land which is free from the pest. The danger of the flight of the first wave of swarms is going to be ready now while a second wave will grow from hoppers to the young adult stage by June. 
The United Nations Food and Agriculture Organization (FAO) also sees abnormal weather patterns in Pakistan behind the migration of the swarm from African countries to Pakistan and India. In 2019, the country witnessed unprecedented rains causing feast-to-eye vegetation in Tharparkar and Cholistan deserts. 
But this turned into locusts' breeding ground too, FAO locust forecaster Keith Cressman told Thomson Reuters Foundation. He warned swarms in 2020 were likely to be much larger than in 2019, roughly 20 times larger. A swarm, roughly 20 to 100 miles long travels 150 km (93 miles) and devours 200 tonnes of crops per day. In Africa, one swarm as long as 800 kilometres has been spotted.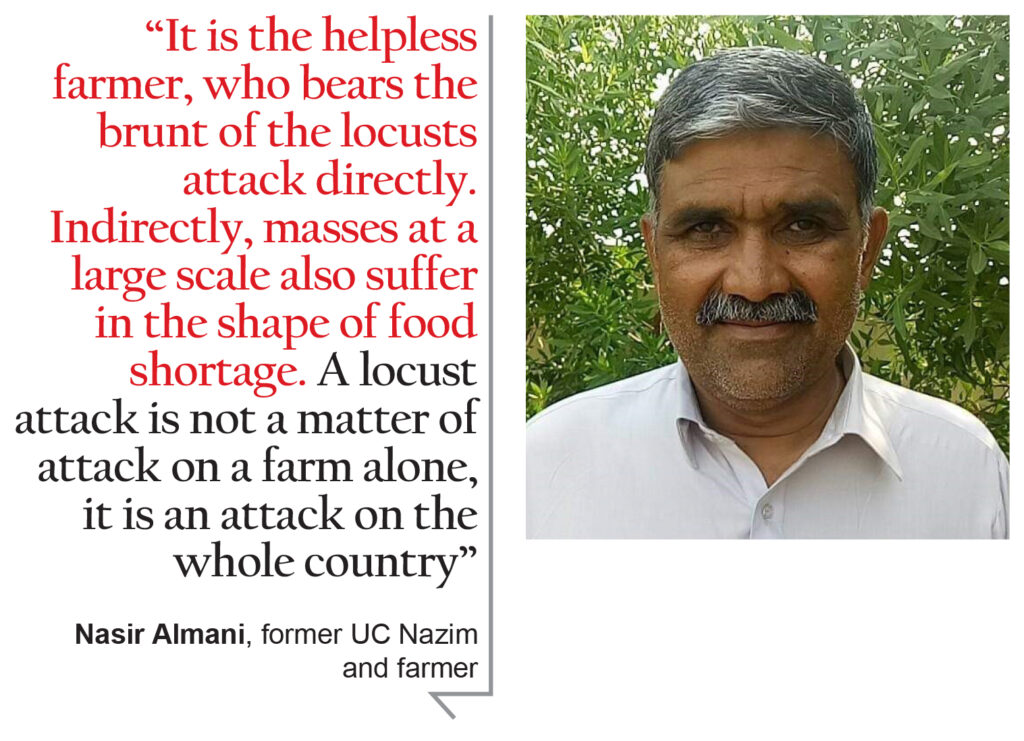 One FAO report warns that Iran and Pakistan are especially prone, as locust breeding is taking place in these areas, also due to the wet winter this year. "In Pakistan, 38% of the area (60% in Balochistan, 25% in Sindh and 15% in Punjab) are breeding grounds for the desert locust, whereas the entire country is under the threat of invasion if the desert locust is not contained in the breeding regions," the report reads.
 The fight against the swarms
The locust crisis, which experts are calling a pandemic in its own right, has hit Pakistan at a time when it is fighting, along with the rest of the world, the coronavirus pandemic. The country's state of quasi-lockdown is only compounding problems for the governments to launch control operations. 
Yet, sluggishness and politics on parts of the federal and provincial governments are visible. Sindh and the federal government are undecided about their role. While Bilawal Bhutto Zardari showed maturity in attracting Islamabad's attention towards the locust attack and the need for the implementation of NAP, the federal ministry for food security has not undertaken any serious actions to prevent the disaster.
The representatives of the federal and provincial governments met in January when Sindh's districts came under attack. Both sides agreed to the National Action Plan for Surveillance and Control of Desert Locust in Pakistan, under which Islamabad would provide aircraft for aerial spray to the Sindh government. 
The federal government also promised to arrange 12 planes for aerial spray in Balochistan. Now, after weeks of no action, Bilawal Bhutto Zardari complains the federal government did not arrange the promised planes and only one aircraft and three helicopters are being used for operations in Balochistan, "which cannot control the swarms," he added.
Sindh Agriculture Department official Azhar Saeed Bhutto said the Sindh government had done surveillance of the hatcheries and the figure is alarming. "Locusts laid eggs on 2.5 million acres, mostly in the desert regions," he said. When asked what action his department had taken, he said the Sindh government sprayed insecticide on 25,000 acres, or about 1% of the affected area.
Sindh Agriculture Minister, Ismaeel Rahoo, says the provincial government needs aircrafts and the active support of the Plant Protection Department in the operation. The Sindh government has active support of the army and Rangers personnel and Pakistan Disaster Management Authority in the ongoing spray operation. 

"Aerial spray will prove to be a game changer and the federal government should spare a few planes from its fleet for this national cause," he told the media in Hyderabad. The Sindh government released Rs330 million for the locust control operations last year, but unfortunately most of the allocation remained unspent.
In Punjab, Chief Minister Usman Buzdar only seemed to thud into action on May 18, when he tweeted that he had asked the federal government to provide three aircraft for aerial spray of insecticides on the area under the locust attack. The Punjab government has allocated Rs1 billion for its fight against the locust attack. 
Provincial Agriculture Minister Malik Nauman Ahmed Langrial told Profit the Punjab government with the Federal Department of Plant Protection would launch spray to put out the flying squad of locusts. When asked if the allocation was enough, he said the government was open for more funding if needed. He said the government was following the policy of tracking and destroying and so far 3.7 million hectares had been tracked and 133,000 hectares had been cleared.
While aerial spraying is the most effective method, in the absence of aircraft, the agriculture departments, with the help of local farmers, are using pressure spray machines, mounted on tractors, to repulse the locusts attack.
In Khyber Pakhtunkhwa, the provincial government with the help of the Plant Protection Department and the FAO-Pakistan has started a chemical operation against the locust swarm and nymph besides running an awareness program for control of locust among farmers in 12 districts. These districts are Dera Ismael Khan, Tank, South Waziristan, North Waziristan, Karak, Kohat, Orakzai, Hangu, Kurram, Khyber, Peshawar and Nowshera, according to FAO-Pakistan official Irfan Bangash.  
NDMA chief in his press conference on Tuesday stated that swarms of locusts could enter Pakistan from Iran and Oman in the first and second week of June and in order to counter the threat, aircraft with sufficient spray equipment and pesticides were being deployed in Dera Ghazi Khan, Dera Ismail Khan and along the Iranian border to nip them in the bud. "Arrangements have also been made to undertake anti-locust spray in deserts of Thar and Cholistan," he added.  
He claimed that in the past two weeks 1,500 NDMA teams along with the Provincial Disaster Management Authorities (PDMA) of Punjab, Sindh and Balochistan, were active in the fight against the locusts. While governments may be busy arranging funds and aircraft to fight the invasive pest, farmers cannot stand the destruction of their hard-earned asset in front of their eyes.
In Shehr Sultan, a town of Muzaffargarh, when the attack happened, the residents of Basti Balochan decided to work in groups and keep drumming day and night in an attempt to scare the swarms away.
"We in groups would patrol the nearby farms and beat drums to scare the swarms," says Muzamil Husain. "It was no fun; it was really tiring to keep the drums up for hours and hours until sunset and see the swarms fly."  This traditional method is being employed in almost all the under-attack parts in Pakistan.
However, according to Dr Uzair, this method is not effective; and just lets the swarm fly and leave one particular area but the disastrous drone keeps on flying and landing in other areas. So while Muzamil Hussain and the people of Basti Balochan were able to save their village, it only meant more destruction elsewhere. And if everyone starts doing it, the method will just grow ineffective.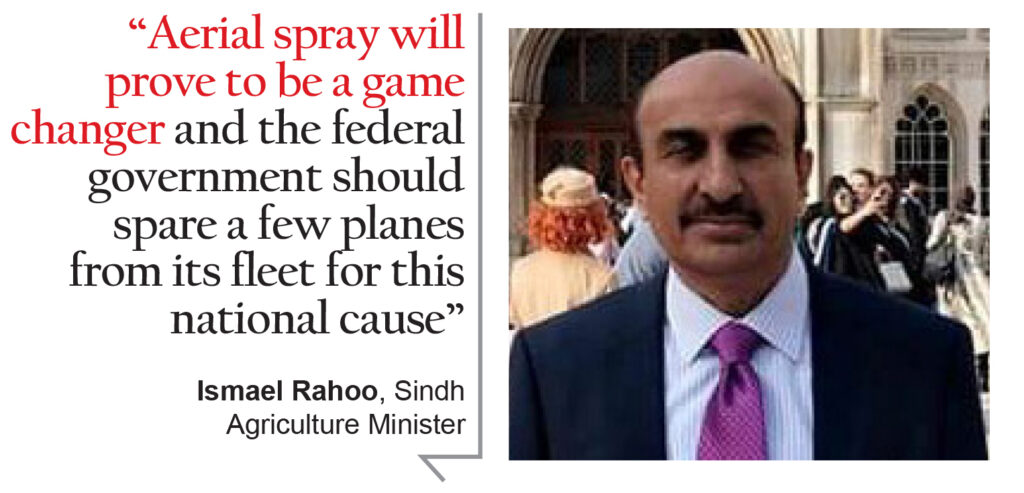 While speaking to Profit, an agriculture expert, Ramzan Sheikh, said that he maintained that their lifespan is between 3-5 months. They become hoppers after a month and can start laying eggs when they are 60-70 days old. The expert added that they can fly as far as 150 kilometres a day, making them difficult to control. Locust swarms can cover extremely large areas therefore accurate monitoring is important but not very easy.
What the government needs to do
To immediately prevent, minimise, mitigate and eliminate this extremely dangerous challenge, the government needs to maximise scientific monitoring of their movement and trends and issue regular warnings as to where they are likely to strike and damage.
Experts are under agreement that the government should spray nature-based biopesticides through aircrafts, drones and vehicles (including fire brigade trucks) on a daily basis in the areas under attack. Ramzan Sheikh maintained that Malathion 96, an organophosphate insecticide is considered a potential toxic chemical for non-cropped areas. He added that for areas with agriculture, Chlorpyrifos is used as an effective spray to kill the little monster.
"Identify the breeding hubs and kill the eggs as well as hoppers before they become flying adults and continue the operation till their population starts decreasing," he said. He feared that if an immediate measure before the monsoons is not taken on war-footing, Pakistan may lose anywhere between 10-25 percent of its crops, causing severe losses to farmers, shortage of the food supply chain, deteriorating quality of agricultural produce, and unprecedented increase in fruits and vegetable prices. "Wake up, act now and save our green fields before it's too late, he said.
While Pakistan has been slow to react in the way that it has fought against the attack of locusts, the situation has garnered international attention, concern and support. This support extends to both financial and technical, mostly from China and the United Kingdom, in the fight against the swarm. The UK government, through its Department for International Development (DFID) and the FAO, have both signed a Building Disaster Resilience in Pakistan project under which £1,000,000 will be provided to continue efforts to contain the desert locust upsurge. 
A release issued by the FAO stated: "The activities supported by DFID will help strengthen Government and farmers' capacities in surveillance and monitoring of the locust, for identification of the threat and evaluation of risk for informed decisions and to combat the Desert Locust infestation and improve locust management in Pakistan. The agreement was virtually signed by Anabel Gerry, Head of DFID Pakistan and Minà Dowlatchahi, FAO Representative in Pakistan."
"I'm proud of supporting Pakistan in these testing times with the urgent need of controlling desert locusts in the affected areas. This timely intervention will enable food security and sustainable agriculture for over 18,000 vulnerable farmers," said Anabel Gerry, Head of DFID Pakistan. "It is great that we were able to work with FAO to rapidly respond to the devastating situation, and save crops and livelihoods especially during the COVID-19 crisis." 
Furthermore, the FAO will work in close collaboration with the National Ministry of Food Security and Research, Departments of the Plant Protection, the National Disaster Management Authority and the Provincial Disaster Management Authorities to build capacities of the relevant government departments and local farming communities living in locust-prone and affected areas.
Similarly, China has also pledged $5 million to rescue Pakistan from the menace of locust in various parts of the country. They have also provided 50 drones and 300,000 litres of pesticides to the government. In March, a Chinese delegation also visited Pakistan and imparted technical help to the government officials. There is, however, no truth in social media reports that China has provided locust eating ducks.
While Prime Minister Imran Khan has announced a state of national emergency to control the locust infestation back in February, after the federating units agreed to the National Action Plan for Surveillance and Control of Desert Locust in Pakistan, there seem no coordinated efforts between provinces and the Centre to control the pest attack. Similarly, aerial spray should be intensified but even before that the government needs to enhance the tracking of the swarms. 
And while international support is important and helps, as the government fights this menace, it must remember to not just look ahead but also back, and not forget those already devastated by the locusts. The victims of swarm attacks, such as the heirs to Ghulam Abbas Nabi, should not be forgotten. Farmers must be compensated so that orphans like Abeera can continue their lives and complete their educations in some semblance of normalcy.