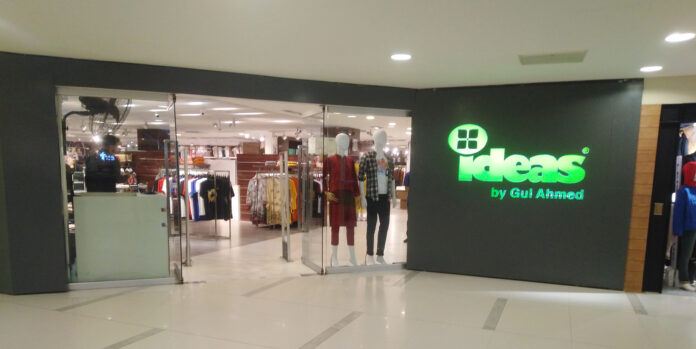 As this magazine has consistently pointed out for the last three weeks, it is not the best time to be in the textile industry space right now. Just this May, textile exports declined by 37%, standing at a paltry $751 million compared to last May's $1.19 billion. Most of that was aggravated by an extremely strict lockdown in Pakistan and around the world, and by a delay in shipments to markets due to Covid-19.
Any company in the industry would have to be mad to imagine they will come out of this relatively intact. Which is why one has to admire the chutzpah of Gul Ahmed, which in a corporate briefing on June 29 explained that despite a revenue loss of Rs8 billion, it was feeling optimistic. Gul Ahmed's saviours? Face masks, and duvets. 
Let us explain. Gul Ahmed Textile Mills, which was founded in 1953, is essentially one big textile mill with a big local retail footprint. The installed capacity of its plant is more than 130,000 spindles, with 300 weaving machines and yarn dyeing, processing and stitching units. 
Its four main business segments are spinning, weaving, retail, and distribution & processing for home textile and apparel. That retail segment is more recognizable as Ideas by Gul Ahmed, which has over 100 stores all across Pakistan. 
Subsidiary companies of Gul Ahmed include GTM USA Corporation, Gul Ahmed International Limited, and GTM Europe Ltd. The company reaches more than 44 countries around the world. Its greatest revenue contributor, after Pakistan, is Germany, followed by the US, France, Netherlands, UK and Italy. 
Now pause and think. What do all of those countries have in common? In the first half of 2020, these countries have been ravaged by the Covid-19 pandemic. As the company's own financial statement from March points out: "As other countries worldwide, including Pakistan, impose lockdowns to prevent the spread of the pandemic, Pakistan's textile sector is facing pressure on sales in the form of delays and cancellations of orders, leaving the capacities unutilized. This coupled with a sudden lock down imposed in Pakistan and particularly in Sindh had and will lead to operations loss, exchange losses due to erratic changes and inventory losses due to unnecessary inventory buildup."
The report also noted that "Due to our customer base mainly [being[ in Europe and then in [the] USA, we started to have negative impacts in the form of customers seeking more price reductions/discounts, reduction in already ordered quantity and even rescheduling in orders. This caused lower sales in Feb and March as well as further reduced margin and some increase in inventory levels. With the enforcement of the lockdown in the third week of March our entire operations and sales came to a complete halt. As a result, though we made gross profit in the quarter under review but could not cover our distribution, selling and finance cost."
On top of the loss of exports, those 100 Ideas stores had remained closed for eight weeks. Even when they did reopen, the timings were severely shortened: ranging from 8am to 5pm during the quasi-lockdown, to the current 9am to 7pm store timings. While this may theoretically sound ok, the stores are shut on the weekend, which is usually peak sales time. 
In a note issued to clients on June 29, analyst Hammad Akram at Topline Securities, explained that the combined loss of exports, and the affected retail sector, resulted in a revenue loss of Rs8 billion and loss of contribution margin (or sales revenue minus variable costs), of Rs1.6 billion.  During the first nine months of fiscal year 2020,  the capacity utilization of spinning was around 86%, while weaving and processing was operating at 89% utilization level.
And yet in this corporate briefing, Gul Ahmed's management said that for the month of June 2020, textile-related exports are expected to cross the $1 billion mark.
How did it arrive at this rosy figure? Gul Ahmed has two items going for it. First, the company has decided to switch over to exporting products related to the health-care segment. These include protective gowns, scrubs and masks. 
 (Previously, on April 23, the Adviser to the Prime Minister on Commerce and Investment Abdul Razak Dawood had said that the federal government had allowed the export of textile masks, though it would not apply to surgical and N95 masks).
This time though, Gul Ahmed has made sure that it is exporting US FDA approved health gear, so that it can preserve at least that export market. In fact, the Gul Ahmed said it has sufficient export orders in hand till November 2020 (and in today's rapidly escalating pandemic world, that is more than enough of a buffer). 
Now, most textiles companies can not rely on masks alone. Health care exports are often one time, non-repetitive, and have low margins. Fortunately, Gul Ahmed has something other textile companies do not: thriving home goods. If you look at its four business segments, 'processing, home textile and apparel' and 'retail and distribution' make up the largest and second largest contributions to sales revenue. 
"The management further highlighted that due to COVID-19, consumption patterns of consumers have changed significantly and every segment will be impacted in a different way," noted Akram. 
He added: "The home textile segment is expected to grow in the future as its demand has increased significantly as people are spending more time at home in wake of the pandemic." Essentially, Covid-19 is making homebodies out of all of us, and Gul Ahmed has spotted an opportunity to make the experience as comfortable as possible. 
However, apparels in particular, are likely to suffer due to it being considered a luxury item. 
There is some consolation, as sales from e-commerce are expected to be in excess of Rs1 billion in fiscal year 2020, compared to around Rs0.5 billion in fiscal year 2019.