Chinese products have a reputation in Pakistan. With the tag 'Made in China' comes the baggage of being cheap, which in peoples' minds translate to poor quality. Of course, Chinese products, from plasticware to tech, have the capacity to be good and bad. 
Chinese mobile phone manufacturer, Huawei, is perhaps the best example. With top range mobile phones with the latest features, and on many occasions innovators in the mobile phone market, Huawei still has the reputation of being the 'cheap' option in the Pakistani market. 
Are their phones trustworthy? Ask the techphiles and they will largely say yes, but ask the general consumer, and the answer will be a resounding 'eh.' Chinese products, even when good, are largely not a brand. Now, this sort of reputation worldwide can work for things such as plastics toys, and electrical appliances, but it falls flat with products such as mobile phones. 
When you buy a phone, yes, there is the functionality factor to it, but a lot of people also look for that extra oomph that you desire with such expensive objects that are so central to your daily life. Now, imagine this very desire for a good, economical, quality, product and translate it to automobiles. 
Chinese cars may be cheaper than what is available in Pakistan right now, but they just do not scream quality. As a result, most Chinese automobiles that have made their way onto the Pakistani market are motorbikes, pickup trucks, station wagons, and other commercially used vehicles. Despite these image problems, new Chinese car manufacturers entering the market say this is high-time to break in and show their mettle. But where is this confidence coming from, and will Chinese cars ever be an easy sell in the Pakistani market? Profit, takes a look.
Market background
Cars, particularly in Pakistan, are a status symbol. Yes, in cities like Lahore, Faisalabad, or Karachi you can find high-end, luxury vehicles manufactured in Italy or Germany. But for the vast majority of the population that can afford a car, there are the big three: Suzuki, Honda, and Toyota. All three Japanese car companies are the obvious choices for car shoppers, mostly because they are the only option. A house of one's own and a Toyota Corolla or a Honda Civic at the end of a salaried career is the height of upper-middle class aspirations. 
This is all despite this oligopolistic triad being regularly accused of not keeping tabs on quality assurance, skimping out on safety features, and setting ridiculously high prices for cars. Nothing seems capable of breaking their hold on the market, especially not something like Chinese cars. Because, much like any forsaken relationship dynamic, despite the big three's bad reputation, the fear is that cheap Chinese cars will somehow be worse. The only way Chinese automobiles have been able to break into the Pakistani market, as mentioned before, has been for vehicles that have not been for family use so to speak. Motorbikes like Eagle, Metro, and the famous Qingqi, from which the open air rickshaws derive their name, have all become common on Pakistani roads.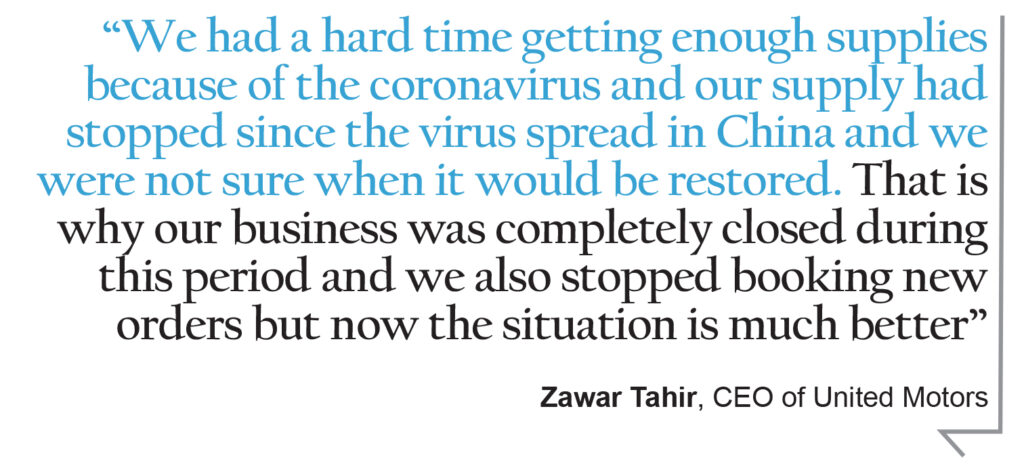 For a brief moment up until a couple of years ago, it had seemed that imported and refurbished cars might give the big three a run for their money. So sick and tired were people of these three car companies' vehicles, that a significant portion of car buyers preferred to buy used cars manufactured in Japan over the ones locally assembled. At its height, 80,000 cars a year were being imported from Japan. Now, however, the current government's ban on imports has broken the back of this car market as well, meaning the big three are poised, with the additional 70,000 cars now not coming in are up for grabs.  
However, another effect of the recent economic downturn, the one before the Covid-19 pandemic that everyone seems to have forgotten, has been a fall in the fortunes of Suzuki, Toyota, and Honda. Astronomical price hikes coupled with reduced consumer spending meant that their cars not only rose in prices, but also that fewer people wanted to buy them. As a result, early in 2020, Suzuki, Honda Atlas, and Toyota Indus all shut down production. 
Now, with all this going on, a number of Chinese car manufacturers are hopeful that they will be able to capture a slice of the market tired of the same few cars being peddled  by the big three for years, and looking to take a gamble on Chinese cars. Among them are Sazgar Engineering, United Motors, Changan and others. But will they be able to beat the stronghold that the big three have, or will they fall to a market that finds it difficult to trust automobile manufacturers.
The players speak 
Sazgar Engineering, in collaboration with Beijing Automobile Industry Company (BAIC), is working on assembly of passenger vehicles in Pakistan. The company officially announced the venture earlier this year and some of their offerings were unveiled on the Pakistan Auto Show (PAPS) 2020 in February, 2020. Ali Hameed is their Director of Marketing, and as such he will have an important job portraying Chinese vehicles as desirable to the public. Whether his enthusiasm is to keep up appearances or not, he is definitely optimistic about the future of Chinese vehicles.
"There is a perception about Chinese-made vehicles, that somehow they aren't of the best quality just because other products made in China are not of good quality," he says. "It is all a question of brand you have, not of what is the country of origin. For example, if we talk about mobile phones, then Q mobile is also made in China and iPhone is also being made there. Now both the phones are being made in the same country but everyone knows the difference in the quality of both brands."
Others are also more hopeful about the future of Chinese vehicles. Zawar Tahir, who is the CEO of United Motors, says that customer feedback already shows changing trends in how consumers are thinking. "Customer feedback and response towards Chinese vehicles is very positive. We have sold over three thousand vehicles so far, and if you look at other companies, the Prince Pearl launched by Regal Automobile Industries Limited has also been well booked, as well as the vehicles that will be launched with Sazgar Engineering are also eagerly awaited in the market," he says. "However, companies launching Chinese vehicles in Pakistan face some challenges in which quality matters a lot and we are in a constant process to improve the quality of our vehicles."
Meanwhile, if Hameed is to be believed, the image of Chinese cars has by and large been ruined by local traders unhappy with the possibility of the disruption they may bring. "In China, you can find the same product in a hundred different varieties with varying quality on each one. Now, it is up to our traders to decide what quality product to bring to their market. Unfortunately our traders go there and buy the cheapest products and sell them in the Pakistani market. People buy these products and they naturally are not as good as their expectations," he explains. 
"Because of this, people start thinking that Chinese cars will also not be reliable. What people need to realise is that the best cars in the world are being made in China right now. World class cars like Mercedes are now assembled in China and China sells 20 million vehicles annually in its market. People have purchasing power and their perception about Chinese cars will change only when they drive good quality cars."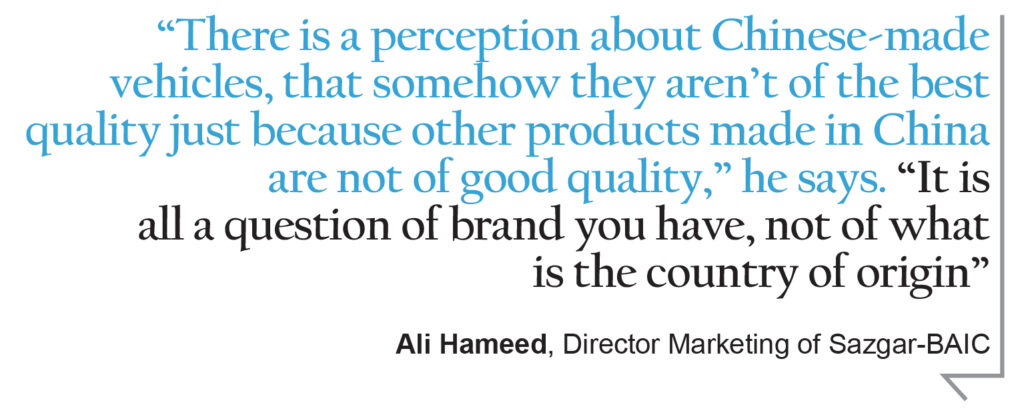 This, of course, is a rather misleading statement. The best cars in the world are not made in China, in fact, they are still very much made in Germany by all estimations, with South Korea a close second. And to say that Mercedes is assembled in China is also misleading, because they are assembled there simply because of the cheaper labour, the make of the car is still German. By the same logic, Toyota Indus and Honda Atlas also assemble Japanese cars in Pakistan. 
Moreover, considering South Korean cars are considered second only to the German variety, and definitely up to par with Japanese cars. However, South Korean car manufacturer Kia has tried on multiple occasions to break into the Pakistani market and failed. They are currently having a better run after launching higher-end SUVs in the Pakistan market, but have still not quite established themselves. With such examples on hand, is it too ambitious for Chinese manufacturers to hope to win over the market?  
What Sazgar-BAIC are trying to do on this end is to introduce cheaper SUVs. The big three are mostly selling sedans, with Suzuki the only company selling hatchbacks. While they dominate that sphere, Toyota and Honda have been selling sedans, in particular their classic Honda Civic and Toyota Corolla. The SUVs that Toyota sells are in a completely different price range, but there is a certain SUV fetishization in Pakistan that has car lovers in love with the Toyota Landcruiser and other four-by-fours. Honda has tried to tap into that market with their BRV priced like a sedan, but the design flaws and aesthetics means it hasn't been a big hit. KIA, as mentioned earlier, is doing well with their Sportage model. Companies like Sazgar-BAIC are now hoping that cheap SUVs will win over people. 
For context, the top of the line Toyota Corolla and Honda Civic are both in the Rs 4 million range, while the Honda BRV comes in around the 3 million mark and is actually cheaper. Comparatively, Toyota's lower line SUV, the Fortuner, costs between Rs 8-9 million. Meanwhile a fully loaded Toyota Landcruiser cost anywhere between Rs40-50 million. Comparatively, with many of the same features, the KIA Sportage has a price tag of Rs 4-5 million, offering an SUV experience in a Honda or Toyota sedan range. That is the market Chinese companies will be looking for – people wanting to buy SUVs in sedan range.   
"We have it on good authority that Sazgar-BAIC will be bringing an SUV (BJ40), a crossover (X25), and a sedan/hatch (D20). BAIC BJ40 is an SUV, a genuine off-roader powered with a 2.0L Turbo Engine with 215 bhp and a 6 speed automatic transmission with petrol engine,"  explains Hameed. And the hope is that the vehicle will compete with the KIA Sportage and Tucson. The Fortuner will also be a competitor of this variant because of the enormous size of the vehicle and superior horsepower of the turbo engine. When this variant is launched, its market value will be around RS 7 million."
"Similarly, the second variant which is the BAIC X25 is a compact SUV or a crossover, packing a 1.5L petrol engine which will be launched in both automatic and manual transmissions. X25 had been spotted in Lahore a number of times. The vehicle was displayed at PAPS Auto Show at Expo Lahore and initial customer response was enormous as viewers approved the built quality and the aerodynamics of the vehicle," Hameed tells Profit. 
This is the second segment they seem to want to tap, since the crossover side of the market in Pakistan is largely ignored, and the X25 will surely be an answer to needs of users who like to enjoy the comfort of an SUV at an affordable price. "The price of this car will be around  the RS 2.5 million mark. The third variant is BAIC D20 hatchback in two variants (1.3L and 1.5L engines) in both automatic and manual transmissions. Despite being a hatchback, BAIC D20 has a much greater footprint than its local would-be competitors and the built quality of the vehicle along with its paintwork makes it an excellent value for money." 
"However, the company has also decided to launch a sedan version of this vehicle and the D20 Sedan will be packed the same 1.3L/1.5L engine with equipment like metallic paint, alloy wheels, air bags, day-time running lights and parking sensor coming as sensor, just like its hatchback variant. However, it will cost the same as the Suzuki Cultus."
Why customers may not bite 
To his credit, Hameed maintained his enthusiasm for long, but where it faltered for a moment was when he was asked about the resale of Chinese vehicles. Somehow, resale has become an obsession in the Pakistani car market, and apparently no cars have good resale except the ones the big three manufacture, because they can be serviced by the assemblers and parts are easily available. The short lived refurbished car market also had the same issue. 
However, Hameed stuck to his guns, claiming there was hope yet. "There is no better resale of cars in Pakistan than the resale of Toyota. Even Honda had to work hard to improve the resale of its products. But now customers have more options in the market, and if you look at the market, KIA and Hyundai are the two brands that are selling their products with an 'on' price due to high demand.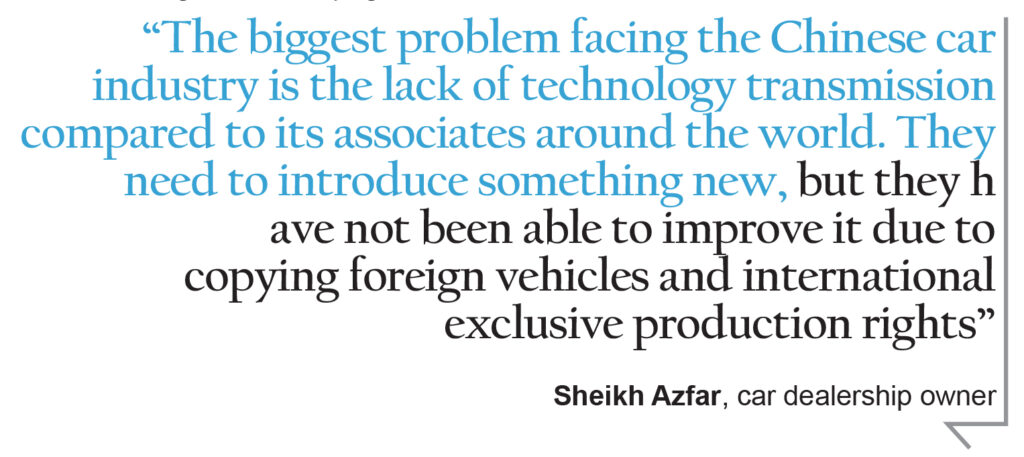 The infamous on price is an illegal selling practice widely prevalent among car dealers across Pakistan. This is when car dealerships book cars en masse and park them in their showrooms. People, not wanting to wait for the booking time, buy these cars and drive them out of the showrooms at a premium. 
On the same subject, Zawar says that people here take cars as assets and are also concerned about their resale value. "The dynamics of Pakistan's used car market are very different. Used cars are expensive however; the cost of a used car is lower in many countries. If we estimate the resale value of a Chinese car, it is not less in Pakistan." 
Meanwhile Hameed says that Pakistanis have still not seen quality cars from China because most of the ones that have come in have been average. "If we talk about Chinese cars, then quality cars have not come on the market yet and so far. The vehicles that have come here are the same ones that are considered garbage in China. But now, the four largest automobile companies of China include BAIC, and Shanghai Automotive Industry Corporation are launching their products in our market. Similarly, Changan Automobile is also going to be launching its products in the Pakistani market which are much better than Honda, Suzuki and Toyota in terms of features, size and quality."
Another concern for car buyers has been the availability of parts. But because these companies have come to Pakistan, original parts will be available. What isn't available is knock off, cheaper parts that you can find for Toyota, Honda, or Suzuki because of how much they are in demand. "All the parts will be available to any customer who buys our car from any showroom. There is an OEM spare part and then a second and third copy of the parts," says Hameed.
Will it work? 
As things stand, United Motors is at a standstill and Sazgar-BAIC has yet to launch. As Zawar explains, they have a contract with a Chinese company to import units. Whenever they contract with a company, they have to import a certain number of CKDs for a certain period of time. Imports are also made on the basis of supply and demand and are also required to be made within a certain period of time as per the agreement. "For example, if we have ordered 200 units this month, we will have to order another 200 units next month," he says. 
"We had a hard time getting enough supplies because of the coronavirus and our supply had stopped since the virus spread in China and we were not sure when it would be restored. That is why our business was completely closed during this period and we also stopped booking new orders but now the situation is much better."
The pandemic was, for most businesses, the worst time to be in business. For now, the people trying to bring Chinese cars to Pakistan are trying to look at the positives, but it must be remembered that they are up against no tame opposition. The big three have been around for a long time, and many have tried to dismantle them. But perhaps worst of all is the question of who will drag the Pakistani consumer out of their toxic dependence on the big three? "The vehicles of Suzuki, Honda and Toyota are ruling the hearts of the people which is one of the major reasons why the vehicles of these companies have good market value," says Sheikh Azfar, a car showroom owner in Lahore. 
This is a separate school of thought, that the consumer has become so used to underwhelming cars with no standard safety guarantees that they are in a willing relationship with the big three and simply don't see new entrants as viable options. "Everything here is based on resale and what society thinks. Until that lasts, people will keep going back to these three companies," says Azfar. "At the moment, our interest in new models, face lifts and brand refreshers has increased. If China wants to compete with these brands, it has to come up with something new to attract people so that people like their cars."
Azfar added that some Chinese companies came to the Pakistani market with a joint venture and tried to offer a good product at a reasonable price, but these were not the vehicles we were looking for. "That is why those cars have not yet become popular among the people here. People don't even ask us for details of Chinese cars."
"The biggest problem facing the Chinese car industry is the lack of technology transmission compared to its associates around the world. They need to introduce something new, but they have not been able to improve it due to copying foreign vehicles and international exclusive production rights. In my view, if Chinese companies introduce something that is better than our cars, their chances of success can increase significantly," he added.
China needs a lot of hard work to make its place in the Pakistani industry, and for that it needs to be provided with vehicles that are reasonably priced and of excellent quality. Customers are well aware of all the brands around the world and the features they offer, and it is very difficult to gain their trust. "When people trust your ability, then the brand becomes 'a brand'. No Chinese company can win the hearts of Pakistani consumers just by giving them a low price car. Your car must be your traveling companion and if it is not trustworthy, then it is not worth buying."