For years, if you've received an ATM or credit card in Pakistan, no matter from which bank, you have most likely received one backed by Visa. The American multinational financial services corporation headquartered in California facilitates electronic funds transfers throughout the world, most commonly through Visa-branded credit cards, debit cards and prepaid cards.
Companies like Visa do not actually issue cards or distribute them. Instead, they are simply payment networks, which means they process payments between banks and merchants for credit card purchases. The bank that issues the card matters much more than the payment network.
So how do they make money? Essentially by taking a cut from each transaction in exchange for their technology and services. So why does Visa essentially have a monopoly over the cards business in Pakistan? Mostly because Pakistanis even now are wroth to choose plastic money over paper, making the market very small. 
But that has not stopped Mastercard, Visa's main competitor, from recently trying to make inroads in Pakistan, and succeeding in spreading beyond their nascent existence in the country. Over the past year, Mastercard has become more mainstream and has increased its presence within the country.
Also an American multinational providing financial services to the world, Mastercard is headquartered in New York. The company works much like Visa in that it processes payments between banks of merchants and card-issuing banks, and under the guidance of Atyab Tahir, their new country head, Mastercard's presence in Pakistan has rapidly grown.
To his credit, Atyab has had a vastly accumulated experience in devising strategies and means to achieve scale and has been able to work in a variety of roles in various industries ranging from Research, Advisory, Telecom, Banking, and now as the Country Head at Mastercard.
One of Tahir's success stories has been Habib Bank Limited (HBL), where he helped create a culture of digital-first. According to a source inside HBL, Digital initiatives, digital payments, and using digital to optimize the retail business are now mainstream conversations inside the bank. The bank's president has gone on record to say HBL is a technology company with a banking license.

After HBL, Atyab Tahir has moved on to Mastercard, and in one big swoop, Mastercard has managed to increase its presence in Pakistan. Currently, they work with 24 out of 33 banks, two major telcos, three of the six licensed EMIs, as well as the country's domestic switch, 1Link. This is the story of how Mastercard decided to spread its wings in Pakistan, and what it has planned for the future. 
A late entry? 
To be fair, Mastercard is not new in Pakistan, in fact, it has been around for a while. It just simply has never taken off because it has never been particularly interested in taking off. As Atyab Tahir recalls, Mastercard has been involved with Pakistan's banks since the industry started to open up and introduced debit cards and credit cards. "I remember that I used to have a Citi Mastercard back in the early 2000s when I was working as a young development consultant in Islamabad," he reminisces. However, the company was operating in Pakistan remotely, and it would not be until 2016 that Mastercard would open their offices in Pakistan in a bid to harness the potential of advancing non-cash and digital payments in Pakistan.
However, the proliferation of digital payments in Pakistan has been a slow and unique process, and the country does not seem to be following the traditional timeline of rapid digitalisation, even though now there are proactive efforts by both banks and financial service providers to try and build on making the whole banking system go digital. Even in the case of the Mastercard that Tahir mentioned earlier, it was issued by Citibank, which is a multinational bank. 
Local banks have been slow to jump the Mastercard bandwagon, but mostly because Mastercard has not been so proactive over the past couple of decades in Pakistan. However, they are now on board and fully invested in making this work, and the results are already starting to make themselves apparent. For instance, Faysal Bank now only issues Mastercard debit and credit cards, making all of their cards, from the small account basic cards to their premium cards, exclusively Mastercard branded and serviced. 
This is the pace at which Mastercard has grown in Pakistan. But to be fair, plastic money has not really caught on as a concept in Pakistan either. "There are certain truths about Pakistan that make it very attractive for payment companies and fintech. It is a country of 220 million people with a significant annual consumption spend of over $200Bn, 99% of which is in cash," explains Tahir.
Normally, this kind of obsession with cash and aversion to plastic would be seen as a deterrent to entering the market, but Tahir sees it as an opportunity. The way Tahir and Mastercard are looking at it is that while there may not be many customers and Visa is entrenched in Pakistan, the 99% of the country still relying on cash is ripe for the taking. Old tech as these companies may be, in Pakistan if done right, they could still be disruptions. 
"We have a young population, which is largely unbanked, and certainly under-banked; and their income will only grow over a period of time and so would their spending. There is no doubt in anyone's mind that Pakistan is on a growth trajectory and on the world's radar. These are just some of the reasons, which make Pakistan an exciting frontier for companies to establish their offices here and get in on the ground floor," he adds.
Plastic's uphill battle 
In Pakistan, as of June end 2018, there were 40.9 million cards in circulation which processed 548.3 million transactions worth Rs 6 trillion. This itself was a 21.1% growth compared to 2017. In 2008, 35.5 million transactions that are of 201.5 billion in value went through. This is after a growth of 37.3% and 31.2% over 2017 in volume and value respectively.
Further breaking this down, 87.2% of these transactions, meaning 30.956 million transactions worth Rs 175.708 billion, were POS transactions. The next 10.2% were ecommerce transactions. The remaining 2.6% transactions were at ATMs. As per the SBP, the average transaction value was Rs 5,692, while the average number of transactions by a single card are 25. 
By the end of June 2018, there were 21.7 million debit cards in circulation in Pakistan. These cards processed 441.1 million transactions worth Rs 5.1 trillion after attaining a 21.8% and 23.4% growth in volume and value respectively over 2017. 96.8% of the value of transactions were processed at ATMs, and 2.9% at POS. The average transaction size by debit cards are larger than that of credit cards and are Rs 11,583 and average at 20 transactions per card.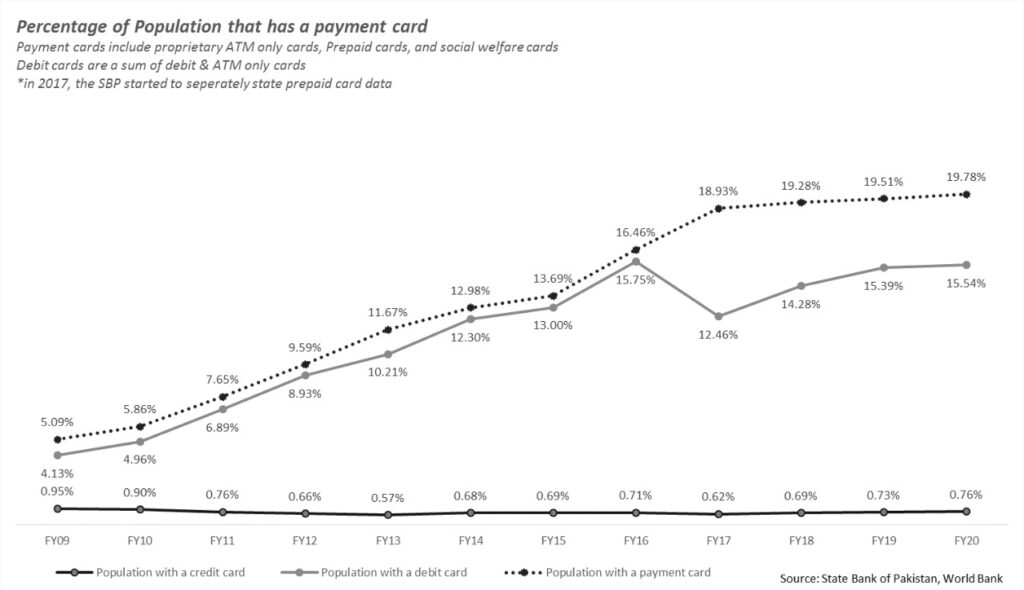 Statistically speaking, if you have a credit card in Pakistan you belong to a minuscule 0.76% percentage of the population. As per the SBP, there are 1,655,030 credit cards in circulation as of June end 2020. It is also pertinent to note that this statistic does not represent unique cardholders. Credit cards in Pakistan, are essentially given out to individuals that already have credit cards (that too after much deliberation and torture). It is possible, the percentage of unique cardholders is infinitely smaller than this and as per gross estimates from industrial experts, 0.45% of the population.
Debit cards, on the other hand, are easier to get. They are usually given to anyone that has a bank account. As per the SBP, 15.54% of the population has a debit card & ATM card considering 26,698,046 debit cards are in circulation and 6,943,385 ATM. Again, these are not unique cardholders.
However, the challenge remains with the unbanked population. Financial inclusion has been something that Pakistan has been struggling with. With one of the highest unbanked populations, both overall and in women, there is a lot that must be done. That is why, instead of sticking to banks, Mastercard is also working with telcos.,
"Generally, there is tremendous growth expected in the digital payments space in Pakistan and our goal is to facilitate that with our technology, services, and solutions both in the private and public sectors," says Tahir. "Mastercard is one of the three major international payment companies working with Banks in Pakistan." 
"We have managed to build strong relationships with our banking and Telco partners to push non-cash payment methods like debit cards, Credit cards, QR, and, most recently virtual cards to enable e-commerce payments."
"We also engage with other stakeholders like the Government, large merchants (e-commerce and otherwise), tech companies, and payment service providers in an effort to build a robust digital payments ecosystem to capture the opportunities I spoke about earlier."
"Pakistan is an absolute greenfield market for credit cards. It baffles my mind that in a country with 130 million adults and a growing young adult population, we have less than 2 million credit cards."
As per Tahir,  all of this can be put down to a few impediments, the first of which has to do with how banks assess the creditworthiness of individuals and the other being limited acceptance across the country. "We need to focus on building relevant use cases for young professionals, small business owners, and freelancers to propagate credit card usage in Pakistan to start with," he says. "I am hopeful that with the growth of e-commerce in Pakistan, we will see a larger population vying to get credit cards for online purchases."
The competition isn't Visa. It's cash. 
This is what this feature has been trying to say, and must at this point reiterate. The point of Mastercard expanding in Pakistan is not to take away from the segment that Visa already has, but to tap into the huge potential that the unbanked and undigitized segments present. 
The problem is that those segments are stubborn, and weaning them off cash is not going to be an easy task. Even now, in a metropolitan city like Karachi, a person that is used to plastic over paper has the issue of not being sure where it will work. You have to ask at every petrol station while refueling whether they accept card payments. And for Tahir and Mastercard, that is unacceptable. 
"Our competition is cash, the entire payment industry's, for that matter. I believe in working towards building a world without cash," says Tahir. Visa isn't the enemy, cash is what they're up against. So this is a question of building up trust and comfort as much as competing with another company. 
"We can only do so if we build products and services that are better than cash. The best way to turn people away from cash is to showcase the benefits of using non-cash means to transact."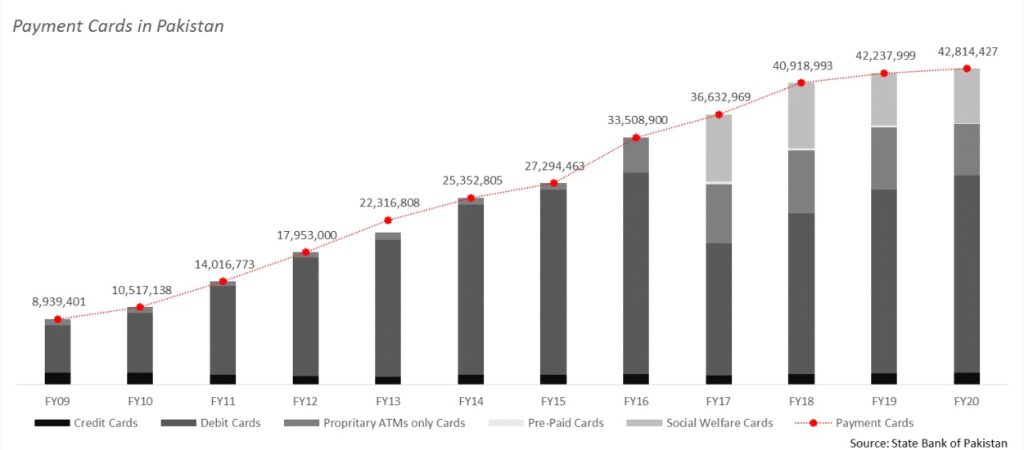 "It is important to note that Mastercard is not just enabling banks to issue cards, our focus is to build a world beyond cash, which means that we are focusing on building an ecosystem of safe, secure, smart, simplified and seamless payments through our globally tried and tested technology in cybersecurity, fraud detection, risk monitoring, and analytics."
As per a report by BNP Paribas released in August 2020, fintech solutions can enable better financial inclusion and also boost the GDP of emerging markets by $3.7 trillion. That is why Mastercard is looking at the bigger picture. 
Currently, Pakistan had 53,511 POS terminals in 2018 as per the SBP. And when Atyab points out that 99% of transactions are cashed based, he means it. But that is exactly why there is so much potential. Atyab Tahir and Mastercard's goals for Pakistan are to have a majority of people using non-cash payments for their daily needs. 
"That includes debit cards, credit cards, QR, contactless payments, virtual cards, and internet payments. I would want our users to prefer our payment products because of the ease and joy they add to their lives. I would want to provide our users a simple, safe, and secure way to pay every single time."
For Mastercard, their USP is "A relentless commitment to customer centricity and focus on how we could help create lifestyle enablement for our card users." To their credit, that is what they are trying to do, both in letter and spirit. 
These cards are out there pushing consumers to try brands and experiences they may not have purchased or experienced. For instance, access to lounges, discounts, loyalty points, and of course ease while travelling internationally. While a number of these factors remain dependent on the issuer, primarily banks, Mastercard is going the extra mile to make sure it's a preferred card in Pakistan.
Prior to Mastercard becoming mainstream, one would usually find card issuers, namely banks offering discounts. However, Mastercard has stepped up and is making deals with brands for discounts on transactions carried out through Mastercard. Some popular examples of this include AK Galleria and Foodpanda.
This is in contrast to the past. Back in the day, shopkeepers would offer cash discounts to people that pay their dues in cash immediately. However, as of recent, consumers have been getting discounts while paying with their debit or credit cards.
However, the sustainability of this is important. When asked who pays for the discounts and partnership, Tahir explains, "It depends, we have excellent partners in banks and merchants. The discounts are dependent on the nature of our joint campaigns. The key thing is that regardless of who pays, our customers benefit and that is something we would always strive for."
Are regulators helping?
The question that remains now, with a massive unbanked population, what are the Pakistani authorities doing to promote moves to get more people under the banking umbrella? And has any of that desire been seen by Mastercard. 
"Pakistan has a forward-looking regulator and we appreciate some of the efforts they have made in propagating non-cash payments. The recent EMI regulation is really going to expand the payment ecosystem and bring fresh ideas to this market," Tahir says on a hopeful note. 
SadaPay is one of these. In May 2020, SadaPay emerged as a new entrant in the Pakistani market that has obtained an EMI license from the SBP. SadaPay uses Mastercard's innovative capabilities for card issuance and as a payment processing platform. SadaPay alone looks forward to issuing more than three million cards over the next five years in attempts at catering to the country's largely unbanked population. 
"We are hopeful that the regulator would continue to engage industry stakeholders in building facilitative regulation especially around new concepts in financial services like digital banking, Open API, blockchain, and AI-based financial services. We would be happy to work with and leverage our expertise in helping develop forward-looking future proof regulation, as we have done with other regulators in the region."
"QR has tremendous potential, especially amongst those merchants who primarily deal in cash at the moment. I see QR being one of the key payment methods in the entire ecosystem. You also have to keep in mind that QR growth in China is somewhat anomalistic and we have yet to see similar adoption elsewhere. Having said that Mastercard QR is present at over 100,000 merchant locations in Pakistan, we just need to push the right use cases for mass adoption "
When asked about how COVID has brought about changes, Tahir says that unlike for other industries, Covid has been a white knight moment for digital payments around the world, and especially in Pakistan. "We have seen growth in digital payments for domestic e-commerce transactions. We have seen higher usage of debit cards in retail and utility bill payments. We are starting to see a shift to non-cash school fee payments. I expect these trends to continue post COVID and, hopefully, a more digital payments savvy Pakistan."
Globally, Mastercard reported a 40% increase in the number of contactless payments through it.
In September 2020, Visa, Mastercard's rival published the results of its survey which aimed at assessing the impact of the pandemic on consumer behavior in Pakistan. At the time of the survey, Pakistan was under partial lockdown due to which 43% of respondents claimed that they had not been visiting brick-and-mortar shops. More than 50% of the respondents that claimed to visit physical stores said they preferred cashless transactions, contactless and digital payments. Again, more than 50% of respondents to the survey stated that they're used cards to pay for products they're ordering online instead of COD, while 65% said that they trust QR payments.
Those statistics are not surprising. This is where the potential is. More than 50% of respondents surveyed said that they would continue to pay with their cards and not COD even after COVID ends. This is important because despite the pandemic, considering how Pakistan is a cash-based country, COD remained the most widely used payment option even during the pandemic.