Let us get one thing straight. Journalists love ads, and that is especially true for print journalists. If you have ever been in a newsroom, you know that finding out there's a big colour ad on the front page for the next day means maybe getting your salary a few days early. The tension lifts a little and there is a moment of hope in an otherwise bleak profession. 
And while print journalism in Pakistan has been taking blow after blow for years now, somehow, because of the tight clamp on both television and the internet, newspapers and magazines are sometimes the only avenue for dissent. Which is why ever since the incumbent Pakistan Tehreek-e-Insaf (PTI)-led Imran Khan Administration has come in, its main way to curb print media has been withholding advertising money. 
And this is where there is a fatal flaw in the business model of print media. For the longest time, we have been dependent on ads given to us by the government – the very people we are supposed to hold accountable. And with censorship constantly growing, tugging at the purse strings was a brutal but effective method to get journalists and papers to toe the line. 
The fault here is somewhat on us. This business model was a ticking time bomb dependent on big name editors and publishers having personal relationships with politicians. Pakistan needed print media that people were paying for, something Profit, has tried to encourage in recent times. But this is not a story about the business acumen of mediahouse owners. It is about the government continuing to use advertising revenue to control narratives, but in a very different way. 
On November 13, 2020, the Pakistan Democratic Movement (PDM) held a rally at Minar-e-Pakistan in Lahore. The media coverage was predictable. Channels like ARY with pro-government editorial policies focused on proving there were very few people there and all of the channels censored speeches based on the names being taken by the PDM leaders. 

Article continues after this advertisement
Despite this, the rally was on the front page in the English newspapers for the next day – just a regular news cycle occurrence. However, instead of the rally, on Monday the front page of most Urdu newspapers was covered in advertisements touting the success of the government. The PDM rally was relegated to the second page. This is also not the first time governments have used advertising revenue, or the fact that the media is dependent on government ads, to control media narratives.
The point of ads
There are three kinds of advertisements that a newspaper can print. The first are classified ads, which means apartment listings, name changes, declarations, obituaries and other small personal space on the pages that people may want to use to announce or record news. Then there are commercial ads, these are part of marketing campaigns by banks, multinationals, builders and any other organization looking to sell products. The final kind are ads printed by the government to announce projects, spread awareness about something in the public (including simple Tender notices), or show off completed projects. 
Now, once again, here it is important to understand how newspapers operate financially. A company or the government buys ad space in a paper because they want as many eyes as possible to see the ad. Since people differ in their choice of ads, when a large marketing campaign is underway, the government buys ads in all the major newspapers. 
Papers keep their circulation numbers under tight wraps (a senior editor that is part of this media group is fond of saying 'never ask a newspaper editor their age, salary, and circulation numbers), which means it is difficult to know how effective the campaigns are.   
At a rally in Kasur on January 22, 2017, Imran Khan had accused then Prime Minister Nawaz Sharif of spending at least Rs12 billion on publicity campaigns from the national exchequer that could have been utilised for improving the health sector of the country. On March 12, 2018 he welcomed the Supreme Court of Pakistan's take on personal glorification of political leaders in government advertisements.  
"We welcome the CJ probe into adverts where [Shahbaz Sharif] was told to return the taxpayers' money he spent on personal publicity. Nowhere in the world is taxpayer money used so shamelessly for personal publicity as in Pakistan. No wonder people are reluctant to pay their taxes," he tweeted in reaction to the Supreme Court's decision.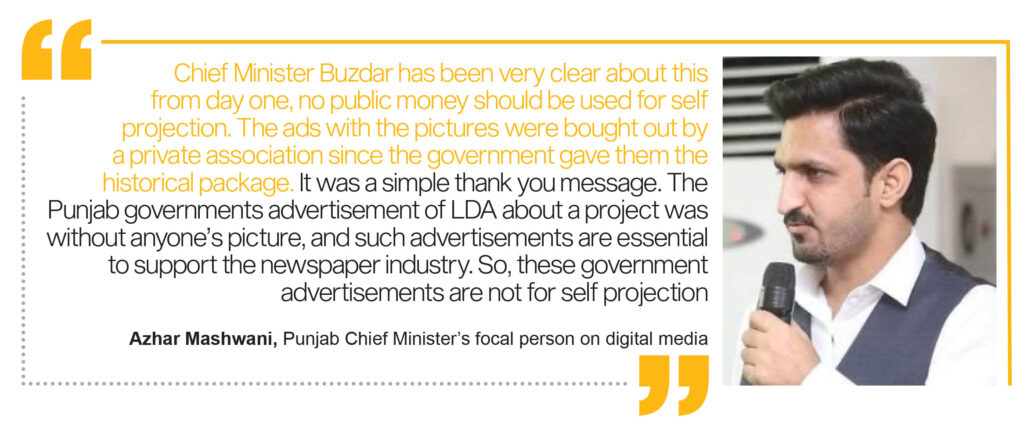 On August 29, 2018, in response to a question raised by PTI Senator Azam Khan Swati, the Senate was told that the PML-N government during its tenure from 2013 to 2017 had given advertisements worth Rs15.74 billion to print and electronic media.
Now, the problem is that while the PTI has spent less on advertising in the print media since coming to office, their numbers are through the roof. The Pakistan Muslim League Nawaz (PML-N)-led Nawaz Administration spent Rs15.74 billion on advertising in four years, which amounts to around nearly Rs4 billion a year.
By comparison, the Imran Khan Administration in its first nine months after coming to power from August 18, 2018 to May 31, 2019 had spent Rs 2,458 million and Rs137 million on print and electronic media respectively, according to data from the federal government's Press Information Department (PID). This puts their yearly spending around Rs 3.3 billion – nearly a billion less than the PML-N. 
However, because PID provides data erratically and not for the same things, there is another way to read and compare these numbers, which is that as the PML-N governed, their ad spend increased gradually with every year. Compared to the PTI's Rs3.3 billion in their first year in power, the PML-N government had spent Rs940 million and Rs386 million on print and electronic media respectively in the first nine months in power from June 5, 2013 till March 17, 2014. Similarly, the PPP government in its first nine months from March 25, 2008 till January 1, 2009 had spent Rs935 million on print media and none on electronic media.
So what is the problem? 
The PTI has had a number of large media campaigns since coming to power, such as the one they ran for their successes in the first 100 days in power. Now, while this spending is out of line with earlier claims, one could (without making an obvious U-turn joke), simply put this down to a change in policy. That is fair enough, maybe the PTI became wiser to the uses of media advertising. However, what is concerning is how the PTI uses this revenue and that they bestow it based on whose coverage the government likes. 
As mentioned earlier, the entire point is that if the government wants to advertise in the media, they have a duty to advertise everywhere. Not everyone reads the same newspaper or watches the same television channels, so to fairly get the message across to everyone (which is the intention of this kind of advertising), the government should be giving ads to everyone, even if they pay less to the papers and channels with smaller audiences. 
It is wrong to only give this money to media houses that curry favour with the government. The message that goes across this way is to either get on message or prepare to shut shop. 
Again, a big part of the problem here is the complacency of media houses, particularly newspapers, in being so dependent on government advertising money. Some government was going to exploit at some point or the other. And while it may not be illegal or even unfair from a business point of view, it still is not ethical.
It is then particularly cruel to give advertising revenue to newspapers already starved of this money in an attempt to steal the spotlight from other news events. Journalism as a business is crumbling, and short of philanthropists funding what is supposed to be the fourth pillar of state, the government in Pakistan will not be shy about tugging at the purse strings to make the media dance.
The media's aporia 
Another small lesson on the newspaper industry in Pakistan: nobody reads the English papers. And when we say that there is obviously a catch, because clearly this magazine is also a project of an English newspaper. What we mean is that very few people read English newspapers, and the majority of the consumption of written journalism is in Urdu – which means Jang, Express, Nawai Waqt, Dunya, and other papers. English newspapers are only important because they are read by the intelligentsia, who are influential and decision makers. 
Now, what happened after the PDM rally was an interesting tactic, and definitely a smart one. We have been talking about how the government has tried to control narratives and push papers in line by withholding ads, over here they have done so by buying ad space. Now, for the person reading the newspaper (those generous few old schoolers that still bother), turning over to page 2 to read about it. What does matter is the optics, and the government playing them to their advantage. 

It is the same reason that pictures of the Prime Minister relaxed, and "chilling" with his pet dogs on the morning of the rally were also sent by press officers to television channels and newspapers to print. Using ad revenue, the government is playing an image game as well as trying to reign in the narrative. This is also why Urdu newspapers were the ones given the ads on the day after the rally – so it would get to the general public and not the intelligentsia reading the English newspapers. 
"I really don't see what the problem is here. There was no picture of the Chief Minister or the Prime Minister in the ads, and they were in compliance with the rules set out by the Supreme Court," says journalist Ahsan Raza. "The ads in the Urdu papers that did have pictures were bought by the Association of Builders and Developers, which is a private association." 
"CM Buzdar never published any advertisements with his picture as he doesn't believe in self-projection. Besides, we print journalists should be the last to complain. Government advertisements help the newspaper, and I didn't see any similar voices raised when the PML-N government spent Rs17bn on such ads." 
This is where the contradiction is for the media. On one hand, it demands that it be given ads fairly and not based on favouritism. On the other, both when the government gives and does not give them ads, the integrity and professionalism of the industry is tested. And while most journalists do have ideals, they also have families, and with space in the sector decreasing rapidly, things are only bound to get worse. One needs to keep this in mind when considering any action of the government.     
Although the front page advertisements of Urdu newspapers which carried pictures of the Prime Minister and Chief Minister appears to be from that private body of builders mentioned earlier, keeping in mind how things unfold and work in Pakistan and timing of these advertisements in different newspapers raises some serious questions and weighs in favour of the opposition, which believes that placing these advertisements on behalf of private parties is just mere eyewash from the government to save its skin. 
But the other advertisements without the picture are from the government, despite the fact that Imran Khan used to criticise the PML-N and PPP governments for placing such government advertisements as well when he was in the opposition.   
Speaking to Profit, PML-N's Member Punjab assembly Hina Pervez Butt, who is also a close aide of PML-N Vice President Maryam Nawaz, says she was not at all surprised to see pictures of the Prime Minister and Punjab Chief Minister pasted all over newspaper front pages and hoardings through the length and breadth of Lahore. After all, which one of his old promises has Imran Khan not gone back on? 
"Try to remember how he used to attack former PM Nawaz Sharif and former Punjab CM Shahbaz Sharif whenever advertisements with their picture appeared in newspapers. He used to ask if it was their father's that they were spending on what he called "self promotion. Now he is doing the same thing, except his attempts are more malicious," says Butt. "This is nothing but an attempt by a government under pressure from the PDM to project a good image and try to block the PDM out of the media discourse." 

"In 2017, Imran Khan claimed that Nawaz Sharif spent R12 billion on "publicity campaigns". Now, we are going to demand that the PTI government disclose how much funds it utilised to deceive the people of Pakistan with its ads which were, after all, meant for nothing more than cheap publicity when the government was so obviously forced onto the back foot."
The concern are voiced by other opposition voices from different parties within the PDM. Agreeing with Butt, the Pakistan Peoples Party's (PPP) Sharmila Farooqi tells Profit that squandering public money to block out PDM's jalsa coverage by buying off newspapers front and back pages to project a failed Punjab government may be a smart move, but definitely one that speaks volumes about PTI's government dishonesty, cheating and fooling the people of Pakistan as they have done in every aspect of governance. 
The government in response to these criticisms has had a simple defence, that they were not the ones to buy the ad space in the paper with the faces of the Prime Minister and Chief Minister, and that no public money was spent on this. "CM Buzdar has been very clear about this from day one, no public money should be used for self projection," says Azhar Mashwani, the CM's focal person on digital media. 
"The ads with the pictures were bought out by a private association since the government gave them the historical package. It was a simple thank you message. The Punjab governments advertisement of LDA about a project was without anyone's picture, and such advertisements are essential to support the newspaper industry. So, these government advertisements are not for self projection." 
"Even if some of our supporters or officials place hoardings or boards on the roads having the pictures of the leadership and praising them we take strict action against it and ask them not to repeat this again," he says. 
Although, Mashwani dismisses the impression that those front page advertisements were from the government, some others think that this is just a way around. 
"These businesses happily give advertisements for more favours and business gains whenever the government asks or requests them to place such advertisements on a particular day," one of the sources from the media buying house who wishes not to be named says. "The timing of the advertisements clearly depicts that this is the case as well."