After spending the better part of an hour cringing hard at Ishaq Dar for failing to confidently answer questions fired by Stephen Sackur on HardTalk, scores of Pakistanis took to Twitter to taunt the former finance minister. Of the memes shared about the trainwreck of an interview was the conspicuous lack of media training or preparation on the part of Dar. 
Publicists around the world spend hours and even days preparing their clients and executives for interviews by going over talking points, expected worst case scenario questions, and possible accusations or angles. The ostentatious lack of preparation of any kind left social media forum commentators wondering why Dar did not think to prepare for the programme, which has a reputation for aggressive cross questioning.
Members of Pakistan Brand Forum and similar marketing community groups were quick to point out just how few C-suite executives even know about media training, interview preparation, and similar services, defaulting to either arrogance in assuming they can verbally tackle any interviewer or being too proud to go through the session without exploding at the trainer over disobedience, which is often just practice cross questioning.
It begs the question, does the public relations industry in Pakistan need to invest in its own public relations? In this Profit exclusive, we spoke to ten seasoned practitioners of public relations and public affairs to understand how the perception shaping practice is adjudged, where the knowledge gaps are, and the root causes to determine a solution. 
What is public relations?
The strategic communication process that builds mutually beneficial relationships between organizations and their stakeholders is public relations. Speaking to Profit, executives working for public relations agencies shared that some of their prospective clients think that publicists spend the day telling journalists what to write about, writing new tickers for TV channels, or distributing free samples at large gatherings. As evident from a course at the Centre for Continuing Education Studies at LUMS called Public Relations and Event Planning, some respondents shared that their prospective clients tend to equate PR with event planning.
Article continues after this advertisement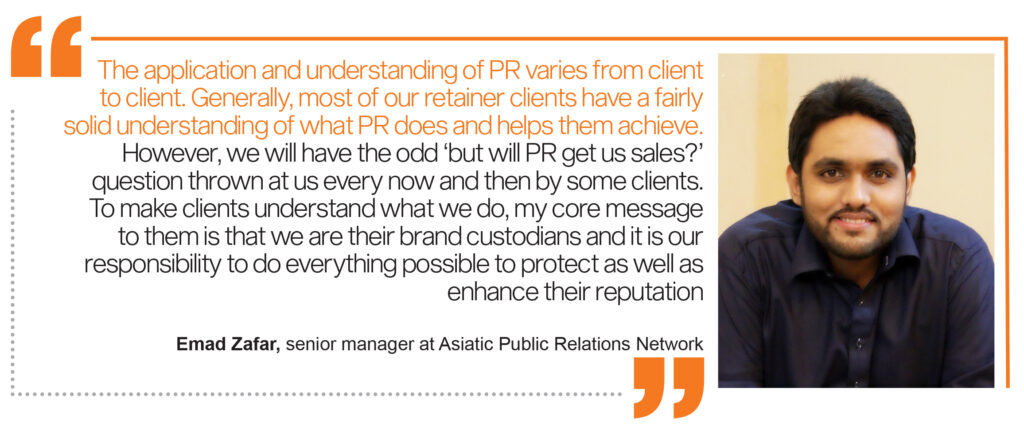 "The application and understanding of PR varies from client to client," said Emad Zafar, a senior manager of client services at Asiatic Public Relations Network. "Generally, most of our retainer clients have a fairly solid understanding of what PR does and helps them achieve. However, we will have the odd 'but will PR get us sales?' question thrown at us every now and then by some clients. To make clients understand what we do, my core message to them is that we are their brand custodians and it is our responsibility to do everything possible to protect as well as enhance their reputation."
Woodpecker Communications founder Ruby Gul said that some clients think they can manage PR by themselves, while others think it's a developing profession to be worked through a marketing department. This consolidation of functional roles is rampant, with a plethora of examples wherein internal communications is handed off the human resource managers instead of communications teams or placing recruitment in the remit of the administration department. Granted, these may be primarily done from a cost cutting perspective and have their roots in a lack of understanding of the skills needed for each function.
"A common stereotype is that public relations are meeting exciting and interesting people, organizing parties, and generally having fun days at work," said Gul. "Media has also played a crucial role in creating the misconception such as Sex and the City where the sexiest character Samantha Jones owns a PR agency, and she talks about her job as a way to meet hot men."
The market leaders
Speaking to public relations directors across ten leading conglomerates in Pakistan, Profit sought to understand the rank by which agencies would be placed with unaided brand recall. Across the responses, the top eleven were
Corporate & Marketing Communications (CMC), 

Xenith Public Relations,

Asiatic Public Relations Network,

Syntax Communications,

Lotus Client Management & Public Relations,

Latitude,

Walnut Communications, 

BodyBeat Group,

Catwalk PR & Event Management,

Talking Point,

Brainchild Communications Pakistan
According to the Securities & Exchange Commission of Pakistan company database, the top five communications agencies named are over a decade old with CMC operating since 1990, Xenith since 1999, Asiatic since 1992, Syntax since 2004, and Lotus since 2007.

Qualitative statements on the top five revealed a track record of effective public relations campaigns and public affairs initiatives including lobbying, crafting appeals to public interest, crisis management, B2B marketing consultation, government relations, and advocacy. Respondents endorsing the above also noted instances of successful negative news suppression, mediating conflicts, deescalating employee strikes, and more.
In contrast, respondents shared that Walnut Communications, BodyBeat Group, Catwalk PR & Event Management, Talking Point, and Brainchild Communications Pakistan has only demonstrated an ability to help businesses operating in the B2C space with little proof to suggest otherwise. Speaking with Profit, representatives of Walnut Communications, BodyBeat Group, and Brainchild Communications Pakistan stated that they had the skillsets, reach, and influence to help all types of companies with even B2B goals and stakeholders.
Misconceptions at large
As a juror for the 2020 Epica Awards, this scribe saw plenty of case studies where public relations was applied to meet intrinsic and extrinsic business and non-profit goals within the B2C and B2B space. Across other tactical categories, the overlap between public relations techniques and other facets of marketing strategy were clear. Between the categories of branding and performance based marketing activities, public relations clearly falls into the former category, having an impact on perception which impacts inelastic demand.
Speaking to Profit, publicists shared that public relations is believed to be a driver of sales, a tactic for overnight results through one time audience engagement, and a function of inviting the media or celebrities to events. In other cases, common misconceptions included that PR agencies just send out press releases, a means to free publicity, and kill bad news.
Ayesha Khatib, head of marketing communications for The Citizens Foundation, told Profit that expecting a PR agency to completely kill the negative news in any crisis situation is unfair. She said that in her experience pertaining to crisis communications, PR agencies do a poor-quality job in guiding their clients on how to choose an appropriate response to a negative news and deliver it transparently and empathetically to all of its relevant stakeholders. 

"[A misconception about PR is that] that there is no strategic depth and it is simply a way of paying bloggers and influencers to say good things about clients," said Selina Rashid, CEO of Lotus Client Management & Public Relations. "To be fair, I don't quite blame newer agencies and clients for this misconception as over the years, most PR professionals have quite literally been presenting the face of PR simply as this. PR is in fact, I believe, the art and science of strategic thinking and strategic execution."
The root cause of misconceptions
Peers of Khatib that spoke to Profit – department leaders that are the clients of PR agencies – shared that the public relations space in Pakistan is saturated with just three skills: media outreach, media relations, and event management, adding that these three tasks are commonly cited in proposals. So it's no wonder that untrained executives would conclude that PR is nothing more than news amplification, press release distribution, and event management.
Khatib said that PR agencies need to polish skills across strategic planning, executive writing, op-ed writing, an understanding of the international practices, crisis communications, and performance metrics. She added that leaders of PR agencies need to add training around effective planning, social media management, and media training for the client. 
Circling back to the disastrous interview with Dar, decision makers told Profit that only Xenith Public Relations, Asiatic Public Relations Network, Syntax Communications, and Lotus Client Management & Public Relations deliver effective media training programs, with all four considered the best in the market.
"PR is not a one-off activity but a consistent effort. It cannot achieve the results it needs to with a few tactical moves," said Khatib. "Therefore, it is important for an organization to have a long-term PR strategy and all its tactical efforts can be chosen based on its goals and audiences it wants to reach."

Practitioners also told Profit that the lack of unity among PR agencies and adherence to best practices means that promises are made against absurd terms and conditions set by an unqualified client, resulting in either poor performance or the creation of a new norm.
"There have been multiple instances when we have been requested to make sure that a certain news story does not get published," said Zafar. "Unless we have a magic wand that tells us what newspapers are going to publish the next day, I don't understand how we are expected to 'stop' a story. We are also sometimes asked to have a certain news story taken down and that is not the way we do PR. Our approach and advice always is to have the [stance, view point, or clarification of the company] published rather than have the news story taken down altogether."
Profit and its counterparts in the business journalism space have also been at the receiving end of news takedown or news suppression requests, often followed up by a monetary offer, followed by a threat of being blacklisted by the industry. It is ironic that PR agencies are willing to unite to blacklist a publication for writing the truth that upsets a client but the same PR agencies are not willing to unite in order to stand up to absurd client requests.
"Recently, in two separate cases, two large  multinational companies asked us at Latitude if this could be done," said Omar Jamil, CEO of Latitude. "Our response is that the important thing is to 'get ahead of the story', and to ensure that the client's perspective and narrative is included. Other times, clients will expect to have their press releases printed in the following day's print editions, often while sharing the release far past print deadlines."
Jamil told Profit that when the chemistry of the client-agency relationship is good and the agency-client teams work together seamlessly as one, adding that he has found that successes and 'failures' are shared equally and that the former tends to exceed the latter.
"Perhaps not absurd but generally treating publicists as personal assistants and having PR team members run around ordering food, coffees etc," said Rashid. "Hate mongering [or] promoting damaging narratives is often another absurd practise masquerading as PR."
Paths to reeducation
Zafar told Profit that the task of educating marketing and branding professionals about what PR is and what outcomes it creates is the biggest challenge for the industry. He recommends that agencies take the time to clearly spell out scope of work and expected outcomes from PR at the start of a partnership, adding that this is the time to flesh out basic concepts, importance of PR and how the outcomes of PR initiatives will be measured and evaluated.
"If the client's demands and expectations are extremely high, [we] educate them about how PR is different from advertising or other marketing tactics," said Hareem Deeba, co-founder of Warlock Communications. "We then present and explain what services we can offer and how each service offered involves in-depth study and a certain approach to build their image and credibility in front of their audiences. Our plans for our clients are also meticulously designed to give them a clear picture of what will be the first and the last step to achieve set PR goals within a certain time frame."

Rashid said that the best path to educating client-side decision makers is when they work with PR agencies, creating two-way knowledge exchange. She said that 50% of success in PR starts with having clients understand where the agency is coming from and trusting the suggested direction. She said the remainder 50% lies with execution against this understanding. She added that the creation of industry benchmarks through conferences, mentoring, and internships should also be considered.
"As a company, Walnut Communications is lucky to have successful PR initiatives that have just made our lives easier in explaining the ROI of PR," said Samra Muslim, founder of Walnut Communications. "Be it the buzz from the record breaking launch of CakeUp by EBM a few years ago, or debates around the love it or hate it Zee 5 web series Churails that released in 2020, it's the noise of our work that shows what PR brings to the table for the client."
Khatib said that as part of a nonprofit organization, she believes that PR is the most effective and cost-efficient way of promoting a cause. 
"Advertising is an expensive option where your pay to buy media, however, since PR is mostly built on good relationships with journalists, public figures and social media influencers you get good publicity without requiring hefty budgets," she said. "Your message has more credibility because it comes from independent media outlets through journalists or influencers or public figures who understand and support your work."
Evolution and measurement
All respondents spoke to the shift created in perception management and crisis communications amid the rise of social media and private community groups, including the explosion of digital publishers of all shapes and sizes.
"Social media has been a game changer," said Hasan Rizvi, chief operating officer of BodyBeat Group. "Earlier media presences meant being seen in major publications or channels, now brands prioritise their presence in the digital landscape. Relevant hash-tags, post impressions and engaging content are the real parameters to measure the PR success. The virtual world has taken over and during the pandemic this medium only got stronger."
As reported by Profit, advertisers across Pakistan shifted significant portions of their branding budgets online and within the scope of PR the tasks lined up with crisis communications to address product shortages in key zones across the country. PR agency leaders told Profit that influencers were the go-to-source for trusted information, promoting agencies to partner with them at an unprecedented level.

"When I had entered the PR industry as an intern, digital PR was limited to online appearances on websites of publishers and a handful of bloggers," said Deeba. "I have witnessed the new platforms and tools entering the market, blogging becoming an essential tool of communications, influencers becoming so big that we now have teams working to engage with them on an ongoing basis, and social media platforms once used for fun and interaction with family and friends turning into marketing hubs for businesses."
Practitioners told Profit that once 10% of the country was on social media and advertisers began paying attention to social networks as a means of rectifying customer complaints, so too was PR thrown into the mix under the scope of crisis communication. Rashid told Profit that the era of talking at people had ended.
"For starters, in 2007 when Lotus was born, there was no concept of long term personal or lifestyle PR," she said. "Any PR that existed was at the corporate level and more often than not, this was through paid advertorials masquerading as corporate PR. Initially, for approximately the first five years, my work would almost always be confused with that of an event manager."
She reflected that audiences are much more cognisant of what they are consuming as paid or advertorial content as opposed to content shared for its own integrity or value. She added that people are also much more interested in stories based on emotion as opposed to utility or function, adding that shareable content is far more interactive, seeks engagement, and dialogue. 
"People are much more focused on the quality of content they put out," she said. "The subtle art of storytelling has gained far more traction as opposed to big native articles with a client plastered all over it. However, the media and other such stakeholders have also evolved and changed the nature of the game, moving to a model where often finances dictate the kind of content and stories they are willing to carry as opposed to story telling for the sake of engagement."
She admits that the landscape is therefore trickier with boundaries constantly evolving but it is equally exciting in that it's a new era  for PR and storytelling, adding that PR cannot operate on the principles of a world that no longer exists.
"PR has fundamentally evolved during the last decade or so," said Khatib. "From traditional offline platforms it has mainly moved to digital channels because that's where the audiences are now. From one-way broadcasting it has transitioned into two-way engagement where a company is expected to have conversations with its audiences to actively manage its brand image."
But has measurement also evolved?
"[PR measurement is] about the number of followers, engagement on posts, likes and shares now," said Rizvi. "Earlier the only involvement a celebrity has with a brand was through a TVC or prints commercial. The brands are in their homes, in their rooms, with them all the time. Micro influencers are having more impact; their endorsements have proven to be miraculous. People believe them more and can relate them more."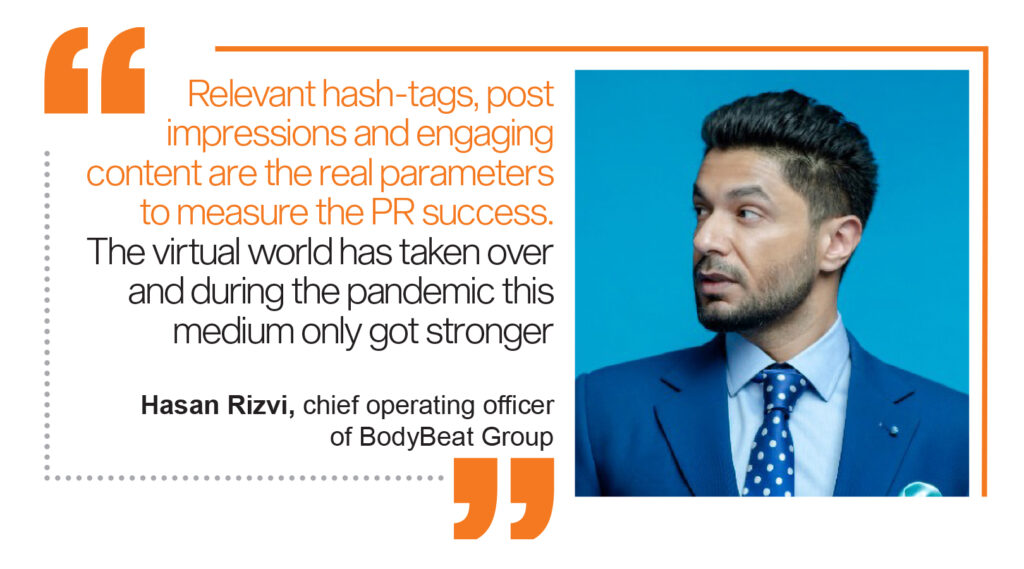 Operating since 2009, the BodyBeat Group covers the entire vertical integration within the influencer and celebrity space, with a micro-influencer program called Digerati, a content solution for electronic and digital media called C-Virus, a public relations agency, and a studio for grooming up & coming talent in all forms of performance arts. Deeba and Khatib, in their statements to Profit, agreed with the measurement approach practiced by the BodyBeat Group while Zafar and Muslim spoke about the need for measurement tools across qual and quant.
"[PR in Pakistan] is still largely using the advertising value equivalency (AVE) formula to determine returns on investment," said Rashid. "While that may satisfy the quantitative value of PR, it certainly does no favours for PR in it's true glory, which is largely qualitative. Measuring the quality of strategic thought and its qualitative impact remains under explored which could be because it is also largely still undervalued when compared to a clients desire for quantification of work."
Jamil told Profit that In Pakistan, the AVE method rules supreme along as the primary metric for measurement and evaluation, along with press clippings.
"Elsewhere in the world, these have evolved to focus more on engagement and sentiment analysis," he said. "However, this is hard when one does not have access to accurate circulation and readership figures."
In a paper titled 'Advertising value equivalence—PR's orphan metric' public relations professor Tom Watson of Bournemouth University states that despite extensive and persistent criticism by industry leaders, prominent academics, the AVE formula lives on as a means of expressing the economic and financial value of public relations activity.
"Perhaps this signifies an immature profession, which is unconfident in its practices," he said. "It may also demonstrate that the universe of public relations has for a long time been separated into two divergent paths: publicity and PR – the short-termist tactical approach that relies on intuition, past experience and crude metrics, which is the "symbolic, interpretivist" approach and communication management or organisational communication which employs social science-led planning, research and evaluation methods in search of mutual understanding."