In October last year, a bakery named Layers opened in Lahore's DHA area without much aplomb. As any store that has not been marketed with great zeal, the initial days saw the odd customer come in every now and then and it was pretty much a slow beginning. 
But as people began visiting Layers, they realised that the desserts were good, but more importantly cheap. In a matter of days, the unnervingly small grapevine of Lahori DHA-Model Town-Gulberg elite was buzzing, and within weeks Layers had people lining up outside both their DHA and Gulberg outlet. Since then, not a single day has passed by that there hasn't been a line outside the dessert store. And ask anyone in the line what they are there for, and the Lotus cake will be on the top of the list. 
Lotus is one of the latest food crazes in Pakistan. The way that it works is that a product not manufactured or available in Pakistan begins to be imported here, people discover it, love it both for its novelty and because it is good, and then proceed to make desserts with it. Now, even if the product is considered mainstream outside of Pakistan, because it is imported it becomes a 'luxury' product and is sold at ridiculous prices. As a result, the desserts that spring for it are expensive too. The same thing happened to Nutella, then it happened to Oreos, and for the last year and a half, it is happening to the Lotus biscuit, and it will happen to the next product that is imported to Pakistan. That is, unless local versions pick up their game. 
It is important to ask the question, what does Layers do so well for people to be queuing up for them? They are not the first ones to figure out that Lotus biscuits go well in desserts. They have lines in front of them waiting to buy their products because their prices are cheap. Now, while we do not know what Layers' business strategy is with margins lower than the market convention, we can wonder how other dessert businesses could compete. One way is to use local alternatives, except the local alternatives do not present themselves as competitive or even in the same category as their imported inspirations. 

Lotus, for example, is essentially the same thing as the Pakistani biscuit called Candi produced by Lu. Lotus has obviously been around for much longer, but was never imported to Pakistan. But because researchers at Lu knew the biscuits were popular, they simply produced a similar product and put it on the market. However, since it is considered a 'cheap' version of Lotus, a Candi Cake will not sell nearly as well as a Lotu Cake – unless Candi does something about its image. 
Article continues after this advertisement
The truth is, if a person that had never had a Candi biscuit or a Lotus biscuit was blindfolded and asked to taste each biscuit, their preference could go either way. That there is potential for Candi, and all local versions of imported products. 
The Lotus fad
If you have a sweet tooth, you probably remember the time every dessert had Nutella in it (they went as far to try Nutella biryani too), then came Oreo, and now apparently it is Lotus' moment in the sun. Now, Nutella and Orea both had alternatives in Pakistan – there was Mitchells Chocolate Spread for Nutella and Rite biscuits for Oreos. The only difference is that these were not exactly close enough substitutes, and there was a marked difference in quality between the products.
The gap between Lotus and Candi, however, is much, much, slimmer. While both biscuits have a roughly similar taste, the texture remains a major distinguishing factor which primarily depends on taste buds and preferences. If we were to differentiate, Candi has a sweeter taste, with coarser grains and more crunch and texture, especially considering the sugar sprinkled on the biscuits. Lotus, on the other hand is not as sweet as Candi, has finer grains, and has a smoother shape.
The craze with the biscuits, however, hasn't stopped at just the biscuits. In fact, consumers are using associated products such as biscoff spread packaged and made by Lotus too. This begs only one question: why didn't Candi think of it first? Had Candi been proactive with its strategy, we would have been calling it the Candi craze (which in hindsight definitely sounds catchier). It is confusing though, if this is a question of marketing or production. In the roughest of measurements, a general survey of people that were children in the 90s and 2000s shows that not only do people that eat Candi feel it is in fact very similar to Lotus, but they recall the biscuit being wildly popular in their childhoods.
How did the Lotus craze enter the dining sphere?
Essentially, Thyme, one of the fancier restaurants in Karachi, used Lotus biscoff spread in order to make a cheesecake. It called it the Lotus cheesecake. Other restaurants were quick to follow with Lotus renditions of other desserts. And as mentioned earlier, from here the craze spread to Lahore and other places and Lotus desserts became the new big thing. It no longer mattered what it was, if you could put a Lotus spin on it, it sold like hot cakes. Cheesecake, cake, dessert jars, pancakes, French toast, cupcakes, tres leches, frosting, popsicles, you name it!
"We use both Candi and Lotus biscuits, among other biscuits for desserts depending on the recipe. However, anything that is called a Lotus dessert only has Lotus biscuits," explains Mahwish Aziz, the food creator at Sugaries by Mahwish. "Candi and Lotus are similar in taste, however Candi is sweeter. You can't fool clients nor should you."

Lotus spread and cookies, however, are expensive inputs for these desserts. "The Lotus spread and Nutella spread are traded like commodities. The prices are subject to demand and supply. When there's a shortage the prices rise significantly so lately I've bought the spread for various prices between 1100- 1500," she explains. However, while Lotus is expensive, consumers are willing to pay for it. Despite that, businesses are struggling with passing on prices to consumers.
"Small businesses like mine struggle when the prices of our inputs such as Lotus biscuits, spread, and Nutella increases. You can't charge clients Rs500 for a Lotus brownie even though the spread now costs approximately Rs1,300 for 400 grams," says Mahwish.
So if Lotus is expensive, why isn't Candi mainstream?
"Local brands like Candi had the potential to become a regular name in the world of desserts but lazy brand management results in them not extending to restaurant menus. The only exception to this is Knorr but that is also restricted to the kitchen front," says Ammar Habib Khan, an economist that also runs major food groups in the country. "We shouldn't stop at the question why Candi isn't as popular as Lotus, we should think outside the wrapper. Why can't I get a chooran chatni dessert?!"
That is exactly the dilemma. The problem at this point is not that Pakistani food and snacks lack taste. Chili milli, chooran chatni, etc. are all different tasting snacks that are unique to our country. They have the potential to become famous snacks from Pakistan around the world. The low hanging fruit at this point would be to come up with creative desserts or related items such as the Lotus spread is for Lotus.
The problem lies with the fact that brands are not thinking beyond their product. They are in the confines of their own wrapper. Mahwish also agrees about brands needing to be more innovative. "I wish Candi experimented with their biscuit too and launched a spread or other products like Candi bites," she says. To their credit, while they have not made side products themselves, they have tried to partner with a number of bakers in Pakistan and asked them to prepare their own desserts using the biscuit.
Deja by Khadija is one of them. She uses her own Instagram platform and Candi's platform to teach consumers how to make cookie butter and other fairly simple desserts using the biscuit. What this means is that the brand is encouraging users to be creative and think of Candi as more than just a biscuit to eat with tea or stuff in your child's lunch box. "Candi is popular, just not popular the way Lotus is popular. Both, however, have the same taste," says Khadija Shafqat.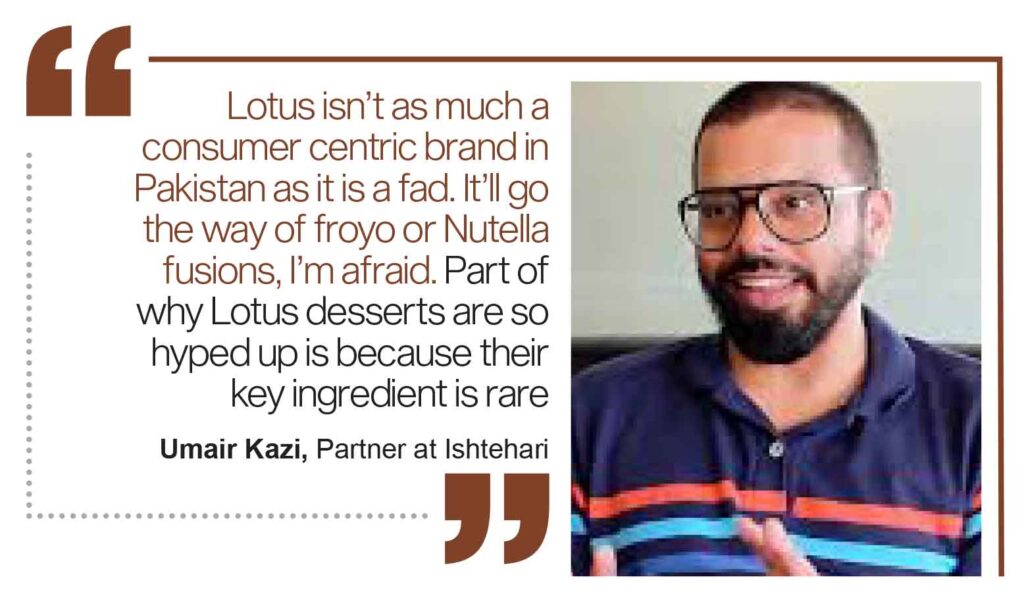 She further adds that considering the popularity of cookie butter and the fact that Candi itself encourages users to make it, they should launch their own variant of it. "Lotus as a biscuit is not as popular as it is as a spread. My suggestion to Candi would be to launch their own cookie butter spread."
Will the Lotus trend stay long enough for Candi to catch up?
Speaking to Profit, Umair Kazi, Partner at Ishtehari comments, "Lotus isn't as much a consumer centric brand in Pakistan as it is a fad. It'll go the way of froyo or Nutella fusions, I'm afraid. Part of why Lotus desserts are so hyped up is because their key ingredient is rare."
However, Kazi feels that Candi as a brand is resilient. "Their team deserves praise for trying different and unconvention stuff over the years, but a lot of it seems watered down (to an outsider, at least). The brand personality could come out a little stronger, I'd love for Candi to be the antihero of biscuits."
The likelihood of that is slim considering the fact that the brand is trailing behind on the craze and not actually making its mark as a substitute for the product. Instead its media campaign is vastly different and surrounds friendship. 
Moreover, it is likely that it is difficult for brands such as Candi to think outside the wrapper due to the stifling corporate bureaucracy that results in delay with approvals and old school marketing tactics. 
Profit reached out to Candi's brand manager. The response has not been sent in on time due to delay with regional approvals.