This is a story about rich people and their rich people problems. And the premise is that the rich are not used to getting fleeced out of their personal money, and when that does happen, usually it is at the hands of another very rich person. Today's instance is about luxury cars, and more specifically, how in the world the CEO of Porsche Pakistan pinched Rs800 million from some of the most rich and influential people in the country. 
To understand how all these things happened, we must first have an idea of how upper-class life is structured. It is a sheltered world in which you rarely have to deal with people below your pay-grade, and end up socialising, giving and receiving favours all while flitting between the same familiar faces in the same crowds as always. One of the faces amongst this crowd is Syed Abuzar Bokhari, the CEO in question that has left his customers stranded without their money. 
You see, if you're filthy rich in Pakistan, and you want to buy a car, you aren't going to be walking into a local Suzuki or Toyota dealership or browsing ads for cars on Pakwheels. You'll be going to a high-end, luxury, car dealership with a reference from a friend. And when you're going in expecting the best, and can see yourself surrounded by opulence in these dealerships, the last thing on your mind is fraud.
The situation is simple: Syed Abuzar Bokhari took partial prepayments for cars that were booked for deliveries that never got delivered to customers. And while this story is very much about what happened at Porsche Pakistan, it is more so a story of how the business model of selling luxury cars to customers as authorised importers or authorised dealers has always been somewhat flawed, and customers always run the risk of being defrauded. 
Pakistan and cars
In 1897, the first car ran on an Indian road, and for the next three decades, cars would remain a spectacle seen rarely. They were driven either by the ruling classes, or industrialists, Nawabs, and politicians that could afford to have them imported. 
Article continues after this advertisement
The first car assembly line of the subcontinent was not set up until 1942, when Walchand Hirachand started Premier Automobiles Ltd in association with Chrysler from the United States. The first car in India would not be assembled until just a year before partition in 1946, when Premier kicked off the automobile revolution in India by assembling De Soto and Plymouth cars.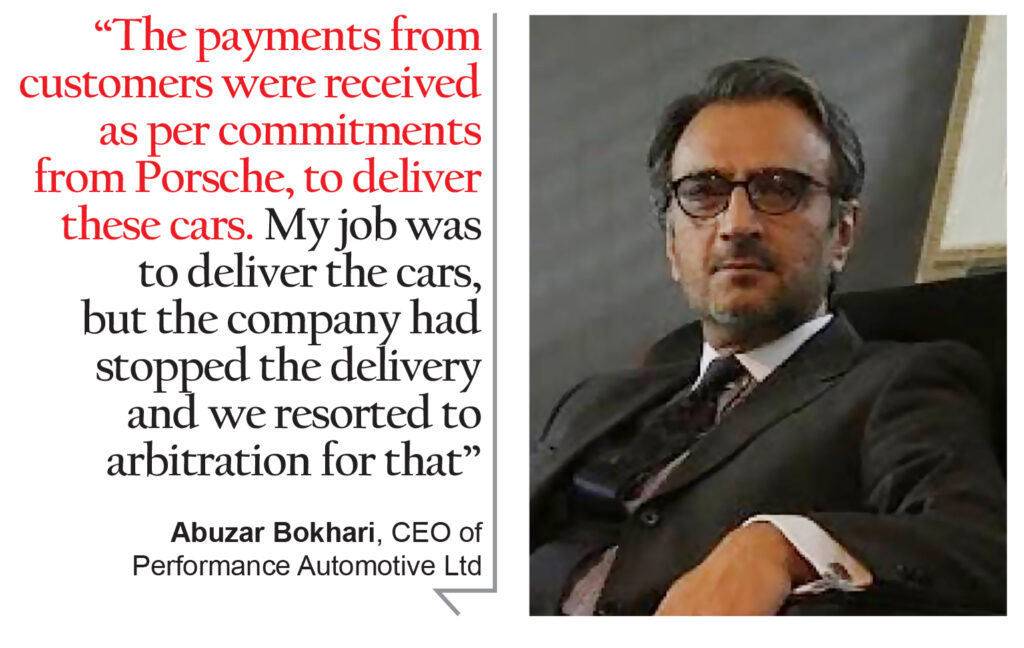 Over the half century after partition, India would see its automotive industry boom. Today, it competes with Germany as one of the top five automobile manufacturers in the world. And right before the turn of the century, India would manage to make its first car built from scratch in India – the Tata Indica – in 1998. In 1994, luxury car company Mercedes entered India and by 2009 had set up an assembly line spread over 100 acres in Chakan near Pune. India's adoption and ownership of the automotive industry has been an inspiring story, and one that even luxury car brands like Mercedes and BMW have not been able to ignore. In Pakistan, however, the story has been painfully different.
Pakistan managed to produce its first vehicle as early as 1953 with the help of General Motors. Vauxhall cars, trucks, buses, were all being assembled in the country's first assembly plant in Karachi in the 1950s. But since the 1950s, assembly lines have been as far as Pakistan has gotten where cars are involved. The closest Pakistan has come was when the Atlas group struck a deal with the then still relatively new Honda to begin manufacturing motorcycles in Pakistan as early as 1962. 
In fact, it was this early success of the Atlas group to popularise Honda in Pakistan that resulted in the trifecta of Japanese car manufacturers that dominate Pakistan's car market even today. After going through nationalisation in the 1970s under Zulfiar Ali Bhutto followed by deregulation in the 1980s and 1990s, the 'Big Three' companies – Honda, Toyota, and Suzuki – became mainstays in Pakistan. Despite the hold that these companies have over the Pakistani middle-class which considers them sensible buys with good resale value, the Pakistani imagination was captured not by Japanese, but by German cars. 
Sleek Mercedes, BMWs, and Porsches are rare yet breathtaking sights that continue to dazzle to this today, even if the sightings have become less rare. However, German companies coming here even to assemble has been out of the question. But because of the allure of these vehicles, there has been a steady demand for these cars to be imported. Essentially since the birth of Pakistan, when Jinnah used to travel in his personal Rolls Royce, the rich and powerful have demanded luxury, and the demand has been met by imports. 
This demand has gone through stages. Initially, most of the imports were by the government that used these vehicles as state cars meant to come with public office, not for private ownership. Even since before partition, Nawabs and industrialists had been importing these cars because there were no cars being locally assembled. But during the 1970s and 1980s, when Japanese cars were on their way to general popularity, it became harder and harder to find luxury German cars. The manufacturers were now rejecting import applications from single customers, and German cars became harder and harder to acquire. That is where we hear strange stories of people buying smuggled Mercs with bullet holes in the windscreens, and having to go through a dozen middle men to walk away with the car and still not be sure if you legally own it or not. Eventually, however, people caught on to the business opportunity that this presented, and thus the authorized dealership was born. An authorised dealer is essentially a company that is given permission to import cars from a certain company. They do not represent that brand, and are simply acting as a facilitator in getting the car imported.
Take, for example, BMW. In January 2004, according to a Pakwheels article, the Dewan Group got the rights to BMW in Pakistan. Dewan Farooq, in particular, held the BMW venture here, the same group who assembled and sold Hyundai vehicles through Pakistan's most advanced automobile assembling plant, as reported by multiple sources of the automotive industry. However, BMW wasn't assembled here, rather it was imported to Pakistan. So for all intents and purposes, the Dewan group was acting as a middle man to help facilitate the transaction and nothing else. While this may sound better than how people got cars like these back in the1970s and 1980s, there are still serious flaws in the system, as has been proven with the Porsche saga. 
The Porsche fiasco 
Back in early 2019, when Profit had profiled Porsche Pakistan, rumours had already started surfacing that Porsche Pakistan was getting late on deliveries to customers. It would only later turn out that a full blown case of fraud would be reported, in which the CEO of Porsche Pakistan, Syed Abuzar Bokhari, would be accused of running away with Rs800 million of customers' money for cars that they never received. 
That amount of money is no joke, and to run away with it using the name of one of the most reputable automotive companies in the world and taking the money from the most wealthy and well connected people in Pakistan is even more of a head turner. How did this happen, or more importantly, what exactly happened? Let us begin with the story of Porsche Pakistan.
If you are trying to get a Porsche car into Pakistan, you have two options: you can reach out directly to Porsche (pronounced paw·shuh or por.shuh) at their head office in Stuttgart, Germany; the Stuttgart-headquartered Porsche AG is responsible for the actual production and manufacturing of Porsche automobile line, or you can go to an authorised importer that will book the car of your choice and have it delivered to Pakistan for you.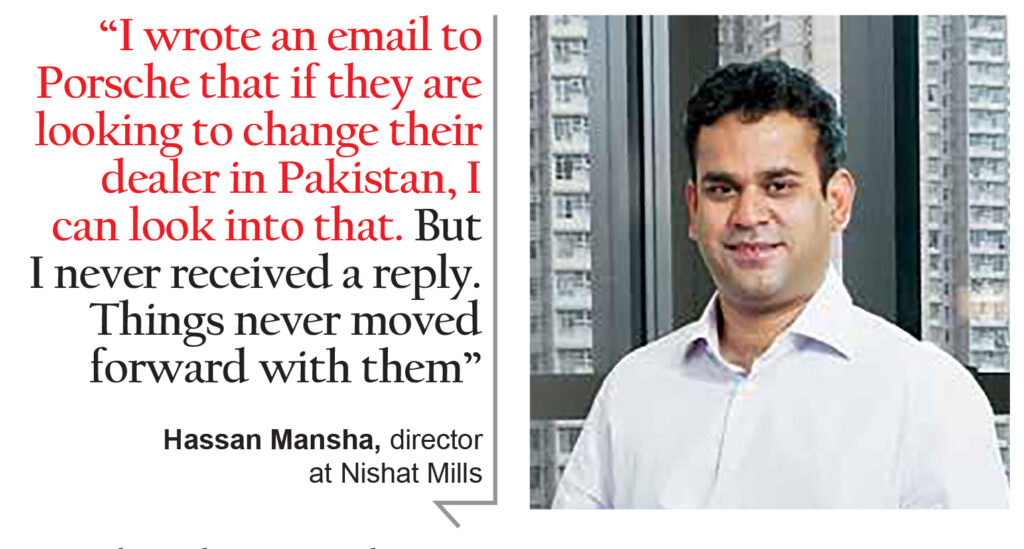 In the case of Porsche at least, if you go to Porsche AG directly, they will straight out reject your request to import directly unless you are of significance to them. They only want to sell their cars and deal with customers that are worth it to them. That is why they appoint an official importer in countries like Pakistan that can do this grunt work for them. 
In 2008, Performance Automotive Ltd. (PAL), headed by CEO Syed Abuzar Bokhari, was set-up and appointed as this authorised importer for Pakistan. But there was a catch, the company was appointed as an importer for Porsche Middle East (PME), not Porsche AG, thus creating the first hurdle. The second catch was that PAL was appointed through a letter of intent (LOI). 
The way the business works is that you walk into the dealership of the designated importer, pick a car, pay an up-front partial payment, the importer sends out your order, it is manufactured, and then you get your car in a few months and pay the rest then. So there was nothing unusual about Syed Abuzar Bokhari accepting these down payments. The problem arose when the incumbent government came to power and there were some regulatory changes in line with FATF requirements that tightened rules for foreign exchange payments.
This is the line that Bokhari has been maddeningly pushing in the media. The problem? If this was indeed the case, how is it that other luxury car importers in Pakistan have managed the same problem with the SBP much better? It could be possible that companies like Mercedes, BMW, and Range Rover are simply better to their importers, but that argument sounds thin. 
"We tried explaining to Porsche that our customers are influential and resort to court cases very quickly. However, there was no convincing them, which was frustrating because it was only two payments ( 88,000 euro payment and a $60,000 payment) that became a bone of contention," an official from PAL says. "And this was not a big amount of money because we had carried out transactions worth millions of dollars with Porsche ME since 2008." 
When Porsche refused to listen to any of his pleas, Bokhari did the one thing that he could do and wrote to the bosses at Porsche in Dubai and Germany, telling them that PAL will be invoking alternative dispute resolution (ADR) options, namely arbitration, to settle the dispute. 
"The payments from customers were received as per commitments from Porsche, to deliver these cars. My job is to deliver the cars, but the company had stopped the delivery and we resorted to arbitration for that," Abuzar told Profit.
But this may have been a hasty move. A week after PAL invoked its right of taking Porsche to arbitration, Porsche ME invoked its legal right of terminating the import agreement with PAL with a one-year notice. On Jan 30, 2020, PME terminated the agreement with termination to be effective on February 1, 2021. An official from PAL claims that the notice of termination was sent by PME at their own convenience, without providing any reason for termination of the contract.
The problem? All of the cars for which Bokhari had accepted initial payments that were supposed to be delivered soon would now have to wait. "When PME was initially sent the notice of arbitration, they had agreed that there will be a negotiation period of 90 days to sort out any matters in good faith. Surprisingly, while we were intimated about the negotiation period, we received the termination notice on January 30, 2020," says the official from PAL. 
Though the official further says that when termination notice was sent to PAL, the company reached out to the SBP and told them that their approval process had potentially cost PAL their business. Though subsequent pressure by PAL made SBP clear pending payments to PME, the notice of termination was not withdrawn. "For avoidance of doubt, termination notice will not be recalled," the official said, quoting the response PME received when PAL informed that SBP approval had gone through and they would be able to settle payments immediately upon condition that PME will allow quotas to PAL for Porsche cars. 
Enter Mansha 
Up until now, the story has been pretty simple. Local importer had a disagreement with Porsche, tried to take them on, was made to eat humble pie, and the customers got the short end of the stick. In this case, it was Porsche, but it might as well have been Mercedes or BMW or any other authorised importer – all of them work under the same business model. Except, that did not happen to any of the others. The reason Porsche is in this conundrum is that they continued to accept payments at a time when they knew there was a chance that the cars would never arrive. It was irresponsible, and especially since there were others competing with Bokhari to be the Porsche company in Pakistan.  
This is where the story gets a little spicier, and the added ingredient is Mian Hassan Mansha. An avid car enthusiast, Mansha was a regular customer of PAL, and his was one of the cars that has been delayed. Other than being a customer, Mansha has also for a while been interested in buying PAL. An offer running in the millions of rupees was made to PAL by the Mansha group, but was yet to be accepted. 
Could it be possible that Masha catalysed the souring of relations between Porsche ME and PAL so he could get his hands on a Porsche dealership once PAL was out of the picture? 
In an email that Hassan Mansha wrote to Porsche ME complaining that his Porsche 911 Turbo that he had booked in January 2019 against a payment of Rs28.5 million was not being delivered. The email was written in October 2019 to PME. While Mansha complained about late delivery, he also pitched his group portfolio in what PAL says was an attempt to get the dealership after maligning Abuzar's reputation first in front of PME. In the email, Mansha also requested a meeting with PME, if the meeting helped "resolve the matters." In another email, Mansha requested a meeting with PME bosses while he was in Dubai. 
This, of course, has since ticked Abuzar off. Once again, it is important to remember that all of these people know each other and there is a web of personal rivalries and dislikes that has fueled this entire episode. Mansha has been one of the wronged parties in this whole scenario. However, because he was interested in getting a Porsche import license as well, Bokhari began claiming that this entire episode has been an effort to malign him so that Mansha could have his dealership. The claims are tall, especially when you factor in that there were insinuations from officials at Performance Automotive that the representatives at Porsche ME were colluding with Mansha. But then this also makes little sense since if Mansha had that sort of leverage, why would he need to get rid of Bokhari this way to have a dealership of his own?
"I wrote an email to Porsche that if they are looking to change their dealer in Pakistan, I can look into that. But I never received a reply. Things never moved forward with them," Hassan Mansha told Profit. 
Add to this that Bokhari does not have the most ideal record. In email correspondence available with Profit, there was evidence that Bokhari had been selling more cars than the quota that Porsche ME had allowed him as an importer. He had also been booking cars, like the Porsche 911, that were not being imported into Pakistan because of fuel quality concerns. 
That is the story that the PAL is sticking to, however. Hassan Mansha tells Profit that he made the offer to invest in PAL because Abuzar was looking for investors, seeking as much as Rs500 million, to revive PAL that had been affected by PME not delivering cars. He further denied any active efforts to get a Porsche dealership for Pakistan. 
He says that the Porsche 911 was never allowed to be imported into Pakistan by PME. Therefore, it was malicious on the part of Abuzar to have booked the order in first place. A legal explanation was sought by PME from PAL as to why Performance Automotive was taking orders when there were no quotas allowed to them. 
"PAL gave us a letter that read that PME was not giving them the car because of fuel issues. When I forwarded that letter to Porsche, they wrote to Abuzar that he had made a fake quota letter and sought an explanation from him," Hassan added. 
While Porsche Middle East was not delivering any cars to Pakistan on fuel quality issues in Pakistan and settlement of outstanding dues, Porsche's all-electric variant, Porsche Taycan, was launched in 2019. Amid all that, PAL was allowed 10 Porsche Taycan cars in 2019 for which PAL could take orders from customers in Pakistan for delivery in 2020.
The Taycans were never received, despite the PME allowing quotas to PAL. And that is what can be held against PME. Allowing quotas and then when orders were booked and prepayments were taken, why were the deliveries not made? At the same time, it also remains undisclosed if PAL overbooked Taycans, beyond the allowed quota in this case as well. 
The plot thickens
At this point, the story could swing either very different direction. Initially, it may have seemed like the whole scandal was because of a silly but ultimately not malicious mistake on Bokhari's behalf, and he was simply caught in the middle of an unwinnable fight. But then, one wonders why he allowed cars to be booked when he knew this was happening, particularly why he allowed customers to book the Porsche 911, for which Porsche was not allowing imports to Pakistan. Add to this his wild and eratic claims about this being a conspiracy against him, and things become even more murky.  
And yet the story gets stranger. Of the customers that have filed FIRs against Abuzar Bokhari, none have been more vocal than  Mian Ali Moeen, a director at Grand City Housing Scheme in Kharian.Except that when Profit asked Ali if he could share his order booking receipt outlining the payment he made to PAL, Ali shared a document that did not carry his name. Even the FIR that he had been claiming he had registered against Abuzar carried a different name. And as it turned out, Ali Moeen was never a Porsche customer himself, though he was presenting himself everywhere as a customer that had been robbed by PAL. 
There is very little clarity over the facts here, especially with wildly divergent claims. What is clear is that Bokhari definitely messed up, and people like Mansha got caught up in his mess. At the end of it, conspiracy or no, a number of customers have seemingly lost their money, and a lot of it too. That can simply not fly. And this also brings the Porsche brand into disrepute.  
Officially, PME, and Porsche AG, have denied all the allegations made by PAL against them. Regardless, Profit reached out to PME in an attempt to know their version of the facts of the case for us to conclude what actually happened. Porsche Middle East remains silent on the matter and in an emailed response told Profit that they are unable to comment on the matters as there are currently ongoing proceedings (litigation and arbitration) between Porsche Middle East and Africa FZE and Performance Automotive (Pvt.) Limited. 
No matter what, at the end of the day, the customers in this case have been taken for a ride – and not the kind of ride they would have been hoping for.  While this is the first time a full-blown case of an alleged scam at PAL has come to surface, this is not the first time customers have faced delayed deliveries of Porsche cars. There have been customer experiences before this where they complained of delayed car deliveries. 
As mentioned earlier, similar models are followed by other luxury car importers like Dewan Motors and Shahnawaz Motors, the official importers of BMW and Mercedes cars, respectively, in Pakistan. The word in the industry is that Dewan Motors, the official importer of BMW cars in Pakistan is notoriously late when it comes to fulfilling commitments with customers of car deliveries. A few luxury car owners Profit spoke to said that they received their 2017 model BMWs as late as the end of 2018. 
In fact, the whole gambit by Bokhari over at Porsche should serve as a warning to anyone looking to buy luxury cars, particularly BMW, whose dealership is owned by the Dewan group. With financial woes aplenty, it could very well be that they take payments like this and leave their customers stranded. 
 Usman Ashraf, the owner of MDS Foods (Hardees) in Lahore's DHA neighborhood, narrated his ordeal to Profit when he booked his BMW 5-Series car in 2017 and received it in 2018, all the while hearing irrational excuses from Dewan Motors for the delay in delivery of the car.
What was more concerning was that when Usman's car reached the port in Pakistan in 2018, duties had changed and euro exchange rate fluctuated. "The exchange rate was agreed upon in 2017 when the car was booked but in 2018, because the car was delivered late, the difference in exchange rate had increased the price of the car substantially," Usman told Profit.
"Despite earlier agreement, the commitment on exchange rate was not honored by Dewan Motors and the difference in exchange rate would not have been much had the car been delivered on time. This was a long dispute with them and we finally settled that I would pay 50% of the difference and they would pay the remaining 50%," Usman told Profit
A good example of a different model has been Premium Motors, which imports Audis. "Audi Pakistan has the running stock of Audi cars at their centres. These are the cars that have high demand and Premier Systems keep them in stock because they know that there are customers out there who will buy the car," explains Asad Nizami, an Audi customer.  This protects the consumer and the importer bears the financial risk. It is only when a customer requests a car that is not with them already, Premier Systems will have it imported for the customer. 
Several luxury car owners that Profit talked to said that they have generally had a pleasant experience with Premium Motors, for purchase of Audi cars. Audi has an advantage ahead of others. There are certain Audi car variants that are available at price points for many customers, not just high net worth individuals. Because the demand is better, Premium Motors knows that the variant high in demand will eventually be sold and, therefore, is able to keep a running stock. 
Same customers also said that their experience with Shahnawaz Motors has also been somewhat pleasant than the rest for purchase of Mercedes cars. But then this is the model that can be followed by business groups that have the financial backing to bear this risk. This also gives the incentive to business owners that do not have strong financial backing to simply run away when things get tough for them.
This also means that a strong financial group like Nishat Group would be better off at protecting the interest of the customers if they in fact become the importers for luxury cars. 
In case of Abuzar, however, the CEO got caught into a vicious loop of cash flow issues because the orders were being booked, prepayments were taken to keep the business up and running, but the deliveries were not coming through that eventually finally broke the company, PAL, financially. Hence, the reports that Abuzar was seeking investors also makes sense. 
Who protects the consumer?
Let us put this straight – there are a lot of other people that need protecting before the average Porsche customer. But there is no doubt that a great unfairness has been committed against the people whose money is stuck and from a strictly technical point of view, the question has to be asked, is there no one wronged customers can turn to? 
Business groups, like Toyota Indus and Honda Atlas are publicly listed companies. Their assets are known that can be liquidated to refund customers. And there are business groups that are private but financially strong enough, though still prone to these scams, that can keep running stocks and keep the customers safe. And then there are business groups or individuals that do not at all have the financial strength to keep a running stock of cars like in the case of Porsche. 
In another case, for example, Morris Garage (MG) recently launched their car in Pakistan. The company, MG Pakistan, is owned by the CEO of Haier Pakistan, Javed Afridi. MG Motors recently issued a press release and said that they had booked 10,000 cars. If for instance, they took Rs2 million per booking for even 1,000 cars, that is Rs2 billion which is a hefty amount. The case again here is that if MG has all the incentive to run away with the money because all the money is in prepayments, the company has not invested in any infrastructure and has little financial interest to keep deliveries smooth for customers. 
So who protects the consumer in this case? For Suneel Munj, co-founder of Pakwheels, this is completely a job for the government. "The government should know the worth of a company that is importing the car and mandate them to not book cars above their worth," he says. The principle is simple. A government regulator needs to ensure that frauds like this are minimised. Like the SBP does in the case of banks in Pakistan. 
"The government should mandate luxury car importers to make security deposits with the regulating entity before they can start doing business. The importers should then be allowed to take orders only worth the amount they have deposited as security to the regulator. The information should be public about how much money the company has deposited, and the number of cars they have booked at a certain time. The customers should be able to see how many cars they are allowed to book and when they can not book any further, that information should also be publicly available," says Suneel. 
Rs800 million or any other amount, customers in the case of Porsche have been affected and deserve to know if their money could be recovered. Presently, as things stand, PAL CEO is in London pursuing the arbitration proceedings against Porsche AG and Porsche ME. The fate of the case remains unclear until a clear verdict is reached.