Will Summit Bank's fortunes change now that there is a new CEO in charge? Or perhaps a better way to put this question is to ask, will there ever be any CEO with the star power and direction to erase Summit Bank's colourful history? 
In a notice from March 26, the bank informed the Pakistan Stock Exchange (PSX) that Ahsan Raza Durrani would no longer be the acting CEO and President of the Bank. Instead, Jawad Majid Khan was to be the new CEO and President. Majid Khan is a choice in line with the bank's new mission. The bank has recently decided to convert itself into a fully fledged Islamic Bank, and about 48 branches in 23 cities offer Islamic services. 
Which means the choice is great, because in his previous role, Jawad Majid Khan was the group head of Emaan Islamic Banking at Silk Bank. And before that, he was the country head for distribution and small and medium enterprises for Dubai Islamic Bank between 2005 and 2011. He is a graduate of economics with a specialization in development economics from Quaid-e-Azam University, in Islamabad.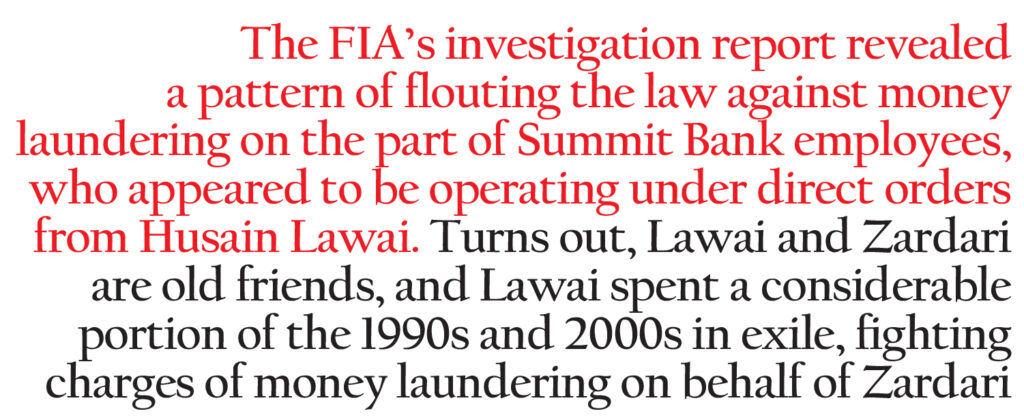 Silk Bank is not exactly the country's most profitable bank, or free from interesting moments in its history. But even it comes out looking perfectly normal when compared to the history of Summit Bank.
To recall, Summit Bank is an amalgamation of three different (and absolutely tiny banks): Arif Habib Bank, Atlas Bank, and Mybank. In 2010, Suroor Investments Ltd, a Mauritius based investment firm, acquired a majority stake in Arif Habib Bank, and rebranded it as Summit Bank. It also acquired majority shares of MyBank Ltd and Atlas Bank Ltd in Pakistan.
Article continues after this advertisement
None of those three banks was ever a viable bank on its own. But the founding CEO of the bank (in 2009), Husain Lawai, made a valiant effort to make the bank profitable, undertaking several initiatives to improve the bank's operations. For instance, he moved nearly a third of the branches he inherited to cut costs, and also tried to attract retail deposits by introducing co-branded and prepaid debit cards (then still unusual in Pakistan), and focusing on the remittances business.
And yet, this did not translate into profits. In the nine years that it has been in existence, Summit Bank has posted a profit in precisely two years and has otherwise continued to hemorrhage money. Those two years happened to be 2014 and 2015.

After Lawai resigned in 2016, Mohamad Zahir Esmail was appointed as President and Chief Executive Officer. But the bank made massive losses in both 2016 and 2017 – Rs2.2 billion and Rs1.1 billion respectively. And in 2018, the bank made a shocking loss of Rs8.9 billion. 
And yet, somehow, this is still not the most bizarre thing that happened to Summit Bank. The bank has been under increased scrutiny since it was mentioned in relation to the ongoing fake accounts case of 2018, involving former president Asif Ali Zardari and his sister Faryal Talpur. The fake accounts case involves alleged money laundering worth billions of rupees through 32 bank accounts, which were opened in five banks. Of those accounts, 15 were opened in Summit Bank.
The FIA's investigation report revealed a pattern of flouting the law against money laundering on the part of Summit Bank employees, who appeared to be operating under direct orders from Husain Lawai. Turns out, Lawai and Zardari are old friends, and Lawai spent a considerable portion of the 1990s and 2000s in exile, fighting charges of money laundering on behalf of Zardari. He was exonerated of those charges in the UAE in 2002 and the charges against him in Pakistan were dropped in 2008.
The FIA is alleged not only that Summit Bank failed to catch the money laundering going on through its accounts, but actively facilitated it through a procedure put in place by the bank's CEO himself and one in which a large part of the bank's staff was also involved. 
The FIA also alleged that bank's majority shareholder, Nasser Abdulla Hussain Lootah, a member of one of the oldest and wealthiest families in Dubai, may have been a beneficiary of the money laundering himself. As if this was not enough, the National Accountability Bureau went ahead and arrested Husain Lawai. For his part, Lawai maintained his innocence throughout. 

So what happened? After Esmail retired, on account of reaching 70 years of age, Ahsan Raza Durrani took his place as acting President and CEO. Durrani had previously been the Senior Executive Vice President (SEVP), Group Head of the Credit Department, at the Summit Bank since August 2017, prior to which he served as the Group Head of Corporate, Investments and Financial Institutions for a five and half years at the Bank. He also held the position of the CEO of Faysal Asset Management Limited from September 2003 to April 2006.
He was only meant to be acting CEO for a while – and yet since the scandal, the bank has been in disarray. The financials for post 2018 have never been released to the PSX, and the bank remains on the defaulters list, since at least January 2020. Khan has a tough task ahead of him, if he wants to turn the bank around into the Islamic bank that he envisions.