It's a curious piece of information. On the 12th of June 2021, United Bank Limited (UBL) announced that it was winding up its wholly owned subsidiary in Switzerland. The only question that this really led to was how and why on earth did UBL have a subsidiary in Switzerland in the first place? 
And much to the surprise of many, UBL (Switzerland) AG has been around since 1967. It only has one branch in Zurich, Switzerland, and used to be known until 2013 as United Bank AG Zurich. According to the notice, UBL has decided to voluntarily wind up the subsidiary as part of its global realignment strategy. 
"This decision is in line with UBL's strategy to exit from non-core markets," the notice explained. According to the bank, UBL and UBL (Switzerland) AG will continue to 'work closely with all stakeholders throughout the winding up process to ensure that UBL (Switzerland) AG is wound up in an orderly manner, fulfilling all its obligations and complying with all applicable laws, rules and regulations.'
Most importantly, the notice stressed that UBL's decision to wind up UBL (Switzerland) AG will not have any material impact on the overall operating and financial position of the UBL. The decision is a bit of an about turn for the bank, which previously had touted the subsidiary as an important part of growth, especially in the early part of the decade. 
First, some context. UBL was founded by Agha Hasan Abedi in 1959. As of 2020, the bank operates 1,356 inside Pakistan, and 14 branches outside Pakistan. It is also itself a subsidiary of Bestway (Holdings) Limited, a wholly owned subsidiary of Bestway Group Limited (founded by British-Pakistani Mohammad Anwer Parvez).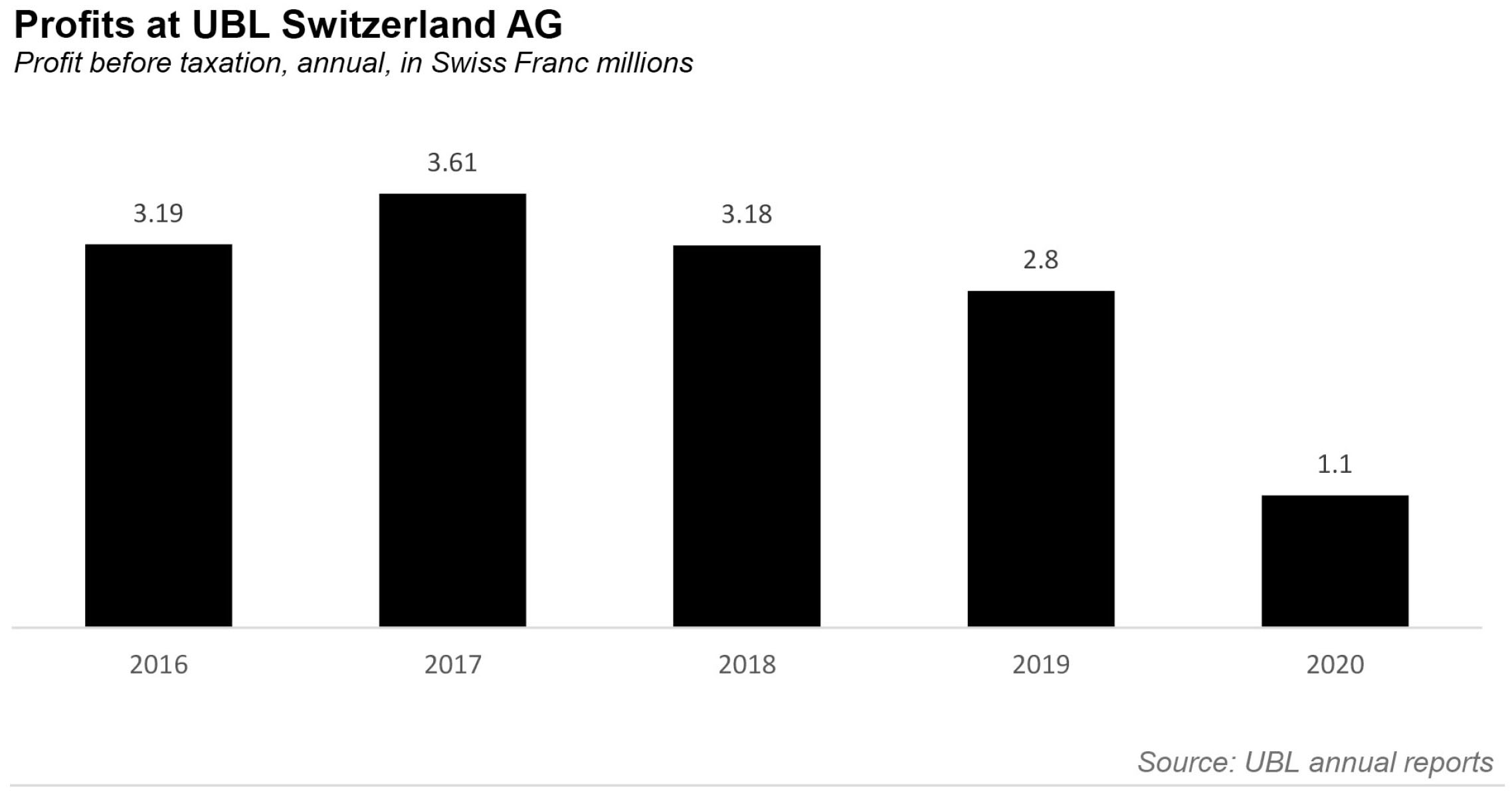 Article continues after this advertisement
UBL used to have five subsidiaries: United National Bank Limited (UBL UK), UBL Switzerland AG, UBL Bank (Tanzania) Limited (UBTL), United Executors and Trustees Company Limited, Pakistan (UET), and UBL Fund Managers Limited, Pakistan (UBLFM) (the asset management arm). We say used to, because by 2021, only two will be standing: UBL UK, and UBLFM. The remaining three are all in the process of being winded up. 
What happened? The easy one is UET: it was incorporated in Pakistan in 1965 as an unlisted public limited Company and is a wholly owned subsidiary of UBL. The board of directors in their meeting held on February 19, 2020 resolved to wind up the company, which was inactive to begin with. 
Then, there was UBTL. It had been established in 2012, and yet, just a few years later, in May 2019, UBL  entered into an asset and liabilities purchase agreement with EXIM Bank Tanzania Limited. Exim took over control of UBTL's assets and liabilities in November 2019. Today UBTL has ceased its banking operations and is in the process of voluntary wind up and liquidation.
Which brings us to UBL Switzerland AG. The bank, which has been run by Faisal Basheer since 2011. Basheer, by the way, was last in Pakistan in 1977, when he completed his bachelors from Karachi University. He then joined the other bank founded by Agha Hasan Abedi, BCCI, and was with that bank from 1978 right up until the very end in 1991 when the bank collapsed. At the time, he was the country head for Germany, in Frankfurt, He then stayed on in Frankfurt for the next nine years, before moving to a banking job in Nigeria. He joined the UBL family in 2005, moving to Qatar, and then to Bahrain, before ultimately returning to Europe in 2011 as the CEO of its Swiss subsidiary. 
The bank is tiny: it had 13 employees as of 2019, and was the 209th largest bank in Switzerland in terms of total assets (a market share of 0.01%). It was also the 63rd largest foreign-controlled bank in Switzerland (out of 71 foreign-controlled banks). 
There is scant information on the subsidiary's financials in the annual reports of UBL, in fact, the years 2015 and 2016, entirely omit key details of the subsidiary. But initially, UBL Switzerland was considered important: in both 2013 and 2014, the directors report noted that UBL's International business remains a critical contributor to the overall bottom line and a major competitive advantage. The renewed focus on leveraging UBL's international network has synergized business with the subsidiaries in Switzerland and the United Kingdom.'
The year 2017 was also a very good year: profit before tax increased by 13% over the previous year, mainly driven by a rise in trade related fees. The balance sheet continued to expand, led by growth in deposits and borrowings.

The year 2018 is where trouble begins: the company's profit before tax declined by 12% over the previous year, mainly due to lower commission earnings and increased swap costs, while balance sheet size remained broadly in line with 2017. And in 2019, UBL Switzerland's profit before tax stood at CHF 2.8 million – a decline of 12% over the 2018. Net interest income also fell by 29%  over the previous year mainly due to higher swap cost and increased cost of borrowings. 
But the worst was yet to come: In 2020, UBL Switzerland's profit before tax stood at CHF 1.1 million, or a decline of 60% over the 2019. Net markup income stood lower by 7% over the previous year, while non mark-up income declined by 27%. Worse, income from commissions declined by 27% year on year owing to the pandemic led slowdown. The balance sheet size reduced by 38% over December 2019.

So, it was time to go. The bank had already closed one international operation; it figured it could handle another. According to Faizan Kamran, senior research analyst at Arif Habib Ltd, an investment bank: "The bank has been focused upon de-risking their balance sheet. The management had been focused upon curtailing international operations and the bank had also sold its Tanzania operations in 2019."
This is similar with the other large bank in Pakistan, and UBL's competitor, both in terms of deposits, size, and history: Habib Bank, or HBL. According to Kamran, "Similarly HBL has also been winding down international operations which are not feasible. HBL had decided to sell off its Mauritius operations this year."
He went on to stress: "Both banks had faced stress on their asset quality particularly from their international operations and had therefore been focused upon de-risking their balance sheets by reducing international exposure or moving towards safer business models."