The most valuable startup in India is an educational technology company. EdTech companies, as they are known in financial circles, have a grip on India. Byjus, which also has its brand logo on the Indian cricket team's kit, has been valued at $18 billion and have been given a ballpark estimate of a valuation over $50 billion if they go public by next year.
And they aren't the only massive edtech out there either. While Pakistanis are at odds over the country's first unicorn, India has four unicorns just in the EdTech sector – Unacademy, Vedantu, UpGrad and Eruditus – in addition to 3,500 other startups. 
But then why isn't the same happening in Pakistan? Why is our nascent but noisy startup scene mostly finding its money in grocery delivery and banking disruptions when education is right there and available? Think about it – education and health are the two things most important to any parent when they think about their child. And with the Covid-19 pandemic putting into perspective how learning can be done online and people becoming more comfortable with digital payments, why is EdTech not thriving in Pakistan like it is across the border? 
One reason could be the obvious one – education is structured very differently in Pakistan. These apps can tailor their tutoring to help students achieve excellence in the Indian school system and aim to get into the vast network of world-class IIT and IIM universities in India that are highly coveted. The other reason could be that school is boring and an education startup isn't sexy enough for 'finance types'. 

The EdTechs do exist in Pakistan. Some have been around longer than the B2B and eCommerce 'disruptors.' But they simply have not had the same traction. The question is, will they ever manage to step up and get somewhere? Because the space for this definitely exists. It is only a question of whether the EdTechs will be able to claim it. 
Article continues after this advertisement
EdTech startups and opportunity in Pakistan 
In the world's fifth most populous country, there are only a handful of edtech startups purely homegrown trying to digitise learning at and out of schools. These startups have only caught the eye recently, with their funding announcements. The unsung heroes for the industrious work they are doing are EdKasa, Maqsad, Out-class, Taleemabad, and Sabaq – a few names you might have heard about. Then there are others like Noon Academy, Knowledge Platform and Educative which are not purely home grown. 
Except Knowledge Platform and Educative, all others are consumer facing EdTech startups; they are providing learning to end students directly. Both Knowledge Platform and Educative are B2B startups, targeting schools to digitise them for learning at school. 
Among the B2C startups, the prominent ones are EdKasa, Maqsad, Noon Academy and Taleemabad, which have made a headway in the space and have created their own apps. 
EdKasa
Founded in 2017, EdKasa's target market presently is matriculation and intermediate students. It started off with a Youtube channel and has now evolved into an app-based learning platform which has pre-recorded lectures available for students for different subjects. (More on content below).
EdKasa raised $320,000 this year in April.
Maqsad
Like EdKasa, Maqsad has pre-recorded videos on its learning platform at present, with the same target market as EdKasa (matriculation and intermediate students). Maqsad announced raising $2.1 million this year in September. 
Noon (formerly Noon Academy)
Noon's model is focused on live sessions by popular teachers on Noon mobile application. Noon, formerly Noon Academy, is an international EdTech startup having raised $21.6 million in funding for its international operations in the Middle East, North Africa and Pakistan (MENAP), as well as in India. 
Taleemabad
Founded in 2015, Taleemabad appears to be targeting children until primary school through animated content on its app. Taleemabad has not disclosed if it has received any VC funding.  
But in a country that has a dilapidated education system and where enrolment rates fall from primary education to secondary education and around 22 million children out of school, tech saviours are only a few? That doesn't make sense. Globally, edtechs have been late to get noticed. They're boring, and they don't have the allure or the promise of quick change that eCommerce and fintech companies bring with them. In a country like Pakistan, however, people should be clamouring for them. 

There are essentially two kinds of EdTechs. The first are B2B, which means companies that provide digital services to schools, and then there are C2C, meaning the EdTechs that teach children directly through their own digital platform. The latter has the biggest opportunity because it is directly targeting millions of students enrolled in schools and colleges. In Pakistan, this opportunity is estimated at 20 million children enrolled in primary, middle and secondary education, who need some sort of out-of-school support to ace the exams. These apps are not claiming to want to disrupt schools, no – they are coming for the tuition centres. 
The consumer facing business works best in countries with a large middle class (as India has proven) which Pakistan has. However, the market also shrinks because of a large out-of-school population (approximately 22 million children). The make-or-break moment is then how much access Pakistanis have in terms of tech and connectivity access. Pakistan ranks low (76th spot) on the internet inclusivity index. Pakistan also has one of the lowest internet speeds in the entire world. 
As per Speedtest Global Index, Pakistan's internet speed on mobile was 17.95 megabits per second (Mbps), and on fixed broadband was 10.84Mbps, as of January 2021. Compare this to the internet speed of our neighbouring countries, like India (54.73 Mbps), Iran (19.42 Mbps), Nepal (24.86 Mbps), Bhutan (22.30 Mbps), Sri Lanka (27.87 Mbps). Then consider countries like Somalia (16.05 Mbps), Rwanda (13.62 Mbps), Cambodia (27.69 Mbps), and the Republic of Congo (25.36 Mbps). 
The speeds are low because of low penetration of optical fibre cable infrastructure, limitations of low bandwidth available per site, complications in deployment of telecom infrastructure, and the fragile state of the telecom sector. 
Clearly there is both an opportunity and hindrances for EdTechs here. So what are the consumer facing startups doing? This is where Pakistan could learn some lessons from Byju's. The first thing they did was understand that the market was truly massive. 
It used an aggressive push sales strategy in which it put its people on the ground going door to door. Byju's salespersons would go from house to house offering different subscription packages on a year, two yearly, or even three yearly basis. They also provided devices such as tablets with all the content pre-recorded and personalised which removes the barrier of having the right equipment for students to learn. This also eliminates the need for the internet and students can learn on the go.
But that is coming at a big amount of money asked upfront for a tutoring application. A parent's willingness to pay such amounts for a child's education is certainly going to be there but the capacity to pay might not be there. And as the flag bearers of Pakistan's EdTech scene explain, it might not be that easily emulated in Pakistan. 
Lessons from Byju's
"While the agents are selling these subscriptions to parents, they also pitch, right then and there, financing options turn the upfront payments into instalments and the affordability and the capacity to pay increases. Except that these plans are financed by banks and Byju's gets a big chunk of revenue on a yearly basis," says Faraz Ali, head of marketplace and growth at Noon Academy. Noon Academy is a UK-headquartered edtech company with presence in MENAP and India. "They would also give devices with pre-recorded lectures so that customers do not have the internet restriction or device restrictions with Byju's and that too can be financed."
"There would be no Byju's without banks that finance these purchases," says Fahad Tanveer. "The very high valuation for Byju's also comes because of the fact that they have very certain revenues and very high ticket. Consequently, receivables are also big that banks would love to collect for Byju's on a discounted rate." 
In Pakistan, the likelihood of such a model being replicated has slim chances of success considering how Pakistani banks shy away from consumer financing. Food inflation already erodes purchasing power and affording education, because education establishments like schools and colleges are not majorly state funded, and ends up becoming expensive for Pakistani households. The lack of consumer financing options by private lenders such as banks means that there is a barrier for these EdTechs to scale. 
"Edtech startups need to make it possible for families to pay in bite size chunks for a high value product. That is presently not possible because of the dearth of fintech companies and banks that can cater to such financing," explains Fahad.
The business model of B2C edtech companies in Pakistan has therefore also been reliant on low monthly subscriptions running in a few thousand rupees only, with value added purchases, or a freemium model where students are able to access some content free, with the option to purchase value added services if they choose to. 
The other issue has been payments. Since these startups are small and unable to sell their receivables to Pakistani banks, they are reliant for collection through digital payment channels like EasyPaisa and JazzCash. The payment experience is not friendly to say the least, with payments getting stuck and back and forth confirmations about the payments in addition to poor user experience. "The financial infrastructure that we have is too rudimentary to scale an edtech company. The financial ecosystem was critical to scale the world's multi billion dollar unicorns so that they could collect their revenues seamlessly," says Fahad. 
The pace of scaling an EdTech startup in Pakistan 
Go to the Byju's website today and you will see ShahRukh Khan, possibly the biggest Bollywood superstar in history, holding a tablet with a child resting her head on Khan's shoulder. That is besides the ads ShahRukh Khan has done for Byju's. Having a Bollywood superstar as your brand ambassador is going to pull customers for any business because of the Bollywood craze among the Indian public, but what's crazier would be the marketing spend required to sign up a Bollywood superstar as your brand ambassador. 
On the other hand, Vedantu, another Indian edtech company which has recently entered the vaunted unicorn club, has another Bollywood superstar Aamir Khan as its brand ambassador. In Pakistan, you will hardly see any marketing done by edtechs, except some targeted social media campaigns which are not very expensive. 
Generally, startups have an aggressive marketing ethos. Somehow, aggressive scaling is not commonplace among edtech startups. "Scaling a startup very fast can happen, but scaling a startup very fast when the space is not mature is unlikely to happen. And tech in the education space is still not mature," says Faraz. The EdTech companies operating here say that the cost of creating their content is high because teachers are expensive. Teachers have to be convinced to do this with money instead of going to tuition centres. The content gets more expensive as animations are developed to make the content more engaging.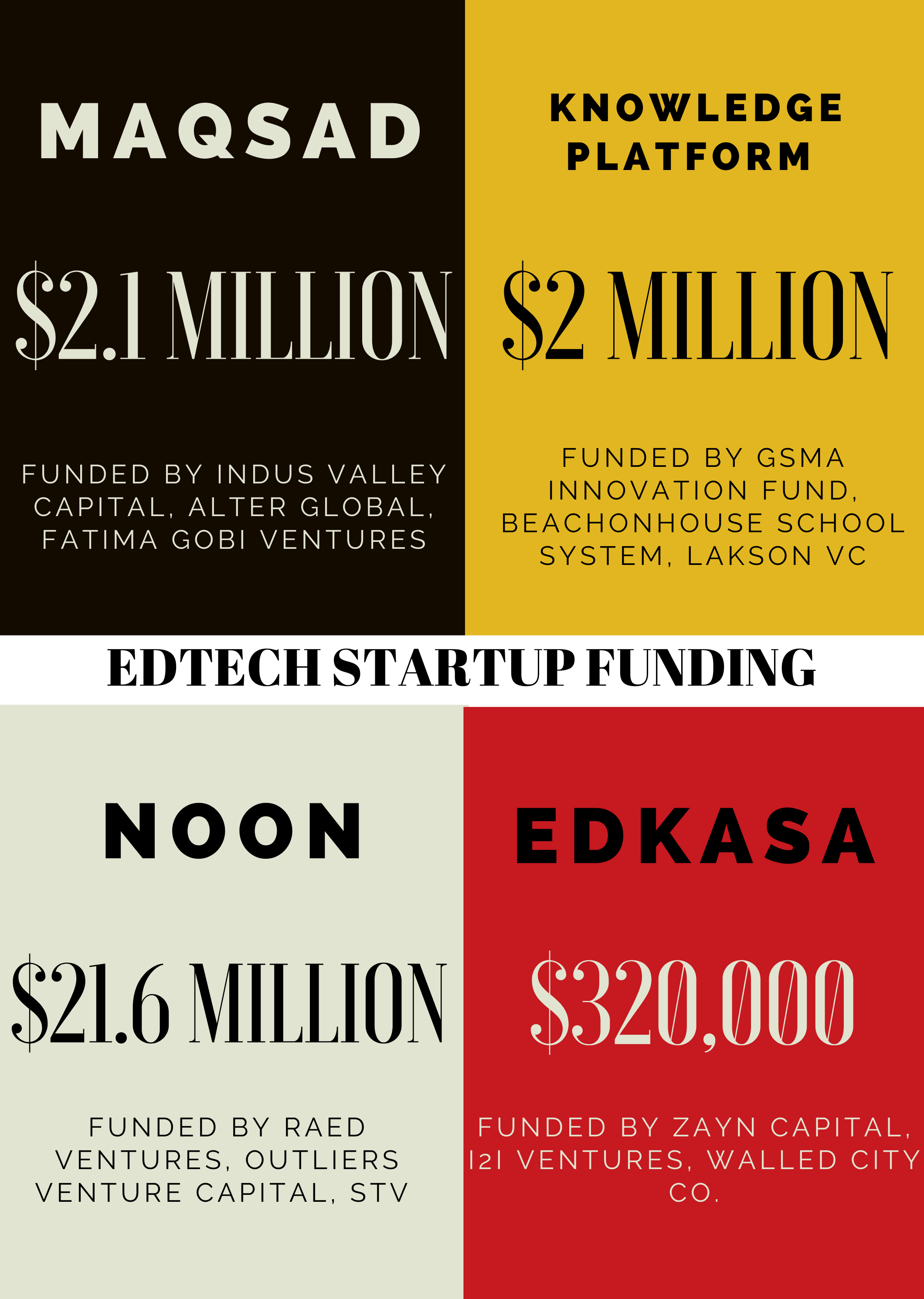 "One of the hardest things for us to do in education is to develop this new category in Pakistan which is studying online. Getting that awareness, to get the people to take edtechs as serious platforms to study in the presence of traditional brick-and-mortar academies is consuming to achieve," says Faraz. "The first generation of edtechs are going to have a hard time changing the market behaviours, whereas the next generation is going to have it easy." 
Scaling is difficult because unlike a product on Daraz, which is ordered and gets delivered, the deliverable results in the case of EdTechs are exam results – which take time to show progress. If a child signs up in September, their first results will be in December and the next ones in May. The parents will want to compare those to the child's previous performance. How can the startups scale up until the parents are not comfortable with their performance?   
So if Byju's had signed on ShahRukh Khan in its early days as brand ambassadors without proving to parents and students that students would be able to ace their exams using the Byju's app, ShahRukh would have meant less to the parents than the grades of their children. Today, Byju's claims that 95% of the parents who have signed up with Byju's for their children's education, have seen their kids' grades improve. While none of the local edtech startups, because they are too young, can claim the same unless they prove it over a period of time. 
It is an interesting proposition for Pakistan's EdTechs as well to adopt a Byju's and Unacademy kind of sales model where startups can have sales teams on ground, selling tablets recorded with educational content to students through telesales, or door-to-door sales, by skilled salesmen against hefty commissions. The question, however, is can that be done in Pakistan?
EdTechs are only starting here, and it is hard to push sales at this point. People often develop a distaste for businesses that come off too strong. Of course, in Pakistan, there is the problem of what end these startups are aiming at. In India the promise is very clear – we will get you into a good college and they have the metrics to prove it. India's Vedantu claims that between 6% of the admissions into the upcoming batch of Indian Institute of Technology (IIT), the top tech university in India, and a globally recognised university, will be students who prepared through Vedantu. The Pakistani startups neither have similar stats right now nor a similar promise that they can make to the middle class. Most parents and students obsessed with university admissions are focusing on foreign universities and places like LUMS – and their kids are going through the O and A levels systems. 
This means the door to door model might not work here. Large ticket size and long term revenue means that the cost of sale per sales individual would be low. So if the sales were low ticket size monthly subscriptions primarily, the cost of such sales through the sales team would have been high, making it an unattractive model. 
What would that look like in Pakistan? According to our conversation with EdTechs, the monthly subscription rates in Pakistan would be very low to begin with because of the low affordability. For instance, EdKasa sells its courses at a monthly price of Rs899/month per subject, and Rs3,599 for four subjects, which it thinks is a reasonable price and what is already being charged by teachers at minimum. Noon Academy also believes that Rs1,000 for matriculation and intermediate students is a reasonable charge per subject and that is what they charge as well.  
As these EdTech startups say, setting up a sales team to sell Rs899 subscriptions to parents becomes a costly proposition, yielding bad unit economics. Even a 12 month subscription sold at once would not make sense because it will only add up to Rs10,788 which would still not make a business case if the sales team is to be paid on a monthly basis and given commissions against the sales. It is especially important if you consider that the market is small to begin with for edtechs, with 20 million out of school children in Pakistan that can not be reached out for out of school support. Likewise, asking parents in Pakistan to pay a lump sum amount for a year is also something that has not been tested because most schools and academies do not charge their students yearly or even quarterly. 
How are they setting up instead and who plans to be like Byju's?
"The two models that we thought would work are a freemium model, where students are able to access the majority of the content free and purchase add-ons really deep into their learning journey," says Faraz. "The other model is where the class sizes are really big. The combination of these models for us is that we want somewhere between one and five per cent of students to pay for an educational product and the class size to be sufficiently big to reduce the ticket size." .
The freemium model under Noon Academy is where most of the content for a student is free and the student can make purchases for additional products far ahead in his/her journey with Noon. The cohort size is going to be really big where students, 1,000-1,500 in number take live classes and by virtue of a large class size, the 5-10% students that will pay would also be more in number. 
Sales, a moral choice for some, aside, for a Byju's-like platform, creating content on devices is an expensive proposition because content production is expensive. What are the layers of content production?
At the very basic level, the content can be a recorded lecture of a teacher explaining a concept. On the next level, you can just add various animations and graphics to explain the content to the student. On the third level, content can have questions that can be answered after watching a short video explaining a concept. Based on the questions format, an edtech platform can then build personalised journeys for students to learn concepts from a subject. 
The different levels of content creation can cost an edtech startup at different levels. And what sort of content needs to be created depends on what problem in the market is or what we call the product-market fit. 
What sets Byju's apart is its content. Download the Byju's app today (yes, you can access limited content from Pakistan but likely won't be able to send payments to India) and you will find Byju's content wholly engaging, with animated games for better learning. That is besides live classes and one-on-one guidance from teachers for schooling and college years, beside India's competitive examinations. 
All of that combined has made Byju's what it is today, and two of the startups are skeptical that it can be replicated in Pakistan.
BUT, Maqsad in its curtain-raiser funding announcement in September dropped a hint that it plans to follow Byju's. Maqsad said that it will develop in-house content, such as production studio, academics and animators, as well as bolstering R&D and engineering. The Maqsad platform will also have gamified features, tailored towards giving personalised learning experience to students. 
The plans are expensive, animation and gamification of learning is expensive, but the size of Maqsad's pre-seed funding alludes that it is ready to expend money on creating high quality content. It announced raising $2.2 million in September, the biggest so far by an EdTech startup in Pakistan. Maqsad is backed by Aatif Awan of Indus Valley Capital and the companies in which Aatif and Indus Valley Capital have invested in have gone on to raise huge rounds (for example Airlift and Bazaar), in very short periods. With such backers, Maqsad has the capability to incur expenditures to create very high quality content for a Byju's like model for Pakistan. 
The expenditure incurred on creating such content is going to be once, while revenue would be coming in for a lifetime, laying foundations for a startup that could be valued very highly in the future, exactly like Byju's. 
Maqsad has a second mover's advantage which means there is an early traction and awareness of such apps in the market which it can bank on. In a small survey of over 50 respondents, the majority of the parents, responding on behalf of their children, said that they had heard of and used these apps. 
They also said that online modes of learning were already the preferred mode over academies for their children and most had shown a willingness to pay for these apps. Since it is education we are talking about, we can extrapolate that parents would be willing to spend beyond their means when it comes to educating their children. This means that if an EdTech startup spends heavily on content that is able to further improve grades of students, parents will most likely be willing to spend more on child education. 
We can assume that parents will most likely buy devices and the internet too. Adoption of digital payments is on the rise, the central bank is pushing for access to finance, banks are under pressure to offer consumer financing and fintech startups are popping up, trying to fix the fractured financial ecosystem. All this means that we can hope for Pakistani EdTech companies to have an enabling ecosystem sooner rather than later, and become sustainable businesses with steady revenue, which will make them very valuable companies in the future, just like Byju's. 
Maqsad's specific plans, beyond the hint, are a secret yet and it plans to stay low for sometime, testing and scaling products and achieving a product-market fit before going public with anything. 
Others like Noon Academy and Edkasa are also testing the markets at their own pace, are skeptical of the success of a Byju's like model, but are committed to their true calling, that is tech in education. "We spent a lot of time researching what the problem in the market is. It is time consuming and it could be different for different kinds of students. So there was a lot of research that was needed and only then we were able to launch a product that we believe can really help students learn in the Pakistani context," says Fahad Tanveer. 
The competition – Is a Pakistani EdTech company really worth the effort?
There are two worrying trends too, however: established EdTech startups like Byju's can capture the market, Khan Academy dominates with its free content and Youtube channels are eating up the market in Pakistan.
Try downloading an Indian EdTech app today, or any other prominent EdTech's application, and chances are you would be able to get access to their content on the application without a hassle. We tried Byju's and it was accessible to us in Pakistan. The content on the Byju's application was interactive, informative and accessible, making us want to think that if Pakistani users can access a big EdTech startup's app, is there really a need for a Pakistani EdTech startup, what can possibly locals do? Or can Pakistani EdTech startups make it big in the presence of apps like Byju's?
The likelihood of established EdTech unicorns inadvertently tapping Pakistan's market has been assessed and analysed by some of the local startups but there are certain aspects you need to realise why startups think local market might not be willing to access content on Byju's, or Unacademy for that matter, because if they do, they are going to hit a paywall soon after they have consumed the limited content that is free. From what we have come to know, content on Byju's is free for only a few hours (2-3) of videos. Whereas the premium content behind paywall has thousands of hours of recorded videos. 
For joining live classes, a student would be required to pay and the course relevance would simply be not there because the content on the application and the classes have to be personalised and followed according to the local curriculum in place to help students learn according to their respective syllabus for a class, so that they can perform well in exams. 
Local competitive exams are also different in geographies and the likelihood of Byju's, Unacademy or Vedantu to create content for Pakistan is going to be a far cry for now, given the strained relations between the two countries. Data on children is very sensitive and at least Pakistan is not going to be willing to let that flow out to India. 
On the other hand, streaming platform Youtube is itself an EdTech player in the market, with a massive content database consisting of lectures and exam guides from popular teachers. "The problem, however, is that there are a very few big teachers on Youtube in Pakistan. There are a few because of problems related to monetising the content. Monetising Youtube on purely academic videos is difficult because the purpose of Youtube is not to create such content but one that has the potential of going viral," says Faraz Ali.
Displacing the kings in business
Seths dread tech because it threatens their dominance and they have been notorious for not recognising  it as a threat until it's too late. Do seths in education dread tech? Scratch that! Is there a cause for seths in education to dread a B2C EdTech company? 
Well, yes! 
Most of the competition that EdTechs bring to the table is against academies. Edtech startups present themselves as out of school support types. Meaning that you can get your regular education at schools and instead of choosing academies or at-home tuition, you can instead choose an app with or instead of these options to supplement learning out of school. In this scenario, if a student aces an exam, the school as well as the app can boast it as a success. However, traditional school systems are also not free from the bite.
But, if an edtech startup is able to get an out of school student (22 million in Pakistan) to subscribe to its app, give the student high quality education content, following which the student appears privately for a board exam and aces it, it can turn things dramatically. If any one of these manages to get even one student ace a board exam and then advertises that student on its website or billboards as its shining star, conventional brick-and-mortar schools would be at the risk of losing their own students to these apps. 
Should schools be worried about such an eventuality? Attending a school does not only involve regular tuition, stationary and books cost. It can involve travelling costs, cost of recreational activities at school and keeping up with your peers. All of these are important for grooming but for out of school students not having any access to education because it can get costly, apps can at least deliver the education in this arrangement. So do schools see it as a threat? 
To reiterate, schools are customers of B2B startups and use their solutions to supplement at-school learning. How do they see B2C edtech startups? Multiple schools like Lahore Grammar School, Beaconhouse and The City School were approached by Profit for comments on how they see education technology startups. 
Only one school responded with little worries. "In my experience edtech tools often provide very niche products and the scope is, for the most part, very focused or fragmented. As a result they can help supplement a typical school curriculum rather than be robust enough to substitute legacy methods of teaching," says Omer Salamat, director at Salamat School System. 
"Additionally I find a lot of the products falling short of our expectation as the architecture of the tech solution resembles more tech rather than education," he adds. Omar is also confident that as Covid-19 subsides, brick-and-mortar schooling is a much preferred alternative to any virtual teaching especially in the developing world where internet and hardware penetration is weak. 
Regardless of what schools think, the reality is that EdTech startups are finally here. They are raising funds and showing commitment that they are ready to take it on in the Pakistani market. Has it come late? Certainly, because tech in Pakistan has come late. But education in Pakistan is a big business and quality education is a dream for many. Why are there not so many players? It is market specific, as EdTech companies tell us, because the technology ecosystem is still developing in Pakistan. 
But let's be hopeful here of the fact that Pakistani EdTech companies are going to make it big.  As mentioned earlier, fintech companies are trying to fix the fractured enabling ecosystem with RAAST now launched which will give a superior payments experience. As the entire ecosystem evolves, the EdTech growth will also witness a surge and ideally, we have a timeline of a decade for edtech startups to reach zenith; that is how long it took Byju's and other unicorns to get to the point where they are now. But since Covid has increased the pace of digital adoption and venture capital funding has increased, we can expect that to be happening across a shorter timeline because of the removal of these constraints.