In December 2022 a figure released by Pakistan's Bureau of Immigration became the centre of media attention. According to the bureau, more than 832,339 people registered abroad for employment last year. That marks a more than 300% increase in the number of Pakistanis leaving the country to find greener pastures abroad.  
In a country teetering dangerously close to default, the term looming over our economy like an ominous cloud was 'brain drain' — an economic phenomenon where highly educated individuals from developing countries go to already developed countries to find better compensation for their services as well as better living and working conditions. 
The reality of our problem is quite different. Of the 832,339 people that migrated from Pakistan for work, only around 92,000 were doctors, engineers, IT specialists, accountants, and other 'highly skilled' workers. The rest were mostly travelling to the Gulf to work as labourers, masons, drivers, and other blue-collar positions. That more than anything points towards a different problem: poverty.  
Most of the people leaving Pakistan are not going to find some version of the American Dream. They are going simply because they cannot find employment in Pakistan. They go to Gulf countries, live in putrid conditions far away from their friends and families only to make minimum wage and send back meagre amounts of money to Pakistan so their families can have the bare necessities of life.

There is perhaps no better example of this than in Khyber Pakhtunkwa. Out of the 832,339 Pakistanis that left in 2022, 55% of the people come from Punjab and 32% from Khyber Pakhtunkhwa. This is despite the fact that KP only constitutes 18% of the entire population of Pakistan which means they are providing almost twice the number of migrant workers abroad in terms of their population. And while governments may point towards remittances and the boons of having a large overseas population, the equation is not quite so simple. 
Article continues after this advertisement
What the numbers look like 
The phenomenon of people wanting to leave Pakistan is nothing new. In most English-friendly audiences with a pretence to education that read publications like Profit the rising concern is that the massive number of people immigrating is tell-tale of "brain drain:" a pressing anxiety that Pakistan is losing its bright minds to more lucrative job prospects abroad. While there is some truth to this, the idea of "brain drain" is largely a myth. 
Around 80% of the people moving abroad are unskilled or semi skilled labourers struggling to make ends meet at home. According to the Ministry's report for 2022, out of the 832,339 emigrants, only 1902 were highly qualified and 2777 were highly skilled. In contrast to this, overwhelmingly 24445 were unskilled.
According to a recent thought-provoking report by BR research that analysed the numbers that came in when they were first released, the top five employment categories for 2022 are in line with the 10-year average, with ranks unchanged. The unskilled labourer category at 43 percent has the highest share. This is followed by drivers, who are in high demand in 2022 – doubling the 10-year average share from 14 to 28 percent – growing 2.5 times.
"In terms of countries, GCC takes up 96 percent share – led by Saudi Arabia at 62 percent for 2022 and 47 percent between 2011-19. The Emirates continues to be the second preferred destination, but the share has dropped to just 16 percent in 2022 versus 40 percent for the 2011-19 period. Qatar's share has understandably shot up to 7 percent in 2022, versus an average less than 2 percent share from 2011-19. The numbers are likely to drop significantly as the ongoing World Cup in Qatar draws to a close." 
KP's case 
"Pakistan has a high rate of unemployment. People are simply unable to find work here, especially the unskilled and semi skilled labour force. You'll mostly find the working classes, employed as basic technicians, electricians, drivers and construction workers abroad. In most cases, they're working in the Gulf countries (around 97%)- you'll barely find such people working in Europe, Canada or the USA," says Dr Muhammad Saleem, an economist. 
"The jobs are not highly salaried there either. You'll typically find labourers earning PKR 35,000-45,000 per month, which is very less. It's barely enough to provide for food at home. Most people working in Saudi Arabia earn 600-700 riyals per month. This is hardly equivalent to the minimum wage in Pakistan after deducting the living costs."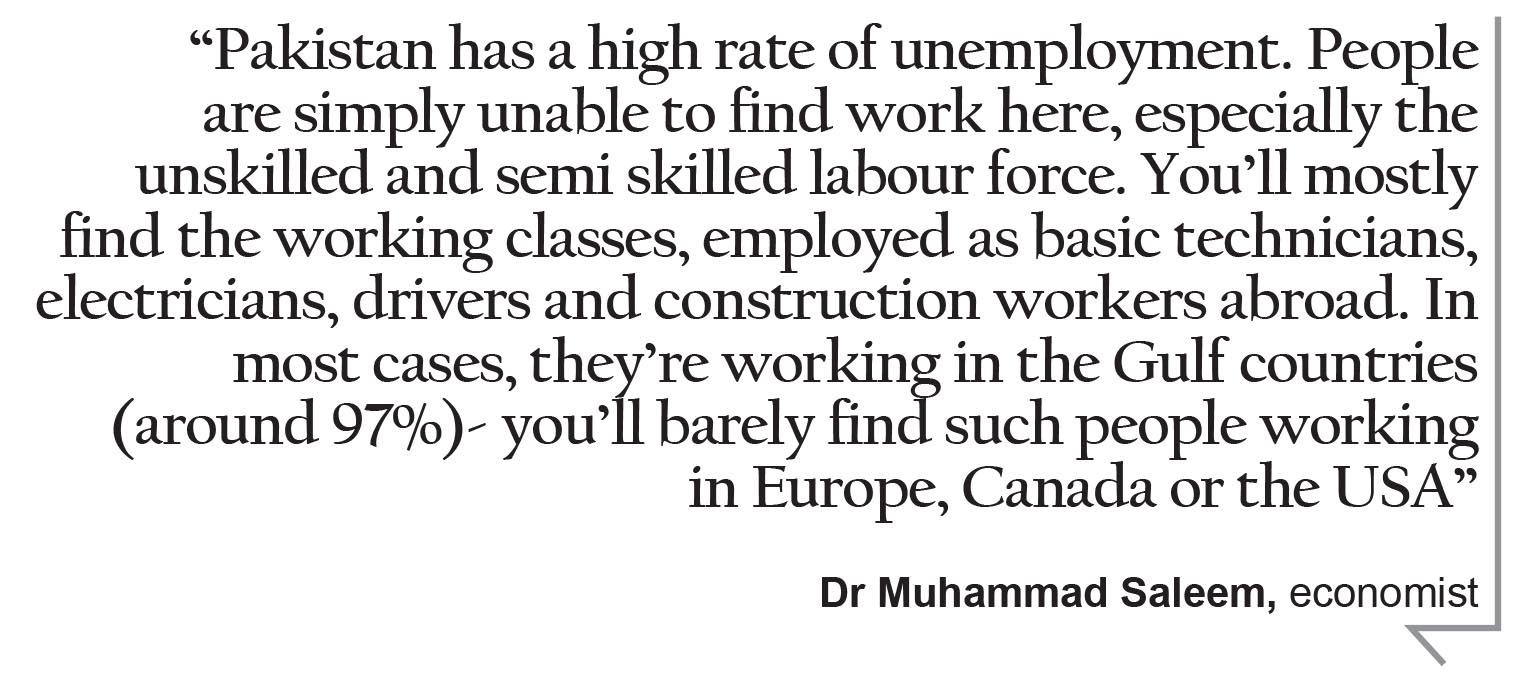 This unmasks the excruciating tragedy that people can't even make this much for themselves at home. "Alongside this, the living conditions for labourers are gruesome in the Gulf countries. People are cramped in tiny spaces to save costs," adds Dr. Saleem.
Taimur Khan Jhagra, the former Provincial Minister of KP for Health and Finance, disagrees with this however. "The working conditions are tough here also. Most people want to get public jobs. However, only 8-10% are able to acquire those. What do the remaining 90% do? If they have access to foreign jobs, that's actually a huge plus. I would see it as a positive sign."
KP has a particularly high percentage of people moving abroad for work. KP only constitutes 18% of Pakistan's population. However, 32% of the labourers travelling for overseas employment come from KP. This is a jarring figure, nearly double its share of Pakistan's total population. 
What is the reason for this?
"There is scant economic activity in the province. The War on Terrorism had wreaked havoc. It hindered the creation of employment opportunities, as a result of which, a large number of people are seeking employment overseas," explains Jhagra. "KP's workforce has historically been mobile. This has been the case since the Gulf opened in the 1970s. It increased labour mobility across Pakistan, perhaps more so in KP as the workforce is characterised by dynamism and mobility."
On the flip side, very few people from interior Sindh and Balochistan are shifting abroad in search of work. Balochistan contributes to 6% of Pakistan's total population. Yet, only 1% of Pakistan's overseas labour force comes from Balochistan. 
"Barring Karachi's muhajir population, labour mobility and dynamism in interior Sindh and Balochistan has remained relatively low. This is in contrast to that of Punjab and KP, where the working classes are more mobile. You'll even find many Pashtuns working in Karachi. Despite having no connections in the city, they'll still migrate in the pursuit of better employment opportunities. This is mainly due to cultural reasons. Punjabis and Pashtuns are more prone to migration for economic reasons," adds Dr. Saleem.
Is there a flip-side? 
This is where the question of remittances comes in. The common perception is that the foreign migration of labour forces is disastrous for the local economy because of bright minds and capable hands suddenly being fewer in circulation. The real situation is more nuanced than this simplistic worldview. As a matter of fact, the human development statistics from KP indicate that both education and healthcare have been improving over the last two decades. 
According to Dr. Saleem, this is predominantly attributed to foreign remittances. "The income levels have slightly improved due to their influx. This has contributed to some local development. After winning the general elections in 2018, the PTI government promised to empower KP. In reality, it doesn't have anything to do with the rising income levels- which are mainly credited to foreign remittances. In general also, political governments have not had any substantive role to play in facilitating economic activity in the province."
Jhagra also elucidates the bright side of this phenomenon.
"This is actually a matter of pride for Pakistan. It has significantly contributed to the local economy in the shape of remittances being returned to the local community. Pakistan owes a debt of gratitude to these workers" asserts Jhagra. "We shouldn't worry about the proportion of people migrating overseas for work. Rather, the challenge is to upscale them so that they may find work beyond the blue collar jobs."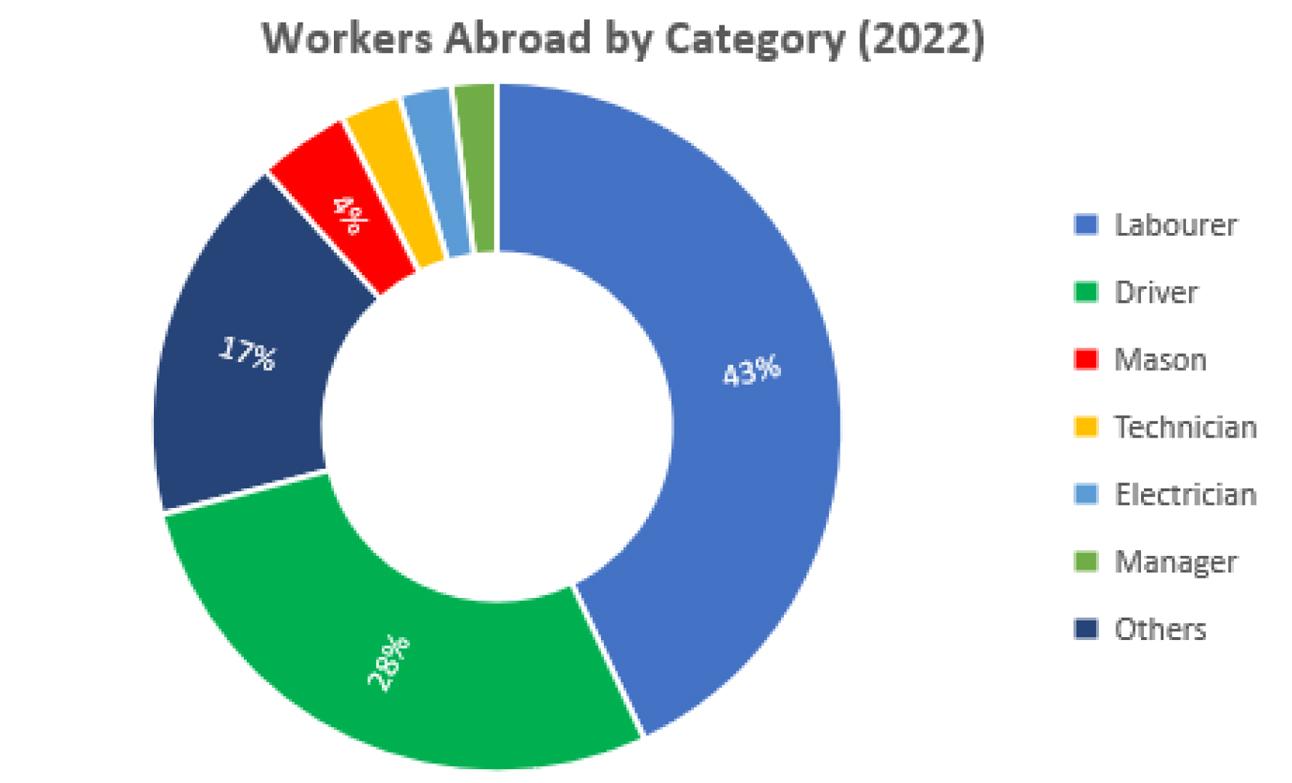 "Annual remittances worth PKR 40-50 million come from the Pashtun diaspora alone. As a former minister in the KP government, I would think of strategies to further upscale this population. Even within blue collar jobs, they should ascend to higher levels of pay and eventually enter into the service economy. I have spent many years of my life in the Gulf. Yet I have never walked into Starbucks and seen a Pakistani employee. These workers should eventually make it there."
"However, this is not to posit that blue collar jobs abroad are not important. They're adding considerable value to our economy. Their counterparts here are sitting as clerks in the government. The culture of paper-pushing is rampant in Pakistan.In fact, foreign remittances is one of the few areas wherein Pakistan has some advantage in terms of its population size."
A delicious paradox 
This nevertheless presents a delicious paradox. On the one hand, foreign remittances substantively contribute to local development. On the other hand, they are productive only because the national economy is unable to sustain the local population. Instead of reaping the benefits of foreign remittances, should the government create more employment opportunities within the country?
"It's not as simple as that," exclaims Jhagra, "the moment it becomes disadvantageous to work abroad, people won't go there. Despite the 18th amendment, the conditions required to foster economic prosperity are not in place. The central government including the bureaucracy is complicit in this. The KP government  for example has no comparative advantage in facilitating economic growth. KP produces the bulk of Pakistan's electricity and gas. Yet, it pays the same rate for electricity and gas as the other provinces." 
*Comparative advantage is when agents have a comparative advantage in producing a particular good at a lower relative marginal cost prior to trade.
"This is true for the supply side as well. Both the transmission and distribution lines of electricity are embedded in Punjab. We are never able to use this comparative advantage, which acts as a disincentive for us. When we raise our voice about this, we are accused of being "separatists."
Therefore, the real problem lies in how the federal government operates. More precisely, it's the lack of devolution of power to the provinces. "Provinces can't do much at the end of the day. If an investor wants to build a hotel in KP, sure we'll facilitate them. However, there is so much red tape in Islamabad. This makes the process extremely cumbersome and arduous. Once you remove the red tape, we'll happily cooperate in building the hotel," claims Jhagra. 
"We constrain the economy when we don't devolve the integrated power." Jhagra makes a good point. But the answer is not so simple. The PTI has been in power in KP for nearly a decade now. On top of that, there is another factor. From 2018 to 2022 they were in power at the centre as well, yet there remains a lack of political will to implement local bodies and a true devolution of power across all parties. 
"Karachi should be much more developed than it is already. Its population is two-thirds of KP's total population. The greatest hindrance is the poor government and the city's lack of control. The wealthy businessmen in Karachi just give speed money and get their work done. The Mayor of Karachi however is not empowered enough to facilitate development in a more democratic sense," says Jhagra.  
Apart from the structural revamping, what else can the government do to find more rewarding alternatives to foreign remittances as a means of uplifting the economy? "What the government can do instead is to figure out ways to increase exports. Until this happens, foreign remittances should be encouraged. If you stop remittances, the balance of trade will aggravate further," concludes Jhagra.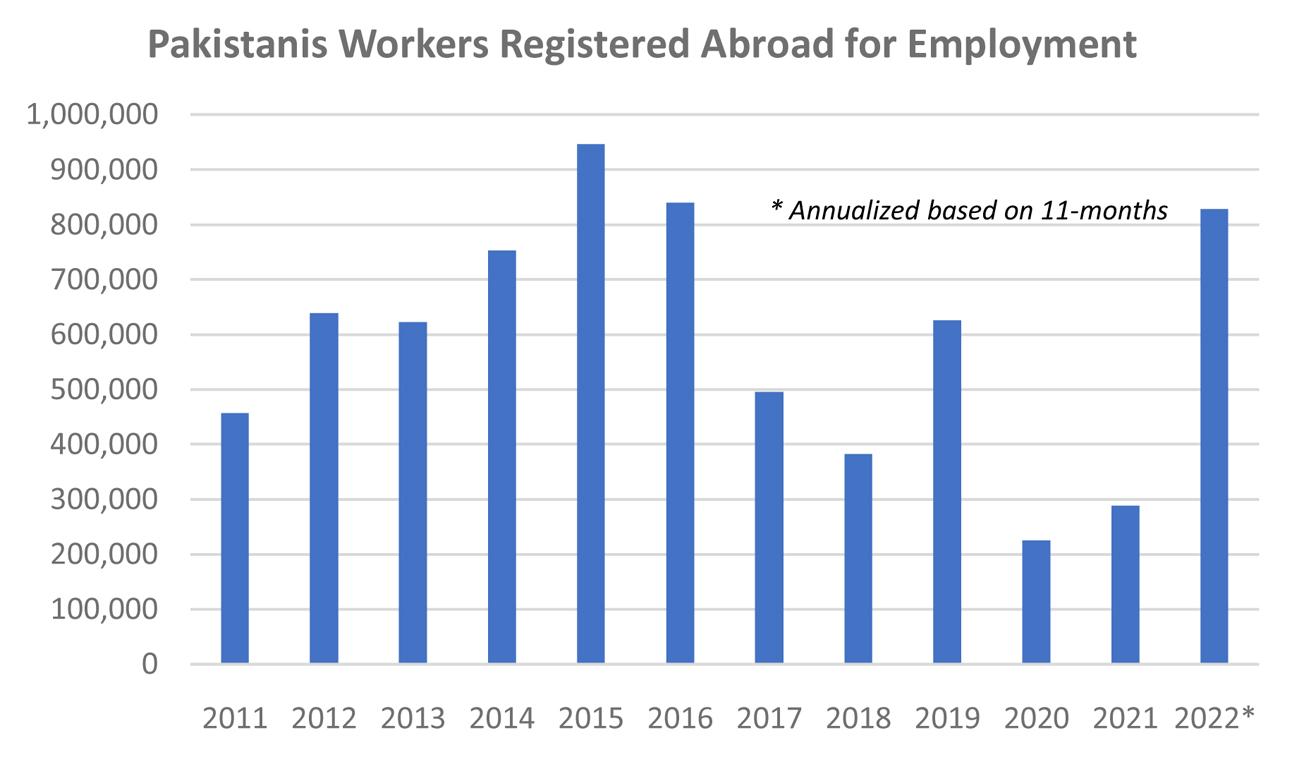 At this point, Jhagra inserts a key caveat: "While it is important for people to find work abroad, it's also crucial that we create pathways for those people to eventually return with their acquired skills and contribute to Pakistan's economy and development." 
"The real hopelessness actually lies elsewhere: it's with the middle-classes or the upper middle-classes who are trying to move up the social ladder. Due to lack of meritocracy, they tend to move abroad for better employment opportunities. That is where the actual "brain drain" happens. We therefore need to create job opportunities for graduates from local universities such as LUMS, NUST, GIK etc. While these students have degrees, they're unable to find jobs that match their academic credentials and skill-sets."