Honda has concluded its financial year 2022-23, spanning from April to March, with an annual profit of Rs 260 million. This represents a staggering 90% year-on-year (YoY) contraction from its earnings in the previous financial year 2021-22, where it recorded a profit of Rs 2.5 billion. Moreover, this marks the lowest annual profit that Honda has reported in the past five years.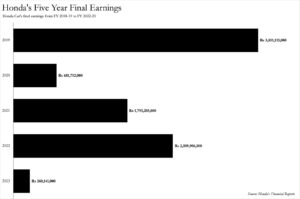 The surprising silver lining 
Honda's sales revenue experienced a 12% YoY decline, plummeting from Rs 108 billion to Rs 95 billion. However, this can be perceived as nothing short of a triumph. According to the sales data divulged by Honda to the Pakistan Automotive Manufacturers Association, Honda's sales nosedived by 32% YoY.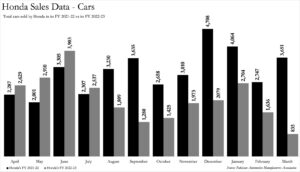 Honda also managed to capitalize on its success by diminishing its cost of goods sold by 14% YoY, from Rs 102.5 billion to Rs 87.9 billion. This culminated in Honda recording a gross profit of Rs 7.16 billion – an astonishing 29% YoY increase from the previous year's Rs 5.5 billion. Its gross profit margin also ascended from 5% to 7% YoY to reflect this improvement.
So what's the secret behind Honda's enhanced gross performance? It's likely attributable to the company's incessant repricing of its vehicular portfolio throughout the year. Additionally, Honda launched its incursion into the crossover market with the HR-V. While the success of the HR-V in gross terms is debatable, the vehicle currently has wait times spanning months – indicating that market demand is surpassing Honda's capacity to supply it.
Dissecting the damage 
How did Honda's gross profit metamorphose into its lowest net profit in half a decade? The answer lies in the staggering 401% YoY surge in its other expenses and the colossal 550% YoY escalation in its cost of finance. The former encompasses expenses for exchange loss and freight loss, which would subsequently include the losses that Honda incurred on its cargo in terms of usance letters of credit and demurrage due to the Rupee's precipitous depreciation and the State Bank of Pakistan's import restrictions.
The latter, the cost of finance, represents the cost of borrowing that Honda incurred – likely attributable to the spike in the policy rate by the State Bank over the past year, another factor utterly beyond Honda's control.
The breakdown of these two cost spikes will be divulged when Honda releases its annual report on its performance. However, these two expenses amount to upwards of Rs 5 billion in costs, which when coupled with other costs, culminate in Honda's final retained earnings of Rs 260 million.