In the world of invention, serendipity often flirts with brilliance to create something groundbreaking. Take Newton and his opportune encounter with a falling apple that led to the discovery of gravity. Similarly, the popsicles, that we enjoy in the summer heat today, were an accidental creation, when an 11 year old's experiment with soda and a stirring stick took an unexpected turn. When the concoction, which was supposed to be homemade soda, was left outdoors overnight, it froze into the world's first Popsicle. 
Then there is PosterMyWall, a startup that became a global platform known for offering marketing tools for small businesses by adjusting course on the fly. This is a story about a useful online tool that was initially created to serve a purpose much smaller than the one it does now.
PosterMyWall over the years
PosterMyWall is a comprehensive marketing platform that allows small businesses and individuals to design and create flyers, social media posts and videos to promote their businesses and events. 
However, that was not the initial idea behind creating this online design tool. PosterMyWall was a product born out of necessity, in 2009 when co-Founder Ric Goell saw his daughters struggle for hours, as they assembled their volleyball team photos, icons, and text into a poster they could reproduce and share with teammates. 

Article continues after this advertisement
So, it was simply supposed to be an easier and more accessible online collage tool, functioning as an alternative to the more complex Photoshop tool for photo editing. In the absence of an online tool that delivered a high enough resolution to produce quality output at poster size, this new startup took root. In 2010, Jaffer Haider, based out of Pakistan, started working on the first proof of concept and within six months Haider and Goell launched the first version of their website. 
Little did the founders know that the product they had collaboratively designed for family and personal use would soon become a platform for musicians and small businesses to design flyers to promote their events, sales and adverts. "Very quickly this market segment became the biggest on our website. They were making and buying the most designs," Haider told Profit. 
He continued, "Initially, we just had editing tools and users would bring their own photos and backgrounds. But the unexpected demographic we saw on our website got us thinking about targeting small businesses exclusively. It was in 2012, when we started introducing design templates. We started building design templates for sales and events and music gigs and other flyers that small businesses required."
According to Haider, PosterMyWall's direction changed after observing user behaviour and by listening to their customers. 
Fast forward to 2014, when social media took the world by storm, creating an online community that opened a plethora of new opportunities. There were ads and videos scattered all over Facebook and Instagram. This new age of digital and online marketing encouraged PosterMyWall to pivot into something new once again.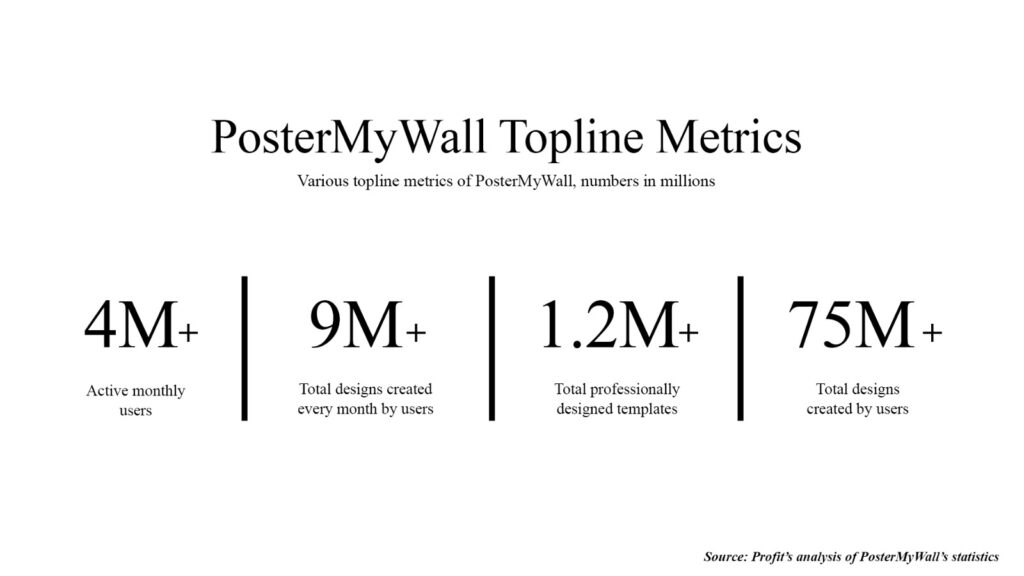 In conversation with Profit, Haider shared that, "As our name PosterMyWall suggests, when we created this tool we were looking at print products only but when the social media wave came, we quickly pivoted to include this new form of marketing that was evolving in front of our eyes. We made templates and design tools that allowed people to make Instagram posts, as well as moving posters, videos and ads for Facebook very easily, which became a poster or a flyer for the digital age." 
Now, PosterMyWall is on its way to become the one-stop small business marketing platform. In 2019, they introduced social media marketing tools, which were soon to be joined by email marketing tools by 2022.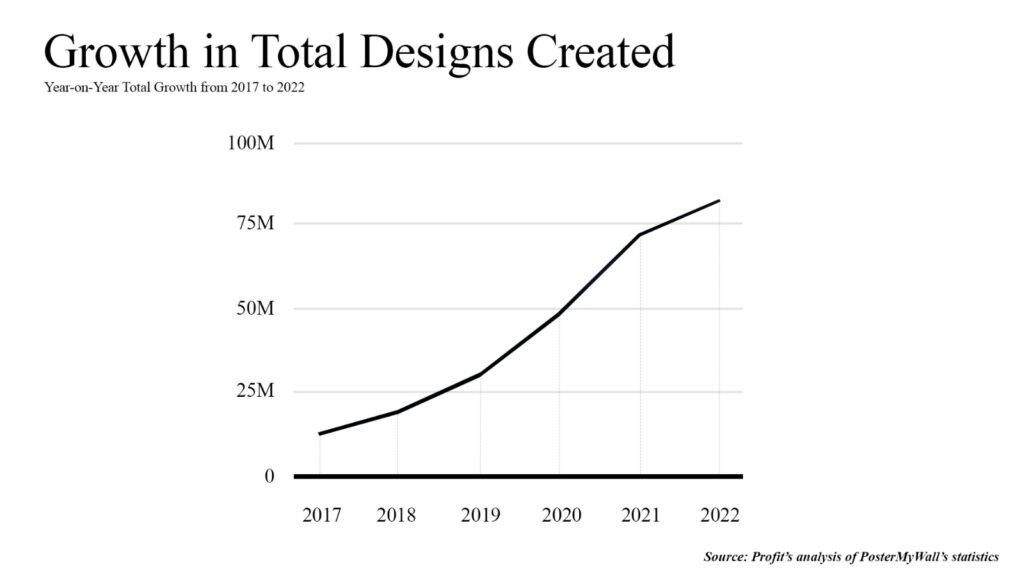 Haider explained the reason behind offering apparatus that aids marketing, which also created a new unique focus for the company. "We took a step back and saw that yes, people are making designs but where are they putting them? They were putting these designs up on their websites, on their social media pages and sending them out as emails to their customers. So, currently, we are focused on bridging this gap between our customers and their customers. If they want to make an ad and publish it on their Instagram profile, we make it easy for them to do it right inside PosterMyWall." 
This year the company has been working to simplify the use of PosterMyWall for marketing teams, by introducing cheaper pricing for teams, as well as, tools like Content Planner and Brand Kits. 
Not your average startup 
The yardstick to determine the success of a startup is usually its valuation. The first thing that comes up when you discuss a new start is always whether they secured any venture capitalist or external funding. 
This was not the case with PosterMyWall. Ric Goell and Jaffer Haider had always dreamed of building their own company, eversince the two had met, while working together on a Silicon Valley startup. And they didn't want their startup to be funded by outside capital.
Since we were bootstrapped from the beginning, the growth of the team had to track with the growth of the revenue. We had to put care into hiring the right people at the right time.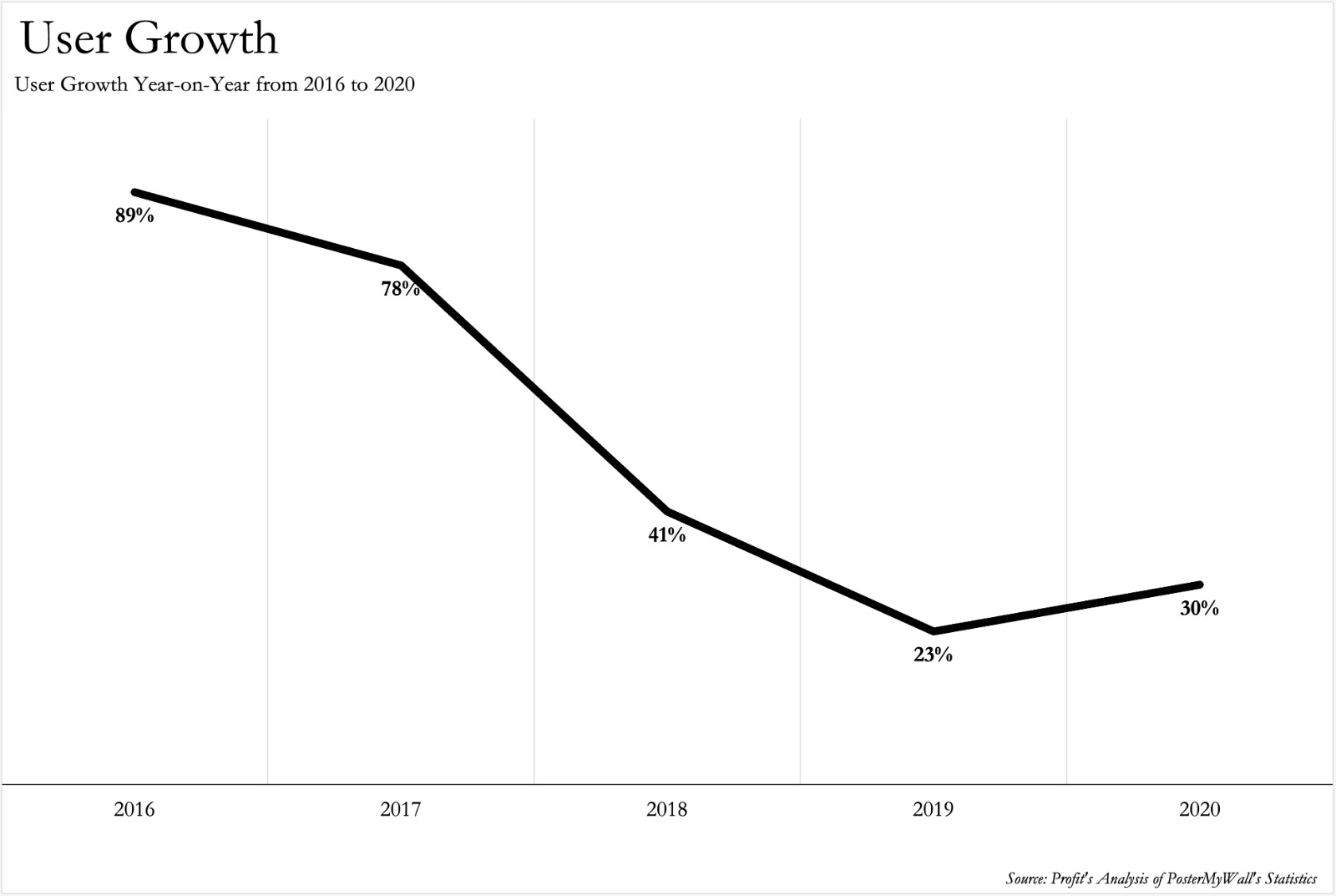 Haider believes that their expansion has been organic and not comparable with that of other startups, "Since the company was bootstrapped from the beginning, our speed of expansion isn't similar to what you see with other startups that have funding and are able to scale to a hundred or two hundred people over the course of a few months. Ours has been very thoughtful and we've been very picky with the sort of people that join our team. That's also the reason why our retention rate is pretty well."
Profit asked Haider to explain PosterMyWall's business model. "Our business model is freemium SaaS (software as a service). We offer a bunch of things for free so that users are able to easily try us out. And if they like us, they can choose to pay monthly or annual subscription fees. Users can also choose to use the PAYG (pay as you go) model, where they don't even need a subscription and they can just pay for a design that they've made, without making the commitment of a subscription," Haider explained. 
Haider emphasised that at PosterMyWall, they go out of their way to make sure that people can have the full experience, without signing up and paying. "They can customise any template and try out most of our features so that they can make an informed decision if they really want to buy a monthly subscription."
The company's main source of revenue is the fee it charges from Premium users and Pay-As-You-Go (PAYG) users. Anyone can sign up on PosterMyWall and download a basic quality image and video design for free or pay for a high quality file. However, the paid version offers users unlimited downloads and access to all premium features, such as Brand Kits and adding team members. 
A Premium subscription costs Rs 590/month, while a Premium Plus costs Rs 1990/month. However, users can access over 1.2 million design templates, more than a million free video, image, audio and sticker stock assets, unlimited downloads of social media sizes and an easy to use online editor all for free. 
PosterMyWall and its global footprint
 "Back in the early days, we weren't thinking about building a golbal distributed workforce. . We were very focused on building a world class product in Pakistan. As the team has grown, we have had to maintain a high talent density. Most team members realise that they're competing with companies that are much larger than us, so they do rise to the challenge", says Haider.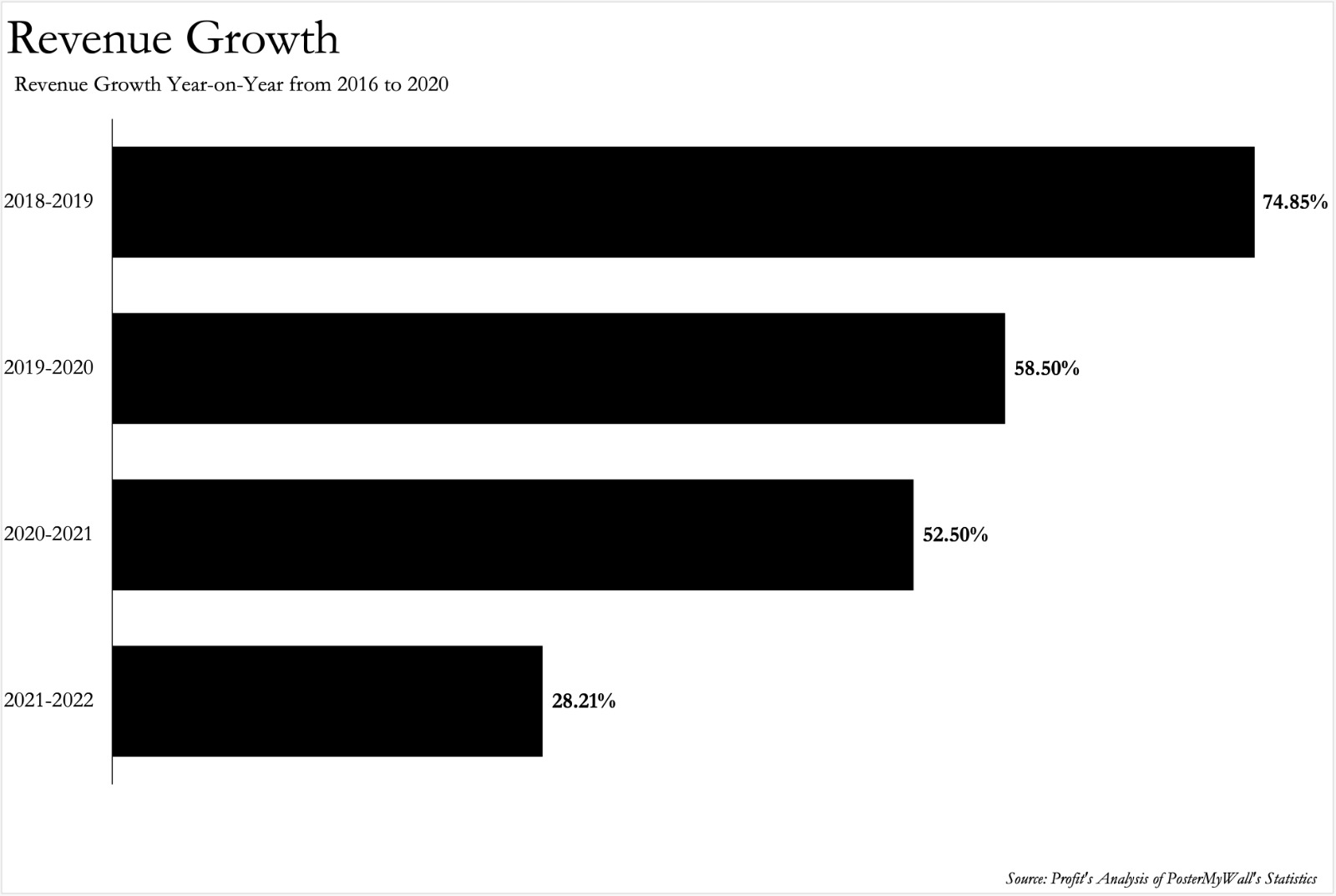 How does PosterMyWall ensure that it remains competitive in a global market that is concentrated with competition? 
Haider answered this question by saying that his team does not view challenges as obstacles but as unique opportunities. "It's great for the team, when they see that their designs are doing well globally and competing with the likes of Canva that has thousands of people in their team. It encourages us to bring our A game and make PosterMyWall as good as it can be." 
Haider shared some step the company has taken to tackle the challenge of having a diverse audience, with different tastes, preferences and cultural backgrounds. 
"From a product perspective, we have always been aware that we have a global audience and we try to make it as easy and accessible for anyone in the world."
In order to make the product accessible, PosterMyWall is offered in over 11 different languages. Moreover, Haider disclosed how their newest strategy to take on a global market is by offering localised pricing. 
"Localised pricing is also something that makes the website practical to use in many countries. This means that we are essentially offering different prices in different regions. We are entering new markets and trying to offer competitive prices, based on the purchasing power of the people there. This helps us retain customers, as well because there are many countries that have a depreciating currency against the dollar and a fixed standard price for all in dollars would make it very expensive," Haider elaborated. 
Being conscious of the customer's needs has always been at the forefront of PosterMyWall's values, which is exactly what they quote as their recipe for success.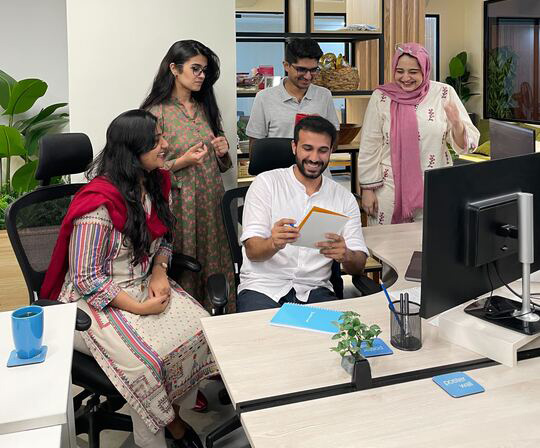 Haider shared that constantly evolving as the digital world evolves and adapting to new trends helps his company stay successful. "We are working on using machine learning and AI to recommend templates based on where the user is. We do use those tools to customise user experience based on where they are. For example, if we have a user in Nepal, they are likely to see more templates that others in their country are using and if there's a seasonal or regional holiday in Nepal, they would see more stuff relevant to that. This is also a very interesting challenge for the marketing team where they get to work on localised marketing campaigns, as well. Recently we did a localised marketing campaign in Pakistan that utilised truck art in our ads. So, our team works on campaigns for a host of regional and global holidays." 
What makes them different?
PosterMyWall does not operate in a vacuum, without threatening competition always posing a risk to snatch their market share. This becomes especially challenging when they are put in direct competition with giants like Canva. 
Profit asked Haider what sets his company apart from other similar websites? He disclosed that a streamlined and focused approach helps them carve out a space for PosterMyWall on a global scale.
"All these products have a certain focus. For example, Canva is very focused on being the design tool for all. In addition to a competitive design tool that helps you create images and videos, our primary focus is on surrounding that design tool with a good range of marketing tools that small businesses need. We keep an eye on the specific areas of our expertise, which is to provide an easy, quick and affordable solution to the marketing and personal needs of businesses and individuals respectively, in terms of designing promotional content and carrying out marketing activities," Haider relayed. 
He went on to say that, at PosterMyWall, "We offer a platform to small businesses that look to improve their marketing on a minimal budget and give customers the "feel good" vibe, empowering them to be in control of their own marketing material and branding, giving them an easy way to create professional looking graphics and saving them time and money in the same instance." A constant effort to provide easy marketing solutions to businesses helps the company stay focused on its USP. 
Haider also shared about the exciting open design community that PosterMyWall has helped to create. It is a community with more than 450 thousand talented designers from across the world, including some from Pakistan. "For some of these designers, PosterMyWall has been their only source of income and it's inspiring to see how they keep up with global design trends and produce high quality design templates. We are proud of our vibrant design community and the key role it has played in growing our library of templates," shared Haider. 
One of the most important things to stay ahead and stay distinguished is planning and flexibility. By always looking into the future and bracing themselves with the tools to stay relevant for a quickly evolving online community, PosterMyWall retains its focus on growing and not just expanding. 
According to Haider, "This is an incredibly competitive space, where trends and preferences change very quickly. Listening to customers and building tools that they need should be at the heart of future planning. We are not afraid to enter new markets, we've done so with social media marketing and email marketing over the years. We are planning on offering website design tools down the road as well, as well as keeping up with the use of generative AI in design and marketing tools."
The company focuses on fostering a community that is productive and close knit. "PosterMyWall's team here in Pakistan allows us to change directions quickly and focus on smaller bets that other larger companies might not take. We're looking forward to expanding our team in Pakistan because there's a great pool of talent here and we offer a great working environment, so we're also working on expanding our team here in Lahore."
Haider believes that there are many teams like theirs operating in Pakistan and building products that get used by millions of users around the world. There is great potential in our industry, we just need to do a better job at building Pakistan's brand as a technology partner. [/restrict]