Marium Khan quickly selected a black and dull golden bangle set to match with her black and copper Eid dress and headed out of the famous shopping centre at Tariq Road. ''It's very hot in here, I just came to get a bangle set – because it is mandatory for Eid – and now I'll head home,'' she said while wiping off sweat from her forehead.
Every year on Eid, hundreds of females like Marium – belonging to all age groups, socio-economic backgrounds – look out for a perfect set of bangles to go with their dress. Some spend the time to make a perfect combination themselves while others choose from the various ready-made bangle sets available in the markets. However, many of these women do not know the hard work that goes into the making of these bangles which costs around 50-100 rupees for a dozen.
Known as the city of bangles, Hyderabad is the world's second largest glass bangle manufacturer with some 200,000 to 250,000 people directly or indirectly associated with the profession of bangle making. The process of turning broken glass – the major raw material – into colourful, glittery bangles involves approximately six-eight labourers (at a time) who work day and night for eight-hour shifts thus making the industry arguably one of the largest of the city.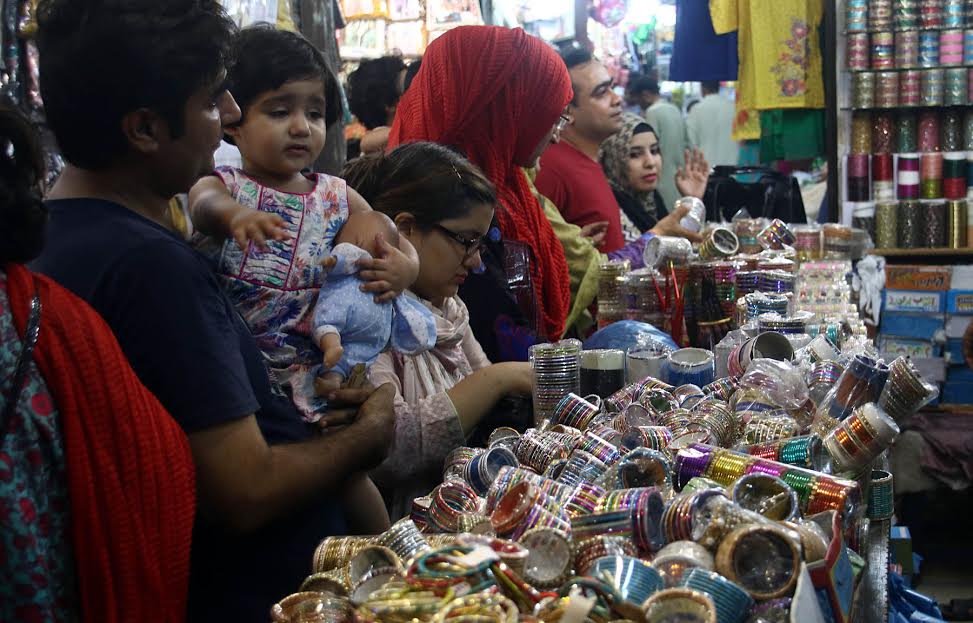 These labourers – both men and women – complete a long process of cleaning, furnace heating, cutting, assembling, colouring and designing that often requires exposure to temperatures as high as 1300 degree Celsius and chemicals which are hazardous to health. However, Marium and all the other females do not know these labourers encounter extreme extent of heat for a monthly earning of $30 – 20% lesser than required to stay above the poverty line.
The problems for such workers ease up a little during Eid season as women tend to buy the glass bangles more than the metal ones exported from India and Honk Kong – customers' choice during regular days. Zubair Ahmed, owner of Al-Kaberi bangle shop in Clifton says, ''In recent years, sales for glass bangles have reduced over 40%; however, during Eid, a surge is seen and women buy glass bangles as well although, it is not their usual choice.''
Ahmed further told that a dozen bangles cost him around Rs 30-40 for which he earns an average profit of Rs 20 and sometimes more depending on the quality and design. In such a situation, where the labourer gets a minute share of the earning factory owners – usually a cottage factory – and shopkeepers make and given that the sales are decreasing with every passing day, it is only fair to claim that the profession of bangle manufacturing is an endless journey for many of its workers.
The long hours of the shift, poor working conditions and health hazards are just the everyday struggle these bangle makers go through whole year so that the black and dull golden bangles complement Marium's dresses and the dresses of many other female customers who come out looking for perfect bangles in 'scorching heat'.