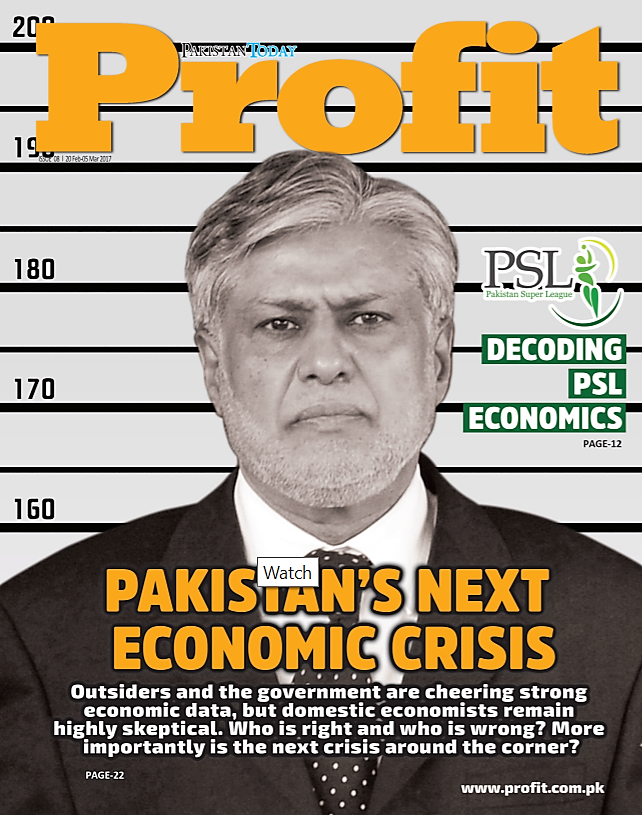 Is it the robust economy with one of the best performing stock markets in the world? Or is it the economy with ever dwindling exports? Is it the economy of strong consumer spending, or the economy of sluggish industrial strength? Or could it be the economy of a robust growth on the back of CPEC or the economy about to generate massive unemployment due to CPEC itself?
The answer to these may depend upon who you've been reading lately. It is  a strange coincidence that while almost all foreign publications including Bloomberg, WSJ, Forbes etc paint a very rosy picture of Pakistan's economy, most of our local economists seem extremely apprehensive. Notwithstanding any conspiracy theory, a simple explanation may be that the analysis of international publications is flawed , looking at things from quite a distance, unfamiliar with the ground realities of Pakistan. But then it could also be argued that our own economists maybe too close to be able to see the big picture.
In this issue's cover story we analyse both sides of the argument and clear the mist surrounding our economic analysis.
Pakistan Super League (PSL) is in full swing and like politics most of us consider ourselves experts on Cricket too. But do we know how the PSL economics actually works? The sort of money and the thought process that goes behind running a successful sport franchise? In our story on page 12 we explore the business side of PSL, we find out how the team owners seem to be getting smart to know the pitfalls and how has their risky investment decision fared so far. Here we try to decode the PSL economics and see how the teams actually make their money and where do they really spend it. We also look at how the players are paid in the PSL. This story is must read for sports enthusiasts as not understanding how the economics impacts the sport being played in the ground means you are only half a cricket expert.
In other stories we profile PakWheels.com, Pakistan's largest automotive portal that was one of the first tech-startups in Pakistan to raise VC funding back in 2014. We find out how well the investment of USD 3.5 million was used and what the founders plan to do with a possible second round of funding.
This and much more in our 8th Issue of Profit.
Babar Nizami
Managing Editor