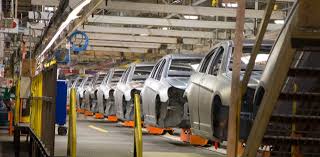 The quality and technology of Pakistani auto parts have reached the global standards, as the country has started exporting fuel tanks of vehicles to Vietnam. Pakistan has made it to the global OEM supply chain by initially exporting 500 fuel tanks made by Metaline Industries Pvt. Ltd. every month to Suzuki Vietnam.
This was announced by Chairman Pakistan Association of Automotive Parts and Accessories Manufacturers (PAAPAM) Mashhood Ali Khan during the recently held Pakistan Auto Show (PAS).
"The reason we are all gathered here today is to help promote local businesses and increase the businesses around the globe. Today, through this highly prestigious forum, we are happy to announce one of the most significant achievements in our auto industry's history, and that is the export of fuel tanks," he said.
"I am extremely grateful to the respected Managing Director of Pak Suzuki Motor Company Hirofumi Nagao San, who has made a new policy of exporting sub-assemblies manufactured in Pakistan to other Suzuki plants in the world. This new Suzuki policy has resulted in the export of locally-manufactured fuel tanks to Suzuki Vietnam," said Mashhood.
He congratulated Managing Director of MetalLine Lahore Razzaq Ahmed, who is behind the successful manufacturing of these fuel tanks in Pakistan. "Today, the auto industry of Pakistan is emerging as one of the fastest growing industries in Asia. Like BRICS, Pakistan is now included in the new fast-growing economy category called VARP (Vietnam, Argentina, Romania, Pakistan)," said Chairman PAAPAM.
He said that the quality and standard of the manufactured auto-parts production in Pakistan are extremely high, and can compete with any other on the global front in terms of their costs, quality, and sup pliability. "This deal has opened doors for exports to other regions as well," said Mashhood.
It is to be noted that today; Pakistan is manufacturing almost 218,000 cars, 35,000 tractors, 8000 trucks and buses, and 2.1 million motorcycles, making it one of the rare countries which hold the capacity to manufacture low as well as high volume products.
Meanwhile, more than 70 internationals companies are participating in PAS this year. The first ever PAPS was organised in 1995 in Islamabad and it had a total of 45 participating companies. Today, the number of companies participating in PAPS-2017 is 190, making it Pakistan's third-biggest show.
Much of the credit for this achievement goes to China, whose participation and contributions in providing top-level auto parts, high-level raw materials, and top-quality machines have been immense. Several companies from Holland, Korea, Germany, and Dubai are also participating in this event.